If you ever desired to make a dessert that looks sophisticated, but isn't all the work,  I have the perfect one for you.
I thought it would be a challenge creating the perfect grilled peach mascarpone dessert, but it fell perfectly into place the first try.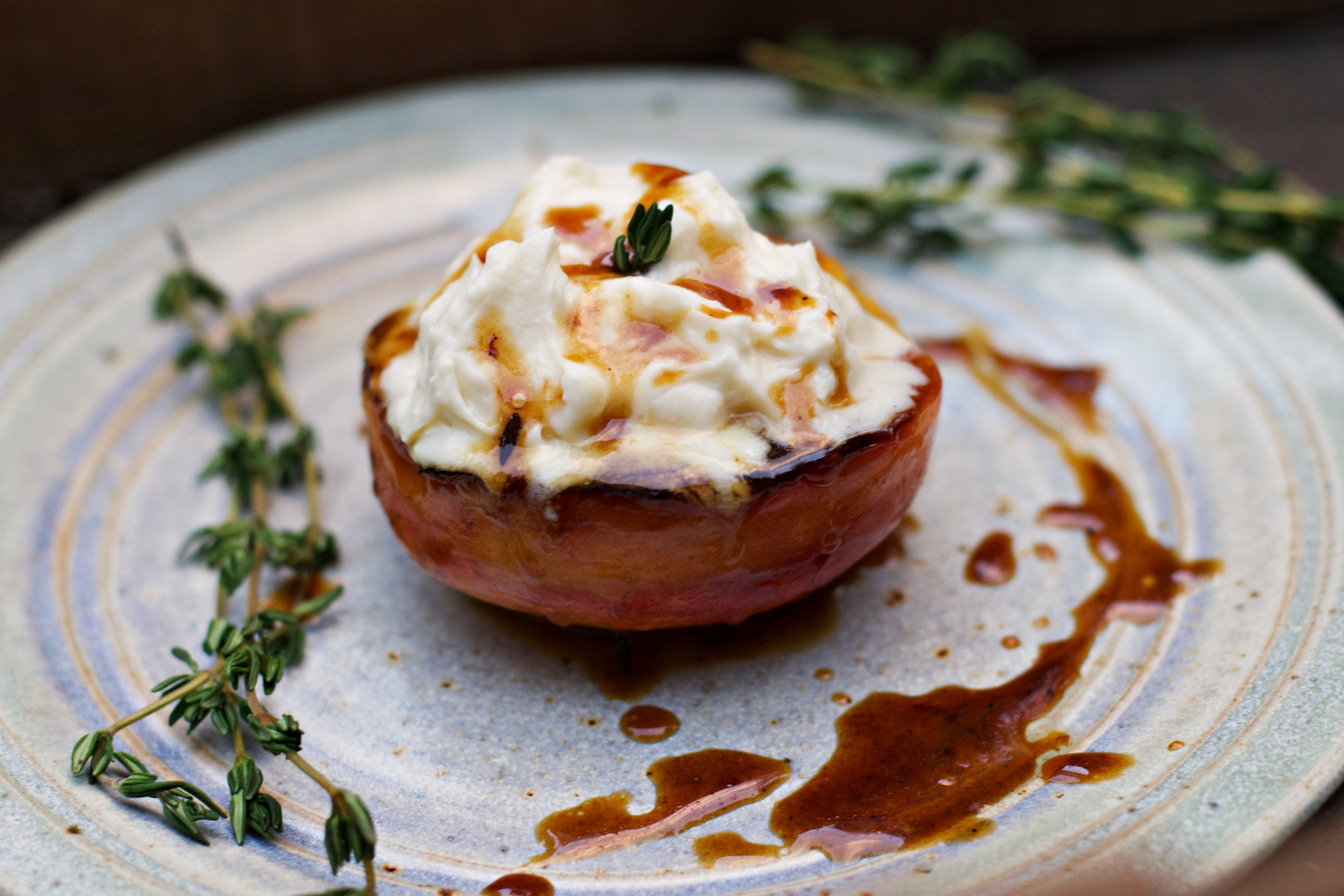 That doesn't happen very often, but boy was I glad with the price of mascarpone. When I first saw how expensive a tiny container was, I grumbled and wondered if mascarpone  was something I could make in the future.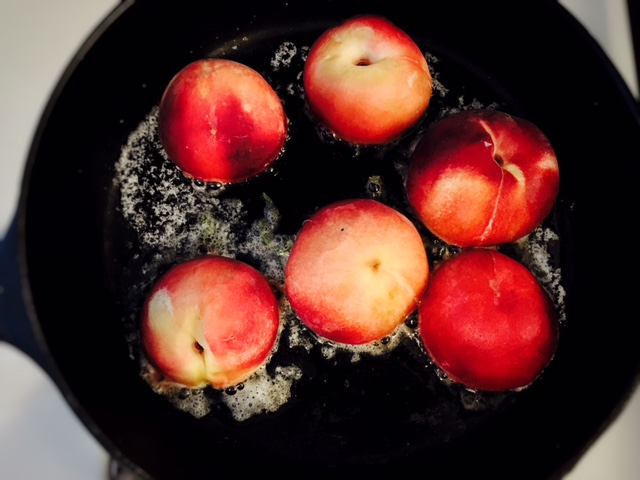 There are times when all four of my kids are running around,  I just want something, well, that feels more complex and elegant. When I plated this dessert that's what I achieved. It was beautiful. A perfectly grilled peach topped beautifully with whipped mascarpone, and a drizzle of maple bourbon reduction.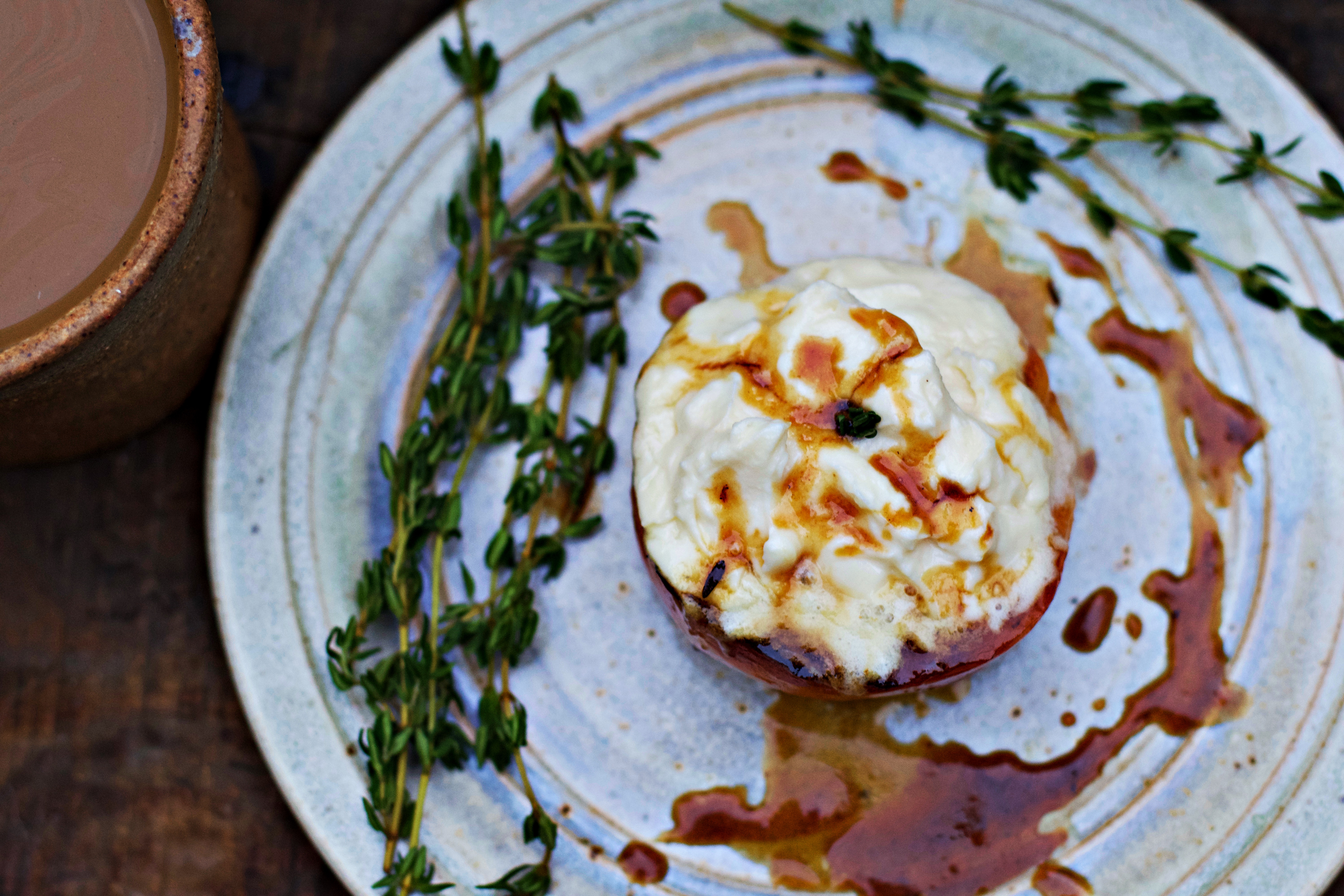 I served it proudly, only to look over and see my kids licking off the mascarpone before eating the peach….well, I thought, I'll have adults over next time I make this.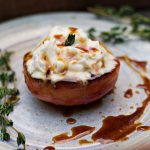 Print Recipe
Thyme Butter Fried Peach With Whipped Mascarpone and Maple-Bourbon Drizzle
Fried peaches are a super decadent dessert made from whole food ingredients and just a touch of sugar. They are the perfect summer dessert.
Ingredients
6

peaches cut in half and seeded

1

tbsp

butter

1/2

tsp

fresh thyme

and a little for garnish

1

tsp

sugar for peaches

1

container mascarpone cheese

2

tsp

sugar

divided

1

tbsp

honey

or more to taste

1

tsp

vanilla

Pinch

salt
Glaze
1/4

maple syrup

1

tbsp

bourbon

Pinch

salt
Instructions
In a small mixing bowl, mix mascarpone, 1 tsp sugar, honey, vanilla and pinch of salt.

Whip with an electric mixer until everything is incorporated.

Sprinkle 1 tsp sugar on the cut side of the peaches.

In a medium skillet put 1 tbsp butter and 1/2 tsp thyme on med low heat. When the butter is melted add peaches cut side down and fry for about 5 min or until lightly brown.

Place one peach per plate.

While the peaches slightly cool make drizzle.

In a small skillet or saucepan pour maple syrup, bourbon, and salt.

Over med/low heat, heat until it gets bubbly and starts to thicken.

Top peaches with mascarpone mix until evenly distributed among all the peaches.

Then with a teaspoon drizzle maple bourbon mix on top, add a few thyme leaves and garnish with thyme sprig.