When I was pregnant with my fourth I craved artichokes like nobody's business!  Not the little hearts in the jar, but fresh whole artichokes.

It had been a few years since I bought one. It was one of those things I loved, but thought if I buy that I'm going to be the only one that's going to eat it.
I had to have one regardless, so I played it off like a  "normal" dinner food. Every evening one of them comes in and asks what's for dinner, and then I hear them reporting it to the other kids. If something unknown is reported, I hear a bit of panic in their voices, and I get that "I'm not eating that" face.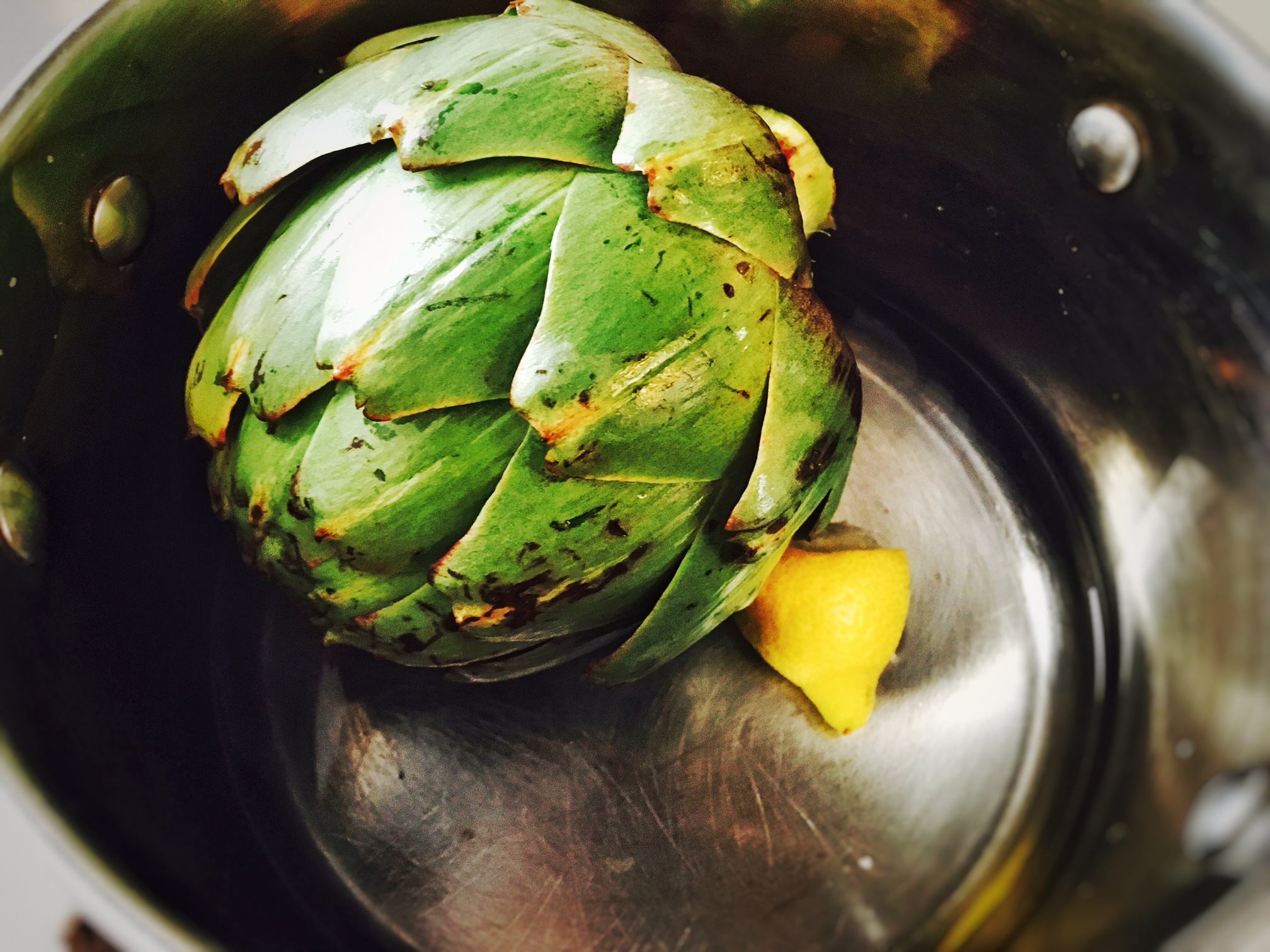 I steamed it anyway, and made a yummy dipping sauce and to my surprise they loved it! Why should I be surprised, they are so good and fun to eat! And they loved it so much that now when I make them, we have to make them eat all their food before they can have any! They call it their dessert that isn't sweet. Pretty awesome thing for them to love considering they are good for your heart and liver, they improve digestion, they are a great source of iron and improve your skin!
Sometimes I think we assume kids aren't going to like something,  but we won't know unless we try.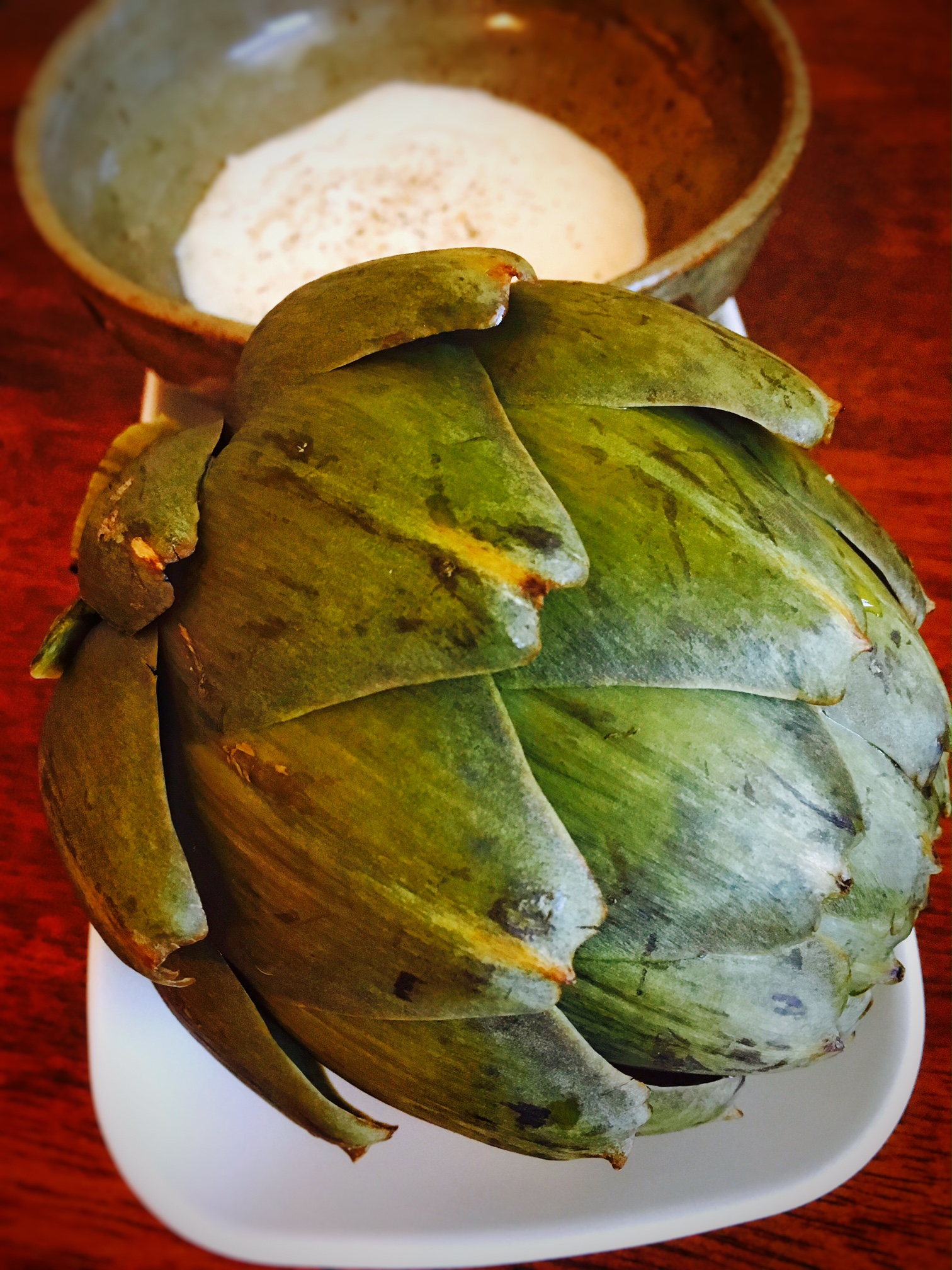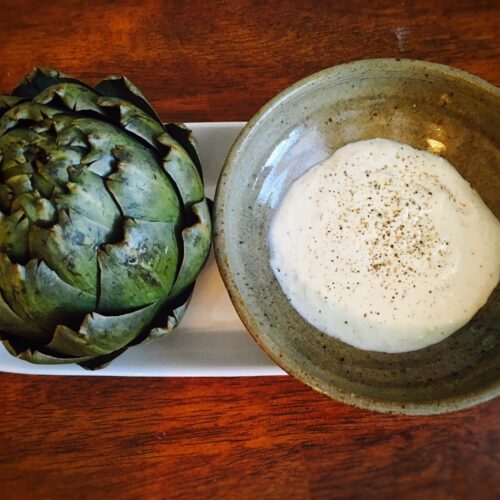 Print Recipe
Steamed Artichokes with Lemon Garlic Sauce
Artichokes were a pregnancy craving of mine. They might look difficult to prepare and eat, but steaming them makes them tender and the sauce adds a special treat to it.
Ingredients
Steamed Artichoke
One large artichoke

1 ½

cups

water

Lemon wedge

½

teaspoon

salt
Lemon Garlic Dipping Sauce
4

tablespoon

good quality real mayo

1

teaspoon

lemon juice

1

large garlic clove grated or pressed

¼

teaspoon

pink salt or sea salt

¼

teaspoon

pepper
Instructions
Wash artichoke then cut stem down to about a ½ inch. Tear off one layer of leaves closest to the stem.

Place artichoke in a medium saucepan with water, lemon, and salt.

Steam over low heat for 35-45 min. Check a couple times throughout to see if water is absorbed and more is needed.

Remove artichoke from remaining water, and place on serving plate.
Dipping Sauce
Place mayo in a small bowl.

Grate or with a garlic press add garlic.

Mix in lemon, salt, and pepper.

Serve beside artichoke.

Pull off leaves and dip and eat. The closer you get to the heart, more of the leaf is eatable.