?Thanksgiving is full of wonderful food and family. I think we all love the staples. Let's see….. there's turkey, stuffing, cranberry sauce,  sweet potatoes….let's stop there. Ahhh the sweet potato. They bring some health to our thanksgiving meal.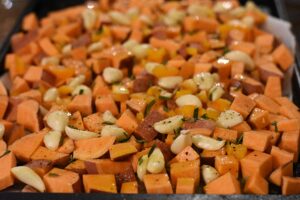 They are rich in fiber, anti-inflammatory, rich in antioxidants, and help prevent rheumatoid arthritis! But…did you ever think the way most of us make them for the holidays may make them more toxic than healthy? We pile them with marshmallows and brown sugar, I mean, we do get to eat dessert after the meal.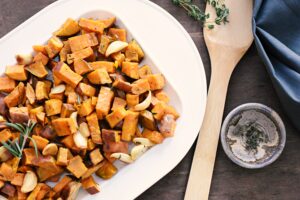 If I was going, to be honest, I like "sweet" sweet potatoes too, they are downright good. The first time I saw them prepared like this, at a glance, I thought no way, that's not how you eat sweet potatoes. I have to admit, I love to try something new, so I tried them, and it was love at first bite! Somehow, this dish is just as good cold as it is hot… Weird right? I swear it's true!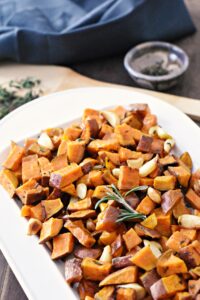 I will add that they are still sweet too! The garlic and bell pepper get sweeter as they roast. The hint of sugar, salt, fresh rosemary, and thyme complement the potato perfectly. I have made this dish over and over through the years and it's so good every time! I hope you will consider trying this and replacing the marshmallow brown sugar sweet potatoes. I know it may be hard to give up, but this is delicious and worth a try. And remember, there's plenty of dessert after dinner.
For more sweet potato recipes check out these delicious Sweet Potato Fries!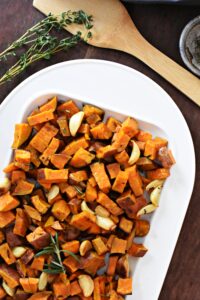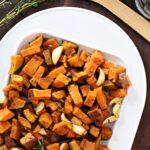 Print Recipe
Roasted Sweet Potatoes with Fresh Herbs
These roasted sweet potatoes have so much amazing flavor you likely won't miss the usual sugar-laden casserole on your Thanksgiving table.
Ingredients
4-5

large sweet potatoes

1

small or half large red bell pepper

orange or yellow would also work!

10-15

whole cloves of garlic

2

tablespoon

fresh rosemary or 1 tablespoon dried

1

tablespoon

fresh thyme or 1 teaspoon dry thyme

½

teaspoon

pink or sea salt

1

teaspoon

sugar or maple syrup

½

teaspoon

black pepper

2

tablespoon

olive oil
Instructions
Preheat oven to 400.

Cut sweet potatoes into cubes, and place into a bowl.

Chop red pepper, and fresh herbs, and add to bowl.

Peel garlic gloves and place in bowl.

Toss with olive oil and then place on a baking sheet.

Sprinkle evenly with salt, pepper, and sugar.

Roast at 400 for 35-45 min or until potatoes are tender. Enjoy!
Notes
* If available buy organic garlic. A lot of conventional garlic is doused in chemicals to stop sprouting and to whiten.