The end of the summer means cool crisp mornings and big heirloom tomatoes. There have been times I've had more tomatoes than I knew what to do with….of course I never complained, that just meant more yummy flavorful tomatoes to eat and to give away! This year was a little different, sadly, out of 5 tomato plants, we only got a couple of handfuls. I'll admit, I felt a little jealous when I saw the garden right down the road have an abundant harvest- oh well there's always next year. I need to study up on how to get lots and lots of tomatoes!!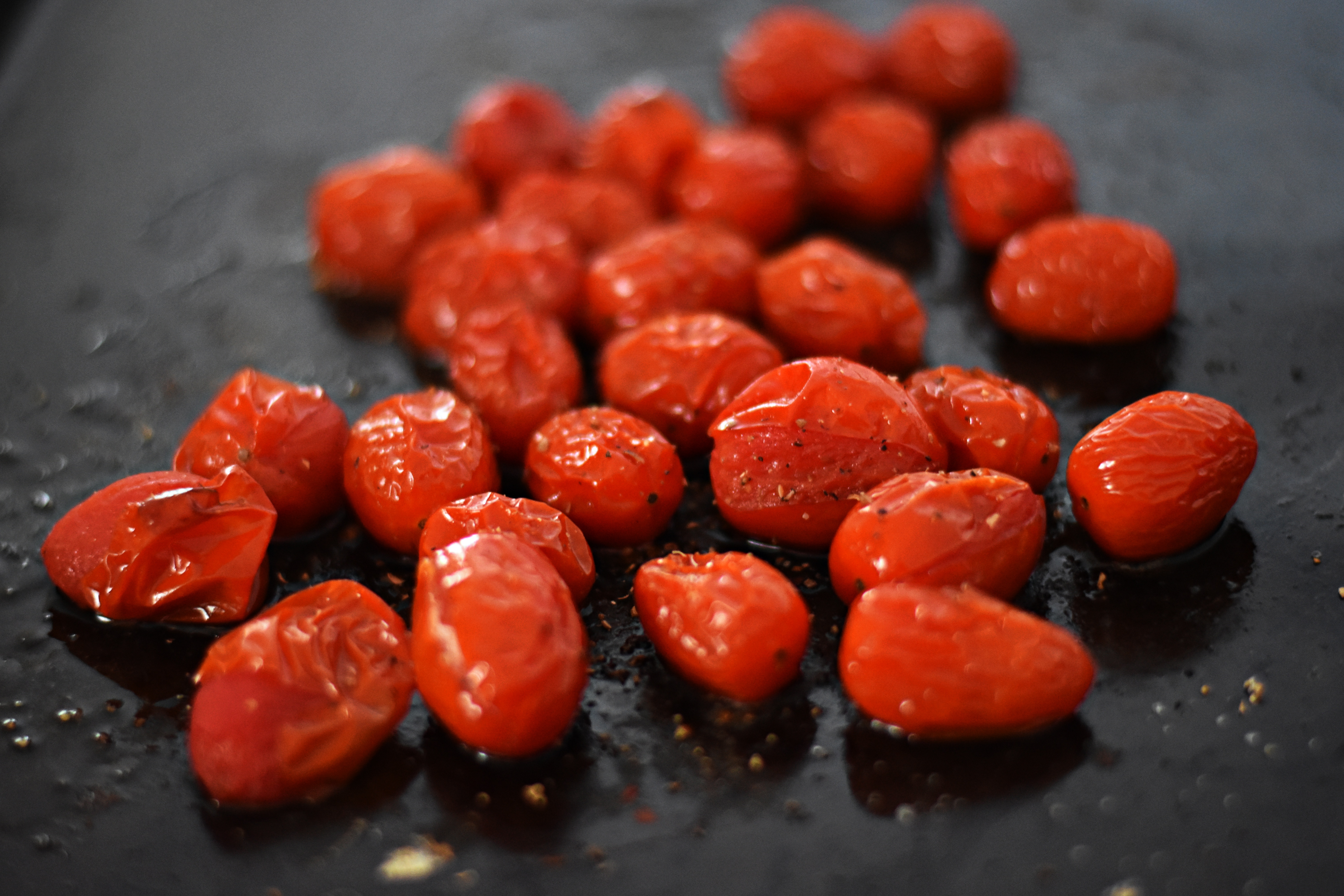 For me, pasta is at its best when it's topped with fresh herbs and veggies. We usually have pasta night once a week. I consider that my night off from cooking…… and its a fun break for my kids too! This dish is super quick. While I'm prepping the pasta, the tomatoes can be roasting, then the rest is just tossed together! Meals like this take no longer than things like packaged mac-n-cheese, fish sticks, or hotdogs, yet its WAY healthier!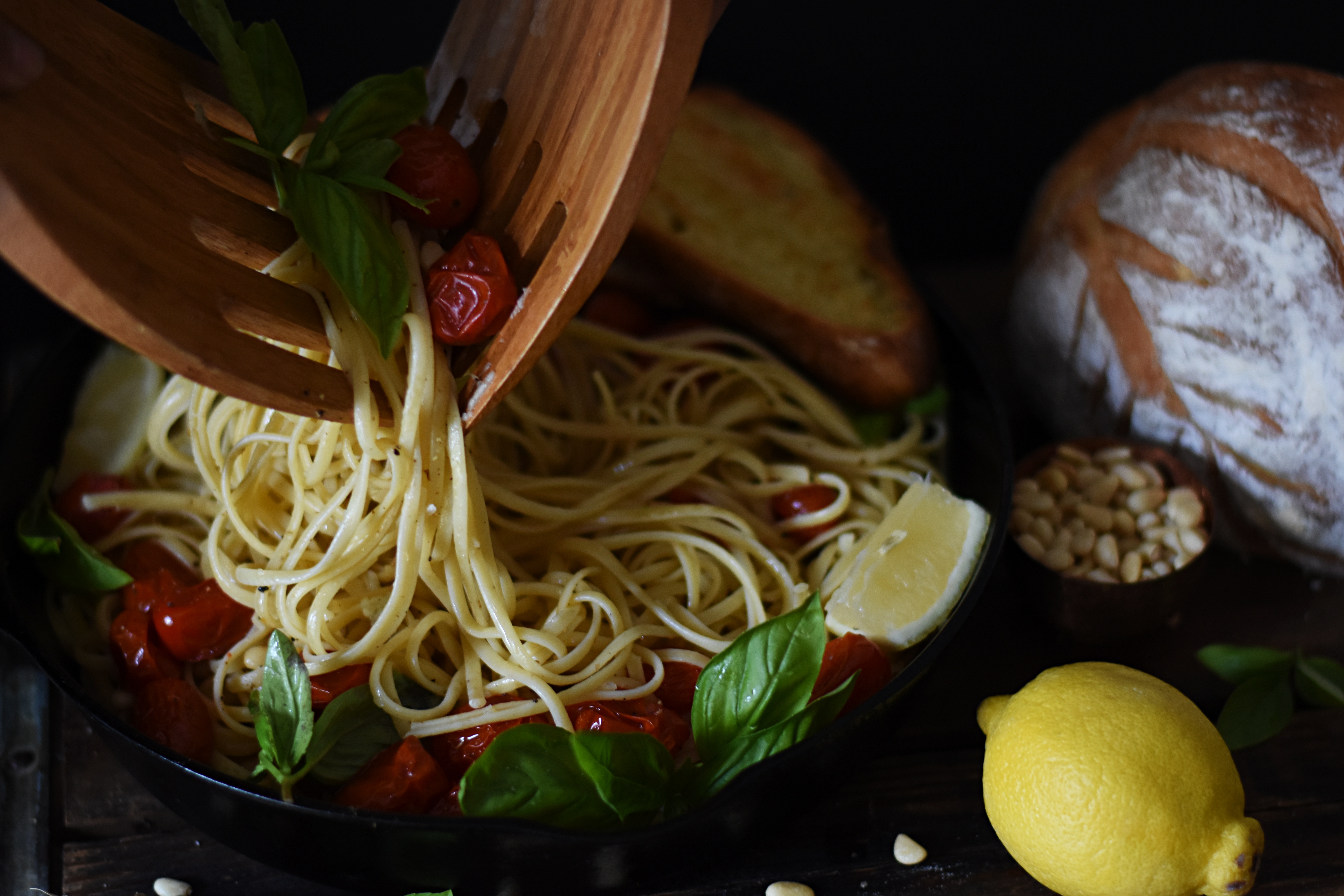 Tomatoes can help lower blood pressure, fight cancer, and are great for skin and hair. Basil helps remove phlegm, relives mucus build-up, and helps sharpen memory. Pine nuts are great for nerve health, and eye and heart health. Garlic, lemon, good quality olive oil and salt and pepper are also full of awesome benefits!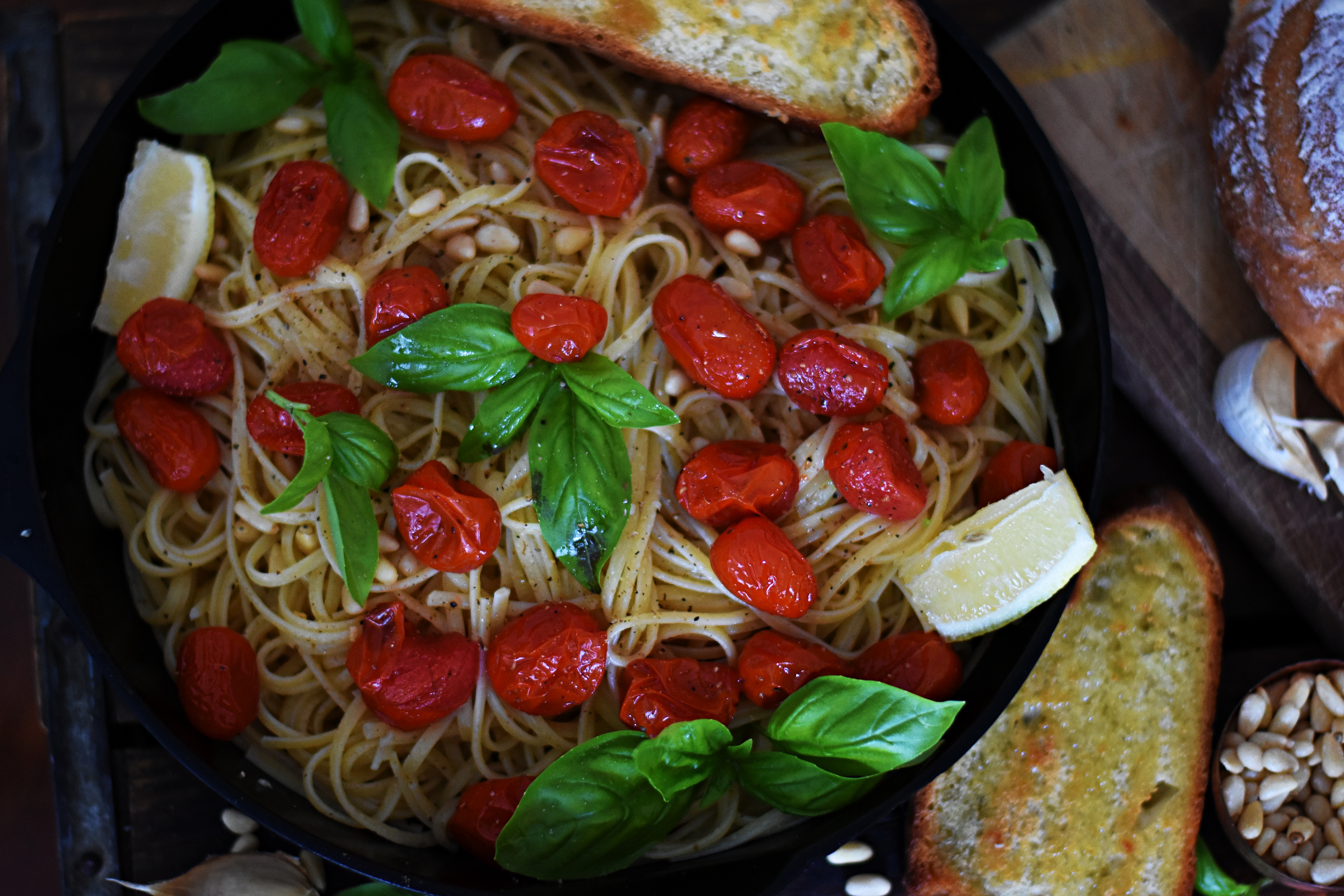 So on a rushed evening, this is the perfect all in one dish! If you have a little extra time, you could always serve it along with the most awesome bread ever ( Crusty Artisan Bread)!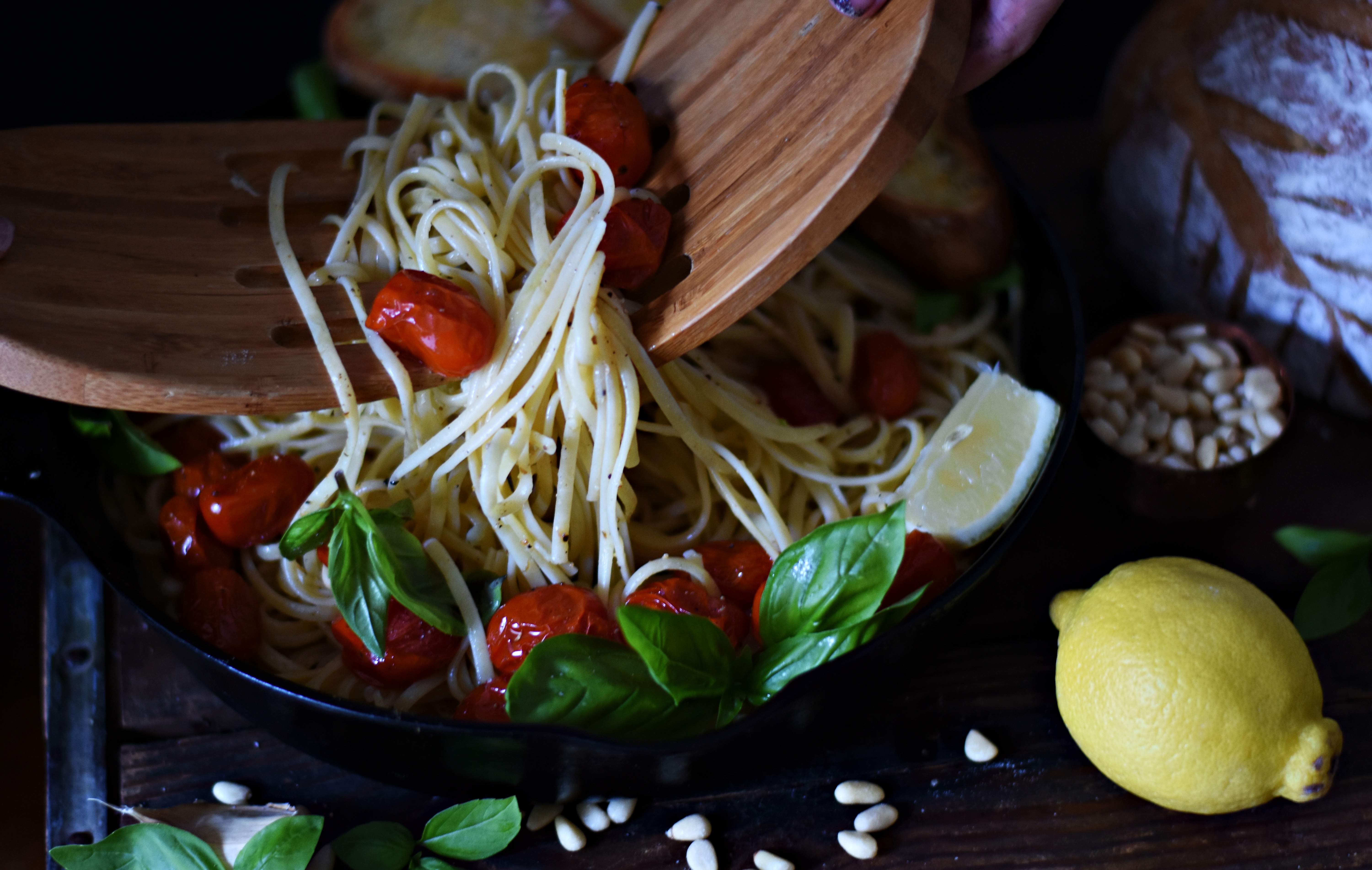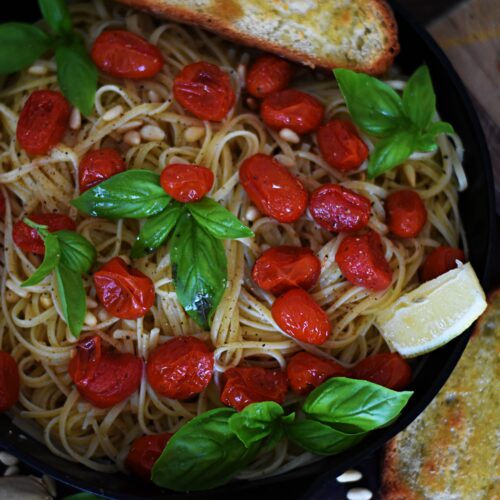 Print Recipe
Quick Linguine with Roasted Tomatoes and Fresh Basil
When it's tomato season, grab some basil from the windowsill and make this classic pasta dish.
Ingredients
1

box

linguine

plus 4-6 quarts of water to boil it in & 1Tbsp +½ teaspoon salt for water

1

cup

cherry tomatoes

plus 1 tablespoon olive oil and salt & pepper for roasting

½

cup

fresh basil leaves

4

tablespoon

olive oil

⅓

cup

pine nuts

2

teaspoon

fresh lemon juice

2

cloves

fresh grated garlic

Pink salt and freshly ground black pepper to taste

Fresh parmesan

optional
Instructions
Fill pot with water and add salt, turn burner on high to bring water to a boil.

Preheat oven to 400.

Place cherry tomatoes on a cookie sheet, drizzle with olive oil and salt and pepper.

Put tomatoes in oven and roast for 15-20 minutes, remove and set aside.

When water comes to a boil, add pasta and cook according to instructions on box.

Strain pasta.

Transfer pasta to a large pasta plate or iron skillet. ( I like the skillet for presentation)Buy iron skillet here

TossBuy wooden pasta tossers here with olive oil, pine nuts, lemon juice, grated fresh garlic and salt and pepper.

Top with roasted tomatoes and fresh basil.

Top with fresh parmesan (optional)

Serve immediately.
Notes
If you don't like roasted tomatoes this is just as good with raw tomatoes. I would just cut them and season with salt and pepper.
Elke is a participant in the Amazon Services LLC Associates Program, an affiliate advertising program designed to provide a means for sites to earn advertising fees by advertising and linking to Amazon.com.
Clicking on an Amazon link from Elke does not increase the cost of any item you purchase.
We will only ever link to Amazon products that we think our visitors may be interested in and appreciate learning more about.