I had a friend bring me a whole bucket of strawberries from a local strawberry farm. Wasn't that nice? I was so excited!! When I looked at all those strawberries, I saw the opportunity to develop recipes!  After we ate a ton of them, I thought about what I could make. The first thing I made was a double batch of strawberry cinnamon rolls. I couple months ago I made apple cinnamon rolls and couldn't believe how good they were…so why not strawberry? I whipped up a basic sweet dough, added a delish strawberry compote and baked them to perfection, they were…..so goooood!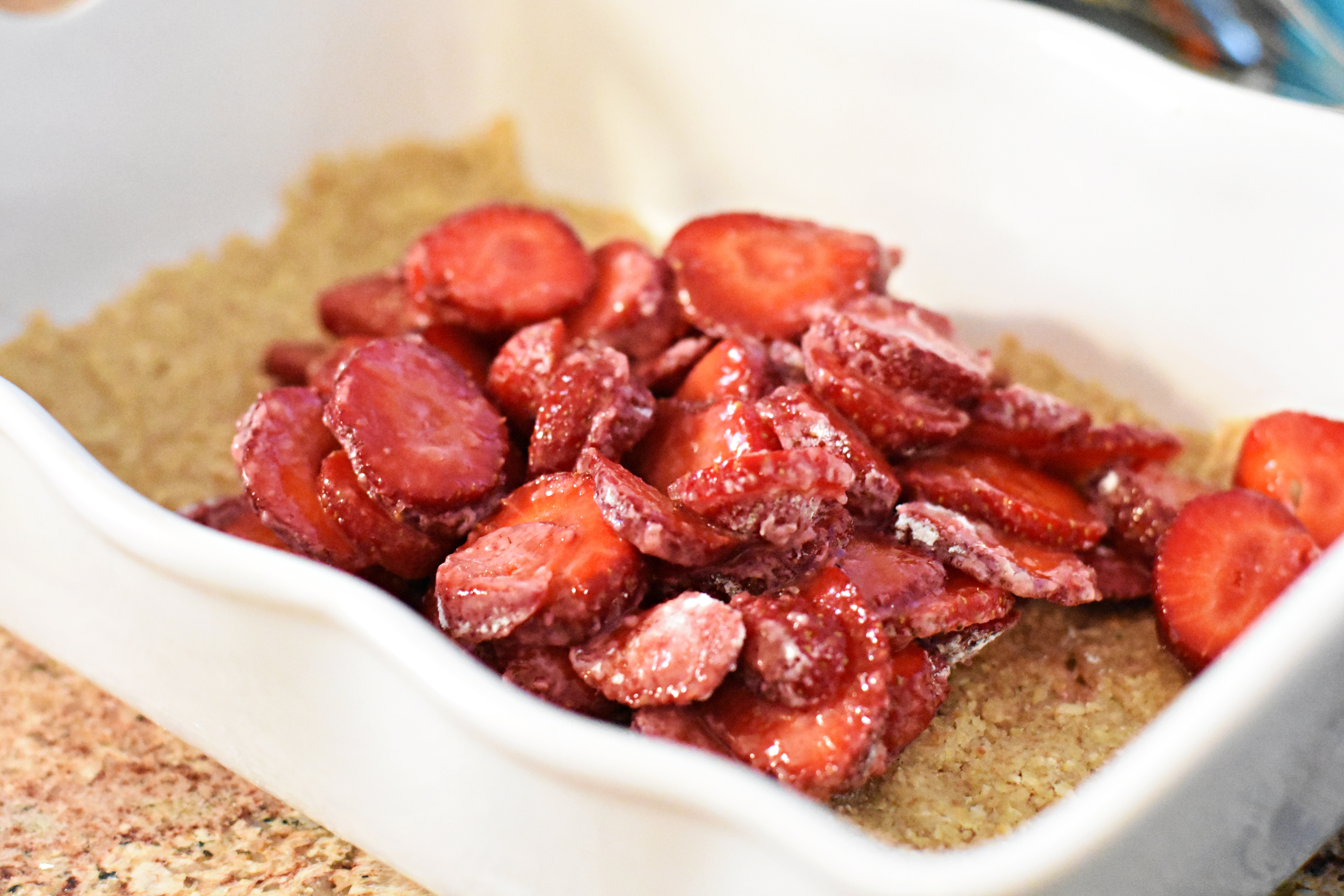 I took a pan right out of the oven to the people who had gifted me with strawberries, then some to my husband's work, and, of course, we ate the rest!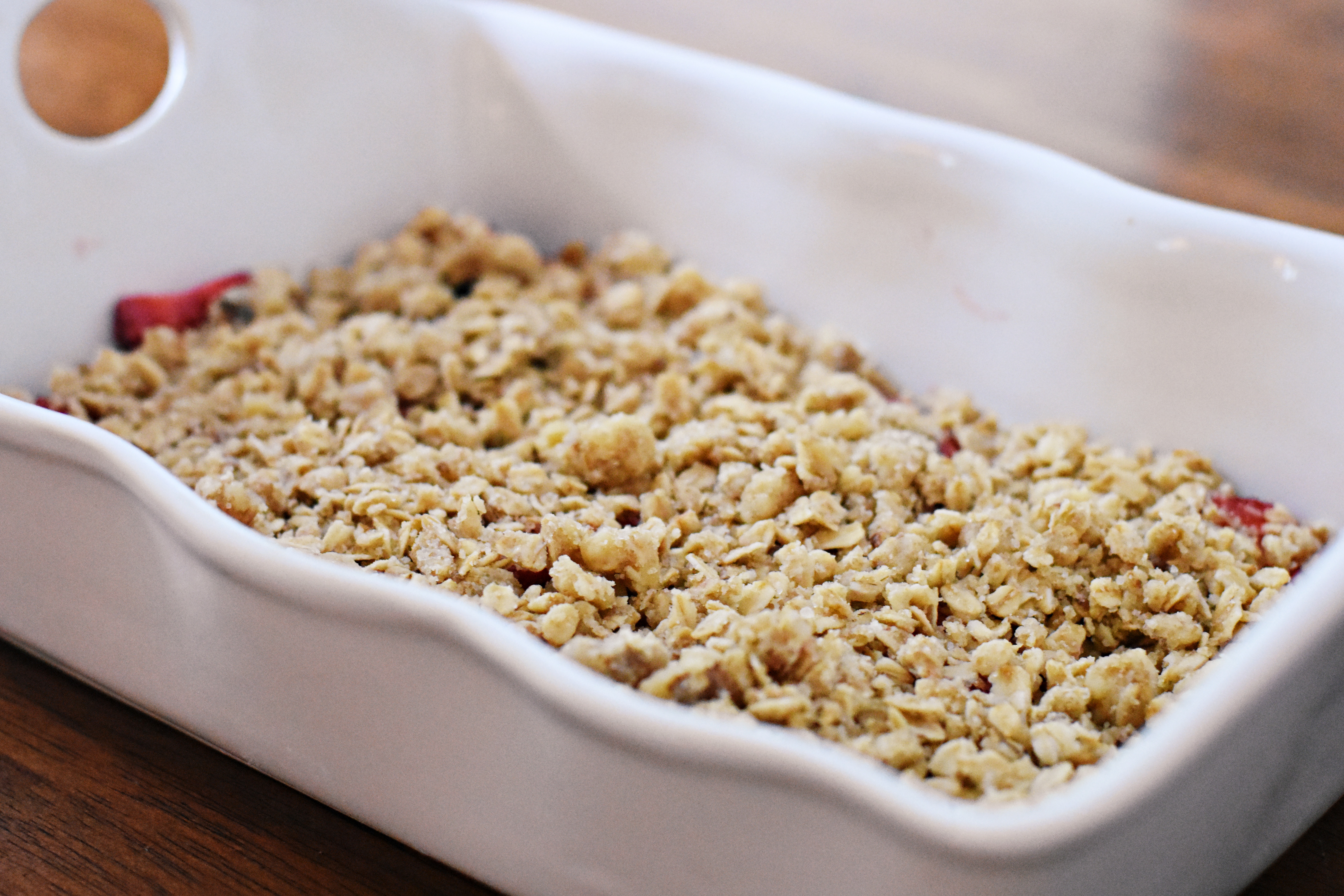 Hmmm, what else could I make? How about a breakfast oatmeal bar? Of course, I have this thought right in the middle of making eggplant curry for dinner, because you know I need to be busier while making dinner…..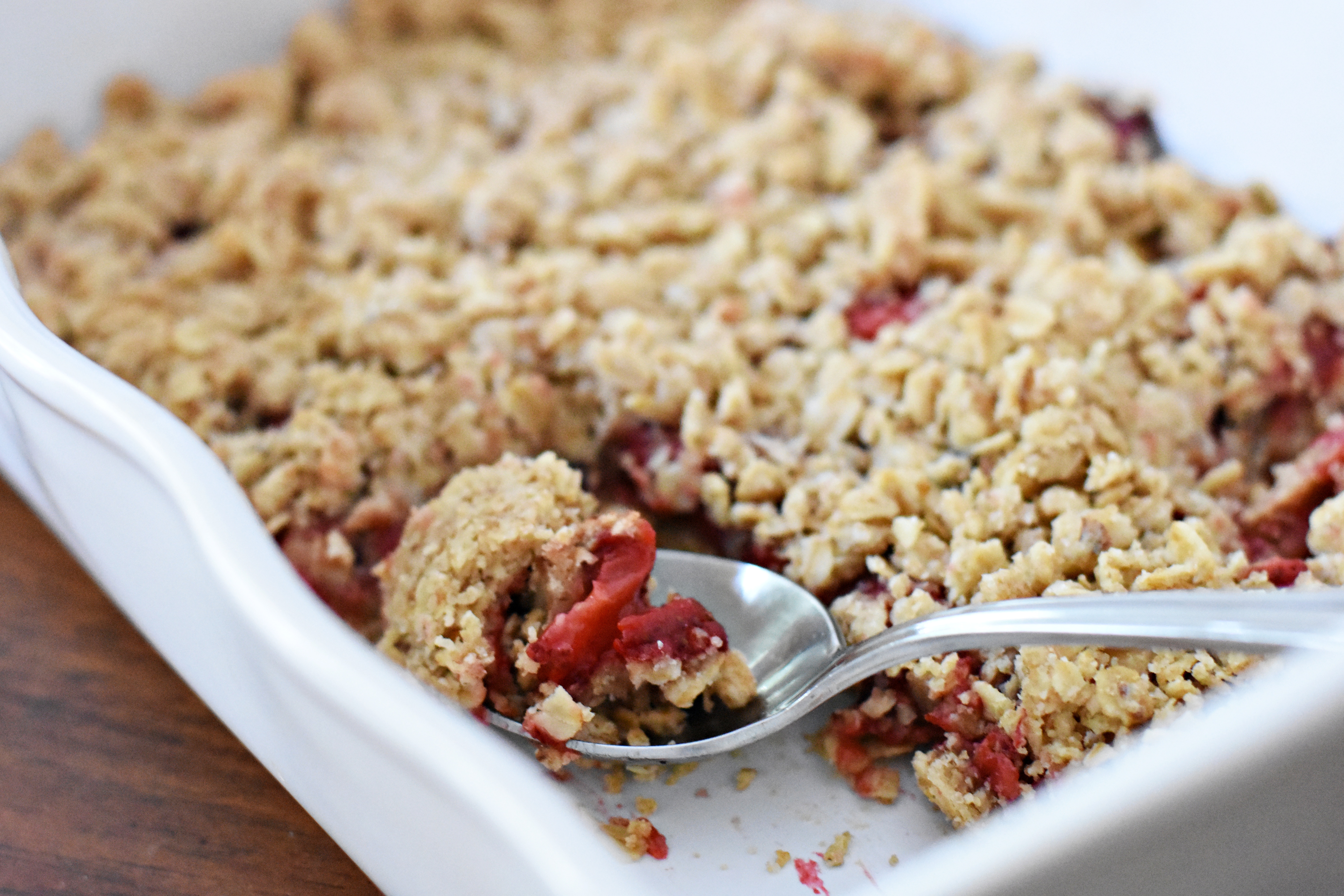 I start putting it together. As I'm making dinner, I was snapping pictures and tasting, it seemed to be coming together quite well! I finish prepping it and put it in the oven to bake. It smelled so good!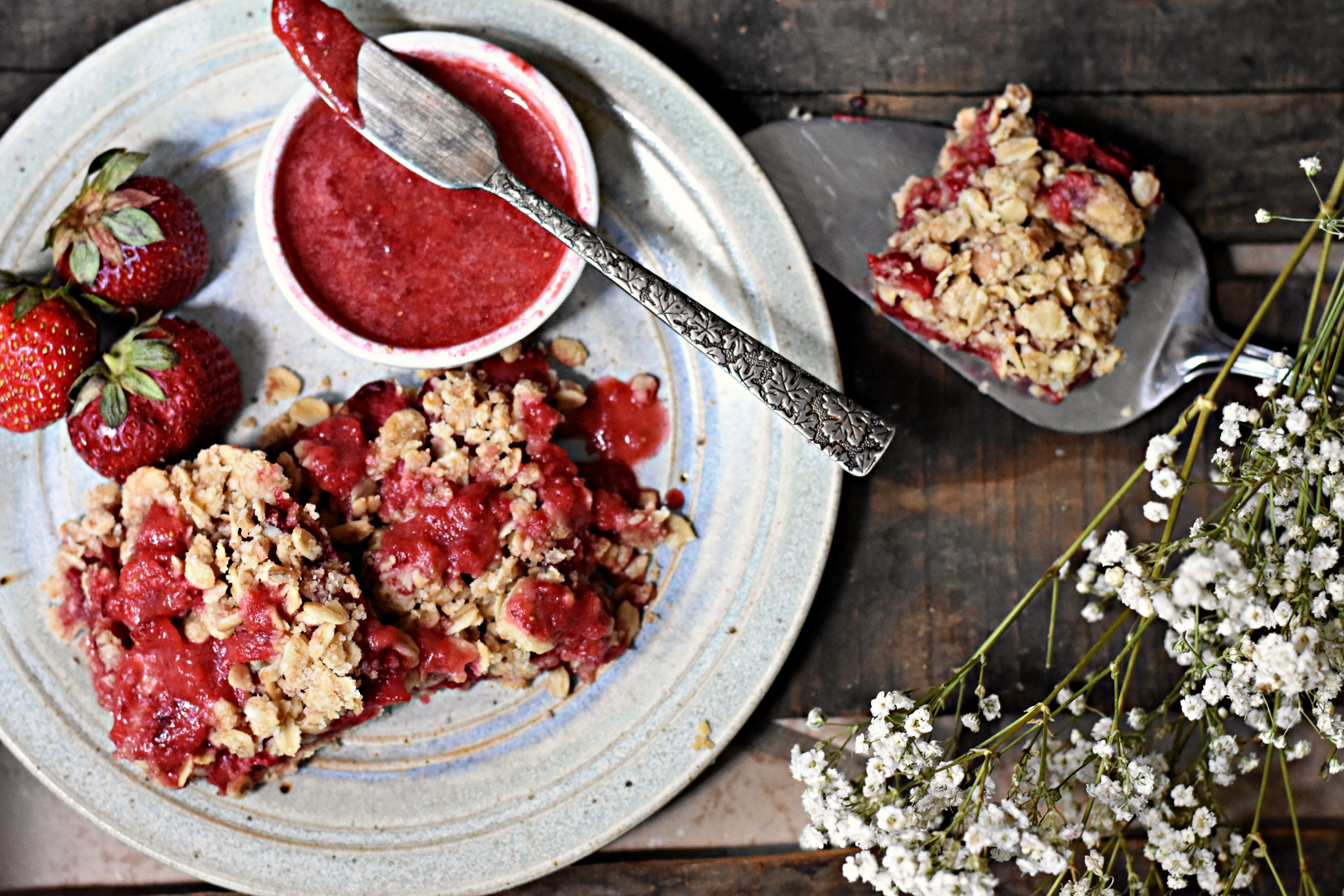 I pulled it out, let it cool for a couple of minutes and gave it a taste…..Ok, good stuff right here! I snapped a few more pictures and called the kids in to get a taste. Their reaction wasn't the normal "that's good mom", but "omg, that's soooo good, can we have more!?"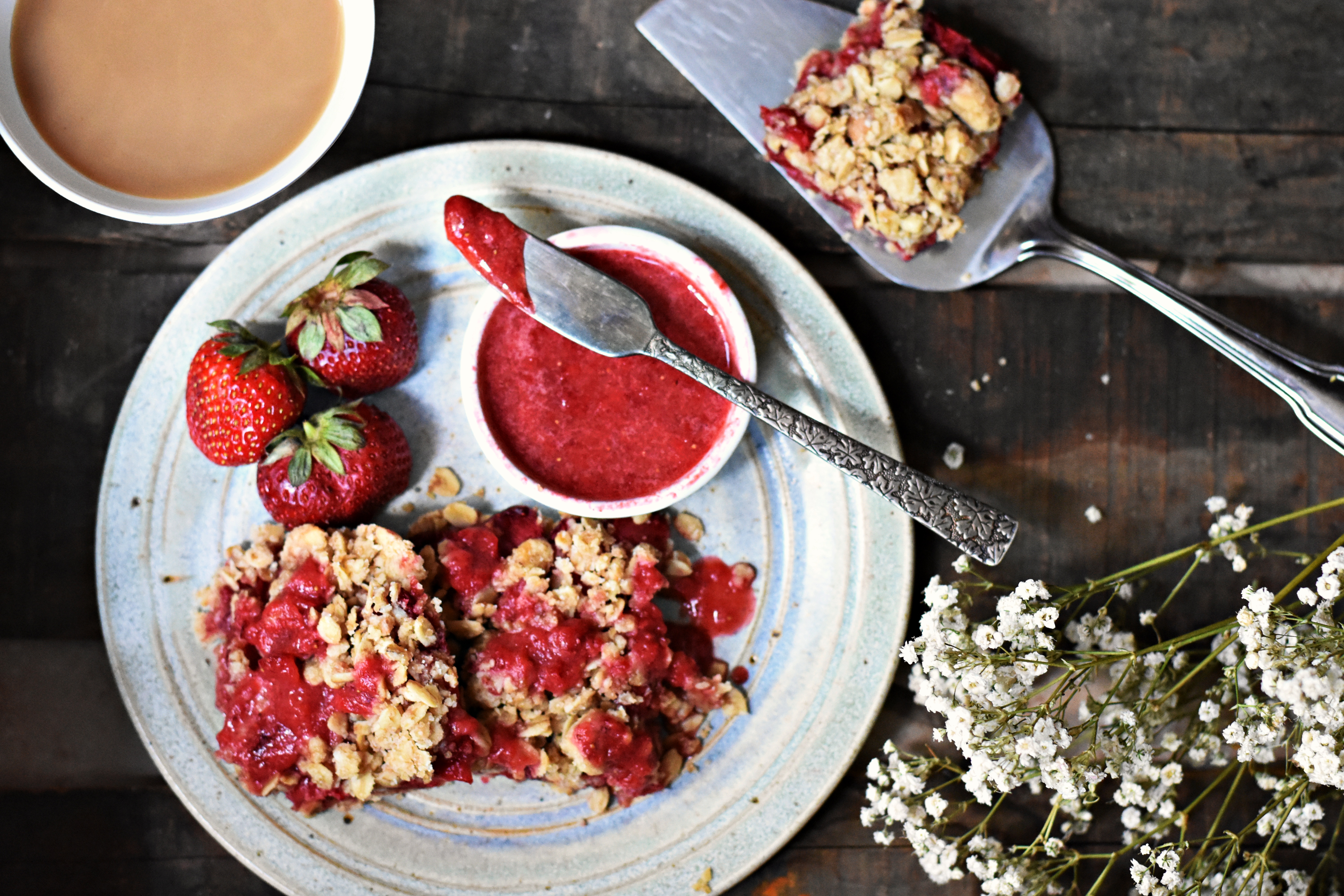 Ok, these are probably going on my blog. Then Tim came home from work. I cut one for him and put it on a plate…. His reaction…."This is the best thing I've ever had!" Ok, I have to put these on the blog, they are just. that. good.
For other breakfast ideas check out this simple Chia Pudding recipe!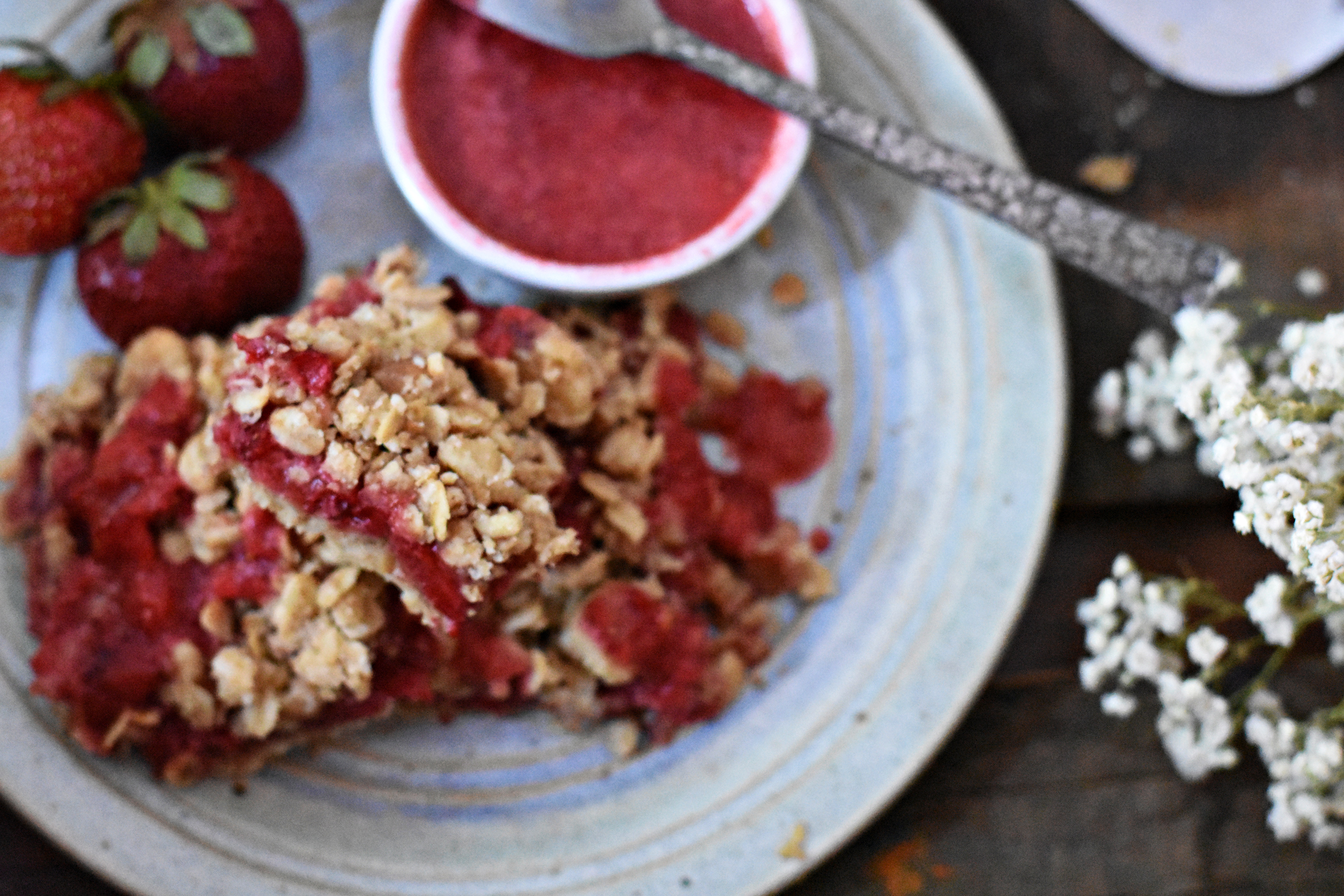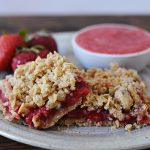 Print Recipe
Strawberry Vanilla Oat Bars
These strawberry bars are the perfect way to use fresh-picked berries. My kids couldn't get enough of these, and they have just a hint of sugar.
Ingredients
1/2

cup

chopped walnuts

could also use pecans

1 1/2

cup

oats

I used old fashioned

1

cup

unbleached flour

1/3

cup

packed brown sugar + 1 tbsp maple syrup

1/2

tsp

pink salt or sea salt

6

Tbsp

coconut oil

melted

2

tsp

real vanilla

2

cups

strawberries sliced with 1 Tbsp flour and  1 1/2 Tbsp sugar sprinkled over top
Strawberry Glaze (optional)
6

strawberries

1

tsp

coconut or almond milk

2

tsp

maple syrup

1

tsp

vanilla
Instructions
Preheat oven to 350

In a small saucepan, melt coconut oil. Once it's melted, whisk in vanilla, maple syrup and salt.

In a medium mixing bowl measure in chopped nuts, oats, sugar, and flour and stir.

Pour coconut oil mixture over flour mixture and stir until there's nothing dry.

Put half of this mixture in a Nutri-bullet or food processor and pulse a couple of times so it can be pressed easily to the bottom of the pan.

In a separate bowl, slice strawberries and sprinkle 1 Tbsp flour and 1 1/2 Tbsp sugar on the berries. mix well.

Take the half of the crumble that you blended, and press it into the bottom of your pan. like this one

Pour your strawberry mix over the top and spread evenly.

Spread the remaining crumble on top

Bake at 350 for about 35 min.

While baking, make the drizzle.

In a blender or Nutri- Bullet blend all ingredients for drizzle until smooth.

Let cool and cut into squares.

Drizzle glaze over bars before serving or serve on the side.
Notes
*The glaze adds a nice freshness, but is optional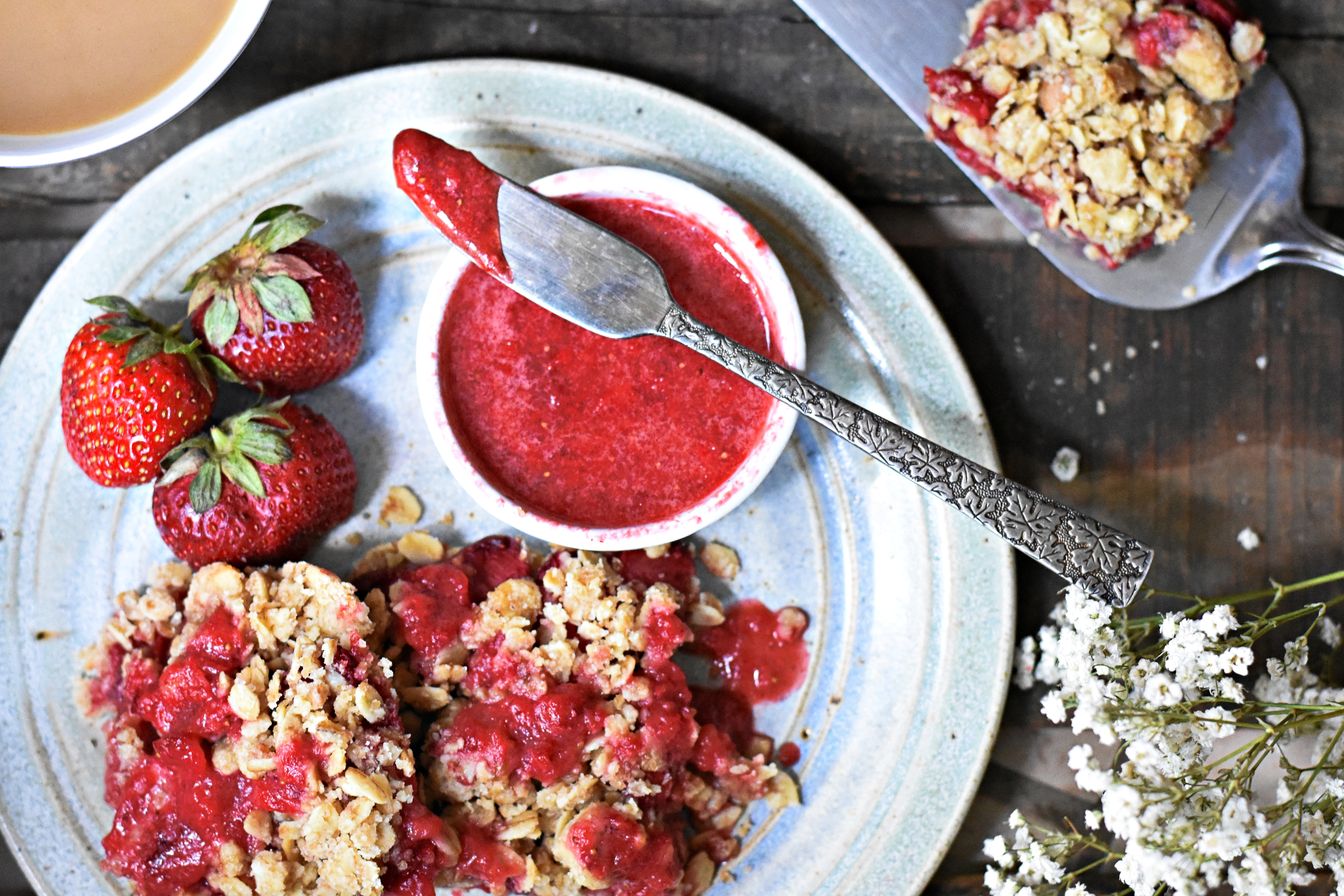 Elke is a participant in the Amazon Services LLC Associates Program, an affiliate advertising program designed to provide a means for sites to earn advertising fees by advertising and linking to Amazon.com.
Clicking on an Amazon link from Elke does not increase the cost of any item you purchase.
We will only ever link to Amazon products that we think our visitors may be interested in and appreciate learning more about.