Growing up if we were eating sweet potatoes, it was a holiday, and they were covered with butter, brown sugar, and melted marshmallows…. were they good- yes, but I'm giving my family a different take on them, a healthier take that is… check out these Sweet & Spicy Sweet Potato Fries with Spiced Maple Mustard!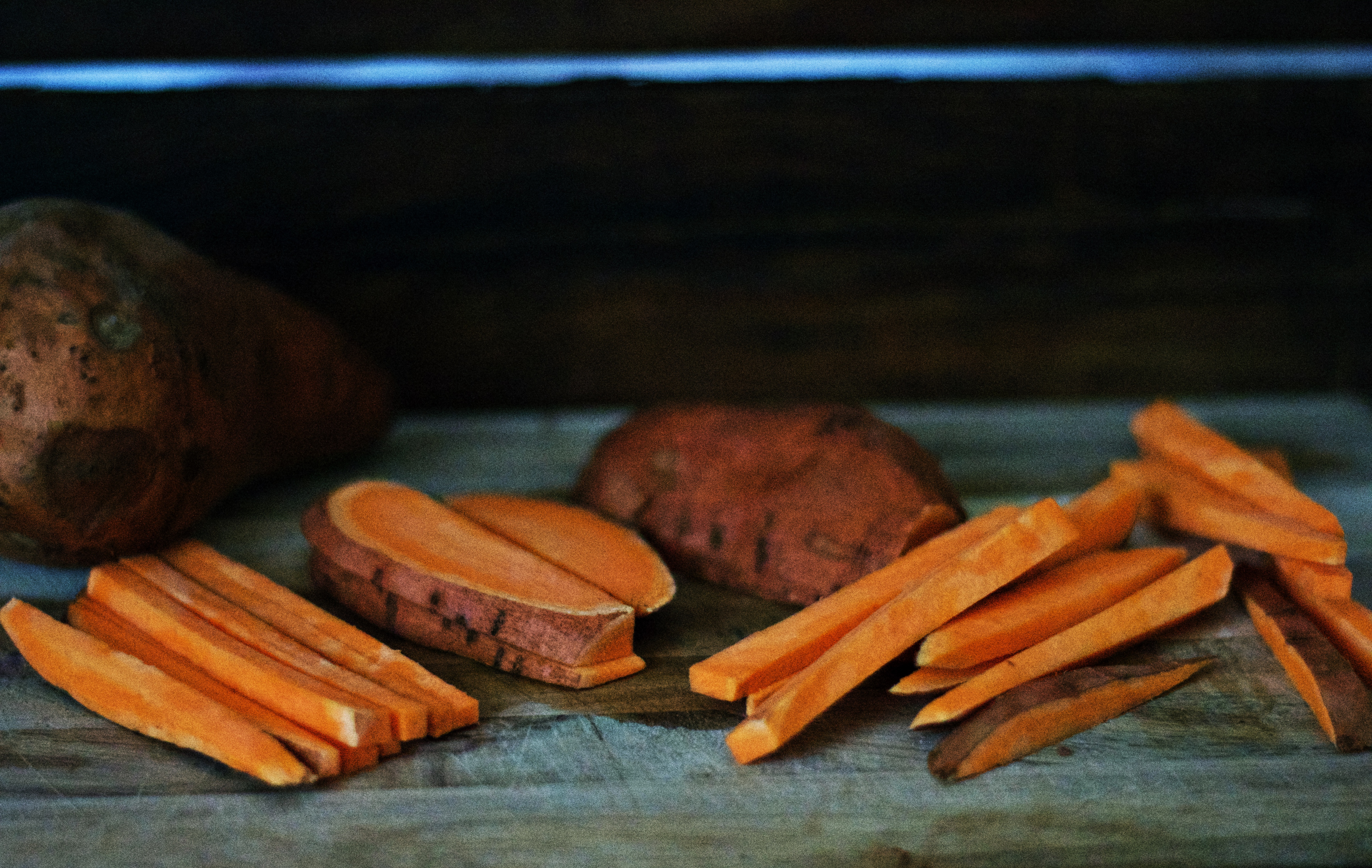 When we eat sweet potatoes we usually eat them roasted, baked or made into french fries. The roasted sweet potatoes are one of my favorite ways of eating them, but totally not the kid's favorite. Let's be honest, not everyone is going to like their sweet potatoes roasted with garlic, red bell pepper, and fresh thyme and rosemary. I promise somehow it comes together for a lot of yummyness!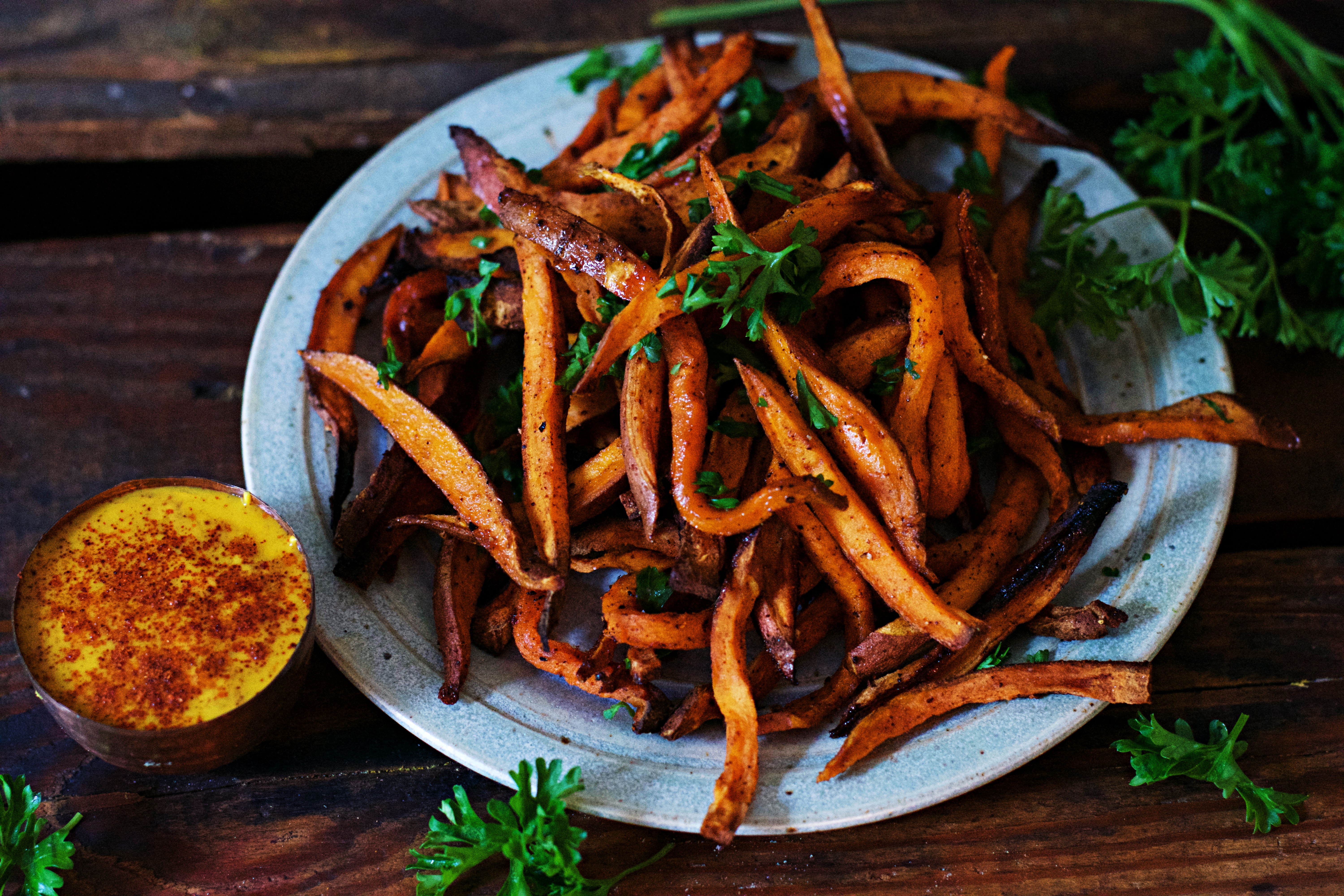 Aubrey picks at a baked sweet potato…….but these…..let me just say when you have a big family like me, it feels like such a win when they all like a healthy dish…… these were definitely a win! All 4 kids loved them!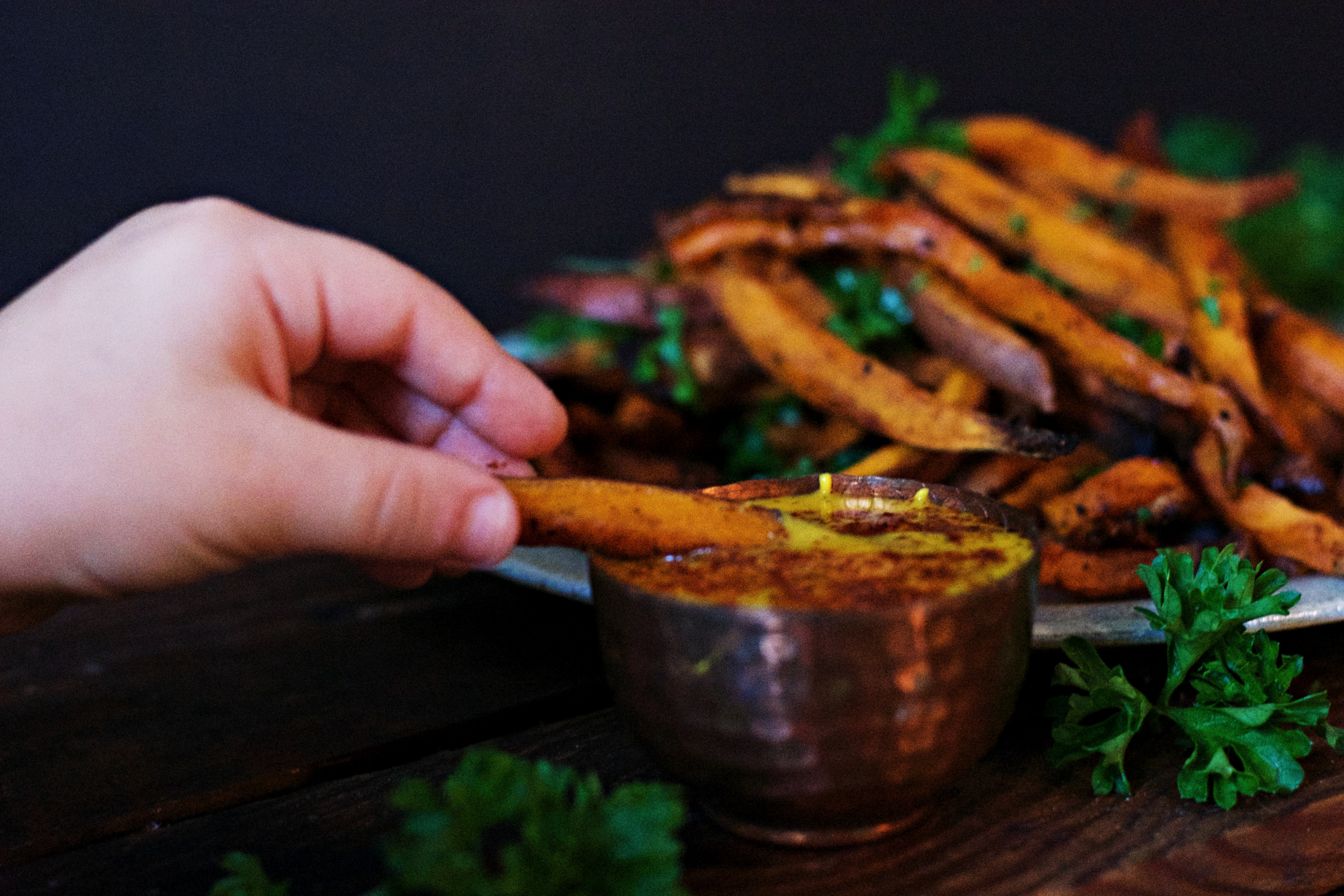 I even got comments like OMG these are so good! Of course, I thought so, but it's nice to hear it from them, and sure beats the winning or plea of desperation when I'm making something they don't like……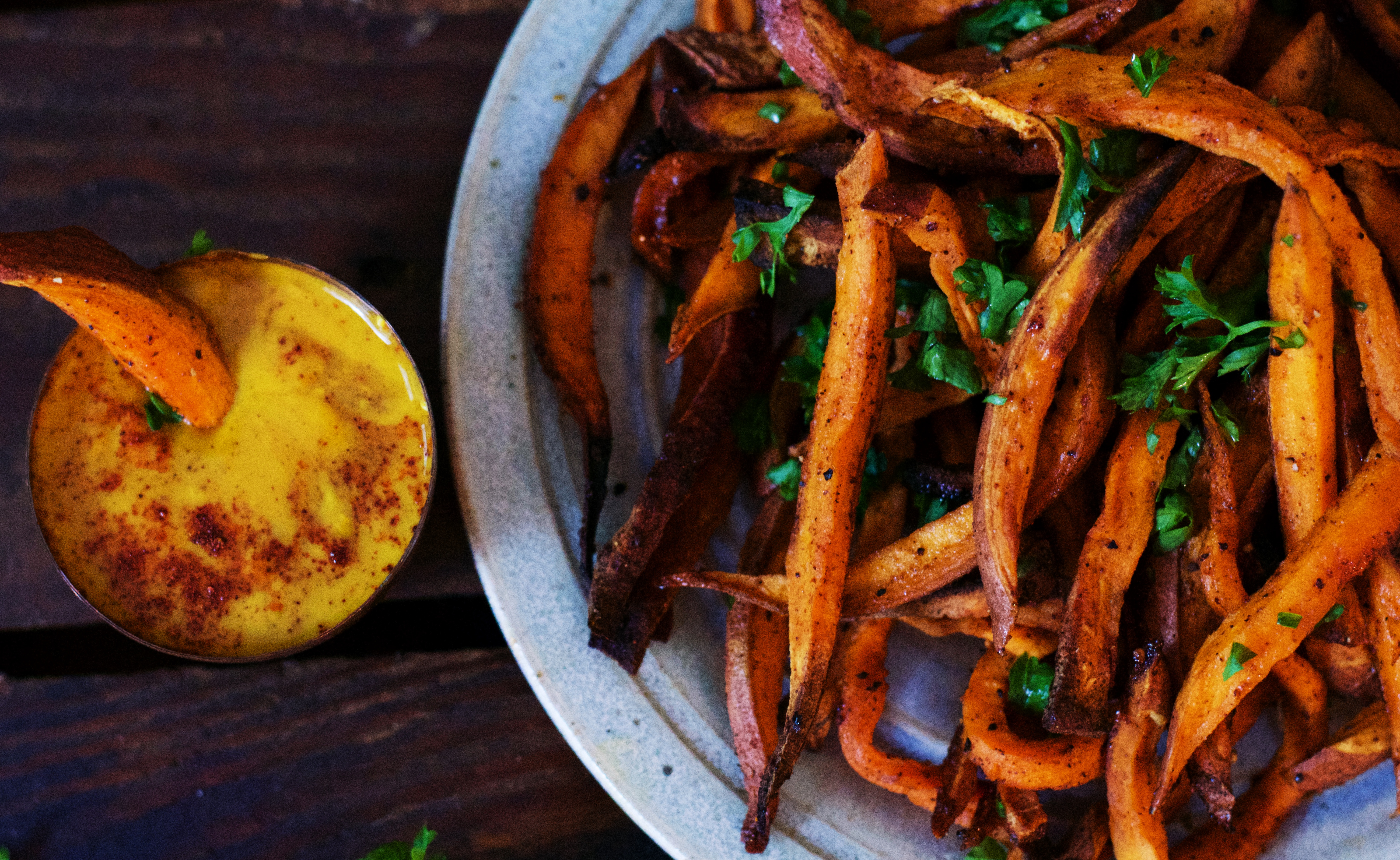 Could these really be considered healthy food? Absolutely, and here's why.
Sweet potatoes are very high in Vitamin A (which is beneficial in maintaining a healthy immune system.
Aid in weight loss because they are nutrient-dense and full of fiber which can help keep you full for longer.
High in potassium and Vitamin C.
Baking sweet potatoes are healthier than boiling because it increases the bio-availability of the beta carotene which can help fight free radicals.
Great for skin and eye health.
Sweet potatoes are a super healthy option, and these fries are absolutely delish!
For other delicious sides try this Anti-inflammatory Cauliflower!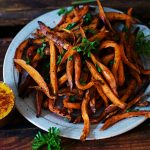 Print Recipe
Sweet & Spicy Sweet Potato Fries with Spiced Maple Mustard
All of my kids loved these sweet potato fries! They are healthy but still give you the satisfaction of fries, and the mustard dip is perfect for them.
Ingredients
2

large or 3 smaller sweet potatoes

2

tablespoon

melted refined coconut oil

2

teaspoon

maple syrup

½

teaspoon

paprika

⅛

teaspoon

cayenne pepper

¼-1/2

teaspoon

salt

¼

teaspoon

black pepper

Parsley for garnish

optional
Maple honey mustard
¼

cup

plain mustard

½- 1

tablespoon

maple syrup

⅛

teaspoon

paprika

Couple dashes of cayenne
Instructions
Preheat oven to 400.

Line a cookie sheet with parchment paper. I love this parchment paper

Cut sweet potatoes in half, then lay the cut side down and cut into slices, then slices into french fries (like pictured above).

Place cut fries into a mixing bowl.

Add coconut oil (melt first if needeand syrup and stir to coat.

Mix in spices, and stir.

Spread evenly onto a cookie sheet, and bake at 400 for about 35-45 minutes (turning fries once or twice during the baking process.

Garnish with chopped parsley. (optional)
Maple Honey Mustard
Whisk maple syrup into the mustard a ½ tablespoon at a time tasting as you add to achieve your desired sweetness.

Whisk in spices.

Top with paprika. (optional)

Serve with fries!