I had the idea for these Gluten-Free Strawberry Waffles kind of out of the blue. I bought this strawberry powder awhile back to make Strawberry Cream Coconut Cups and fell in love with it! It tasted delicious and I had so many ideas for different recipes going through my mind!
Strawberry Powder isn't the only awesome thing about this recipe, I don't know about you but I LOVE a gluten-free goodie! My tummy always thanks me when I make something gluten-free. Yes, gluten-free is trendy, and that's why I stay away from the gluten-free flour mixes, they always have to many ingredients!  In my opinion, it would be better to just eat a good quality flour than those mixes. My favorite gluten-free choice………..almond flour! It works perfectly in so many desserts, it's high in protein, and it's just crushed almonds!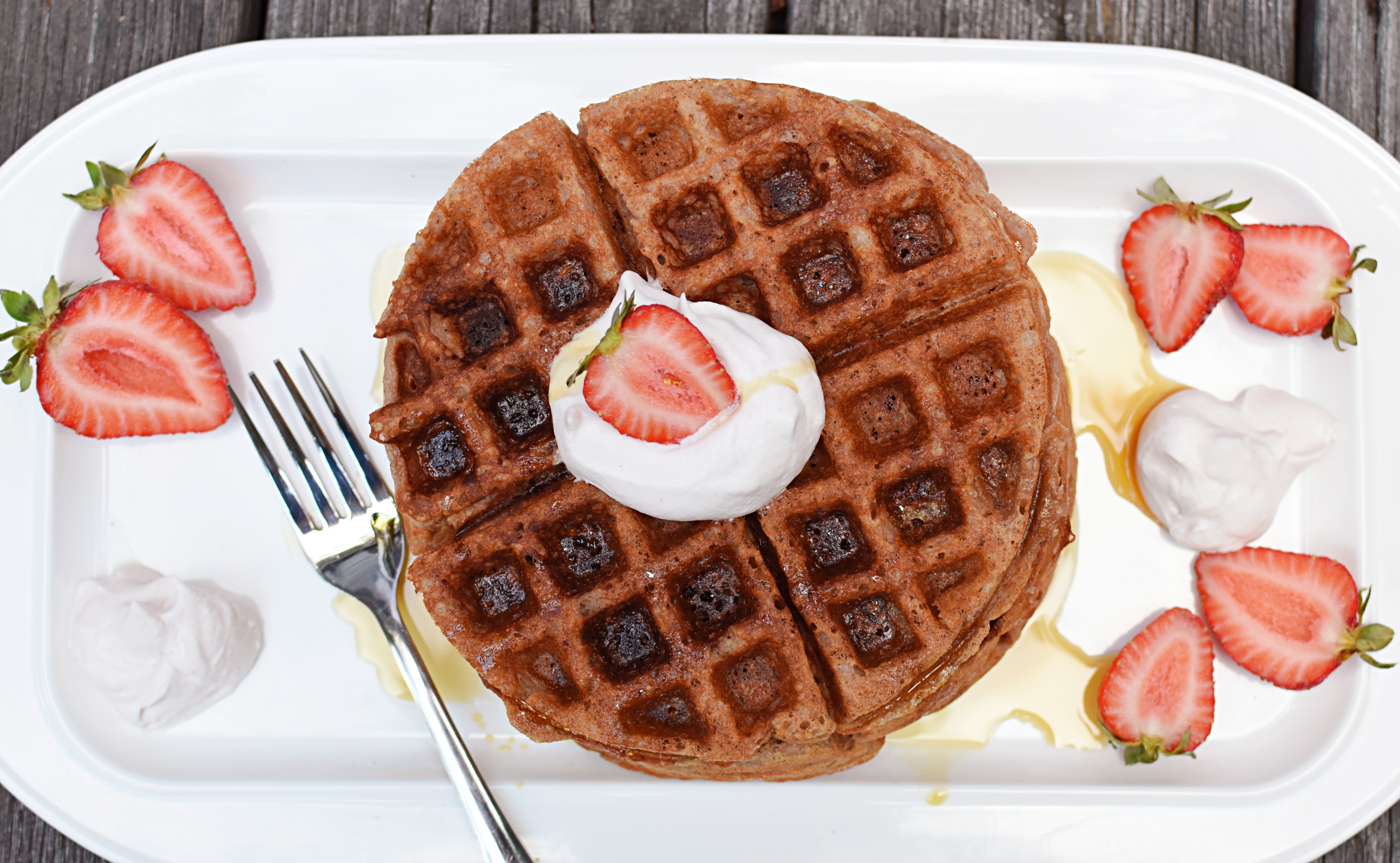 As I was mixing together the waffles I realized just in the almond flour there were 96 grams of protein! In the whole batch about 130 grams! Why does that matter? In our house, the word protein is pretty popular.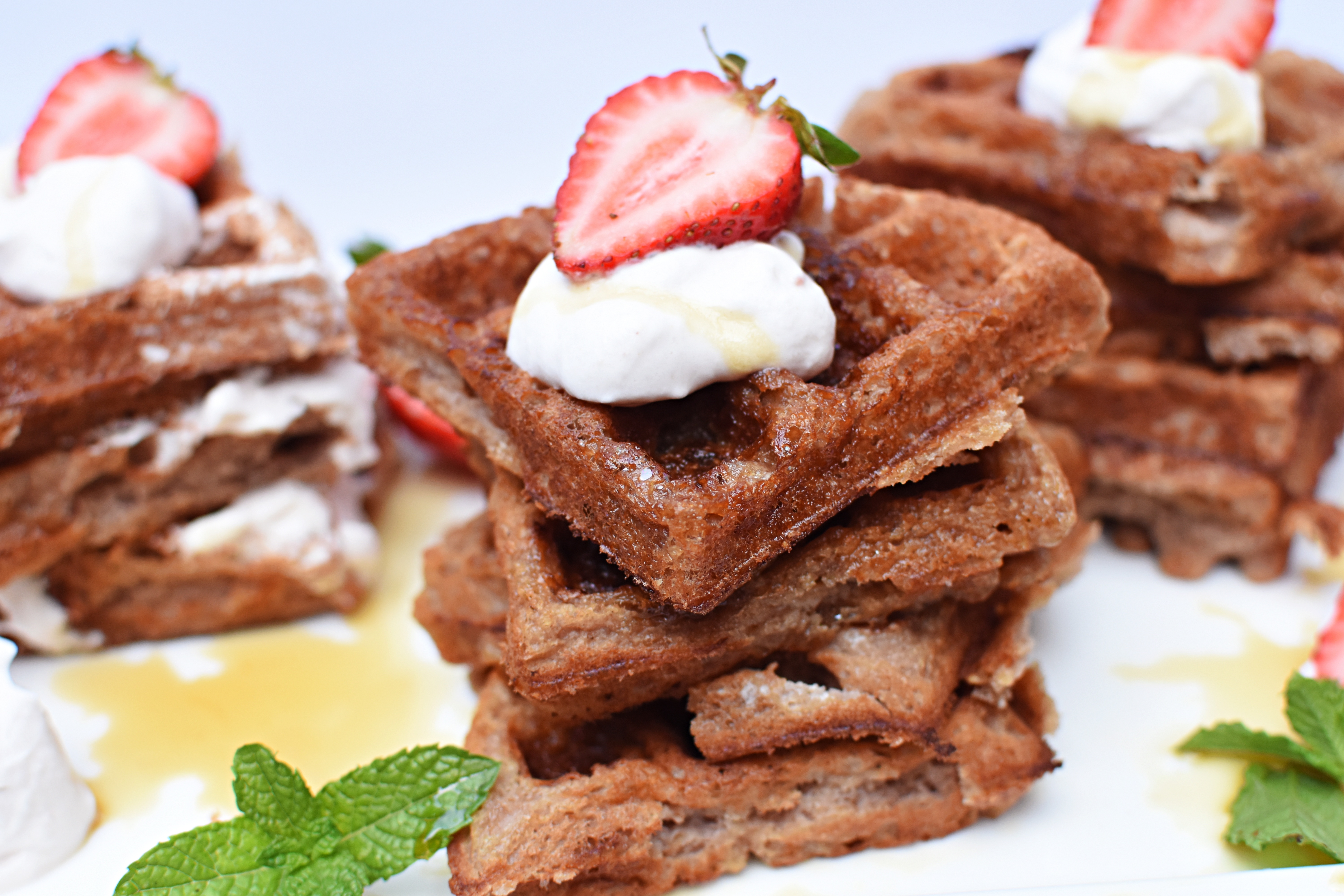 If you've ever seen my husband you would understand why I hear the word protein a hundred times a day….. well maybe not a hundred but there are days its close.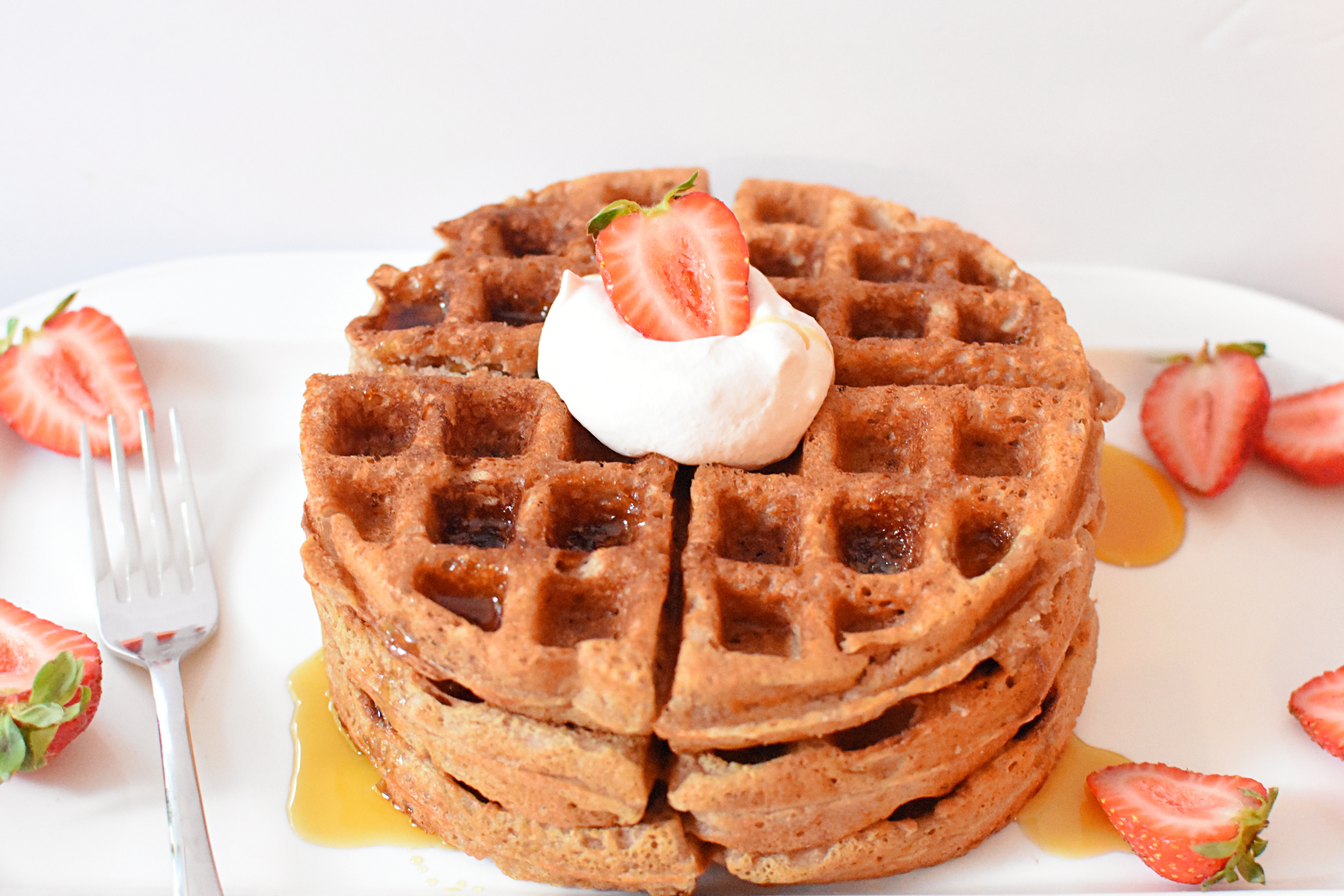 Some things I may hear: "How much protein is in that?" "Can you make me a protein shake?" "I haven't eaten enough protein today!" "Can you make me an omelet with a half carton of eggs?"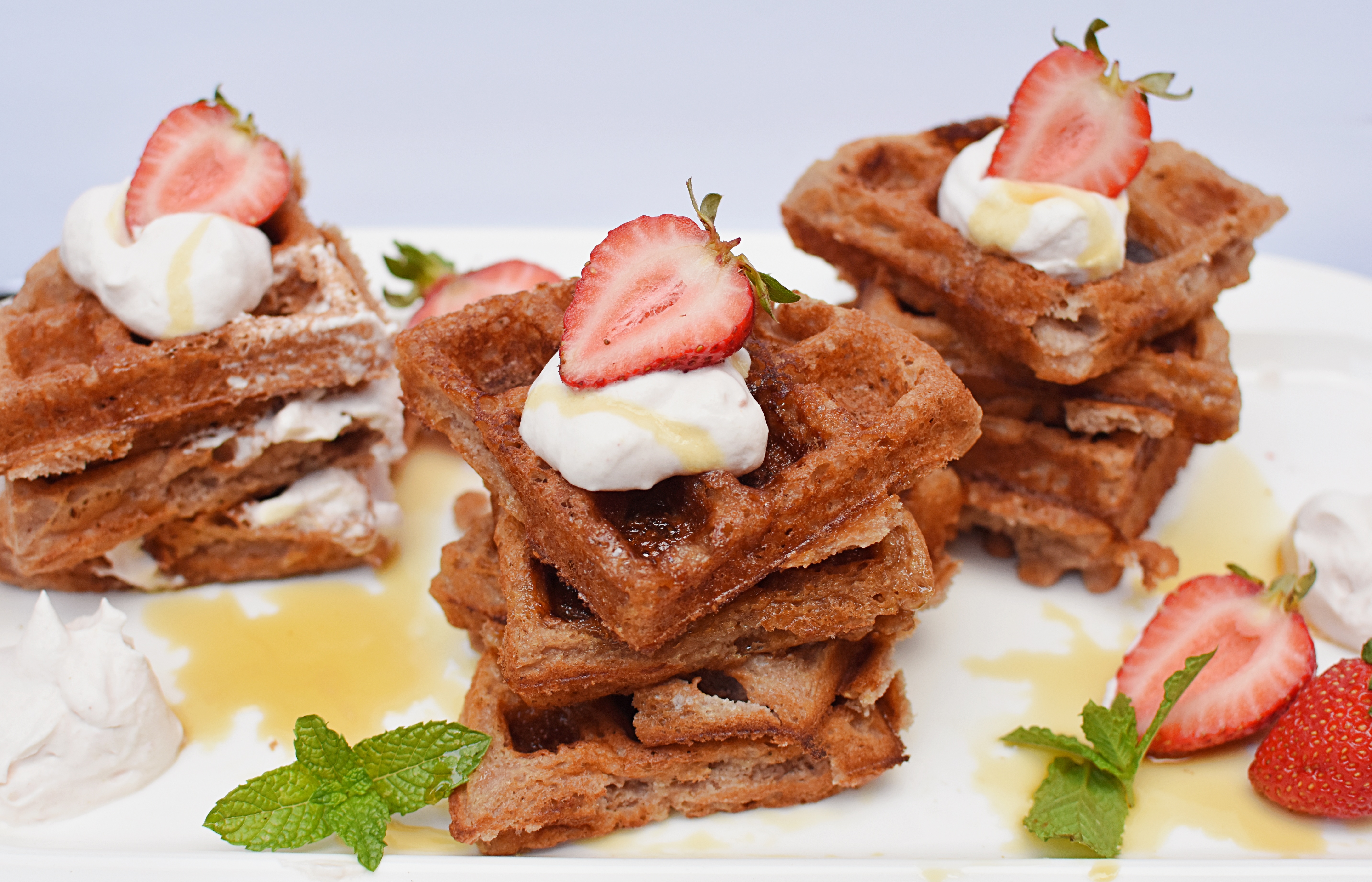 Well, when you're keeping up with a body like his I guess you need protein.
That's why I was pretty happy to see the amount of protein that was in these waffles ( I figured up about 130g per batch!) I knew it would make him light up and it did! I hope you try these Gluten-Free Strawberry Waffles!
Waffles are just pancakes with abs- unknown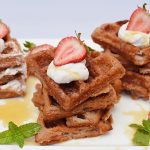 Print Recipe
Gluten Free Strawberry Waffles
High Protien, Gluten Free Strawberry waffles
Ingredients
Strawberry Waffles
4

Cups

Almond Flour

1

Cup

Oat Flour

Grind in Blender

2

tablespoon

Strawberry Powder

¼

teaspoon

Pink Salt

½

teaspoon

Baking Powder

1

teaspoon

Baking Soda

3

Eggs

3

tablespoon

Melted Coconut Oil

Refined

2

tablespoon

Sugar

1 ¾

Cup

Coconut Milk
Strawberry Whipping Cream
2

Cups

Heavy Whipping Cream

2

tablespoon

Strawberry Powder

4 ½

teaspoon

Powdered Sugar

1

teaspoon

Vanilla

1

Pinch

Pink Salt
Instructions
Strawberry Waffles Instructions

In a large mixing bowl whisk together all the dry ingredients. (Make oat flour by blending oats in a blender or Nutri- Bullet Buy the Nutri-Bullet I use here until finely ground)

Whisk in the eggs, melted coconut oil, sugar, and coconut milk.

Whisk together all ingredients until everything is incorporated and smooth.

While your waffle iron is heating make whipped cream.

Strawberry Whipped Cream Instructions
In a Medium mixing bowl, add 2 cups heavy whipping cream.

Add 2 Tbsp. Strawberry Powder

Add powedered Sugar, Vanilla, and Salt, mix until stiff peaks.
Assemble
Serve with whipped cream, fresh strawberries, and maple syrup.

Serve with whipped cream, fresh strawberries, and maple syrup.

*This recipe can be made dairy free by using 3 chia or flax eggs, and coconut whipped cream!