Here we are at the end of summer, and again I was generously gifted with the abundance from a friend's garden! Green beans!! And lots of them!! Yay me!!!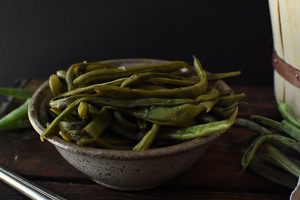 Yes, yay me, but also unfortunate me…why? For the second year in a row, my garden has been pretty much a fail!! Being the lover of health that I am shouldn't my garden flourish? I wish that was the case….. instead we rented a tiller, bought plants, stinky fish fertilizer, an organic pesticide and waited and hoped.
We put all kinds of time into it. Planning where each vegetable would be planted, pulling weeds, and pruning. We were expectant for the plants and seeds we planted. Well, expectant wasn't enough. Some of the plants literally just died, others grew but didn't produce much. Some got eaten by bugs.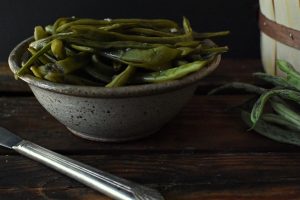 It wasn't a total loss. We had a major amount of mint and dill.  A few tasty tomatoes, and lots of hot peppers!
There's always next year, and we will try again! I'm thankful for friends with green thumbs and giving hearts!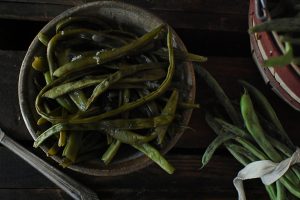 So, she brought me what seemed like 10 lbs of fresh, beautiful green beans! I was so grateful! I put the kids to work stringing them and they knew it was green beans with dinner for the next few days. They didn't have to eat as many as they thought because I ate SO MANY when I was taking pictures! I love a good flavorful vegetable and these were just that!
Should you be eating more green beans? Check out how healthy they are!
Health Benefits of green beans
Helps prevent colon cancer
Boosts the immune system
High in Vitamin C and K
Great for cardiovascular health
Anti-aging
Check out below how to make Steamed Garlic Green Beans! For more healthy veggie sides check out Anti-Inflammatory Sweet & Spicy Cauliflower!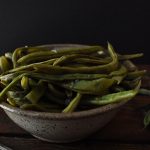 Print Recipe
Steamed Garlic Green Beans
Simply Steamed Green Beans seasoned with fresh garlic, olive oil, salt and pepper!
Ingredients
4

cups

Fresh green beans

String green beans if needed

1/2

cup

filtered water

1/2

tsp

pink salt or sea salt

plus more to season with after cooking

1/2

tsp

fresh black pepper

plus more to season with after cooking

3

large

garlic cloves

1

Tbsp

olive oil
Instructions
String and wash green beans if needed by snapping off ends and pulling the stringy part off.

In an iron skillet add water, season the water with a couple pinches of salt.

Add green beans and season with 1/2 tsp salt and pepper. Cover and simmer on low until green beans are tender. (about 25-30 min)

Grate fresh garlic into green beans, recover and simmer another 2-3 min.

Drain any remaining water off, and drizzle with olive oil.

If needed for taste add a little more salt and pepper.
Notes
I use an iron skillet for this recipe.I use this one!
Elke is a participant in the Amazon Services LLC Associates Program, an affiliate advertising program designed to provide a means for sites to earn advertising fees by advertising and linking to Amazon.com.
Clicking on an Amazon link from Elke does not increase the cost of any item you purchase.
We will only ever link to Amazon products that we think our visitors may be interested in and appreciate learning more about.