Who doesn't love a warm peach cobbler right from the oven? An easy peach cobbler makes it even better. This peach cobbler won't require you to even pull out your mixer. Just a good old mixing bowl and spoon and this cobbler will turn out divine. If you don't like oversweet desserts, this has just the right amount of sweetness and spice. The blueberries add a nice touch of tartness to the sweetness of the peaches!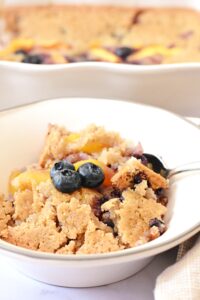 Tips for making this easy peach cobbler
All peaches aren't equal. When you go to get your peaches from the store, lightly press on them with your finger. For the perfect ripeness, they with be firm with a little give and softness to them. Good peaches equal good cobbler! If you can only find firmer peaches you may want to add a couple of teaspoons of extra sugar to them.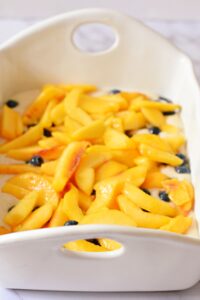 This batter is super easy to make and requires little ingredients. I choose to make this batter dairy-free, but you can use whatever you have on hand. Here are some changes you can make.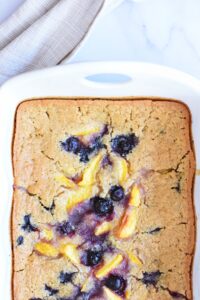 You can replace the coconut milk with any other plant-based milk or dairy milk.
I used refined coconut oil for this cobbler, but you could also use melted butter. Unrefined coconut oil would make the cobbler have a coconut taste to it. I wouldn't prefer this, but if you don't mind the taste of coconut in this dish it would be fine.
The blueberries give a nice tartness to this cobbler to contrast the sweetness of the peaches. If you don't prefer blueberries, raspberries or blackberries would also work great.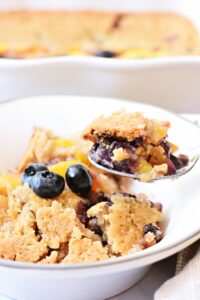 How this peach cobbler is healthier
Most traditional recipes for cobblers call for up to 2 cups of sugar! That's a lot of sugar to put in one dessert! I have cut the sugar down to a half cup and just a couple of teaspoons for the fruit. It's plenty sweet enough! I have also replaced the butter with healthy coconut oil. You can serve this dessert to your family and know it's healthier than anything you can buy in the store and even most recipes out there!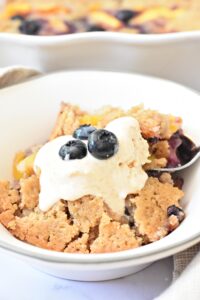 Health benefits of peaches
They help keep your bones healthy with lots of potassium.
Low in calories so they are great for weight loss.
Great source of fiber.
High in vitamin C to help boost the immune system.
For other summer dessert recipes check out this No-Bake Blueberry Cheesecake Cups!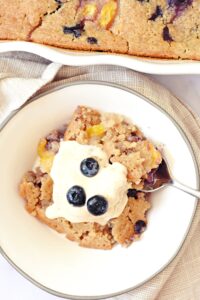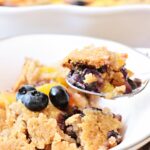 Print Recipe
Easy Peach Cobbler
This quick and easy peach cobbler is made dairy-free and with less than half the sugar of most traditional recipes!
Ingredients
5

medium

peaches

peeled and sliced (this made 3 cups for me)

1

cup

blueberries

2

teaspoon

sugar to sprinkle on sliced peaches.

You could use a little more if your peaches aren't ripe.
Cobbler Batter
1

cup

unbleached flour

½

cup

sugar

1-½

teaspoon

baking powder

½

teaspoon

sea salt or pink salt

4

tablespoon

refined coconut oil

melted

1

cup

coconut milk

or milk of choice

½

teaspoon

cinnamon

a couple of pinches of nutmeg

1

teaspoon

vanilla extract
Instructions
Wash peaches and blueberries. Pour blueberries into a bowl and peel and slice peaches and place them into a bowl.

Sprinkle 2 teaspoon of sugar onto the peaches and blueberries. Set aside
Cobbler Batter
In a medium bowl measure in flour, sugar, baking powder, salt, and spices. Mix well with a whisk.

Whisk in milk and vanilla.

Melt coconut oil and whisk into the batter.

In a baking dish (I used a 9x6) pour in the batter. Spread fruit evenly over the batter.

Bake on 350 for an hour and 5 minutes or until batter is done in the middle.

Serve warm with ice cream!
Notes
If you choose to use butter instead of coconut oil, reduce the salt to ¼ tsp.
I didn't oil my baking dish because when cooking with coconut oil it isn't neccesary. You can oil it if you choose.