To make delicious ice cream you don't have to own an ice cream maker. Making this homemade peaches and cream ice cream just requires a couple of ingredients and a little patience while it freezes. It will be worth the wait! So, if you are looking where to find an easy homemade ice cream recipe, you've come to the right place. This homemade ice cream is creamy and amazing with chunks of fresh peaches and the perfect amount of real vanilla. You will have little time making it and lots of time eating it! It will make a big loaf pan full.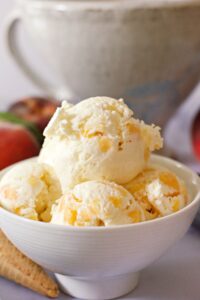 This peach ice cream would be great for entertaining and served with something like peach cobbler or peach crisp. It could also be served right up in a little dish. It's absolutely delicious!
How to make peaches and cream ice cream
Most people never attempt making ice cream if they don't have an ice cream maker, but I'm here to show you just how easy it is. All you need is a couple of simple ingredients and the result will be this creamy vanilla ice cream with chunks of fresh peaches. This an egg-free cook-free recipe! Here's the list you will need to pick up to make this perfect peach ice cream.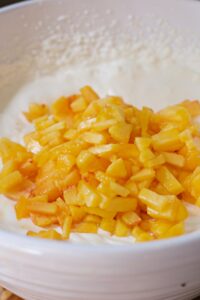 Heavy whipping cream (not just heavy cream or half and half.)
Sweet and condensed milk (the cans come in 14oz cans, I used about 11 or 12 ounces) you can use the whole can if you would like.
Pure vanilla extract
A pinch of pink salt because everything sweet needs a bit of salt.
A few fresh peaches, peeled, de-seeded, and dices into small chunks.
A loaf pan
Yep, that's it!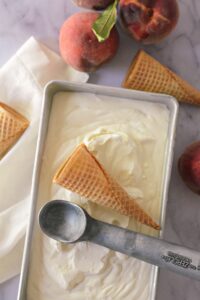 Is homemade ice cream healthier?
Unless you are buying simple flavor organic ice cream this will be healthier. Store-bought ice cream often contains things like carrageenan, natural and artificial flavors, large amounts of sugar, or artificial sweeteners. I have even seen harmful ingredients like caramel color, and vanillin (which can be associated with the death of cells). It seems like it can be hard to find good quality food that's pre-made at the grocery store! It's also great to know how to make things from scratch!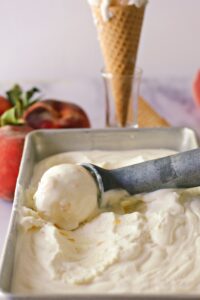 Do I need to use fresh peaches?
You can use frozen or canned peaches for this recipe. Remember, fresh peaches are going to have a lot more flavor, so here's what I would do if I were going to use frozen peaches. Let your frozen peaches get a little soft then chop up a couple of cups. Sprinkle them with a couple of teaspoons of sugar and let them set. Frozen always seem to be a little less sweet than fresh. The second option would be canned. If you can't find fresh or frozen canned can be used. I would make sure they are in peach juice and not a heavy syrup and don't have any added ingredients like natural flavors.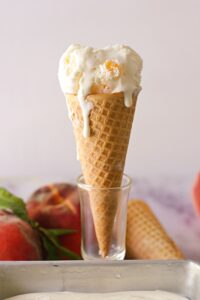 What to serve with peach ice cream
Sometimes it's hard to know what can be served with ice cream. Of course, you can just eat it in a bowl or on a cake or waffle cone. It's great just on its own! However, we ate this creamy ice cream right on top of some peach crisp!
You could also eat it with berry cobbler or vanilla cake. It would also be good with strawberry cake, or desserts with pecan toppings! The ideas are endless.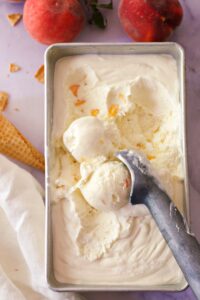 If you are looking for other amazing dessert recipes check out some of my favorites!
Fried pan peaches with mascarpone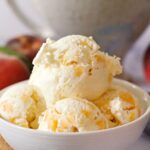 Print Recipe
Peaches and Cream Ice Cream
This no-churn peaches and cream ice cream will capture the essence of summer with fresh peaches and vanilla!
Ingredients
4

large

peaches peeled, diced

2

cups

heavy whipping cream

1

14oz

can sweet and condensed milk

I used 11-12 oz of this can

2

teaspoon

pure vanilla extract

¼

teaspoon

salt
Instructions
With a hand mixer whip the heavy whipping cream until stiff peaks form. Toward the end of whipping add vanilla and salt. Don't mix beyond stiff peaks because it will turn to butter.

Whip in about 11-12 ounces of sweet and condensed milk. You could use the whole 14oz can if you prefer.

Peel 4 peaches, remove the pits, then dice them up and fold them in the mix with a rubber spatula or wooden spoon.

Pour into a 9x5 loaf pan and freeze overnight. When you get it from the freezer to scoop it allow it to set for about 5 minutes to make scooping easier.