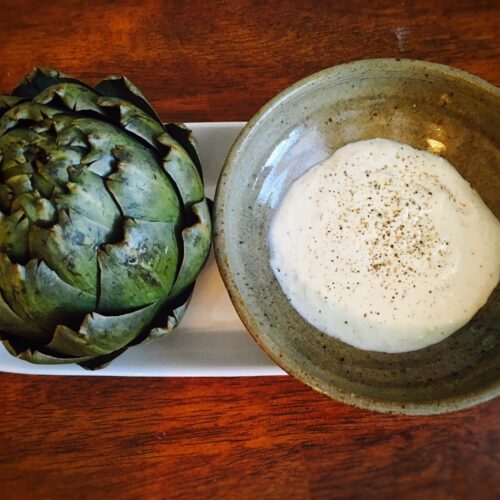 Print Recipe
Steamed Artichokes with Lemon Garlic Sauce
Artichokes were a pregnancy craving of mine. They might look difficult to prepare and eat, but steaming them makes them tender and the sauce adds a special treat to it.
Steamed Artichoke
One large artichoke

1 ½

cups

water

Lemon wedge

½

teaspoon

salt
Lemon Garlic Dipping Sauce
Wash artichoke then cut stem down to about a ½ inch. Tear off one layer of leaves closest to the stem.

Place artichoke in a medium saucepan with water, lemon, and salt.

Steam over low heat for 35-45 min. Check a couple times throughout to see if water is absorbed and more is needed.

Remove artichoke from remaining water, and place on serving plate.
Dipping Sauce
Place mayo in a small bowl.

Grate or with a garlic press add garlic.

Mix in lemon, salt, and pepper.

Serve beside artichoke.

Pull off leaves and dip and eat. The closer you get to the heart, more of the leaf is eatable.