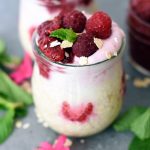 Print Recipe
Raspberry Cream Overnight Oats with Chia Jam
Overnight oats are one of the easiest breakfast ideas. You mix them up before bed so they are ready to grab and go the next morning.
In a glass measuring cup pour a cup of milk, and mix the remaining ingredients into the milk.

Pour the milk mixture evenly over both cups of oats.

(I cut some raspberries in half and slid them down the sides of the cup, but this is optional)

Place the lid on and let set for a few hours or overnight.

The next morning top with desired toppings and chia jam. (recipe below)
Jam
Place all ingredients into a Nutri-Bullet Buy Nutri-Bullet here or food processor and blend for just a few seconds until there are no whole berries.

Place into a small saucepan and bring to a boil over medium-low heat (if using fresh berries you may need to add a tbsp of water)

Reduce heat and simmer for 3-5 minutes and then turn heat off and transfer to a jar.

Let cool and place in fridge.

Use on top of overnight oats, or like a jelly!
*I also topped mine with coconut raspberry whipped cream. Just scoop the cream from the top of a can of full fat coconut milk. Place in a bowl with a tsp or 2 of sugar or maple syrup. Add 6-8 raspberries and blend with a hand mixer until fluffy.
Other topping could be nuts, other berries, hemp seeds Buy them here
 or other seeds, dried fruit or even mix protein powder in with the oats! Buy a protein powder here