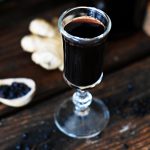 Print
Homemade Elderberry Syrup
We love to use natural remedies in winter, and making our own elderberry syrup is the first line of defense.
1 3/4

cups

filtered water

1/2

cup

organic dry elderberries

Buy dried elderberries here

1/2

tsp

good quality cinnamon like Ceylon cinnamon

Buy ceylon cinnamon here

1/2

tsp

ground ginger or 1 tsp fresh ginger

4-6

whole cloves or 1/2 tsp ground cloves

1/2

cup

good quality local honey

optional- see below
In a medium saucepan add all ingredients except honey

Bring to a boil then simmer 20 min to a half hour.

Strain liquid into a measuring cup or bowl.

Wait until it is just warm to the touch and whisk in honey.

Store in refrigerator 4-6 weeks.

Take a half to 1 tsp daily as preventive or every 3-4 hours if you are sick.
Tips and precautions
I use without the honey because I add to honey elixir and homemade elderberry gummies. If you don't add the honey it seems to have less of a shelf life (about 2-3 weeks refrigerated )
If you are pregnant or nursing do not take.
If you have an autoimmune disease do not take because it could stimulate immune system.
Always consult with your doctor before taking anything new especially if you are on medication or having treatment.