If you would have told me a few years ago I could make my own chocolate I probably would have given you an ooookay kind of look. Then, if you would have said I could mix it up in less than 5 minutes, I would have looked skeptical…….THEN, if you would have said I probably wouldn't even have to turn a burner on the stove on, I would have thought you sure had a lot of knowledge about this chocolate and nodded with surprise. T.H.E.N if you would have said there was no refined sugar in it and it was actually a health food, I would have gone back to feeling skeptical. But I promise you can make your very own healthy Easy Raw Chocolate Bark!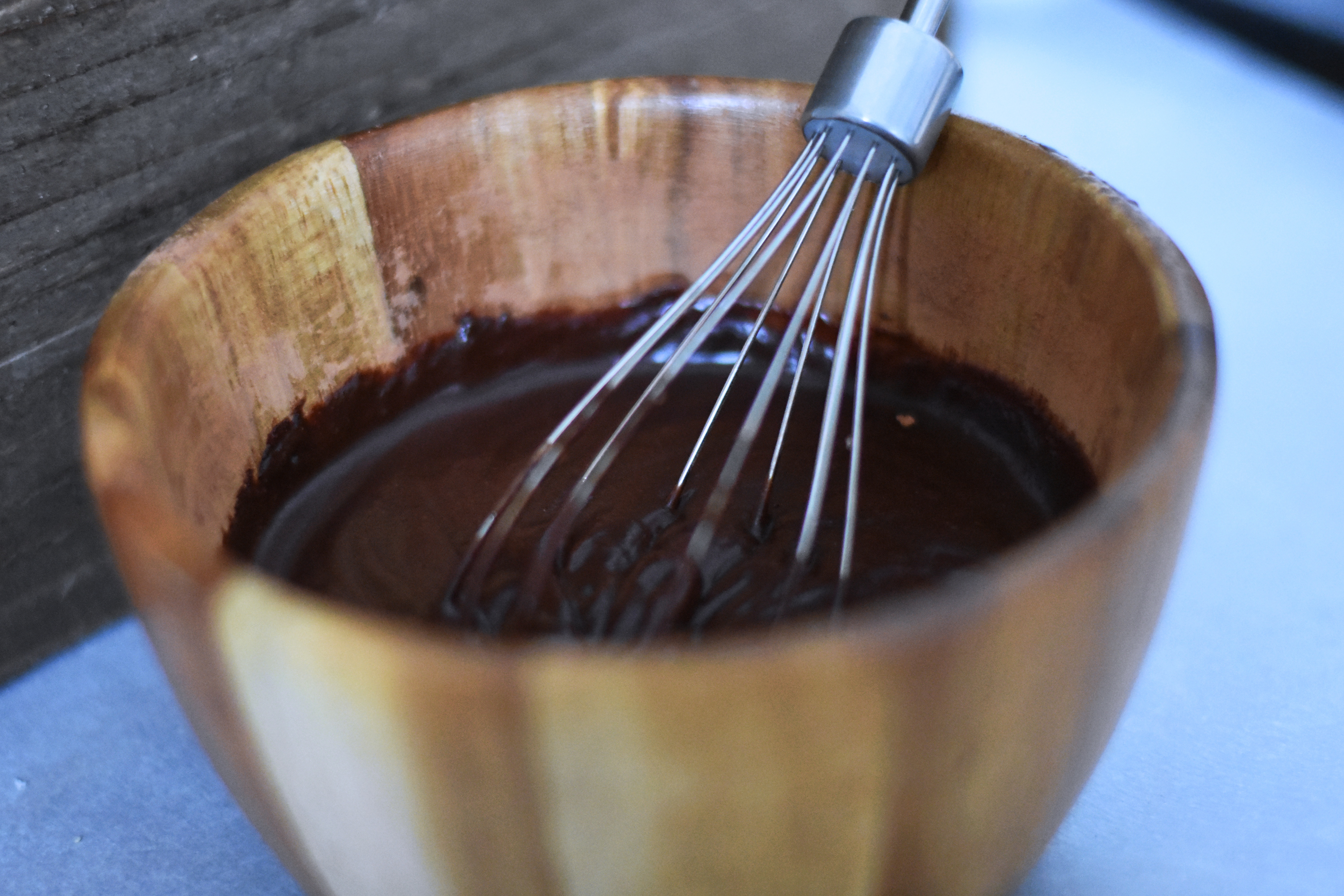 Well, all of it is true! It's doable, quick, no cooking is required, and if you use good quality ingredients it is defiantly a health food! To top it off, its melt in your mouth, delectable chocolate, and you can add anything to it you like!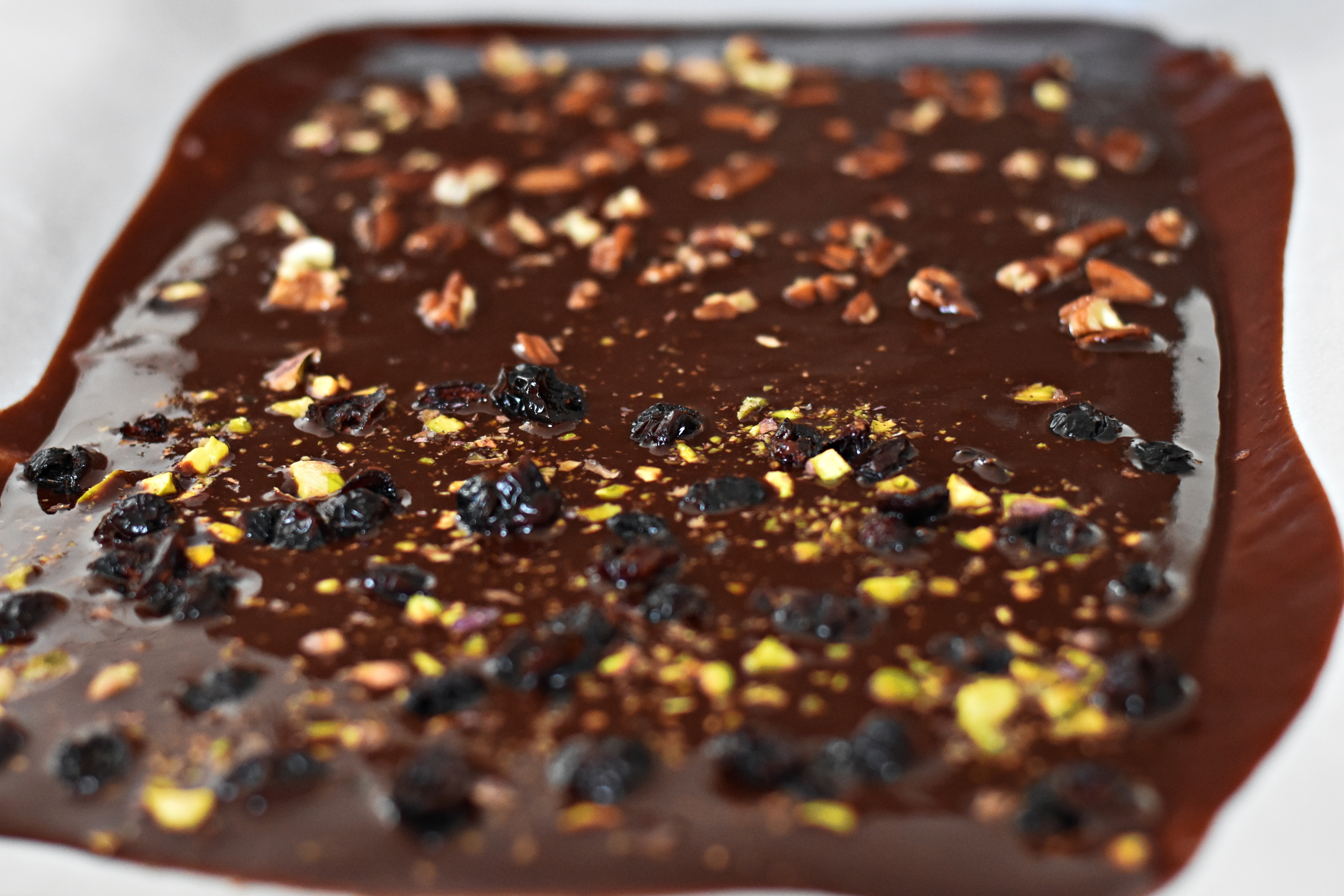 Heres some health benefits: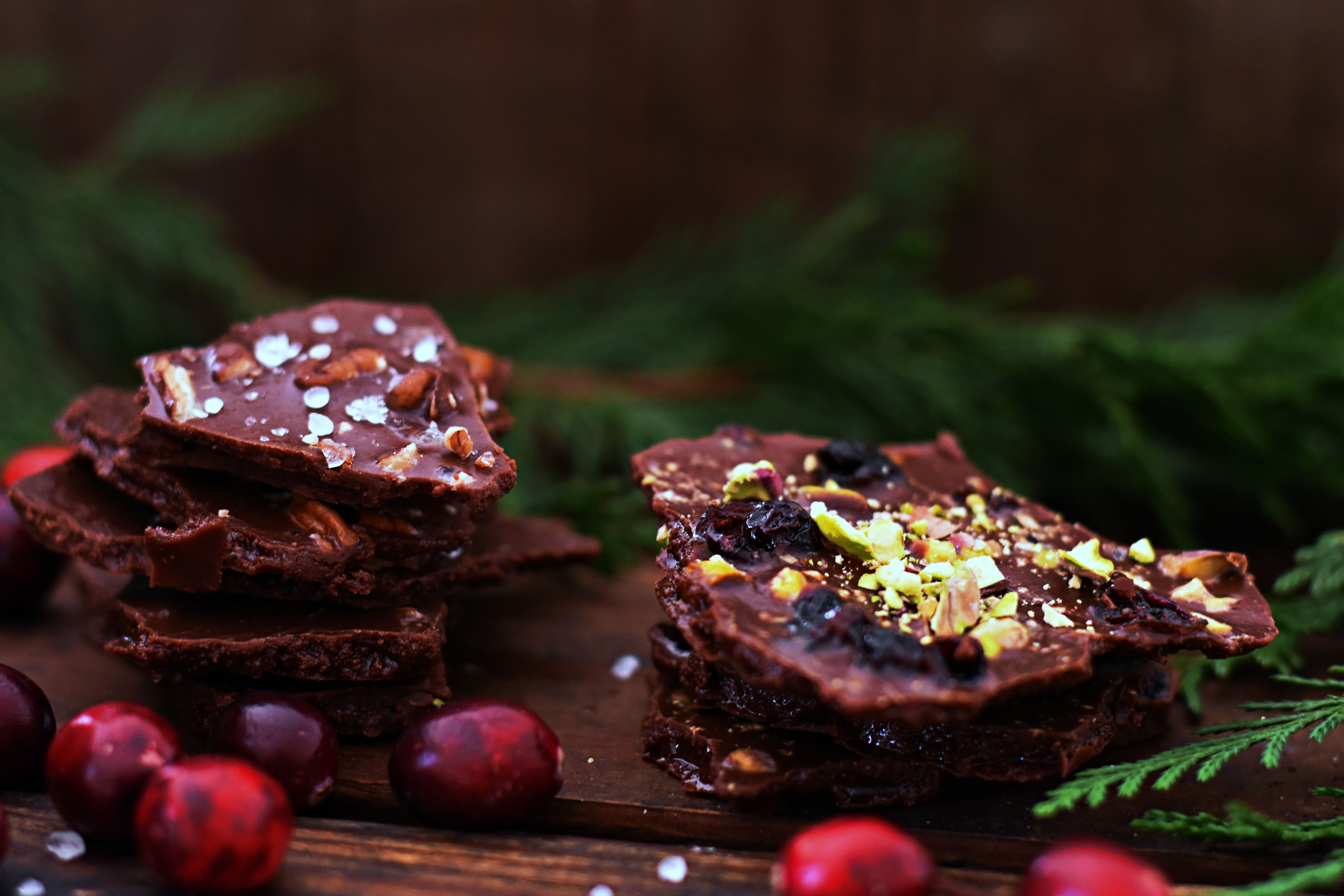 Cacao powder-( Not to be mistaken for cocoa powder which is processed) Helps detox liver, can act as an anti-depressant and help balance mood, can help regulate heartbeat and blood pressure.
Coconut oil- Anti-aging, helps balance hormones, helps boost the immune system, and helps to prevent cancer.
Maple Syrup- High in antioxidants, fights inflammation, supplies important vitamins and minerals, and has a lower score on the glycemic index.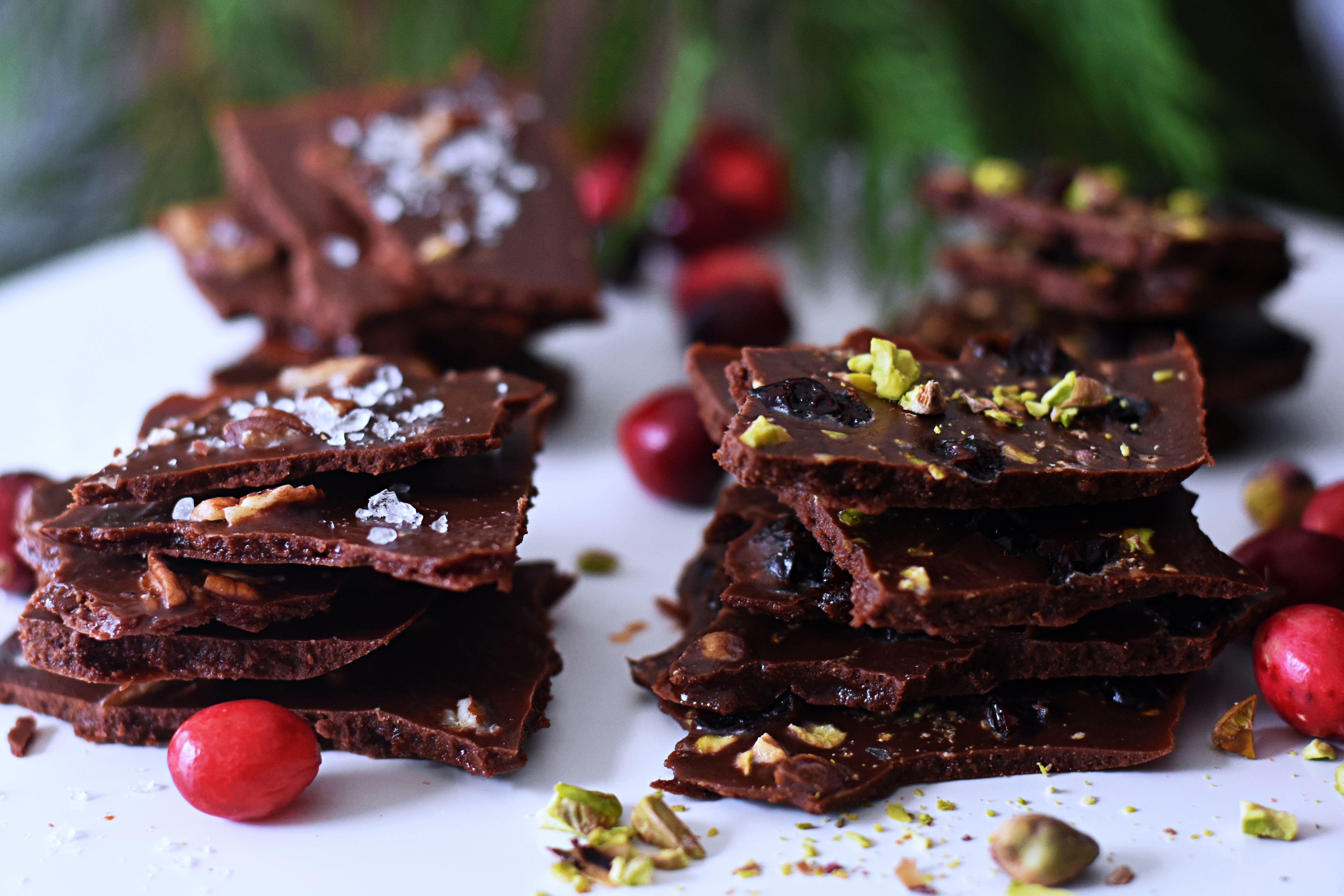 "Real food doesn't 'have' ingredients, Real food IS ingredients."- Food Matters
For more healthy raw desserts check out these Creamy Coconut Bars!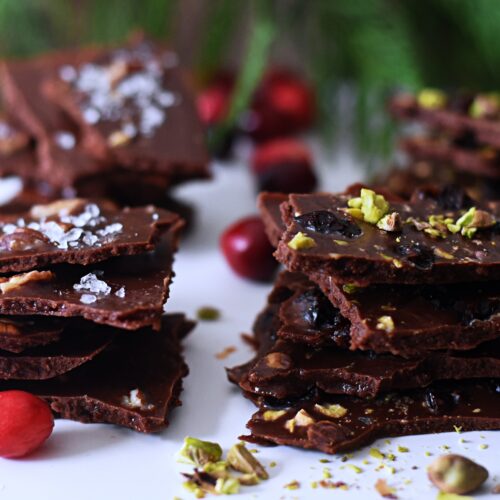 Print Recipe
Easy Raw Chocolate Bark
Chocolate bark is a super easy recipe, perfect for gifting.
Ingredients
½

cup

coconut oil

melted

⅓

cup

Cacao powder

Buy Raw Cacao 

4-5

tablespoon

maple syrup

according to taste preference

Pinch

of pink salt

Buy pink salt here

See Notes for topping ideas
Instructions
Line a cookie sheet with parchment paper.

If coconut oil is in solid form heat in a saucepan to melt, then pour into mixing bowl.

Whisk in cacao powder until smooth.

Whisk in pink salt

Add in maple syrup a Tablespoon at a time until you get the desired sweetness.

Pour Chocolate onto parchment-lined cookie sheet.

Add toppings. (I split it in half, but you could also do all one flavor or keep in plain, or see above options.)

Refrigerate for about an hour ( or you can freeze for a shorter time)

When its completely hardened cut into squares or break into pieces.

Store in a container or baggie in the fridge.
Notes
* I topped half with 2-3 tablespoon crushed pistachios and 2-3 tablespoon dried cranberries, and the other half with ¼ cup pecan pieces and ½ teaspoon coarse sea salt.
You can add many other toppings (nuts, dried cherries, freeze-dried raspberries, or other dried fruit! You can also add extracts like vanilla or almond into the chocolate, or spices like turmeric or cayenne pepper!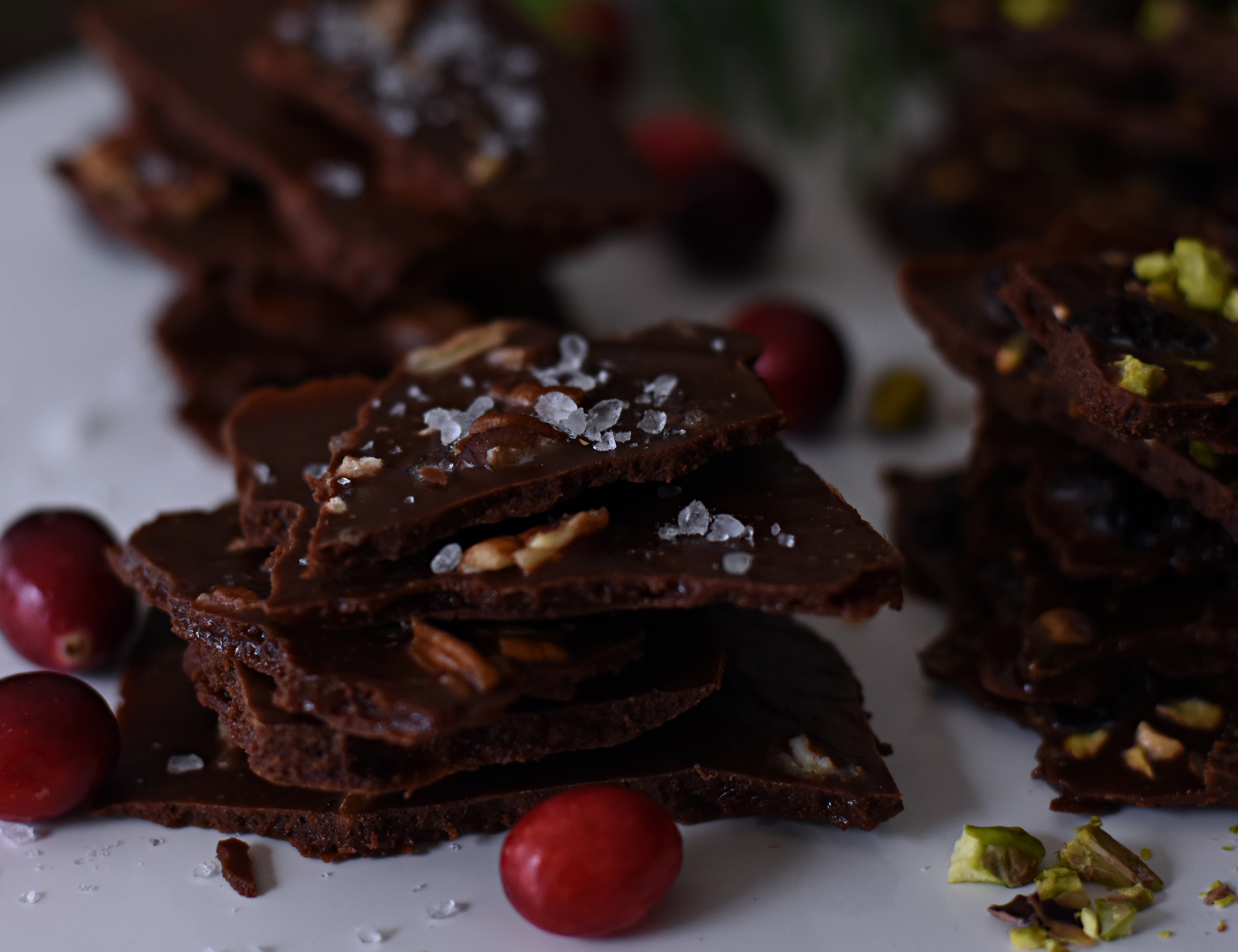 Elke is a participant in the Amazon Services LLC Associates Program, an affiliate advertising program designed to provide a means for sites to earn advertising fees by advertising and linking to Amazon.com.
Clicking on an Amazon link from Elke does not increase the cost of any item you purchase.
We will only ever link to Amazon products that we think our visitors may be interested in and appreciate learning more about.