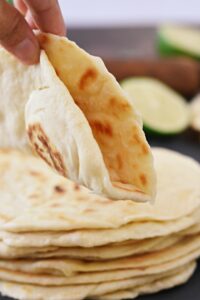 Everything tastes better inside a tortilla shell. I have experienced so many different ways to eat a taco. We all know and love the traditional tacos, burritos, and fajitas, but there are some odd combinations out there that are surprisingly good! However you like your tacos, I promise you it will taste better in a homemade tortilla shell! Taste isn't the only pro about making them yourself. Have you ever checked out what's in your favorite tortillas? Let's just say the ingredients are not anything I would want to consume.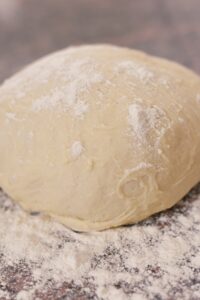 Are Homemade Tortillas Healthier?
When I was checking out what was exactly in the store-bought tortillas it was pretty bad.
Here are some ingredients that we want to avoid in store-bought tortillas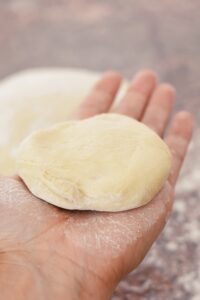 Bleached flour- During the bleaching process, alloxan is produced. Allocan can cause diabetes.
Vegetable shortening- Increase the risk of heart disease, hardening of arteries, increase in bad cholesterol, inflammation, increased risk of death.
Hydrogenated vegetable oil-Could increase heart disease, cancer, type 2 diabetes, autism, allergies, autoimmune disease,
Dough Conditioner-Some dough conditioners are banned all across the world, but we still see it in most of the bread here in America. They are believed to cause cancer, cause DNA damage, and destroy gut health.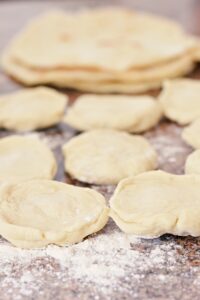 No, I don't always make homemade tortillas, but when I do buy them I make sure to buy organic. With our present situation (COVID 19), I haven't been able to find organic tortillas in weeks. In a case like this its good to know how to make them.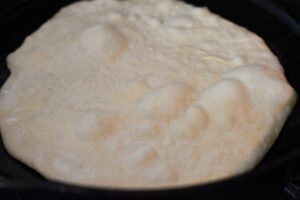 Is making homemade tortillas easy?
Making tortilla shells isn't hard at all and takes very minimal ingredients! You can mix this simple yeast-free dough up in just minutes! I like to use a mix of butter and coconut oil. But you can choose the type of "fat" you want to use. Make sure if you want to experiment you choose a fat that can become sold. No liquid oils.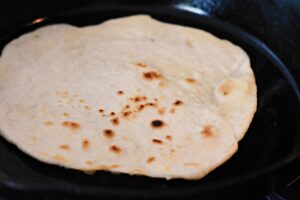 After you mix up your dough, let it rest for a few minutes in a bag. Then take palm-size pieces of dough and roll them out very thin into circles. They don't have to be perfect, believe me if they aren't perfect circles no one will care because they will taste delicious! I like to fry them up with 2 skillets going at the same time.  Let's be real no one wants it to take forever to do so at least 2 skillets going at the same time will speed things up!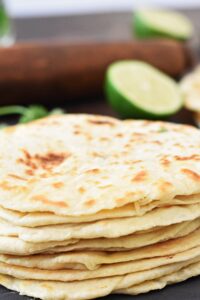 Can I store the tortilla dough?
Yes. I have stored the dough for a couple of days in a ziplock bag in my fridge. Make sure to pull the dough out in time to get to room temperature for rolling out the circles. This will make it easier and I find they fry up better!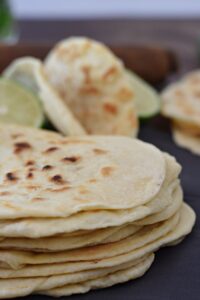 I made these vegetarian fajitas with my homemade shells. They are so delicious and perfect for Cinco De Mayo!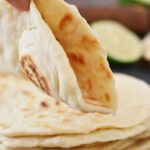 Print Recipe
Homemade Tortillas
Homemade flour tortillas are easy to make with very few ingredients and are delicious!
Ingredients
6

cups

unbleached flour

1

tablespoon

baking soda

1

tablespoon

salt

1

tablespoon

sugar

5

tablespoon

butter

room temperature

3

tablespoon

refined coconut oil

soft, not liquid

2

cups

very hot water

refined coconut oil or oil of choice for frying
Instructions
In a large mixing bowl whisk together flour, baking powder, salt, and sugar.

Add in the butter and coconut oil. Work the butter and coconut oil in throughout the flour with your fingers until its evenly throughout and crumbly.

Add in 2 cups of Very Hot water and mix it in well with the flour until dough ball forms. This is easiest to do with your hands.

Knead the dough for 3 or 4 minutes. I knead this dough right in the bowl.

Once the dough is kneaded you should have a smooth ball of dough. Transfer the dough from the bowl into a bag. I use a bread bad but you can use a large ziplock bag also.

Let the dough rest for about 15 to 20 minutes.

Remove the dough from the bag to a lightly floured surface. Break off palm-sized pieces of dough like pictured above.

Roll the dough pieces out as thin as possible and as circular as possible.

Heat a frying pan on medium heat with about a half of a teaspoon of oil.

Fry tortillas until air pockets form then flip. (pictures above in post )
Notes
Have 2 frying pans going at a time to speed the process.
If you don't want to use all the dough at once you can bag it or put it in a sealed container and refrigerate for a couple of days.