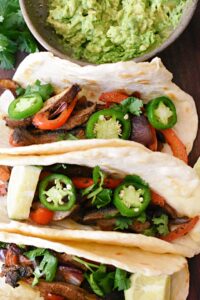 I like to make Mexican meals for my family at least once a week. I find they are usually easy, pack a lot of flavors, and add an option of spice that I have loved from the time I was a kid. With four kids we find ourselves rushing from one place to the next most days. Recipes like these easy vegetarian fajitas are a perfect quick dinner, or they also make a great "make-ahead" healthy lunch!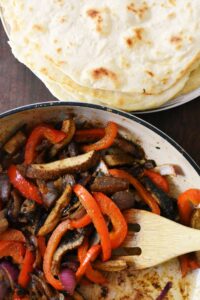 Another great thing about this easy Mexican dinner is that it can be super adaptable to different things you may have on hand. These days with covid 19, it may not be as easy to find all the ingredients you need based on where you might live and the availability of things in the stores. I know I have had a heck of a time finding yeast. Considering I make up to six loaves of Crusty Artisan Bread a week I've had to prep my family to the idea of eating store-bought bread. I got some blank stares. I could also stop putting off the sourdough starter I've wanted to make for about 2 years now, and start pumping out some sourdough. Anyway…..

Adapting these vegetarian fajitas to your liking
Don't have any bell peppers on hand? Can't handle the texture of mushrooms? Here are some ways to adapt these vegetarian fajitas.
You could replace mushrooms with sliced and halved eggplant.
Sliced and halved zucchini would work great!
Cauliflower florets sliced thin enough to sautee well.
Broccoli florets sliced thin enough to sautee well.
Yellow or orange bell pepper would also work well!
Pickled red onion like I serve with these Spicy Chickpea Lime Tacos! If you haven't tried pickled onions on tacos they are delish!
Fresh corn cut off the cob would be a great option, but frozen would also work well!
You could also add fresh diced white onion, salsa, sour cream, etc…..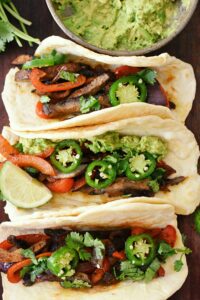 These vegetarian fajitas make a super healthy lunch or dinner! I always feel good about my family eating tacos because of all the fresh toppings you can add! Cilantro, for instance, is super healthy, and one of my favorite Mexican food ingredients,
Just look at some of these health benefits.
It has anti-microbial properties.
I always think of its top benefit as a heavy metal cleanser!
Anti-fungal
It's a natural antibiotic
Cilantro is a good source of fiber.
Protects against oxidative stress.
Lowers anxiety.
It can help improve sleep.
Soothes skin irritations.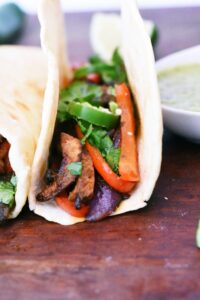 That's just one popular ingredient used in Mexican food that is healthy. Avocados, cumin, paprika, peppers, homemade salsa's and so many more are full of benefits.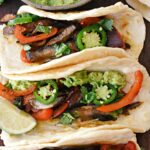 Print Recipe
Vegetarian Fajitas
These super-easy vegetarian fajitas made with sauteed mushrooms, red bell pepper, red onion, and bold Mexican spices!
Ingredients
2-3

tablespoon

olive oil

refined coconut oil would also work

1

6 oz

package of sliced portobellos

1

large

red onion

sliced and halved

1

large

red bell pepper

sliced and halved

1

tsp

both salt and pepper

1

teaspoon

cumin

½

teaspoon

of each paprika, coriander, and garlic powder

⅛

teaspoon

cayenne pepper

optional

1

pack

flour or corn tortillas

optional toppings in recipe notes
Instructions
Slice veggies in long strips.

In a large skillet over medium-high heat, heat oil.

Add in sliced portobellos, sliced onion, and bell pepper.

Season with spices evenly.

Cook stirring often until veggies are done to your liking. I like mine soft but with a little bite to them. I cook mine for about 10 minutes.

Serve with heated corn or flour tortillas.

Other topping options in recipe notes.
Notes
Looking for options to serve with fajitas. Here are some suggestions.
guacamole or avocado slices drizzled with lime juice salt and pepper.
lime wedges (squeeze juice on right before eating, yum!)
Salsa, sour cream, cotija cheese or Mexican shredded cheese. 
Fresh chopped cilantro, jalapenos, green or white onions. 
Heat the tortillas in the oven, microwave or individually on a gas burner on low.