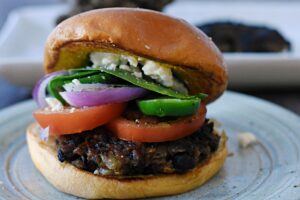 The idea of Black Bean Burgers came to me a few years ago when my husband and I would set time aside to fast and pray. We would do a specific fast in the Bible called a Daniel fast. On this fast, we would eat fruits, veggies, nuts, beans, and some grains. The fast would usually last 21 days. I would have to get really creative during this time, and somehow, I would end up spending more time in the kitchen than usual.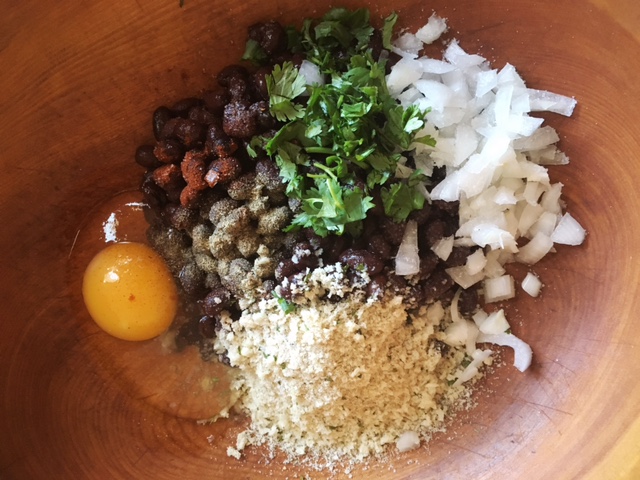 One food that remained on my menu long after the fast was over was black bean burgers. Who knew they would be so good?  Even my meat-loving husband gets a hankering for these.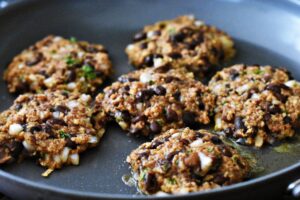 Black beans have lots of benefits!
High protein. Black beans are a great source of plant protein! One cup of black beans has 15 grams of protein!
Iron-rich! Black beans are rich in iron. They have 20% of your daily value in 1 cup!
Black beans are rich in dietary fiber. This fiber can help make you feel full and more satisfied after a meal. Dietary fiber is also good for digestion helping push waste through the digestive system!
The complex carbohydrates in black beans help give long-lasting energy!
Black beans are full of vitamins and minerals such as magnesium, B vitamins, calcium, potassium, and more!
Black beans aid in weight loss. They are low calorie and high fiber!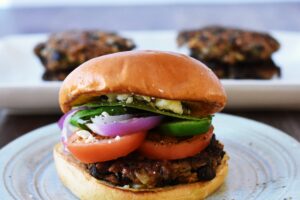 Ideas for burger toppings
There can be lots of options here. Pictured I used tomato, red onion, spinach leaves, fresh jalapeno, feta, and habanero honey mustard! 
Other options may be:
arugula
sprouts
sauteed bell pepper and onions
sauteed mushrooms
pickles
pickled jalapenos
cheese of choice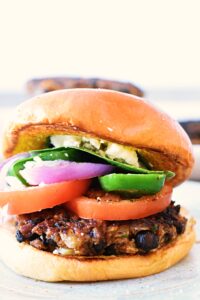 The truth is we all live busy lives!  We need ideas that are quick and easy, that doesn't require thawing meat, and that we don't feel guilty about serving our families.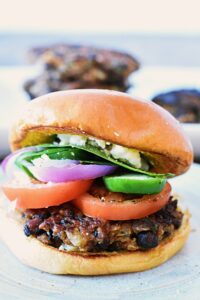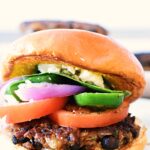 Print Recipe
Best Black Bean Burgers
Making alternative burgers from scratch is easy and healthy. These black bean burgers are perfect for vegetarians, or even for your meat lovers when you forget to thaw meat.
Ingredients
1

can black beans

I like to use spicy black beans

⅓

cup

diced white onion

finely diced

¾

cup

plain panko bread crumbs

1

egg slightly beaten

could use chia egg (1 tablespoon chia seeds mixed with 3 tablespoon water)

1 ½

tablespoon

finely chopped fresh cilantro or parsley 

if not available use 1 teaspoon dried

¼

teaspoon

paprika

½

teaspoon

pink salt or sea salt

¼

teaspoon

pepper

½

teaspoon

dried garlic powder
Instructions
Drain black beans and pour into a medium-size bowl.

With a pastry cutter or fork lightly smash the beans in pieces leaving a few not smashed.

Stir in the rest of the ingredients until combined.

Patty out 5-6 black bean burgers.

In a skillet heat a tablespoon refined coconut oil over medium heat (or oil of your choice)

Fry burgers until lightly brown on each side (about 5 minutes per side)

Add to a bun and top with your favorite burger toppings! See post for ideas!