If I would have had this Quick Habanero Honey Mustard when I was a kid I'm sure I would have loved it! From the time I was little, I've had an undying love for spicy food. It must have started well before I could remember. I have memories of my grandma telling me that before I was 5 I was asking for Tabasco on my eggs!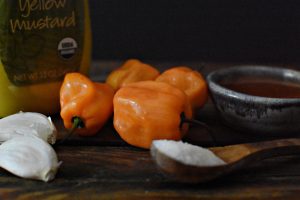 As I grew up my grandparents would buy me gallon jugs of hot peppers and they would have to portion them out for me in smaller jars. Yep, you read that right. It boiled down to these two rules: 1. I could only have about a jar a week. 2. I had to eat them with something (meaning not straight from the jar.) Yes, it was a bit of an addiction…. and I have to admit it still is.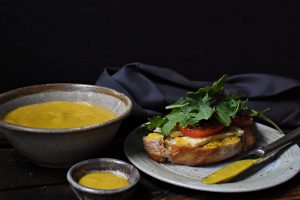 I can hardly go a meal without spice, in my opinion, it makes food a little more exciting! If you were to look in my fridge you would see probably 10-12 different kinds of hot sauces, 2 or 3 jars of hot peppers, and 2 or 3 kinds of fresh hot peppers! Now, that may seem a little overboard, but I promise it will not go to waste in my house!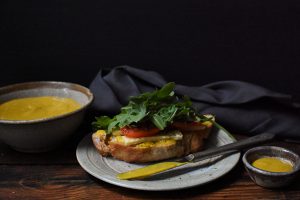 For several years I've been making this deliciously hot mustard. Perfectly sweet, perfectly spicy, and perfectly healthy! I'm so glad that the thing I love so much has health benefits! I mean, it could be worse, I could have an obsession with Oreos…..and…. maybe at one time I did….
Benefits of Quick Habanero Honey Mustard
Hot peppers- Increase metabolism, can provide pain relief, helps regulate appetite, and fights cancer.
Fresh garlic- can help prevent heart attack, helps lower blood pressure, helps with cold prevention.
Local honey-Seasonal allergy relief, immune system boost, and anti-viral and anti-fungal activity.
Mustard- even has benefits for weight loss, clearer complexion, and helps prevent cancer!
This is some healthy mustard, right?
This Quick Habanero Honey Mustard could be served as a dipping sauce or condiment. It's the best on my homemade Crusty Artisan Bread!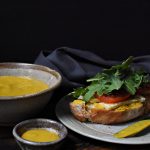 Print Recipe
Quick Habanero Honey Mustard
Quick habanero honey mustard. Blend up 5 healthy ingredients for the perfect sweet and spicy dipping sauce or spread.
Ingredients
1

12oz

Bottle of plain mustard

Best to use organic

2

cloves

garlic

2

whole

Habanero peppers

½

tablespoon

pink salt

5

tablespoon

honey

Best to use local raw honey
Instructions
In a Nutri-Blullet or Blender pour entire 12oz bottle of mustard.

Add remaining ingredients.

Blend until completely smooth.

Taste and add another pepper if needed.

Store in a mason jar or air tight container.
Notes
I use a Nutri- Bullet to make this recipe Buy the one I have here
Elke is a participant in the Amazon Services LLC Associates Program, an affiliate advertising program designed to provide a means for sites to earn advertising fees by advertising and linking to Amazon.com.
Clicking on an Amazon link from Elke does not increase the cost of any item you purchase.
We will only ever link to Amazon products that we think our visitors may be interested in and appreciate learning more about.