Fall is such a beautiful time of year! I love when there is a warm breeze blowing outside. I go through the house and open all the windows. There's just something refreshing about a clean house and open windows….it's  just the best!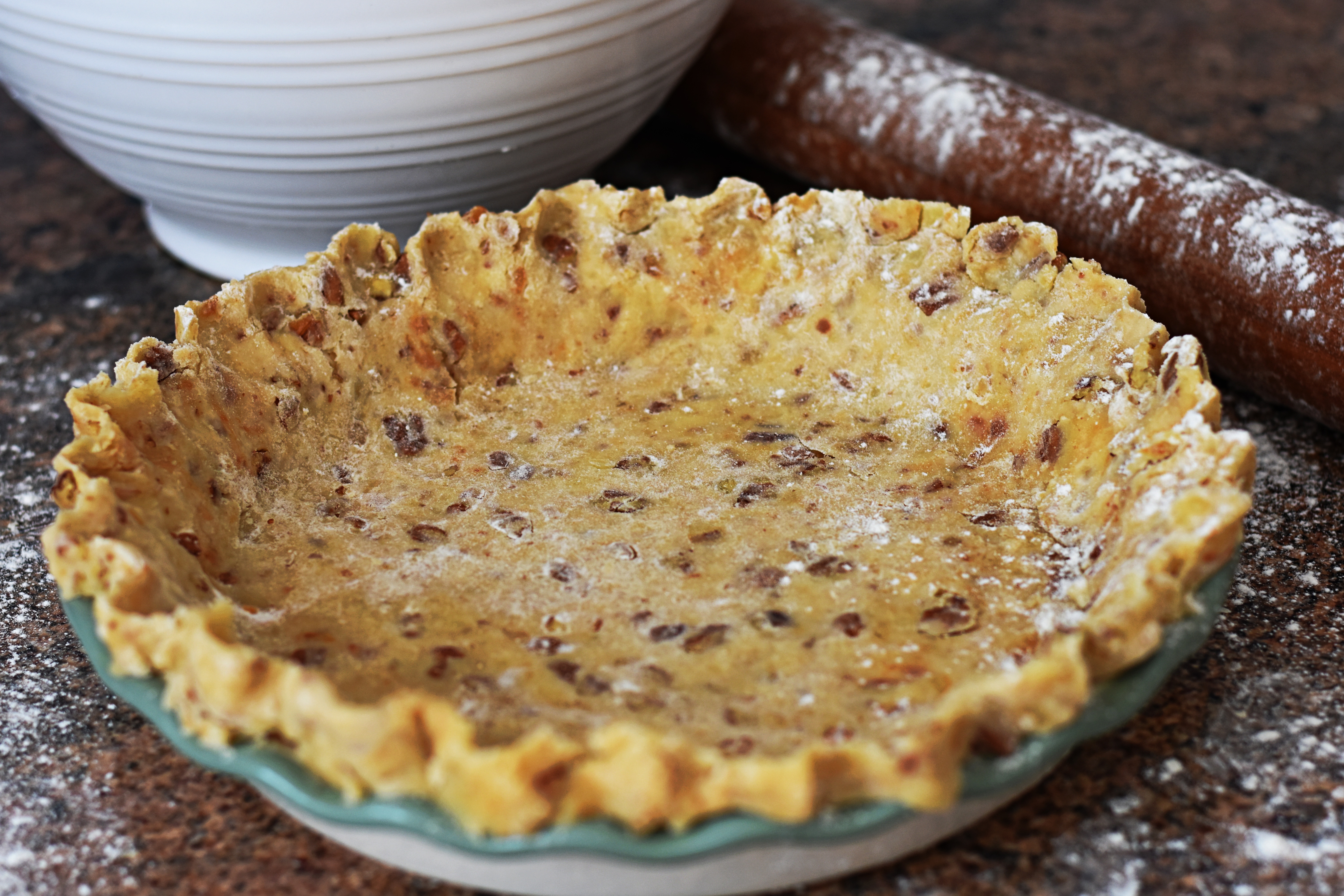 A couple days into the fall season an organic can of pumpkin that had sat in my cabinet for far to long kept calling my name. Hmmm, what could I make with this? I remembered that I had won a pumpkin pie contest the year before. I thought about what I made, and decided to take it a step further! What I ended up with was spectacular! I mean, pumpkin pie is good on its own, but when you add a brown butter pecan crust, and a maple bourbon whipped cream, that's just another level of pumpkin goodness!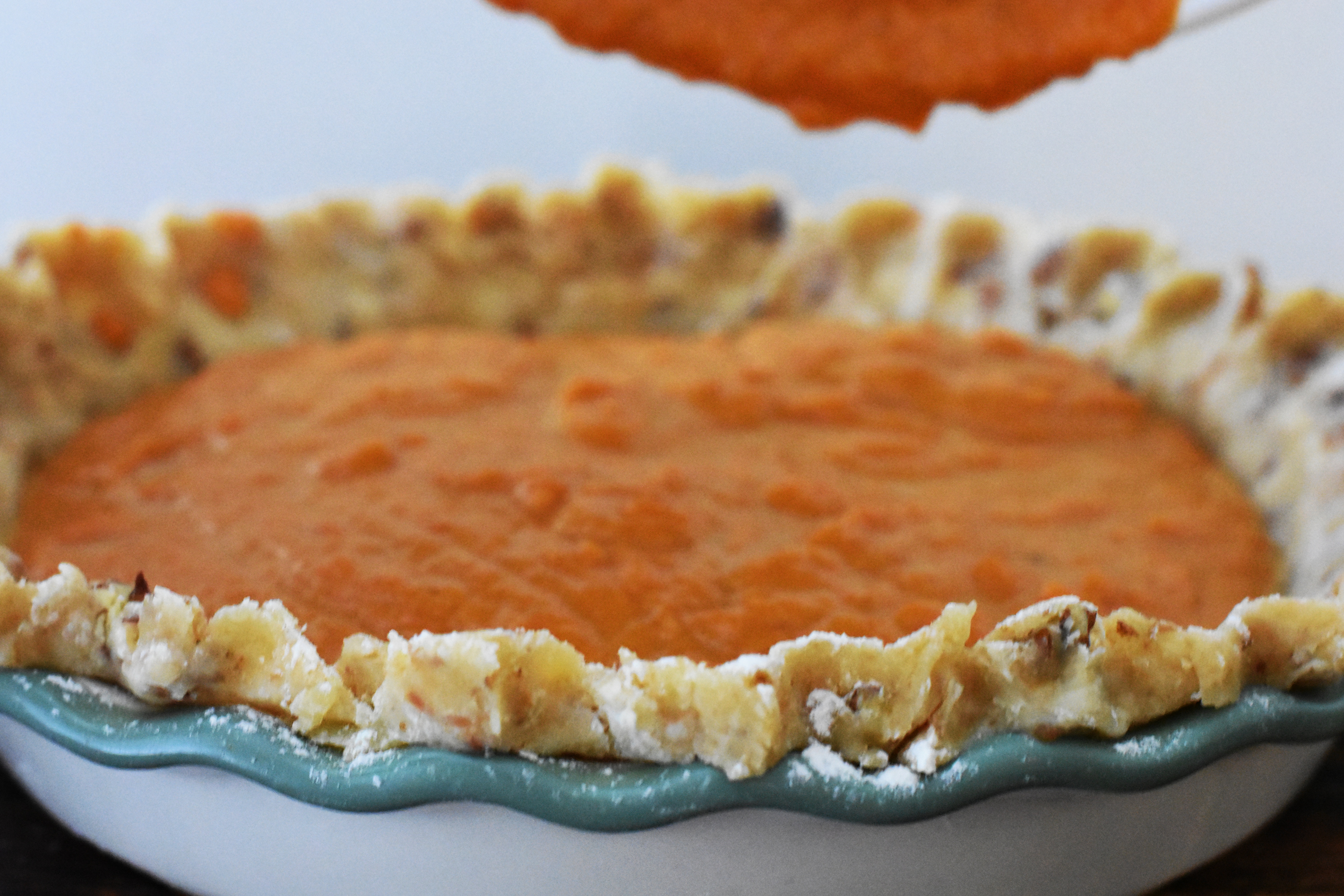 We don't want to forget that pumpkin is super healthy! It's packed with vitamin A, has more potassium than a banana, and it's full of beta-carotene!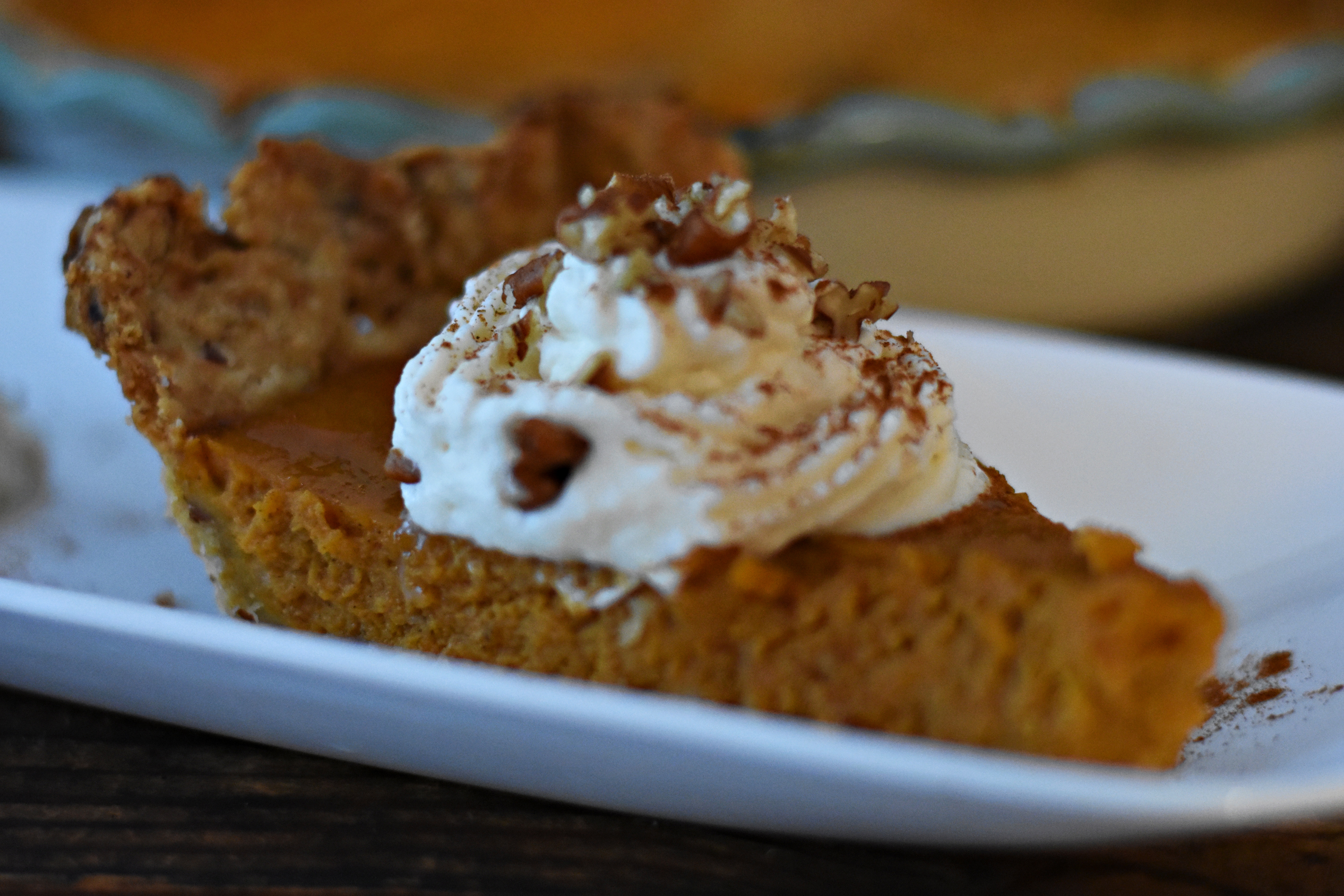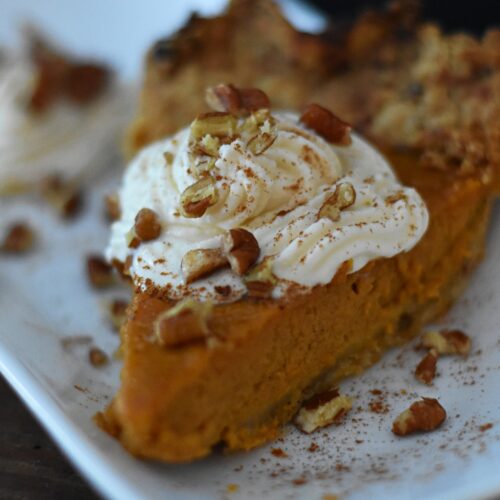 Print Recipe
Pumpkin Pie with Brown Butter Pecan Crust and Maple Bourbon Whipped Cream
This pecan crust is amazing. It really makes the classic pumpkin pie filling stand out.
Ingredients
Pumpkin pie
1

can

pumpkin

¾

cup

whole milk

¼

cup

half and half

½

teaspoon

cinnamon

¼

teaspoon

of each ginger

cardamom, and nutmeg

⅔

cup

sugar

2

tablespoon

bourbon

2

eggs
Crust
1 ¼

cup

unbleached flour

½

teaspoon

salt

2

teaspoon

sugar

1

stick butter

½

cup

crushed pecans

About ¼ cup ice water
Whipped cream
1 ½

cups

whipping cream

¼

cup

maple syrup

2

tablespoon

bourbon
Instructions
Preheat oven to 400.

In a small skillet place 1 stick butter over medium heat. Allow butter to melt. Stir the butter frequently. It will start to look foamy and you should see brown bits forming and it will smell nutty. Stay right with it, and be careful it doesn't burn.

After butter is browned, place in the freezer to harden.

In a Nutri- Bullet, place pecans and pulse them a couple times to crush them into small pieces.

In a medium bowl with a wooden spoon mix flour, salt, sugar, and pecans.

Remove the hardened brown butter from the freezer and cut into flour mixture with a pastry cutter or fork until butter is pea-size.

Add water a tablespoon at a time stirring after each tablespoon. Continue to add until the dough just comes together.

Turn dough into a lightly floured surface and roll with a rolling pin until it's about a ¼ inch thick.

Place into the pie dish removing any excess and making edges look nice. Set in fridge to stay cool while you make the filling.
Filling
In a medium mixing bowl place all the ingredients for the filling. Mix with a hand mixer for 3-4 min on medium-high, then pour into pie shell. Bake 10 minutes on 400 then reduce to 350. Cook 45-50 minutes or until a knife inserted in the center comes out clean.

While pie is cooling make whipped cream.
Whipped Cream
In a small skillet over medium heat place maple syrup, and Bourbon. Simmer for 2-3 minutes until it starts to bubble and thicken.

Remove from heat.

In a medium bowl, place whipping cream.

With a hand mixer, mix on medium-high until it starts to get thick. Pour in maple syrup, bourbon mixture and mix until peak forms. (Do not over mix or it will turn lumpy and start to turn into butter!)