When I was in high school, on occasion, I would travel to California to spend time with my family. One memory that stands out to me is the great food I would eat. They would always seem to introduce my tastebuds to something new. Although my family served us homemade meals, the food they ate and made would always taste different and exciting!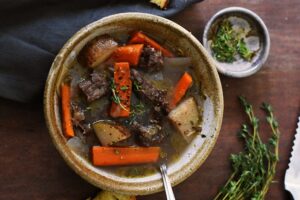 There's one time, in particular, I remember my stepdad making Beef Stew with red wine and mushrooms. It was beyond good! My stepdad would forage for mushrooms in the woods behind his house. I'm sure they played a part in the bold complex flavors the Beef Stew had. Years later, I thought back to those flavors in hopes of recreating it for my family. I love how an aroma can take us back many many years to a specific memory. Aren't our minds amazing? We all probably have memories of foods that bring back memories of fall, spring, summer, and winter. Warm soups and stews bring some warmth into our homes through the winter months.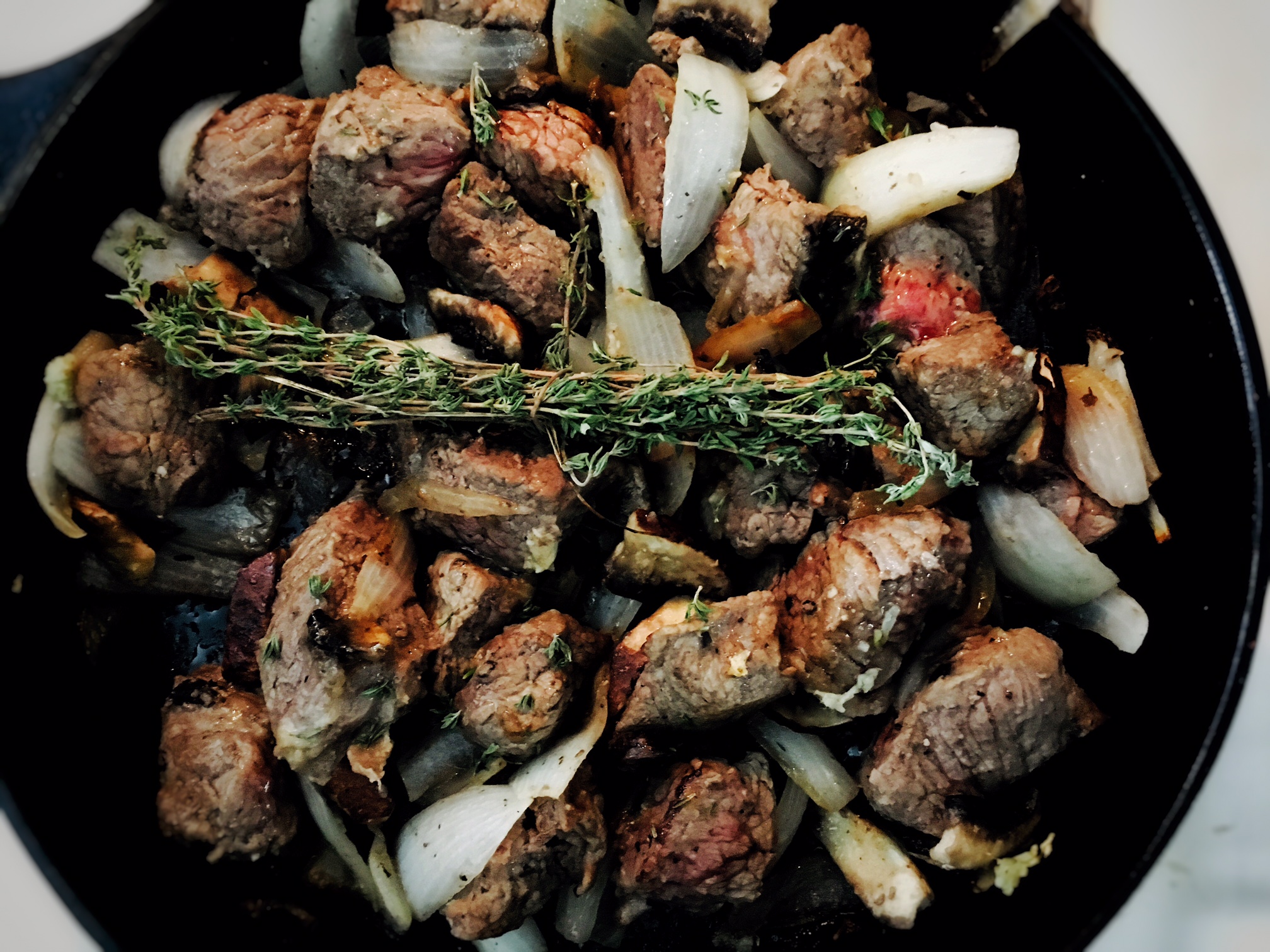 Who doesn't love a crockpot!
Sometimes we need a recipe that doesn't require us to stand over the stove and cook. This recipe is so simple and can be prepared and cooking while you're out for the day! I start by sautéing stew meat in the skillet with onions,  mushrooms, garlic, and lots of fresh thyme. Then I transferred into a crockpot and let it simmer all day so that the meat comes out perfectly tender. The red wine, fresh thyme, and mushrooms bring out the deep flavor that only hours of simmering can accomplish.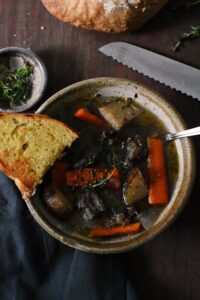 I pair it with a crusty artisan bread for a perfect dinner on a crisp cool day!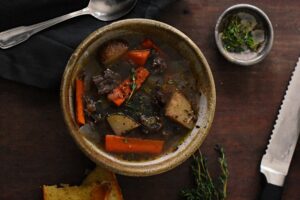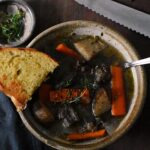 Print Recipe
 Beef Stew with Red Wine
The aroma of this beef stew takes me right back to my childhood. I hope you can make some new memories with this recipe!
Ingredients
1

teaspoon

olive oil

1

teaspoon

real butter

1-1 ½

lbs

Beef Stew meat

preferably grass-fed

1

medium white or yellow onion chopped

1

cup

sliced mushrooms

you can use a variety of kinds

1

tablespoon

unbleached flour

32

oz

beef broth

with no MSG

2

cups

of red wine

1 ½

cups

filtered water

3-4

large potatoes

4-6

whole carrots

15

sprigs fresh thyme or 1 tablespoon dry thyme

3

cloves

of minced garlic

1 ½-2

teaspoon

pink salt or sea salt plus more to taste

1

teaspoon

black pepper plus more to taste

2

teaspoon

brown sugar
Instructions
In a medium skillet melt butter with olive oil over medium-high heat, place Stew meat, season with salt and pepper, and cook for 2-3 minutes on each side.

Add onion and mushrooms, fry another couple minutes.

Add thyme. ( if using fresh I take one sprig and tie it around the rest to hold them in place)

Sprinkle flour in evenly, and continue to stir to allow the meat to brown lightly.

Add red wine and scrape the skillet to get any brown bits from the bottom.

Pour the meat mix into a crockpot.

Add broth, water, and remaining ingredients.

Stir, and set on low for up to 6 hours.

Add more salt or pepper to taste if needed.

Plate and garnish with fresh thyme.