Pumpkin Spice Donuts
My husband doesn't like to pass up a donut shop, or coffee shop for that matter. He always offers to get me one, but I kindly refuse. They make me feel,  well……gross. I decided to look and see maybe why that was, so I looked up the ingredients of a couple donuts of a popular donut chain, and boy did I see why. They were packed full of tons of sugar, GMO's, artificial dyes and flavors, Caramel color, and even BHT, among about 50 ingredients!!  So what to do….never eat donuts again? Not before seeing if they are as good homemade!
So I grabbed my mixing bowl and wooden spoon and started creating!
With just a handful of organic ingredients, only a few tablespoons of sugar, and fried perfectly in refined coconut oil, I was on my way to a healthier donut!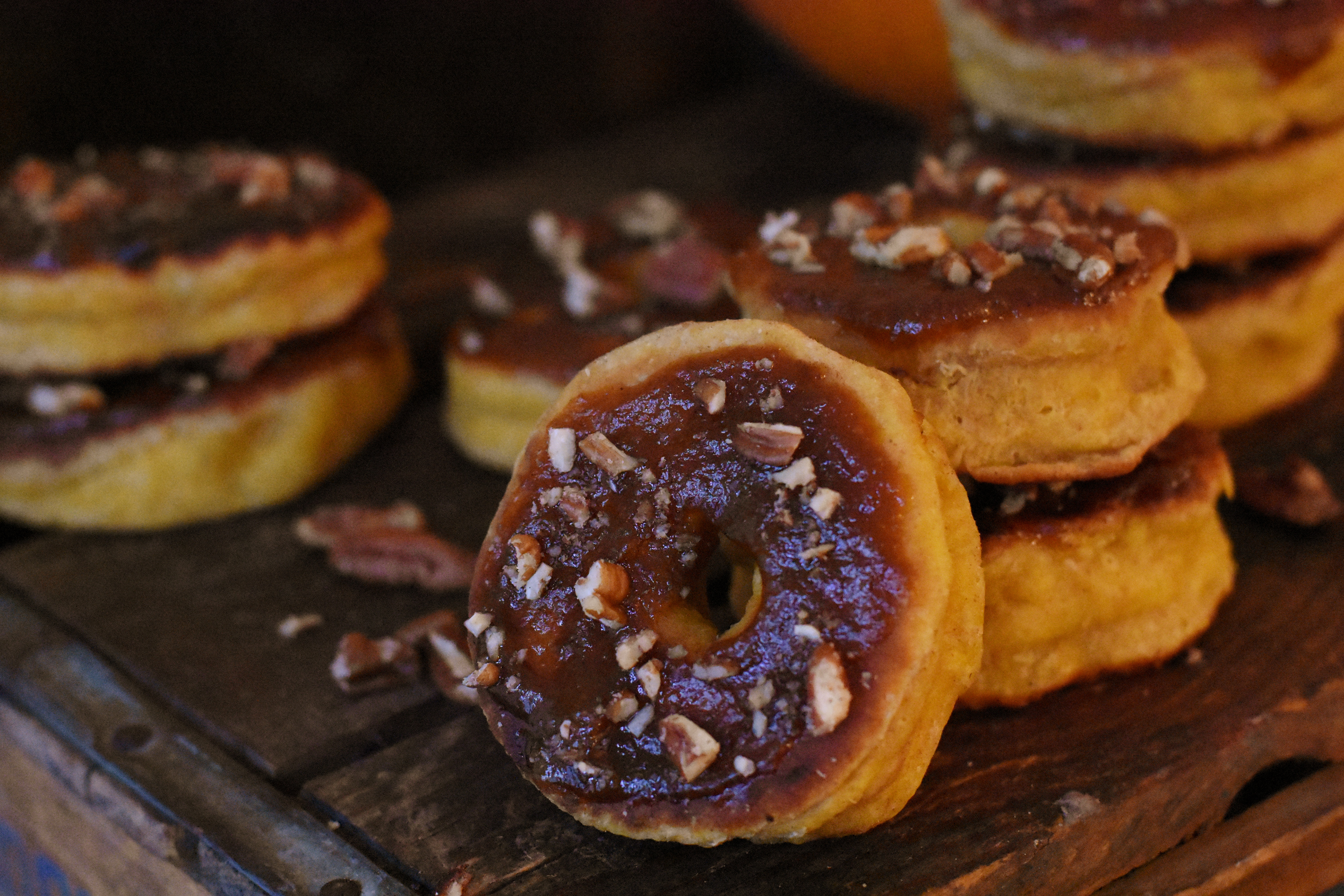 I decided to cut the refined sugar for the glaze, and instead made it from real maple syrup and organic spices! Maple syrup provides many benefits. It's high in antioxidants, rich in zinc, manganese and magnesium, helps fight inflammation, and can even help protect against cancer!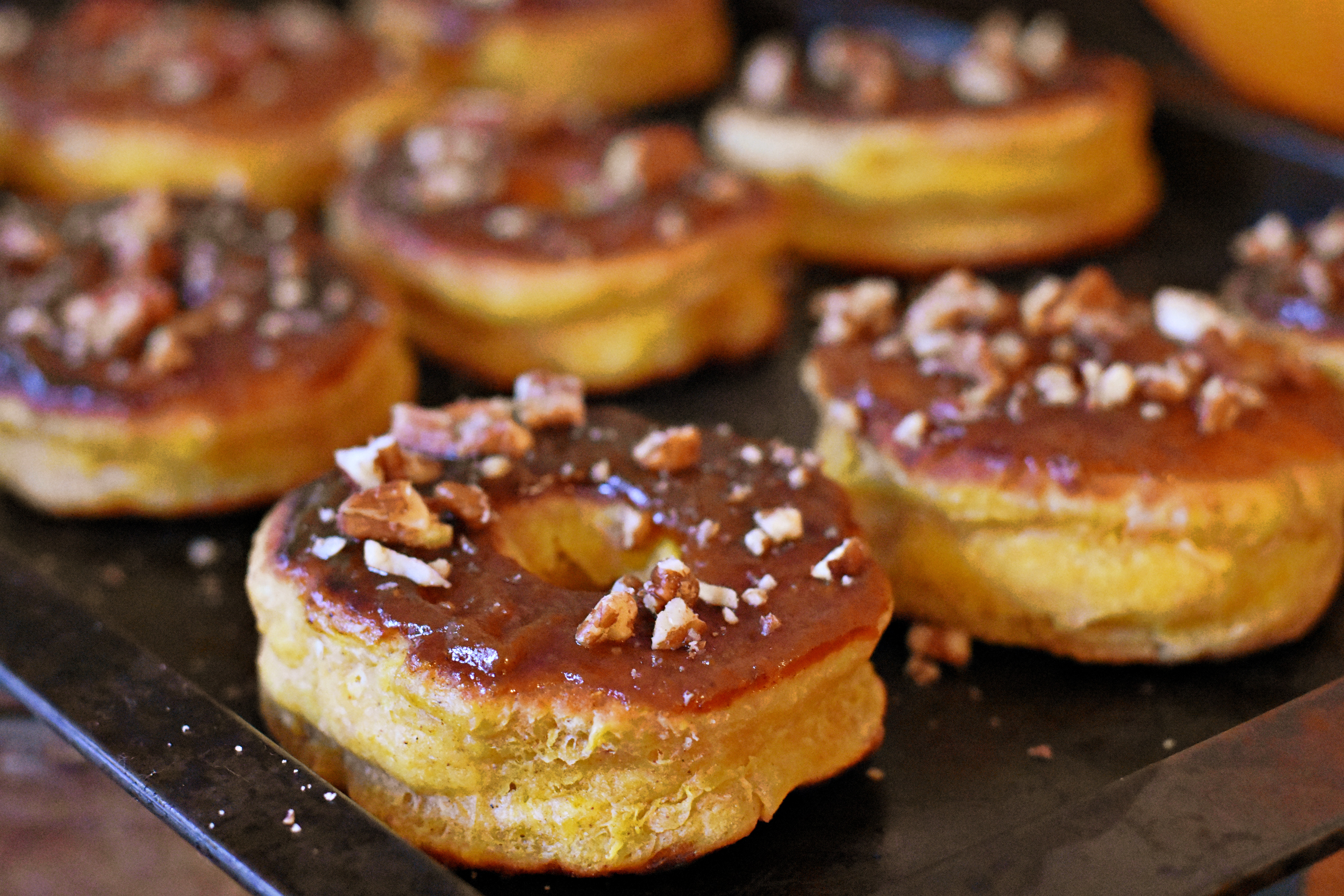 They turned out perfectly light and airy, and pleasantly sweet! Oh, and I ate four, and didn't even feel bad……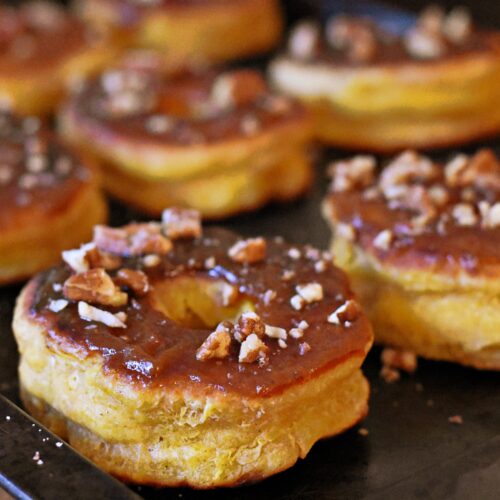 Print Recipe
Pumpkin Spice  Donuts with Maple Pumpkin Glaze
These pumpkin spice donuts are so light and airy! The flavor is amazing and they aren't loaded down with sugar so you don't feel guilty at all!
Ingredients
¼

cup

warm water

1

pack rapid rise yeast

2 ½

cups

unbleached flour

4

tablespoon

sugar

1

tablespoon

butter

2

tablespoon

refined coconut oil melted

1

egg slightly beaten

½

cup

milk

3

tablespoon

pumpkin purée

½

teaspoon

cinnamon

¼

teaspoon

of each ginger, nutmeg, and clove

¼

teaspoon

cardamom

optional
Glaze
½

cup

maple syrup

1

tablespoon

pumpkin purée

you can add a second tablespoon for a thicker topping

½

teaspoon

cinnamon

¼

teaspoon

of each ginger,nutmeg, and clove

¼

teaspoon

cardamom

optional
Instructions
In a small bowl place ¼ cup warm water and 1 package yeast. Stir and set to the side.

in a small saucepan melt butter and coconut oil, then pour in a small bowl.

Add milk, egg, pumpkin, and sugar to melted butter and coconut oil. Stir with a whisk until well incorporated.

Add yeast mix, whisk again.

In a separate small bowl mix flour, and spices with a wooden spoon.

Pour dry ingredients into wet.

Mix well with wooden spoon, cover, and set on a warm place in your kitchen, until it has risen double.

Place dough on a floured surface and with a rolling pin roll dough out until it's ½ inch thick. (You could also press dough out with your fingers.)

With a donut cutter or round cookie cutter, cut circles in the dough, then smaller circles in the center. (I used a drinking glass, and water bottle cap, it worked perfectly!)

Place cut out donuts on a cookie sheet brushed with coconut oil.

Let rise about another half hour.

In a skillet over medium-high heat, heat 2 tablespoon coconut oil. (You can test the temperature by pinching a small piece of dough and dropping it in the skillet. It's ready when you see bubbles when it hits the oil)

Place donuts in the oil and cook 2-3 min on each side or until lightly brown.

Set on a paper towel when they are finished.

Add more coconut oil as needed to cook remaining donuts.

In a separate small skillet pour maple syrup, pumpkin, and spices.

Heat over low heat until it begins to bubble.

Simmer 3-4 minutes, stirring continually or until you feel it start to thicken.

It will thicken more when it starts to cool, so don't overcook.

Drizzle glaze over donuts, and enjoy!
Elke is a participant in the Amazon Services LLC Associates Program, an affiliate advertising program designed to provide a means for sites to earn advertising fees by advertising and linking to Amazon.com.
Clicking on an Amazon link from Elke does not increase the cost of any item you purchase.
We will only ever link to Amazon products that we think our visitors may be interested in and appreciate learning more about.