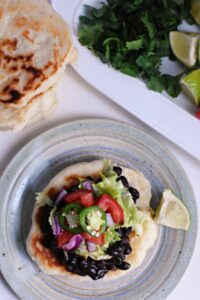 As a kid, instead of vacationing at beaches like most other families, we would drive a long 3 day trip from West Virginia to South Dakota. We would stay in a very small town with what I remember to have a gas station called Bob's Bait shop, that we would buy our worms and leaches at, and a restaurant called Bobs Steak House- Bob must have owned the town…. Although I had dreams of laying beside the ocean, like I heard all my friends describe when we would start the new school year, we had our own kind of fun!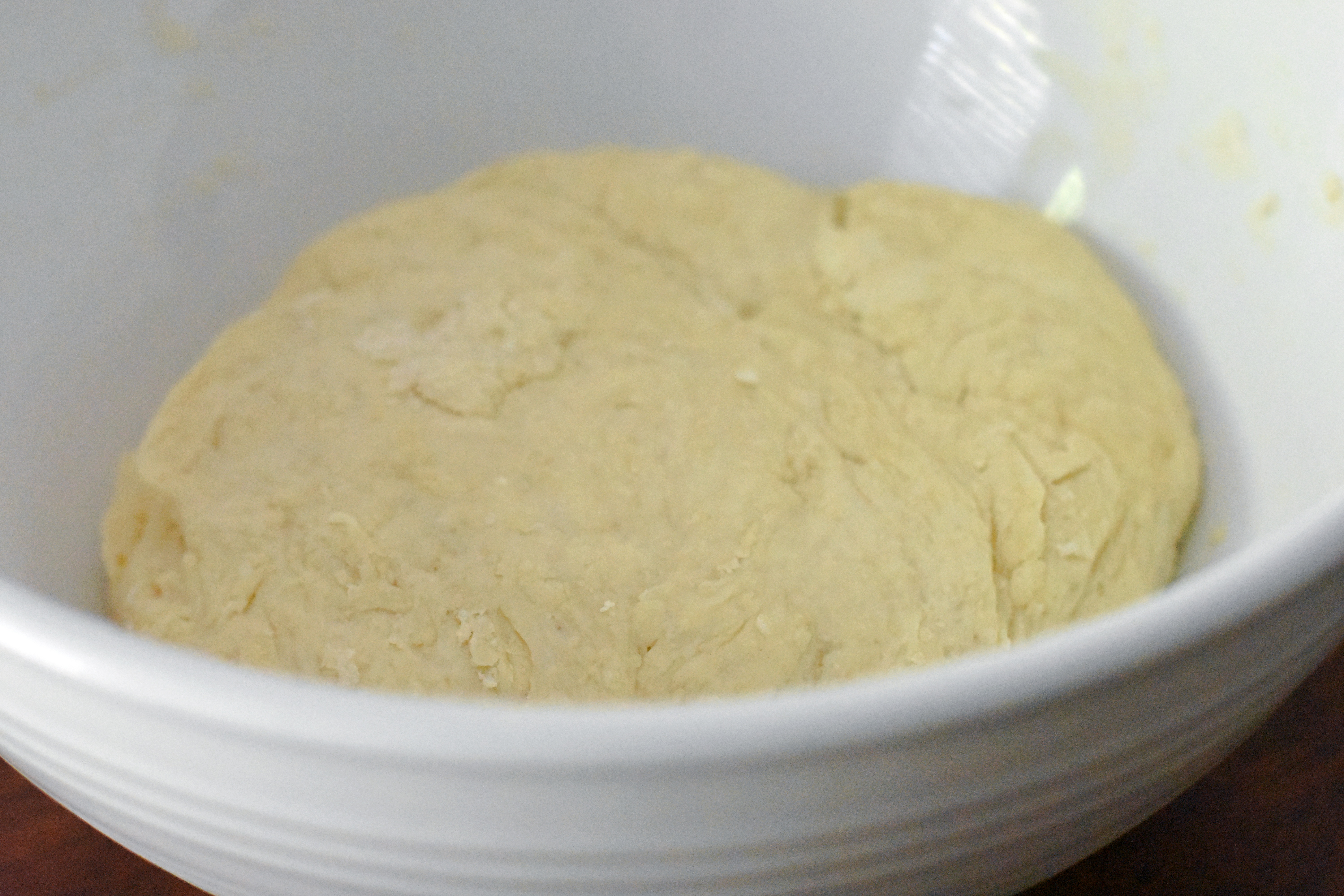 This very small setting where we would stay was surrounded by Lake Oahe, and it was absolutely beautiful!  We had a big boat that we would uncover, polish, and clean every summer, to spend what felt like endless hours on. We all had our own special fishing poles. We would walk down to the little gas station and stalk up on worms and leeches for a long day on the lake. We would eat snacks, swim, and stop and fish for walleye, bass, and northern pike.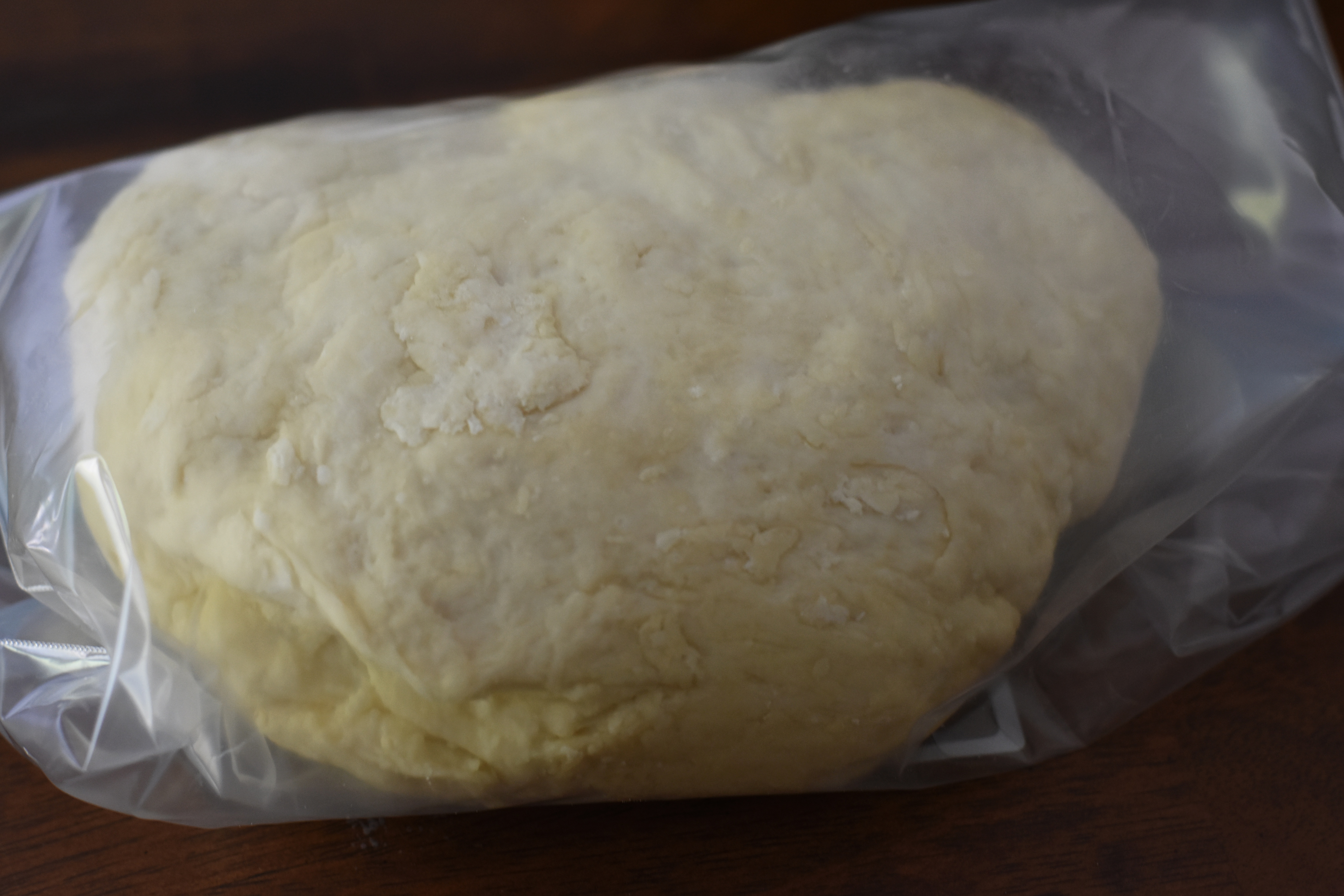 After a long day on the boat, we would come in and swim at the dock, then filet our fish, and fry them up. When I think of these times, my memory is flooded long, relaxing, fun-filled vacations.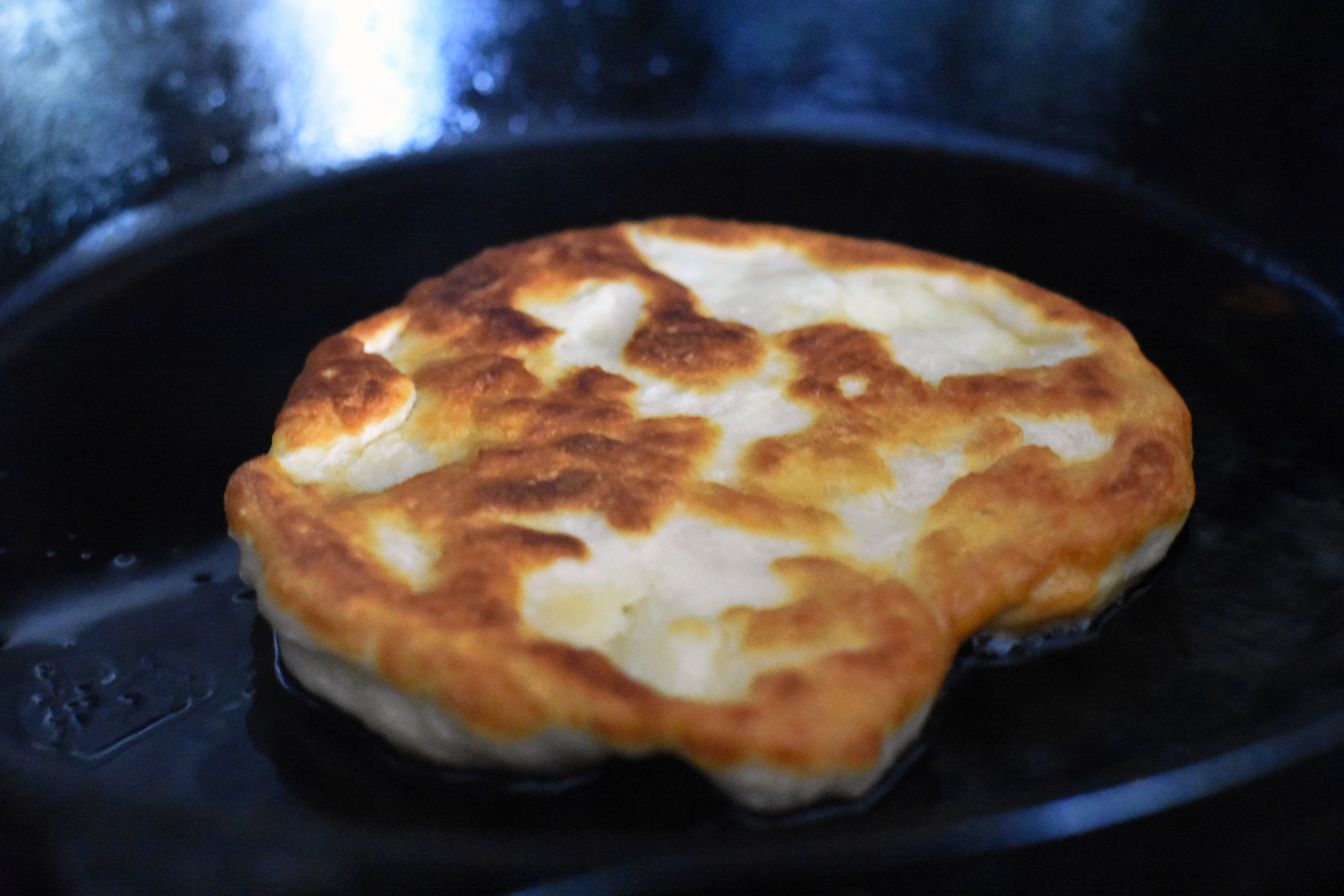 There were more reasons than the beautiful Lake Oahe that my grandparents chose this small town to spend our summers. Many years earlier, in the '50s, my grandparents along with their 3-year-old son, and 5-year-old daughter moved there and taught on the Indian Reservation at Cheyenne Agency. My grandpa taught Industrial Arts, and my grandma taught first grade. I grew up hearing many stories about those times, and all that they learned about the culture of the Sioux tribe.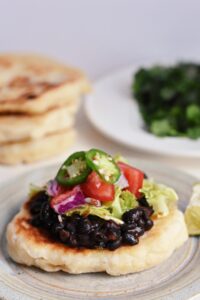 One tradition that I remember that they carried into our family was Indian tacos. This was one of our favorite dinners growing up. I can still remember the smell of the Navajo Indian fry bread frying up in the skillet, and topped with our favorite taco toppings-delicious!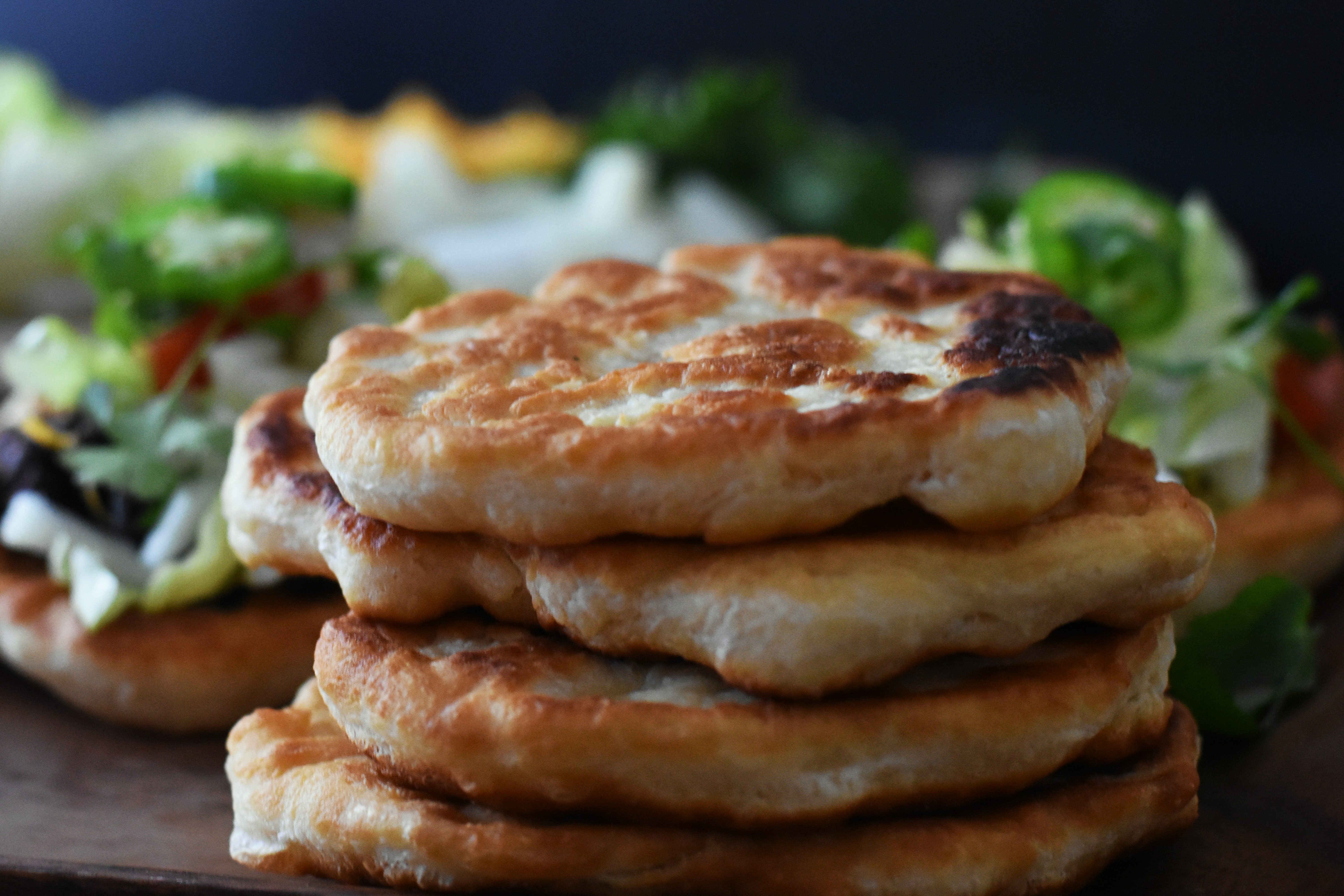 This dinner holds great memories for me, a lot of history for my grandparents, and tons of deliciousness for my family. Nothing brings people together like some good food!
Making Indian Tacos is easy!
This dough is easy and fun to make! For all of you out there who don't like working with yeast, this is a no yeast dough!
You can also top your Indian tacos with any taco toppings that your family loves! Just season your favorite protein with cumin, paprika, coriander, garlic, salt and pepper and cayenne for a little spice!
For other taco recipes check out Slow Cooked Beef Tinga!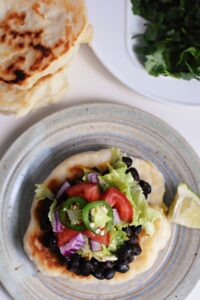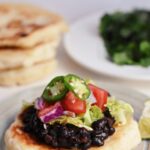 Print Recipe
Indian Tacos (Navajo Fry Bread)
This dinner holds great memories for me, a lot of history for my grandparents, and tons of deliciousness for my family. Nothing brings people together like some good food!
Ingredients
4

cups

unbleached flour

1 ½

teaspoon

pink salt or sea salt

2

tablespoon

baking powder

non-aluminum

1

teaspoon

sugar

3

tablespoon

soft refined coconut oil

and extra for frying

1 ½

cup

hot water

plus and extra 2-3 tablespoon if needed
Instructions
In a large mixing bowl, with a whisk, mix together all the dry ingredients.

Measure in 3 tablespoon coconut oil and mix into flour. (I use my fingers work it in.)

Pour in your hot water and mix it in. I use my hands to work the hot water into the dough.

If you still have some dry ingredients that you can't get worked in, add 1 tablespoon of water at a time until all the dough comes together.

Knead the dough (I do it right in the bowl for less mess) a couple of minutes until a smooth dough forms.

Transfer the dough to a bag and place on the counter for the dough to rest for a least 15-20 minutes, but up to an hour.
Frying bread
In an Iron skillet heat, 3 tablespoon REFINED coconut oil over medium-high heat (you can use other oil, but coconut has a high smoke point and is best for frying)

You will know when oil is hot enough when you take a small piece of dough and place it into the oil, if it sizzles and bubbles, it's ready.

Pull off a tennis ball size of the dough. Stretch the dough out about 5 inches long and 4 inches wide (this doesn't need to be exact) while stretching rotate the dough so you're stretching it on all sides making it circular.

Place dough in oil and fry 2-3 minutes on each side or until golden brown.

Lay on paper towels to absorb any excess oil.
Notes
Topping Ideas
Top with your favorite taco toppings. Above I used black beans I seasoned with ¼ teaspoon of each- cumin, paprika, coriander, garlic powder, salt, and pepper.
Use chopped lettuce, tomato, jalapeños, shredded cheese, salsa, sour cream, black olives, avocado, fresh limes, cilantro, etc....
For protein, you could also use seasoned ground beef, chicken, refried beans.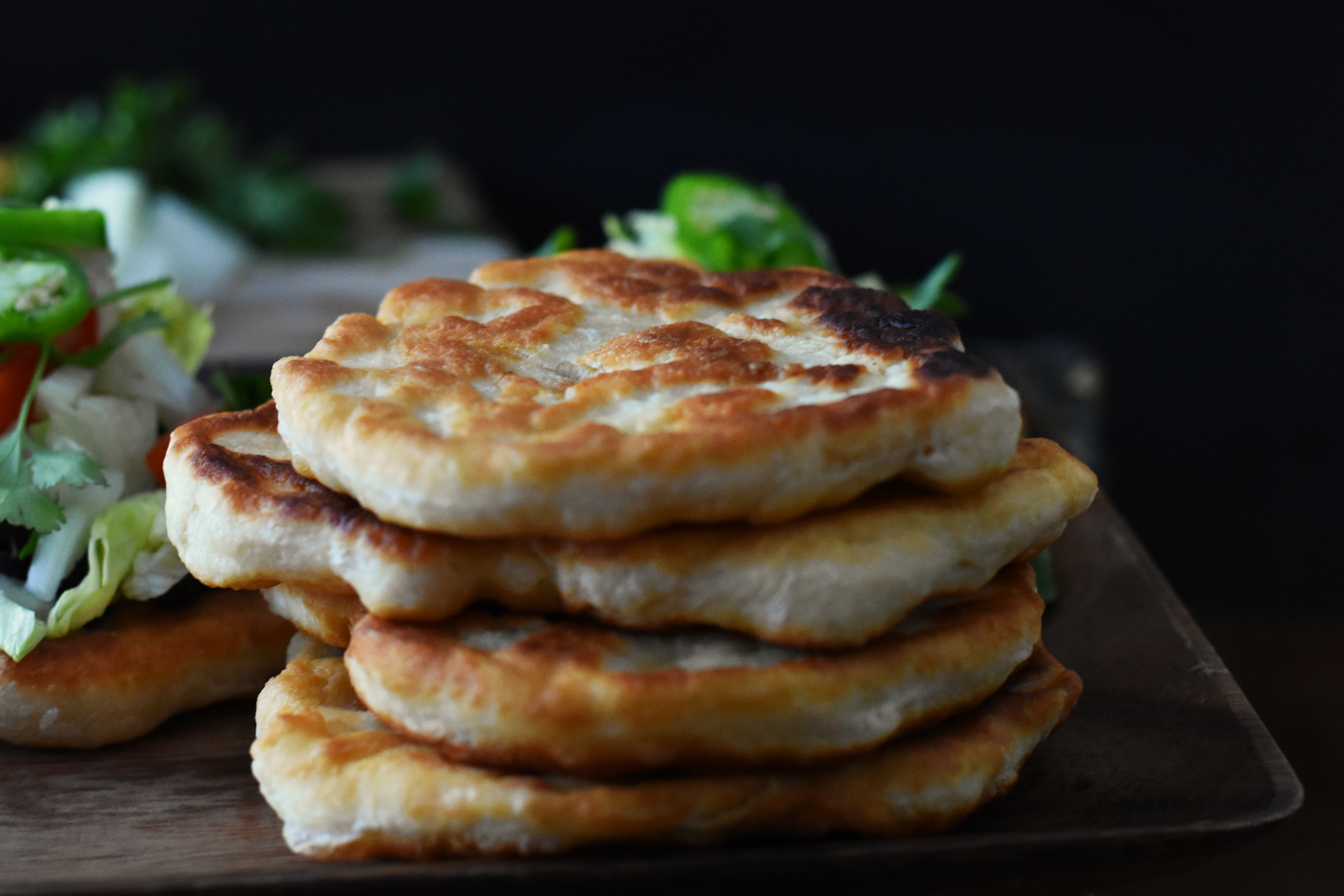 Elke is a participant in the Amazon Services LLC Associates Program, an affiliate advertising program designed to provide a means for sites to earn advertising fees by advertising and linking to Amazon.com.
Clicking on an Amazon link from Elke does not increase the cost of any item you purchase.
We will only ever link to Amazon products that we think our visitors may be interested in and appreciate learning more about.