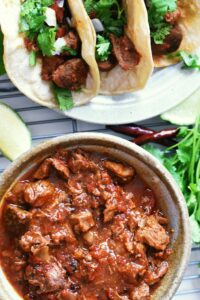 By the time I realized Cinco de Mayo was coming up, I had two days to prepare for this post. It was worth the extra effort considering this is the best Mexican dish ever! Ok, so it's by far our favorite, and I've cooked quite a few Mexican dishes in my kitchen. I hear almost no complaints when it comes to Beef Tinga…..I say almost because of my middle, more dramatic daughter keeps her meat intake to a minimal. She may have a hamburger here and there or a few bites of the weekly salmon burgers that I make, but lots of "you can do it" "just one more bite" kind of cheering goes on. Thankfully we pick the meat out for her and she piles her homemade tortilla shells with lots of things she does love, like the sauce from the Slow Cooked Beef Tinga, cilantro, cheese, scallions, lime, etc…..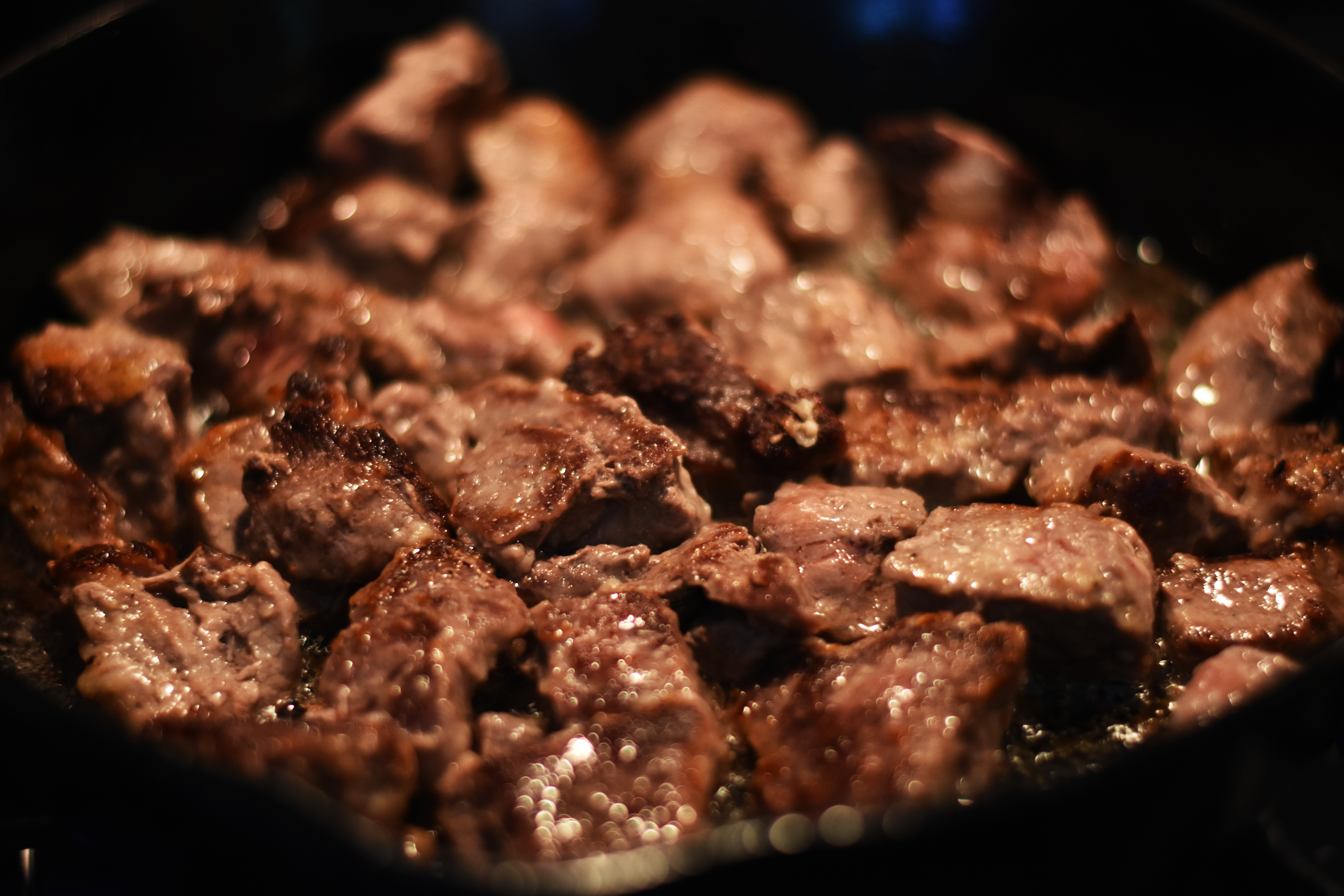 I only have a few Crock Pot dishes. The bottom line is they make life easier. A little bit of prep time in the morning, and my evening aren't consumed with me standing over the stove. As much as I enjoy that for the most part, it's nice to have a break!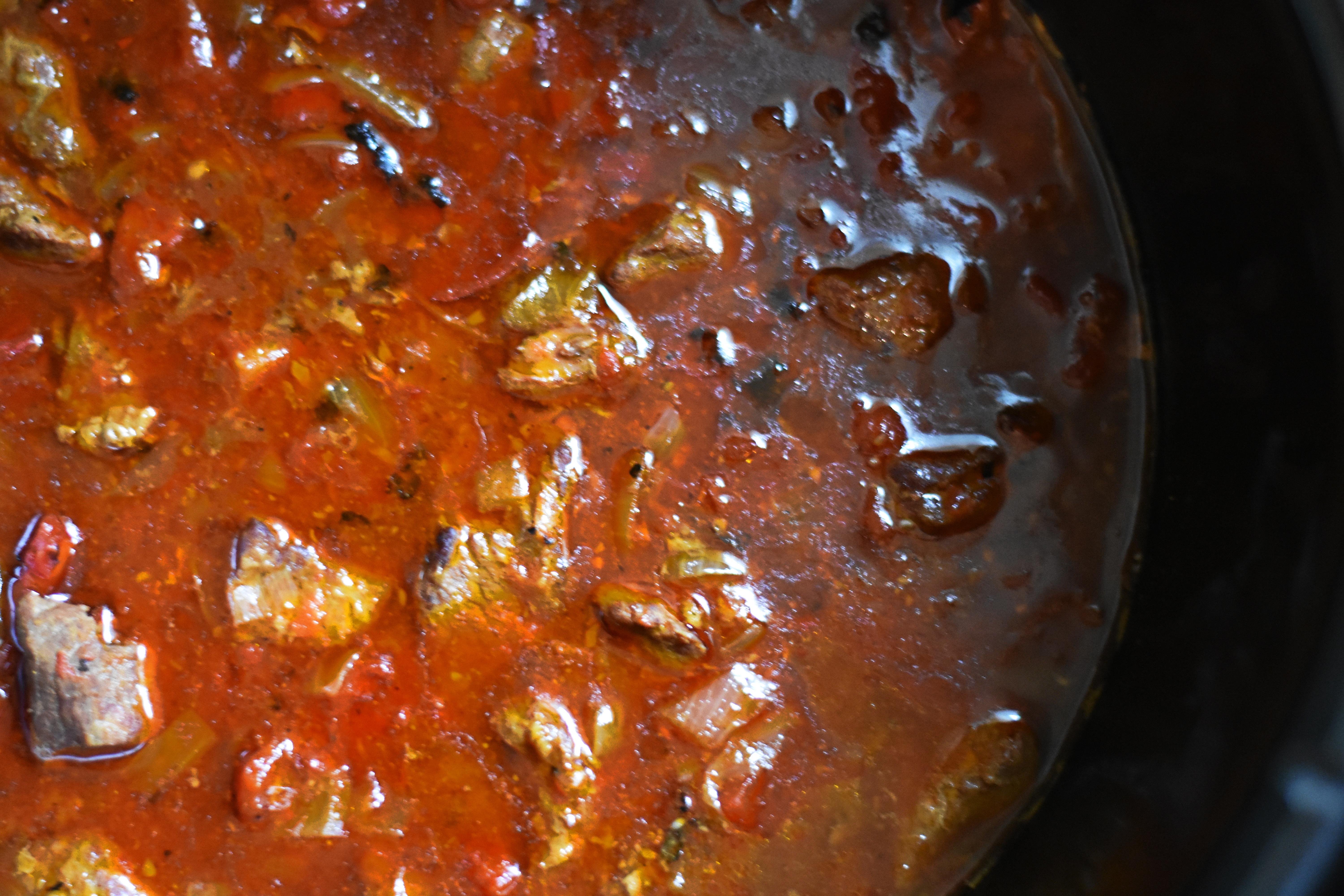 Have you ever thought of Mexican food is healthy?
The spices used in the culture are loaded with benefits! Let's look at a couple.
Cumin- helps remove toxins from the body, helps relieve stress and anxiety, eliminates phlegm and mucus, and is loaded with magnesium, potassium, and vitamins A and C!
Coriander or Cilantro- Helps eliminate toxic metals, improves sleep quality, has blood sugar lowering effect, and benefits digestion.
Lime- Aides in weight loss, protects eyes, aids digestion and eases constipation, and reduces body odor and dandruff.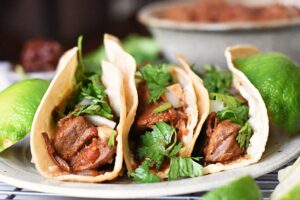 Prepping the Slow Cooked Beef Tinga
Prepping the Beef Tinga is simple! Just season with salt and pepper and sprinkle the beef with flour. Brown your beef in refined coconut oil or oil of your choice. Removed meat and pour meat into your slow cooker.
Add in chopped onion and seasonings and cook just a few minutes. Add beef broth, stir, and add to the slow cooker.
From here you're just adding remaining ingredients into your slow cooker. Season your Slow Cooked Beef Tinga to your liking.
Serve with your favorite toppings, and enjoy this delicious dish!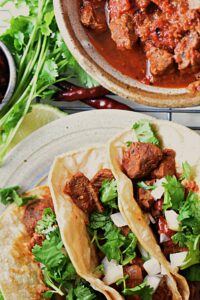 Beware buying packaged tortillas, canned sauce and so on. I'm sure there are some decent products out there, but turn it over and read the ingredients before throwing it in your cart.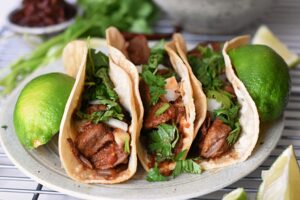 I hope you love this recipe as much as we do! If you would like to learn to make homemade tortilla shells, comment below and let me know!
For more Mexican dishes check out Spicy Lime Chickpea Tacos!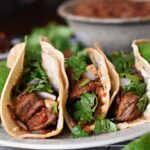 Print Recipe
Slow Cooked Beef Tinga
Some days it is just so easy to turn on the slow cooker in the morning and have an effortless dinner! The traditional spices make this beef tinga shine.
Ingredients
1 ½-2

lb

beef stew meat

2

tablespoon

coconut oil

Sea salt or pink salt and pepper

1-2

tablespoon

unbleached flour +2 tablespoon to whisk in

1

large yellow onion diced

4

garlic cloves

½

teaspoon

paprika

1

teaspoon

cumin

1

teaspoon

coriander

2

cups

beef stock

1

can

fire-roasted tomatoes

1

teaspoon

honey or brown sugar

1-2

tablespoon

chipotle sauce in adobo

I make my own sauce, but you can chop peppers, or use the sauce from the peppers

Corn or Flour tortillas
Options for toppings:
Queso Fresco or shredded cheese

Lime wedges

Diced onion or chopped green onion

Fresh or pickled jalapeño peppers

Fresh cilantro

Salsa or chipotle sauce

Sour cream
Instructions
In an iron skillet heat coconut oil over medium-high heat.

Season meat with salt and pepper, and dredge with flour.

Add meat to your hot pan and brown on both sides.

Remove meat and add to your slow cooker.

Reduce heat to medium-low and add onion and spices to your skillet

Cook until onion is soft and translucent.

Add garlic, cook another couple minutes.

Add some of the stock to loosen bits from bottom of pan

Add onion mix into the crockpot.

Add in your tomatoes and the rest of the beef stock.

whisk in a couple tablespoon of flour to thicken if needed

Cook on in crockpot for 4-6 hours or until meat is tender.

I like to serve in a bowl with toppings and corn or flour tortillas on the side, and let each person build their own!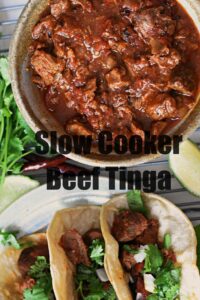 Elke is a participant in the Amazon Services LLC Associates Program, an affiliate advertising program designed to provide a means for sites to earn advertising fees by advertising and linking to Amazon.com.
Clicking on an Amazon link from http://www.quadcoptercloud.com/ does not increase the cost of any item you purchase.
We will only ever link to Amazon products that we think our visitors may be interested in and appreciate learning more about.