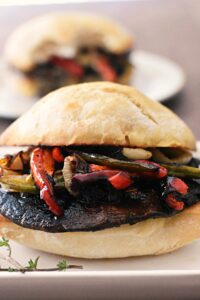 I'm a long-time lover of mushrooms. When I was a kid my dad would make them occasionally. He would pop the tops off, fill them with butter, garlic, and spices, and bake them. They were pretty darn good!  Then, across the U.S. in California, my stepdad would search for mushrooms in the woods behind his home, and cook them down into a delicious stew that was simply amazing! I will eat a mushroom just about any way it's served! If you're on the fence about them these grilled marinated portobello burgers may just change your mind!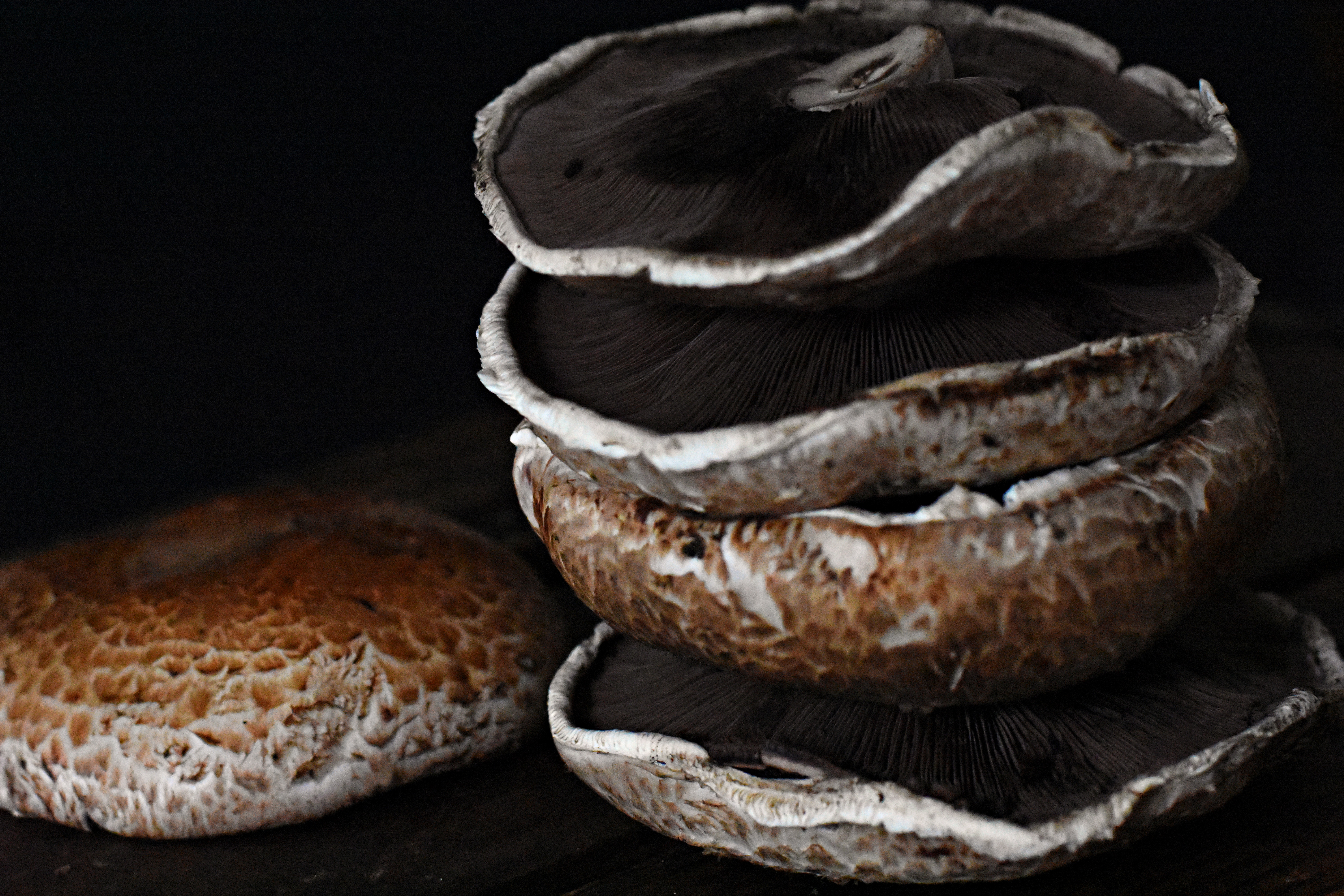 I realize some people wouldn't ever consider eating a mushroom. I've met people like them, and I can relate. I don't think its usually something personal toward the taste, but a texture thing. I get it- I'm sure its the way a slippery scallop feels in my mouth or a raw oyster. I even could gag at the thought of a plump raisin in a cookie… we all have our things. If it is a texture thing, grilling it just may be the solution, it's pretty awesome! Grilling it crisps it up nicely! My husband would not be considered a mushroom fan, but no lie, when he ate this "burger" he ate every last bite, and said he loved it! Yeah, its that good!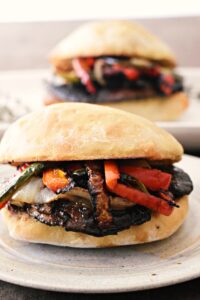 Check out how healthy these Marinated Portobello Burgers are! They have astounding benefits!
Rich in Copper and Selenium
Regulates immune system and inflammation
Some varieties help with relaxation, relieve stress and anxiety.
Some provide energy, cleanse the liver and help with weight loss.
Some help with brainpower.
One of the few foods that provide Vitamin D.
Help provide benefits for skin and hair.
For other vegetarian dinner, ideas check out  Quick Linguine with Roasted Tomatoes and Fresh Basil or Brown Butter and Sage pasta!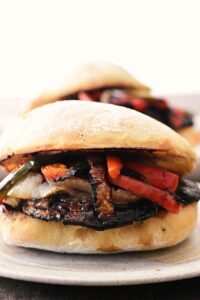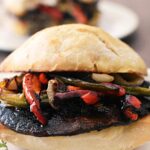 Print Recipe
Marinated Portobello Burgers
Portobello caps are the perfect vegetarian burger! No need to create complicated patties when you can just grill these up with a tasty marinade.
Ingredients
4

portobello caps

1

medium onion

sliced

½

red or orange bell pepper

sliced

1

jalapeño  pepper

remove seeds for less heat if needed
Marinade
2

tablespoon

olive oil

4

tablespoon

balsamic vinegar

1

large garlic clove

grated

½

teaspoon

salt

½

teaspoon

pepper

1

tablespoon

fresh thyme or a couple of teaspoon dry thyme.

Blue cheese

optional
Instructions
In a medium mixing bowl, put portobello caps, sliced onions, sliced bell pepper, and jalapeño.

In a small bowl or measuring cup, mix together oil, vinegar, grated garlic, salt, pepper, and thyme.

Pour the marinade over mushrooms, onions, and peppers.

Let set in the fridge for a couple of hours or overnight.

Heat an iron skillet Buy an Iron skillet here with a tablespoon of olive oil or refined coconut oil.

Pull out the onions, and peppers and fry them on medium-low heat until caramelized.

While they are cooking, heat your grill and grill the mushrooms until done, flipping and adding leftover marinade as needed.

Build burger with portobello, onions and peppers, and blue cheese.
Elke is a participant in the Amazon Services LLC Associates Program, an affiliate advertising program designed to provide a means for sites to earn advertising fees by advertising and linking to Amazon.com.
Clicking on an Amazon link from Elke does not increase the cost of any item you purchase.
We will only ever link to Amazon products that we think our visitors may be interested in and appreciate learning more about.