Everyone needs a quick mid-week pasta recipe right? It's simple, it's quick, and it's exactly what we need to make it through the week!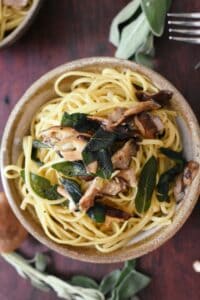 If by chance you have never smelled the fragrant aroma of brown butter filling the air, this recipe may be exactly what you need to step into the arms of fall.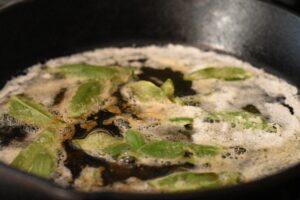 Then, you have to take it a step further and toss in some fresh aromatic sage leaves, mushrooms, and garlic…oh goodness, fall here we come! I wouldn't be surprised if this dish makes you want to run in and throw on your fuzzy sweater!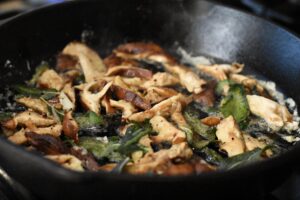 Making Brown Butter
Is brown butter hard to make? Nope! It's pretty simple actually, just don't walk away from it. You don't want burnt butter, just brown butter!
All you do is heat your skillet (I like to use an iron skillet) over medium heat. Place your butter in and allow it to melt. Keep an eye on it, it's best not to walk away to avoid how it can quickly turn from brown butter to burnt butter! Stir the butter frequently. It will start to look foamy and brown bits will form and it will get a nutty smell. Next, you're going to toss in your sage leaves, mushrooms, and lastly garlic! By now your house should be smelling like a five-star restaurant!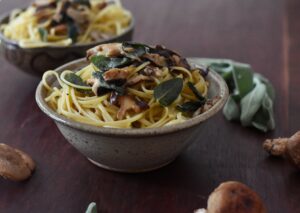 Lastly, I like to use a spaghetti server and ladle out the cooked pasta from the water and toss it with the brown butter, sage, and mushrooms! Add a little grated parmesan cheese and an extra drizzle of olive oil if you fancy that.  Just like that, you have a simple, surprisingly quick but elegant meal.
Serve with a side salad and some homemade Crusty Artisan Bread! If you aren't a mushroom lover, this dish may just change your mind!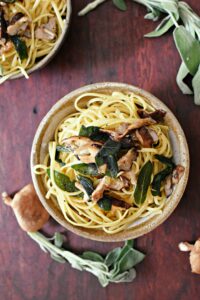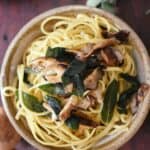 Print Recipe
Brown Butter & Sage Pasta
Linguine tossed with brown butter, sage, garlic, and shiitake mushrooms.
Ingredients
½

box

linguine

could use other pasta

½

stick

real butter

⅓

cup

whole sage leaves

fresh

3

cloves

grated garlic

⅛

teaspoon

pink salt or sea salt

½

teaspoon

black pepper

1 ½

cup

sliced shiitake mushrooms

or mushrooms of choice

1

drizzle

olive oil

top with olive oil if desired

2

teaspoon

parmesan cheese

top if desired
Instructions
Fill a pot with water, add a couple of teaspoons of salt and bring to a boil.

While water is preparing to boil clean and slice mushrooms and set aside.

Add a ½ box of pasta to water and cook according to package instructions, then drain.

Clean and pull sage leaves off and set aside.

In a skillet heat butter on medium heat until the butter looks foamy and brown specks start forming (the butter will smell nutty and fragrant)

Turn heat down- add sage, mushroom, salt and pepper and cook 2-4 minutes.

Grate in fresh garlic cloves and stir and cook 1-2 more minutes. Be careful not to burn the garlic.

Add strained linguine to your skillet with the brown butter mixture and toss until everything is mixed well.

Plate and top with parmesan cheese and a drizzle of olive oil if desired.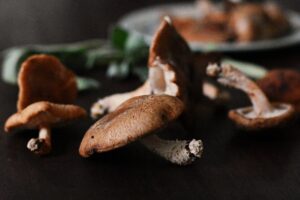 Elke is a participant in the Amazon Services LLC Associates Program, an affiliate advertising program designed to provide a means for sites to earn advertising fees by advertising and linking to Amazon.com.
Clicking on an Amazon link from Elke does not increase the cost of any item you purchase.
We will only ever link to Amazon products that we think our visitors may be interested in and appreciate learning more about.