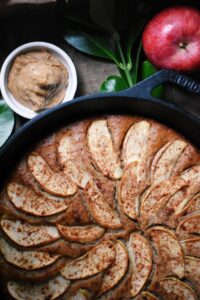 At the first sight of crisp leaves lying on the ground, I like to bake something with cinnamon and pumpkin pie spice, or how about this Skillet Apple Cider Cake with Healthy Caramel!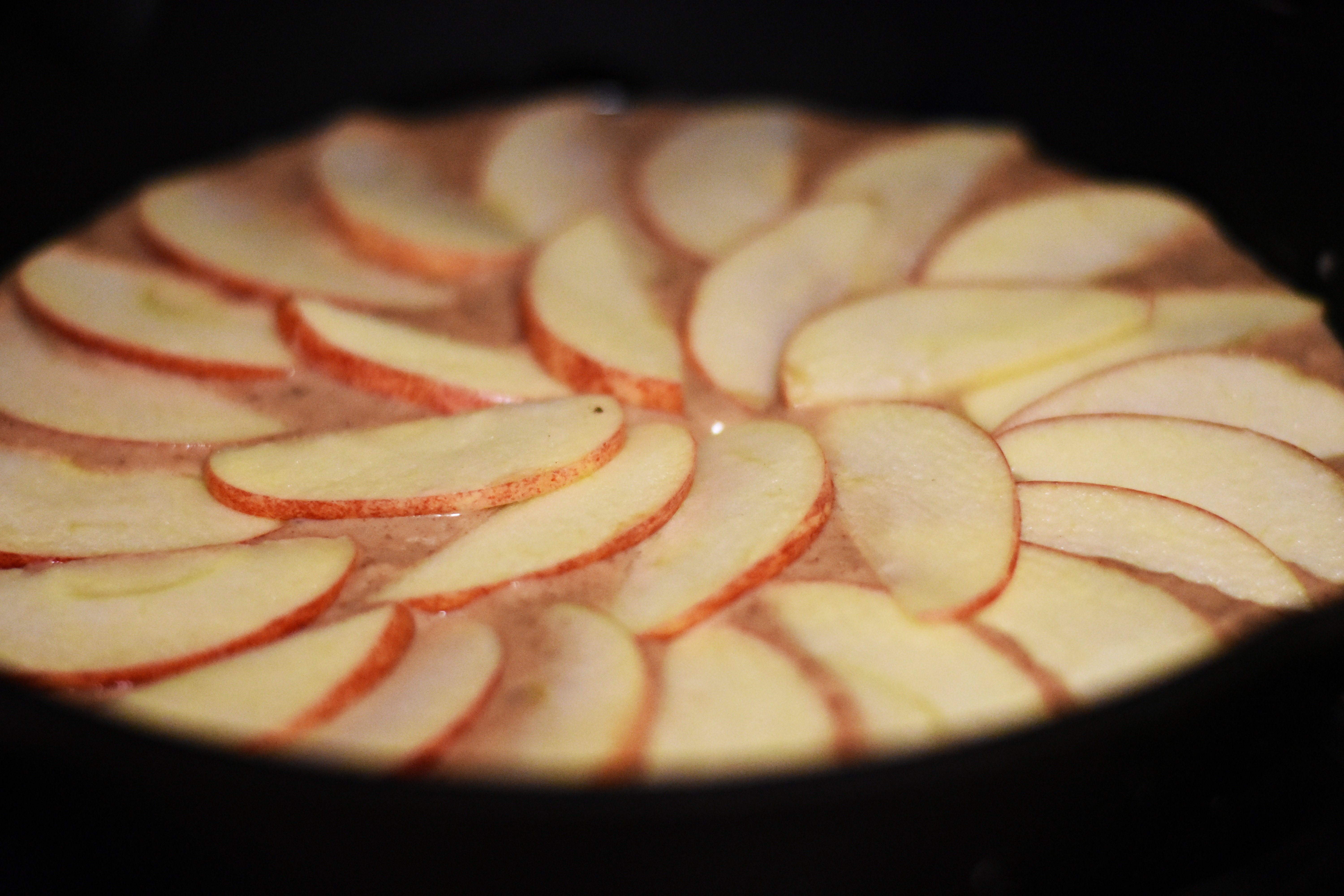 I think I can bake it into just about any dessert! Not only do the smells of these spices make us feel cozy, but did you know they are also warming to your body through the cold months, and have awesome health benefits?
This gives us more reason to bake!….. And because I no longer use any of the fall-scented candles or plugins, (read why here) baking is a great way to make my house smell like fall!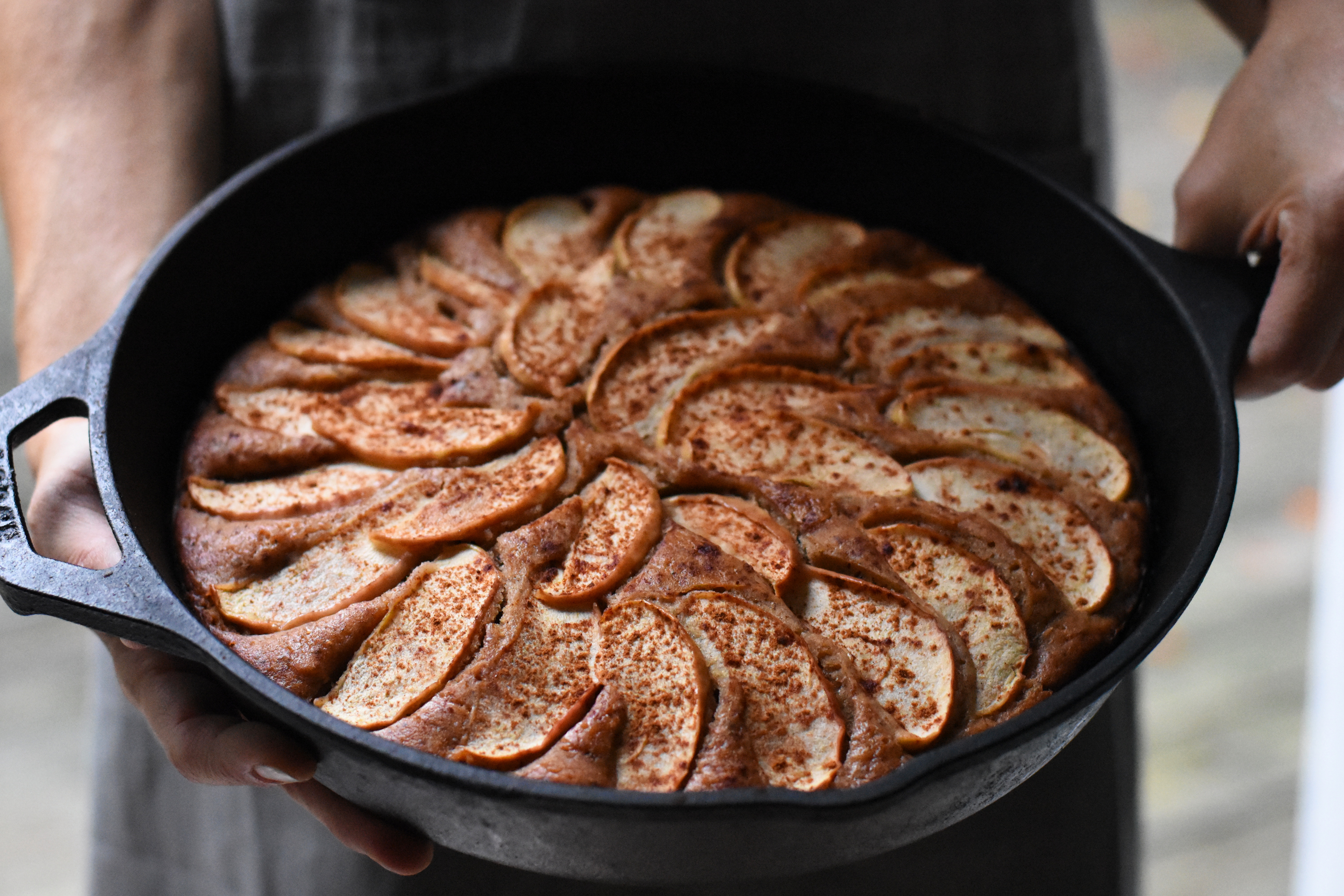 We need to eliminate all the junk!
I've been working on making a healthier apple cake. I like to look around at the average recipe and work on making a healthier version. I noticed that the average apple cake has LOTS of vegetable oil and even more sugar! When I was a kid my grandma would make an apple cake with caramel icing, sounds good ehh….well, it was good, but now that we're getting more educated on how the food we eat affects our health, there are some changes that we can make.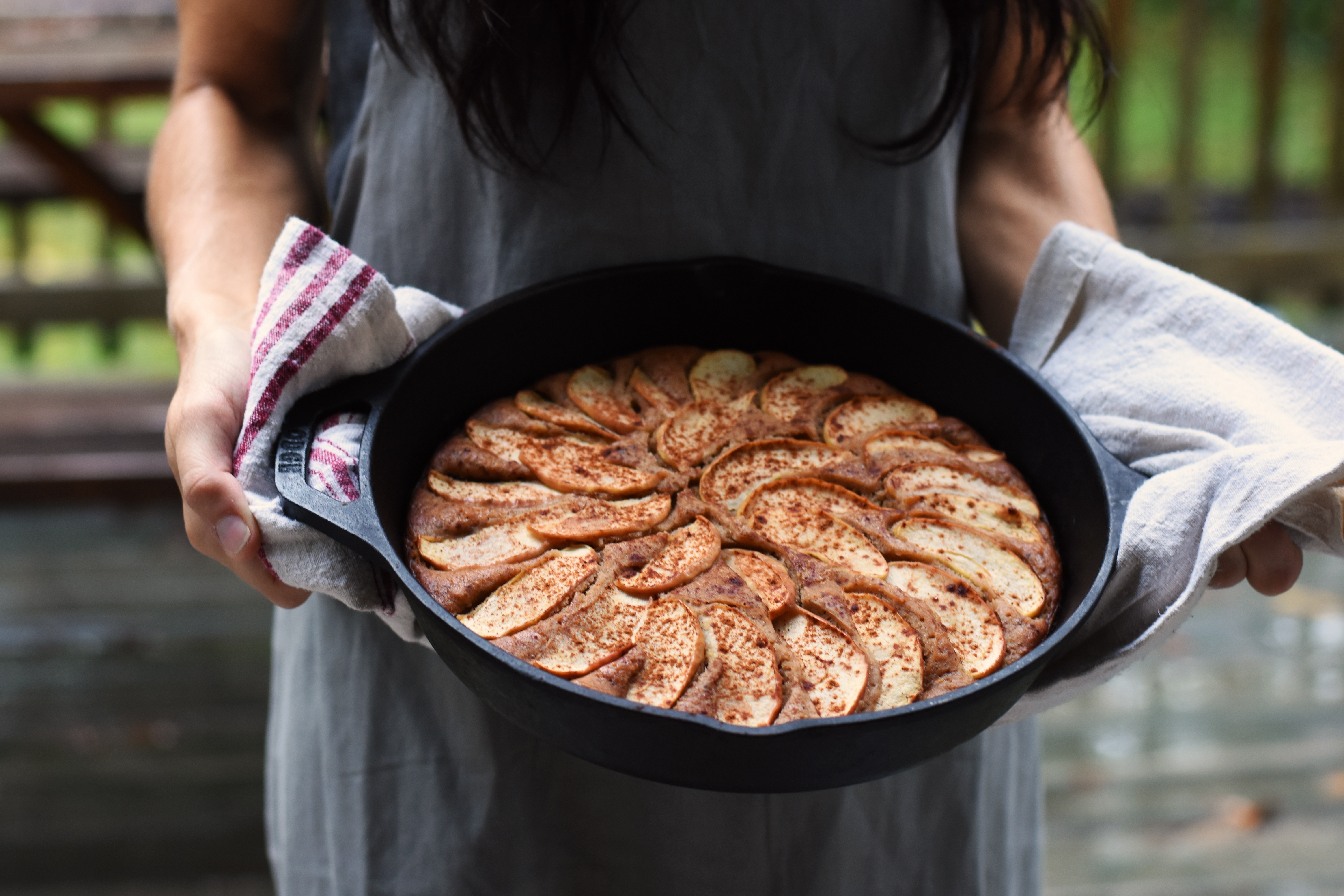 When I looked up a similar cake on Pinterest, it had 3 cups of sugar! Considering sugar is one of the leading causes of obesity (which can increase the risk of diabetes), contributes to inflammation, feeds cancer cells, causes premature aging, and so much more! There needs to be an effort on our part to eliminate some of the sugar were consuming! You would be surprised how less sugar and oil doesn't change how delicious it is!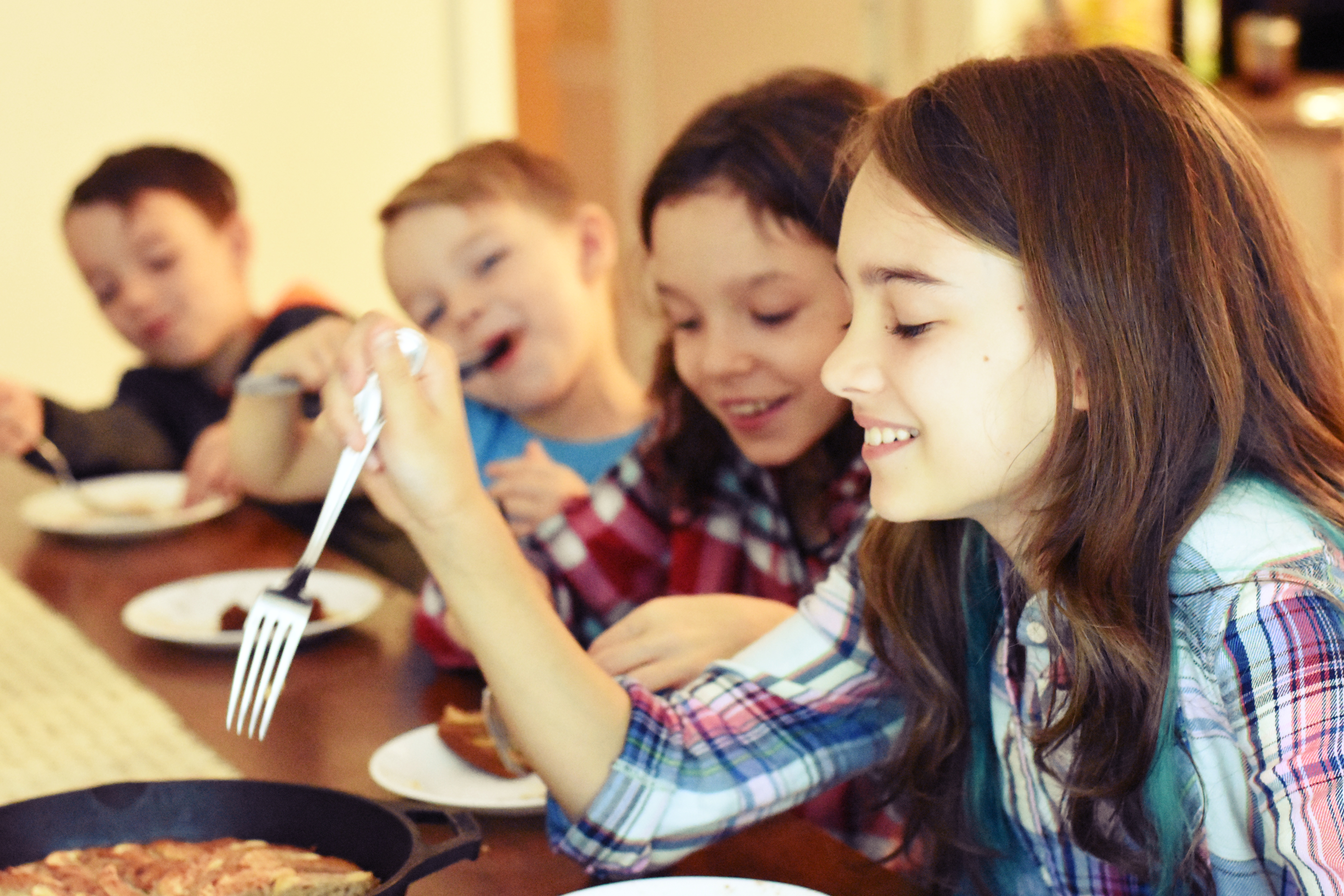 This recipe is healthier!
This recipe uses coconut oil, plant-based milk, flax egg for extra fiber, and only a half cup of sugar! I hope you love it as much as we do!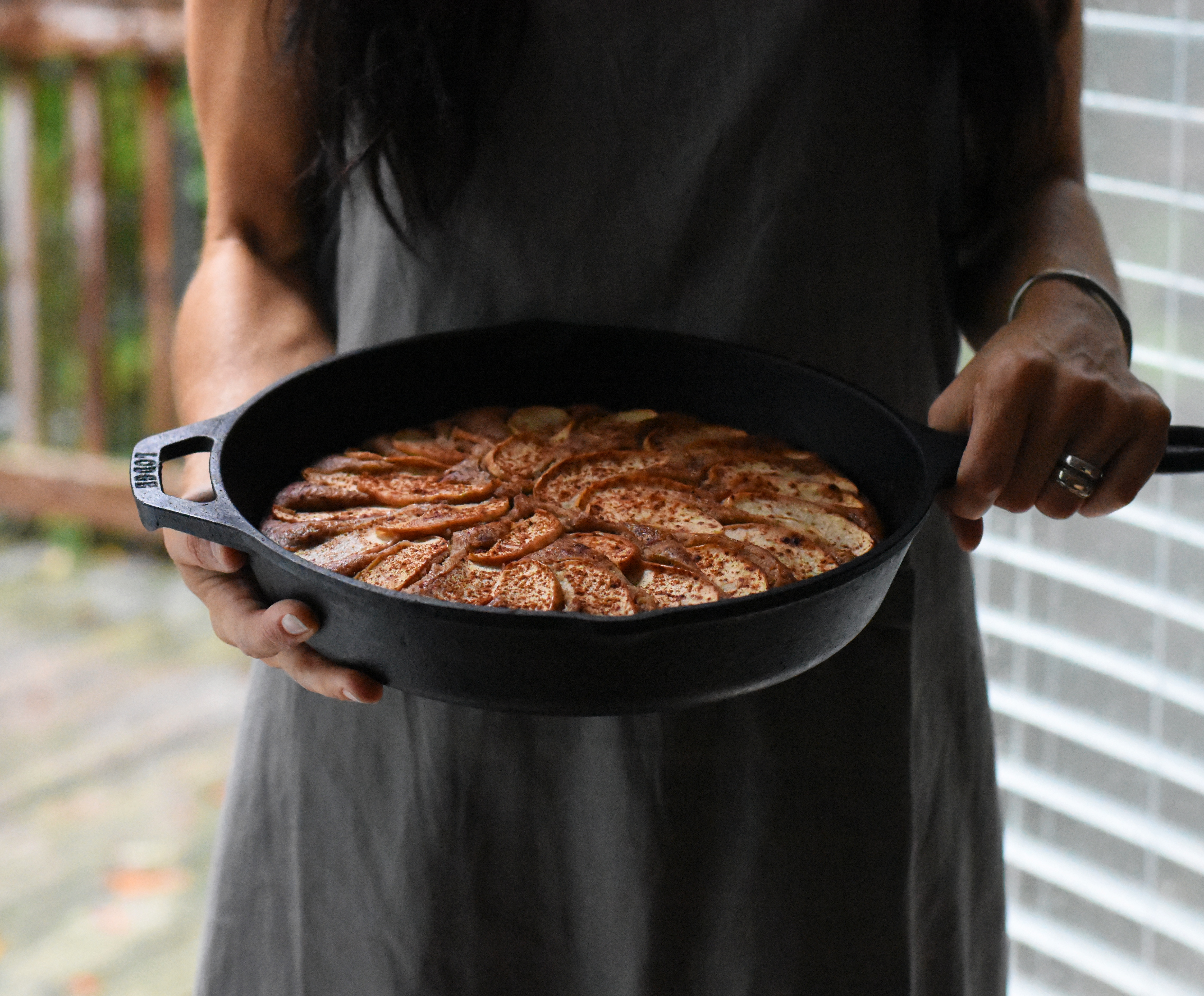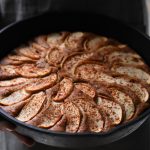 Print Recipe
Skillet Apple Cider Cake with Healthy Caramel
Apple cake and "fall" spices get me in the mood for cooler weather. I made sure to cut the oil and sugar from a traditional recipe yet not lose any flavor!
Ingredients
1

large or 2 small red apples sliced thin

I used Gala

1

Flax egg

1 tablespoon ground flaxseed with 3 tablespoon water

½

cup

apple cider

4

tablespoon

refined coconut oil

melted

¼

cup

milk

I used coconut milk

½

cup

brown sugar

3

teaspoon

baking powder

aluminum free

1 ½

cups

of unbleached flour

½

teaspoon

pink salt

1

teaspoon

vanilla extract

½

teaspoon

of both cinnamon and pumpkin pie spice

½

cup

of walnuts or pecans chopped

optional
Healthy Caramel Sauce
12

Medjool dates Buy dates madjool dates here

remove pit if needed

7

tablespoon

coconut milk

or other plant-based milk

2

tablespoon

soft or melted refined coconut oil

1

teaspoon

vanilla

⅛

teaspoon

pink salt
Instructions
Cake
Preheat oven to 400

Brush an Iron skillet with refined coconut oil.

Make flax egg by mixing ground flaxseed and water. Set aside. (Could use regular egg.)

Thinly slice apple (I left skin on.)

In a mixing bowl whisk together flour, baking powder, salt and spices.

In a separate bowl mix melted coconut oil, apple cider, coconut milk, brown sugar, vanilla extract, and nuts.

With a wooden spoon, mix dry ingredients into the wet.

Pour into oiled skillet.

Arrange apples on top. (I have also stirred apples into batter and that works great too.)

Bake for 30-40 minutes or until a knife inserted comes out clean.
Caramel
In a Nutri- bullet or blender, blend all ingredients until smooth.

Serve on the side, or on top of the cake!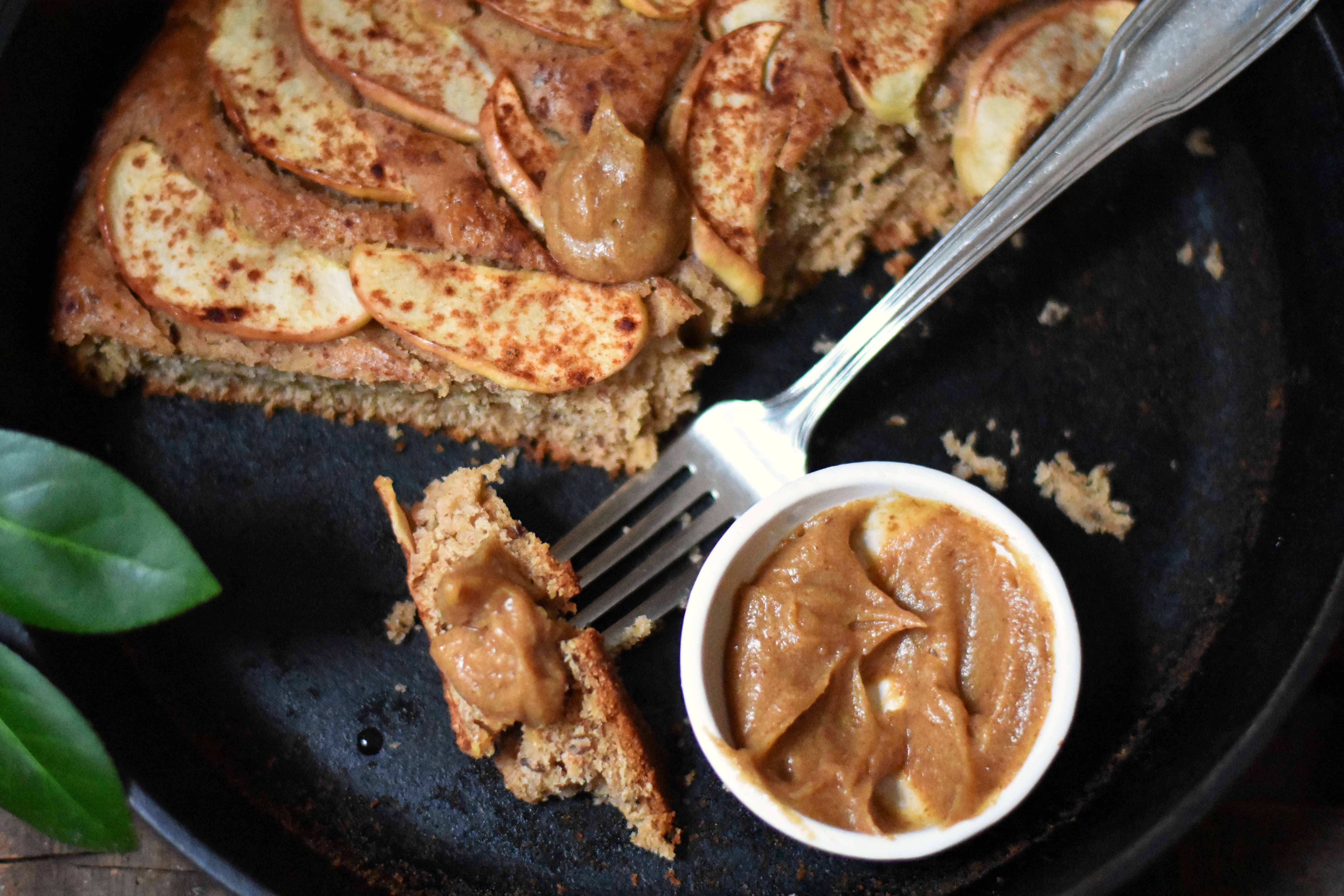 Elke is a participant in the Amazon Services LLC Associates Program, an affiliate advertising program designed to provide a means for sites to earn advertising fees by advertising and linking to Amazon.com.
Clicking on an Amazon link from Elke does not increase the cost of any item you purchase.
We will only ever link to Amazon products that we think our visitors may be interested in and appreciate learning more about.