Have you ever thought to check what's on the list of ingredients in your favorite body lotion? Maybe the front of the bottle has a hopeful line like "made with real jojoba oil", or has a picture of an aloe plant on the front. Before you lather yourself up, you may be surprised to see that a couple of natural ingredients are sandwiched between a lot of things you probably have never heard of. This honey lavender whipped body butter is healing and all natural!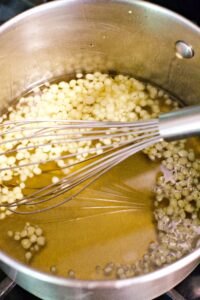 I think people are becoming more aware of the dangers of our food supply, and personal care products. I've had so many people say they want to be healthier.  While food is a significant part of that, we are increasingly becoming more educated about the dangers of not only what we are putting in our bodies, but what we are putting ON our bodies.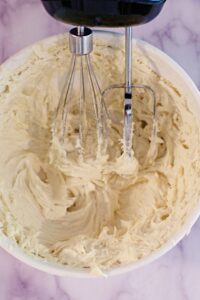 Is store-bought lotion healthy for our bodies?
According to my health coach training, in 1989 The National Institute of Occupational Safety and Heath recognized 884 poisonous substances from a list of 2,983 chemicals used in the fragrance industry. These chemicals are capable of causing cancer, birth defects, central nervous system disorders, respiratory reactions, and skin and eye irritations. If we combine that with a nice hot shower that opens your pores, these chemicals could be absorbed into the largest organ in our body- our skin. Why would these chemicals be allowed into our products? Check this out The FDA has stated, "A cosmetic manufacturer may use any ingredient or raw material and market the final product with our government approval."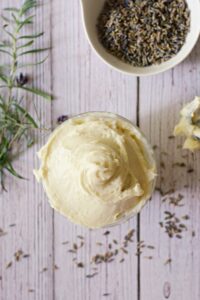 So what's in your lotion?
I checked out a common bath and body lotion (a company I used in the past) and here are a few things I saw.
Tetrasodium EDTA– This ingredient is known to break down the skin's protective barrier (a penetration enhancer) which would allow other chemicals that are in the product to enter the body more easily.
Propylparaben– parabéns, used to prolong shelf life are hormone disruptors (which you can read about more here). They have been detected in breast cancer tissues and can accumulate in our bodies from multiple sources and personal care products.
Artificial dyes- Colors like Blue, yellow, and red, which are added to lotions and other personal care products have been associated with hypersensitivity, allergic reactions, ADHD in children, and cancer!
Fragrance– gets a "pass go" in an ingredient list and could be made up of as many as 200 ingredients for a particular scent! Many of the chemicals could cause side effects like hormone disruption, allergic reactions, and cancer!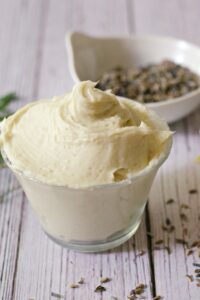 The best way to avoid these dangers is to make it yourself. Getting rid of things we have used for years can be tough, but for the healthier future we all desire to have, we have to get this stuff out of our homes. The ingredients in this lotion will benefit you rather than harm you! Let's look at the ingredients.
How do I make Honey & Lavender whipped body butter
It's really easy to make! You need the following ingredients.
Unrefined Shea butter– Anti-inflammatory, rich in vitamin A, good for acne-prone skin, prevents bumps after shaving, good for eczema.
Unrefined almond oil– Reduces fine lines, and reduces dark circles. It's good for psoriasis and eczema. I sometimes use cold-pressed castor oil.
Coconut oil– High in Vitamin E, helps reduce wrinkles, helps reduce stretch marks.
Honey– treats dry skin, fades acne scars, is anti-inflammatory and helps heal skin conditions. You can use local honey but lately, I have been using manuka honey and my legs have improved!Buy manuka honey here! Learn more about the healing powers of Manuka Honey in this post!
Lavender– Can improve complexion by inhibiting bacteria. It helps with dry skin.
Frankincense oil– Eliminates scars and acne. It helps with aging and elasticity.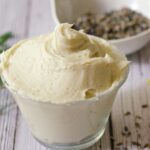 Print
Honey & Lavender Whipped Body Butter
Your skin is the largest organ! Be careful what you put on it and into your body, by making your own body butter.
Instructions
In a pot on the lowest heat, gently melt shea butter, almond or castor oil, coconut oil, and beeswax together until everything is mixed well.

Remove from heat and place in the fridge for about 20 minutes until it's hardened but still a little soft. Pull out and whisk in honey, and essential oils.

Transfer mix to refrigerator or freezer until cool (I put it in the freezer for about 25-30 minutes). It is important to check it and not let it harden to a solid, but just until it firms up enough to whip up.

With a hand mixer, blend for a couple of minutes until it whips up to a whipped butter consistency.

Store in a glass container. See recipe notes for tips!
Notes
Here is the manuka honey I use! It is great for healing skin and check out this post for other things I use it for!

I do not refrigerate, but if you live in a hot humid climate, you may need to refrigerate.
I don't add any preservatives, but if you want to you can do research and see what you want to add.
You can use different essential oils and amounts to your preference.
If you like a dryer lotion, you can add around a teaspoon or so of arrowroot powder in before blending.
When you click on a link and make a purchase, it helps support my blog! Thanks for your support!
Elke is a participant in the Amazon Services LLC Associates Program, an affiliate advertising program designed to provide a means for sites to earn advertising fees by advertising and linking to Amazon.com.
Clicking on an Amazon link from Elke does not increase the cost of any item you purchase.
We will only ever link to Amazon products that we think our visitors may be interested in and appreciate learning more about.