I don't know about you, but I feel like I get busier, and busier, and busier…. I know I'm not alone. Our fast-paced lives can cause stress, less time spent around the dinner table, and lots of unhealthy eating. Convenience is making us, well, sick. That's why it's good to have some healthy snacks on hand like this Spiced Maple Trail Mix!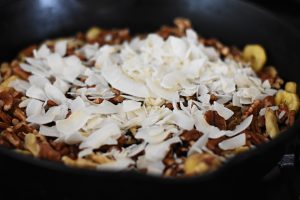 We've all heard people say they can't afford to eat healthily, yet I've read that the average American spends about $1,200 on fast food each year! I also read that 20% of meals are eaten in the car! I think its key to stop and realize that we can make healthier choices, and plan and prepare a little. We need to do this to not only feel better ourselves but a model to our kids a different way of eating.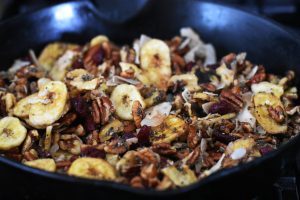 Roughly 65% of Americans are overweight, and in my opinion, a big part of that is fast foods and prepackaged processed snacks.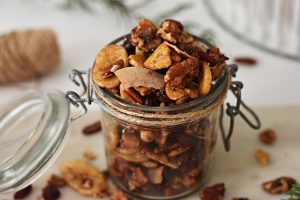 The breakdown of snack food
Here's where it gets a little harder….Unless your buying things like Little Debbie cakes and Doritos, a lot of the snacks out there are packaged to look like a healthy option. Things like 100 calorie packs, granola bars, goldfish, veggie chips, fruit snacks, and trail mix, are made to grab your eye with catchphrases like "made with whole grains", "made with real fruit juice", and "gluten-free". All these labels make the consumer feel like they are making healthy choices. If we would only flip these packages over we would see that beneath the healthy packaging there are ingredients that come with lists of side effects that are making Americans more and more sick….. if I could make an educated guess, I would bet the pharmaceutical companies are loving that……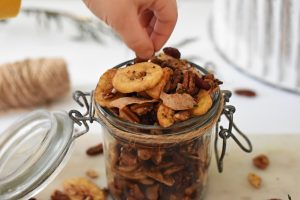 Are store-bought trail mixes healthy?
The trail mix seems pretty harmless, right? Assuming that you're not buying the ones with M&M's…your not buying those right? I checked out the ingredient list to this "fun" trail mix, and on the ingredient side, it sure didn't look healthy anymore. Instead of looking healthy, it looked like a recipe for hyperactive kids because of the dyes,  dizziness, headaches, and even cancer from the artificial flavors and GMO's in ingredients like Soy and Canola gives a recipe for problems like allergic reactions, loss of nutrition, cancer, and antibiotic resistance. Now, wouldn't that be nice if that was on the front of the package, instead of a portrayal of health?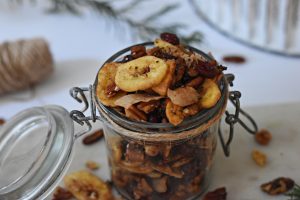 Making things yourself doesn't have to be hard. In my attempt to make healthy grab-able snacks, I came up with this simple recipe. It takes about 5-7 minutes to make, yes, that's it, and then I like to bag it up in those little snack size ziplock bags for a quick grab and go snack!
For another healthy snack try Raw Energy Balls!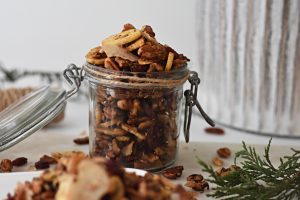 Print Recipe
Spiced Maple Trail Mix
Trail mix can be a healthy, filling snack. But it's best to make it yourself so you can control the ingredients and amount of sugar.
Instructions
In a skillet combine all dry ingredients except the chia seeds and stir well with a wooden spoon.

Drizzle the maple syrup evenly over and stir.

Sprinkle the chia seeds over trail mix and stir.

Turn heat on medium-low and cook about 3-5 minutes stirring continually, allowing the syrup to thicken and the dry ingredients to toast and develop flavor.

Remove from heat and let cool completely.

Bag individual snack size portions for a healthy on the go snack!

You can switch up what you put in this. For the healthiest options choose raw nuts, seeds, and dried fruit. I have used pumpkin seeds, sunflower seeds, flax seeds in this mix.
Elke is a participant in the Amazon Services LLC Associates Program, an affiliate advertising program designed to provide a means for sites to earn advertising fees by advertising and linking to Amazon.com.
Clicking on an Amazon link from Elke does not increase the cost of any item you purchase.
We will only ever link to Amazon products that we think our visitors may be interested in and appreciate learning more about.