Recently I fasted all grains and sugar for 21 days. I have given up sugar for periods of time in the past, but never all grains. I wasn't sure how well I would survive this 21 days of the things that are most satisfying to eat.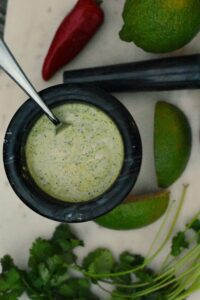 Yes, I probably like vegetables more than the average person. I crave healthy smoothies and juicing a juice. I look forward to a lunch where I eat my stinky fermented foods and piles of arugula….but the other side of that is- I'm a baker. I love to bake cinnamon rolls and cookies, and cakes. I love to make my husband chocolate mousse and homemade donuts. I love to eat pies, and I probably bake about 6 loaves of bread a week!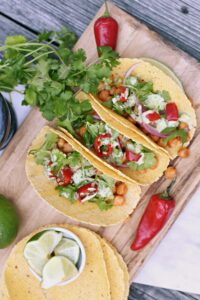 All this being said, surprisingly, the fast went with ease, and you know, I felt a lot better! In the middle of it all, I decided to recreate what was one of my favorite tacos from one of my favorite restaurants, and it became my favorite meal on the fast.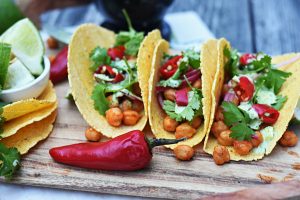 My husband looks forward to dinner and so just about every day calls me and asks what's for dinner for the evening. Well, it was my first night making these tacos. He asked me with that starving sound in his voice what was for dinner, I replied excitingly with "chickpea tacos, you know the ones like I love from Never Blue?" ……silence…."what meat are you making?" "No meat just chickpea tacos…." Well, this went one for a couple more minutes, then he realized it was chickpea tacos for dinner……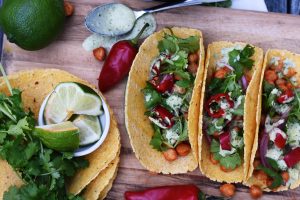 Well, they turned out amazing to me, better than I could have expected! Aubrey (my chickpea loving child) asked her dad after the meal if he liked them. He said he gave them 100%! He also said they had so many wonderful flavors! Yassssss! I got to add this to our regular meal planning! He was (barley) willing to try something new and he loved it! Are you willing to try something new, fresh, and healthy?
For another healthy Dinner, dish try Marinated Portobello Burgers!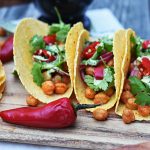 Print Recipe
Spicy Lime Chickpea Tacos with Cilantro & Lime Crema
These tacos are vegetarian, and even my meat-loving husband loved them! The combination of flavors really keeps things interesting.
Ingredients
1

can

chickpeas

drained

½

teaspoon

salt

or more to taste

⅛

teaspoon

of each- paprika, cayenne, and black pepper

Juice of a half of a large lime.

Corn tortillas, I use sprouted organic

Or organic tortillas like this

Pickled red onions

Cilantro lime crema

Optional toppings of fresh jalapeños, fresh cilantro, and fresh lime wedges.
Pickled Red Onions
½

large

red onion cut into thin slices

⅓

cup

red wine vinegar

¼

teaspoon

pink salt

¼

teaspoon

sugar
Cilantro Lime Crema
⅓

cup

mayo or vegan mayo

like this

juice from ½ of a large lime

1

cup

fresh cut and washed cilantro

2

medium garlic cloves

¼

teaspoon

both salt and pepper
Instructions
Onions
Make these first and set aside to soak in a bowl or mason jar

Cut onion in this slices

Mix together vinegar and salt and sugar and pour over onions.

Let set and marinate. Store in container in the refrigerator.
Spicy Lime Chickpeas
Open chickpeas and drain.

Pour into a saucepan.

Add spices and lime juice and warm on low heat.
Crema
Put all ingredients in a blender or Nutri-bullet and blend.

Pour into a cup or bowl and serve with tacos
Build Tacos
Heat your tortillas (I place them in a low heat oven for a few minutes.)

Add the chickpeas and red onions

Top with fresh cilantro and crema.

Add fresh sliced Jalapeños and a squeeze of fresh lime!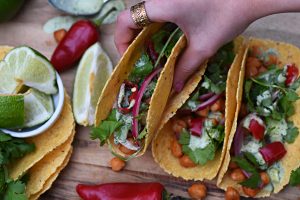 Elke is a participant in the Amazon Services LLC Associates Program, an affiliate advertising program designed to provide a means for sites to earn advertising fees by advertising and linking to Amazon.com.
Clicking on an Amazon link from Elke does not increase the cost of any item you purchase.
We will only ever link to Amazon products that we think our visitors may be interested in and appreciate learning more about