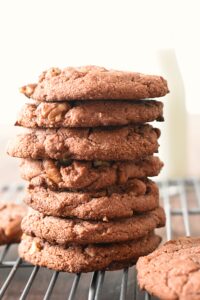 If you've been wishing for a healthy cookie recipe, I have the perfect cookie for you! These almond flour cookies are gluten-free, refined sugar-free, and dairy-free! Yep! They are the perfect cookie if you want to cut carbs, cut sugar, and cut dairy! They are a delicious gluten-free vegan cookie! Want to hear another perk about these cookies? This batch of cookies has roughly 50 grams of protein! Wow!
These cookies are made with just a handful of ingredients and turn out soft and chewy with crispy edges! yum!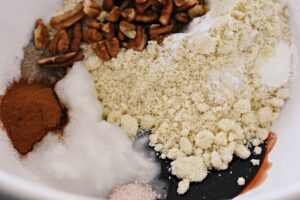 Why Almond Flour?
Almond flour is made up of, you guessed it, ground almonds. First, they are blanched so the skin will come off easily. Then they are ground very fine to make flour.  If you are trying to cut out carbs and increase your protein intake almond flour is a great choice! High protein isn't the only good quality of this flour. Almond flour also:
Almond flour is rich in vitamin E.
It provides energy boosters like copper, vitamin B2, and riboflavin.
It provides minerals like manganese and copper.
Almond flour has enzymes that fight against free radicals!!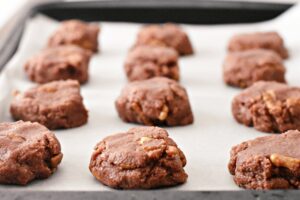 Making cookies refined-sugar free.
Although sugar is everywhere we look we should work on minimizing the amount we consume. I try to make a mix of raw desserts (like these peanut butter cups) that are refined sugar-free and "regular desserts" that I add less sugar too.  Sugar can cause:
It can cause obesity.
According to Dr. Axe, 1 sugar-sweetened drink a day can give you a higher risk of non-alcoholic liver disease.
Sugar can increase the risk of certain cancers and promotes cancer cell growth.
It interferes with the absorption of certain vitamins and minerals.
Sugar can increase the risk of headaches, and migraines.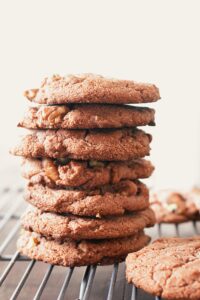 Date syrup and date nectar is a great alternative sweetener!
A sweetener made with dates can provide benefits as to where sugar doesn't. Date syrup contains potassium, iron, calcium, magnesium, and phosphorus!
Date sweeteners also give you a daily dose of fiber.
Dates are low on the glycemic index.
These almond flour cookies make a delicious treat for someone who is wanting to eat less sugar and gluten. Check out below how easy they are to make!
Give these cookies added health benefits with CBD!
Have you thought about adding CBD to your cookie recipe? Adding CBD can add some amazingly healthy benefits! Check out more on CBD oil from a reliable company and these healthy cookies made into Almond Flour CBD Cookies! Click here for the recipe!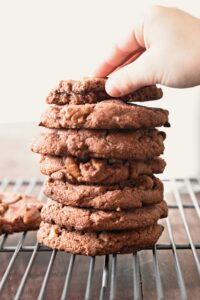 If you don't know where you can purchase date nectar you can buy it here
I have also had friends make these successfully with maple syrup!
Almond Flour Cookies
These gluten and refined sugar free cookies turn out soft and chewy with perfectly crispy edges!
Ingredients
2

cups

almond flour

⅓

cup

date nectar

¼

cup

softened refined coconut oil

¼

teaspoon

baking soda

½

teaspoon

baking powder

½

teaspoon

pink salt or sea salt

1

teaspoon

almond extract

½

cup

chopped pecans
Instructions
Pre-heat the oven to 350.

Measure all ingredients into a medium mixing bowl and mix well with a wooden spoon. (make sure the coconut oil is softened, you can warm slightly if needed.)

Using a tablespoon spoon out dough about a tablespoon at a time onto a cookie sheet. Press the dough down slightly with your fingers.

Bake in a preheated oven for about 12-14 minutes. The cookies will feel soft to the touch, but as they cool they will harden.

Let the cookies cool before removing from the cookie sheet.
Notes
To buy date nectar from Amazon, check out the link in the post! 
Molasses or maple syrup may also work well in this recipe
Elke is a participant in the Amazon Services LLC Associates Program, an affiliate advertising program designed to provide a means for sites to earn advertising fees by advertising and linking to Amazon.com.
Clicking on an Amazon link from Elke does not increase the cost of any item you purchase.
We will only ever link to Amazon products that we think our visitors may be interested in and appreciate learning more about.