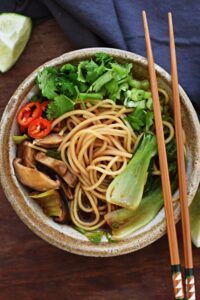 Most of us have probably eaten the ramen noodle packs from the grocery store. My college years those little cheap packs of soup were a staple. Hey, when you don't have a lot of money they come in handy. Convenience often comes with a price when it comes to food, and those little flavorful soup packs are no exception. That's why is best to make your own easy homemade ramen!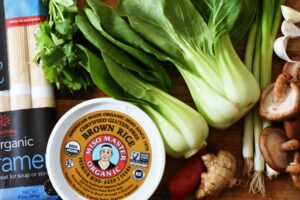 Are instant noodles that bad?
According to Dr. Mercola, ramen noodles were not broken down and digested even after a couple of hours after they are eaten. This causes a strain on the digestive system as it works overtime to break down this processed food.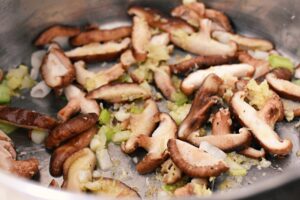 Aside from the fact that instant noodles have no benefits, the ingredient list in ramen noodle packs is the worst! I counted over 40 ingredients in a pack of ramen and couldn't pronounce half of them. The ingredients that would be most harmful to your health would be: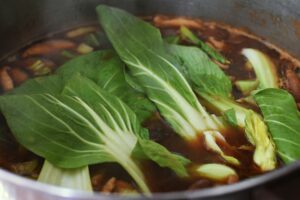 Vegetable oils including canola, cottonseed and palm oil. These vegetable oils are highly inflammatory
TBHQ-This preservative used to extend shelf life can cause harmful side effects! The side effects being nausea and vomiting, potentially promotes cancer, could cause vision disturbances or convulsions and could lead to food allergies. Watch for this horrible ingredient in fast foods, and pre-packaged foods!
Corn syrup-Could promote cancer growth, increased cholesterol levels, weight gain and more!
Monosodium Glutamate (MSG)-MSG is found in so many foods! It's good to avoid it because it's been linked to asthma attacks, muscle tightness, and tingling, headaches, and could be linked to high blood pressure and obesity.
Artificial flavors-According to Food Babe artificial flavors are chemical mixtures made with synthetic ingredients in a lab. They're produced by fractional distillation and chemical manipulation of various chemicals like crude oil or coal tar. They also contain incidental additives.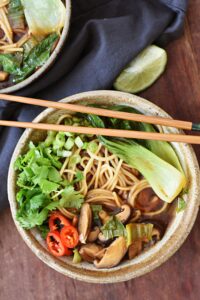 Easy Ramen Noodles- easy to make!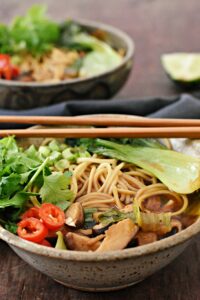 This dinner doesn't take long to make! You can make it in about 30 minutes!  Find ramen noodles in the international food section of your grocery store! You can also order them easily off of amazon!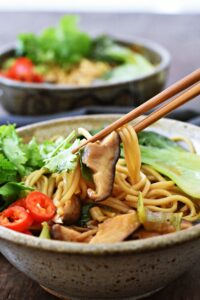 Making the broth is easy! I like to make an easy miso broth because it not only tastes great but has lots of health benefits! You can top your ramen noodle bowls with the topping you love the most!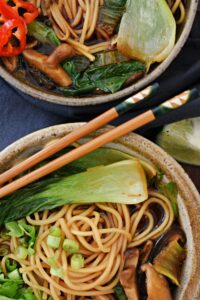 Some other easy homemade ramen toppings are: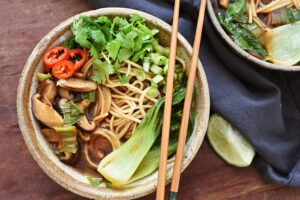 Radishes.
Thinly sliced carrots or zucchini.
Fresh herbs like cilantro, parsley, or basil.
Sesame seeds or oil.
Roasted acorn squash.
Soft boiled egg.
Different greens.
Your choice of protein.
For other dishes like this check out this easy vegetarian red curry!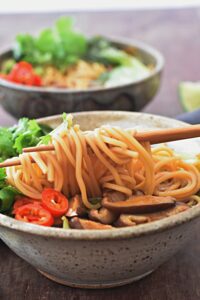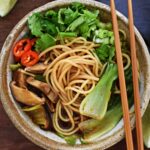 Print Recipe
Easy Homemade Ramen
Easy homemade ramen in just minutes with the rich flavors of miso, shiitake mushrooms and bok choy!
Ingredients
1

tablespoon

refined coconut oil

or oil of choice

2

cups

filtered water

32

oz

vegetable broth

2

heaping Tbsp

miso paste

I use brown rice miso like pictured above.

3

large

cloves of garlic

grated

1

inch

fresh ginger

grated

10

shiitake mushrooms (or mushrooms of choice)

sliced

3-4

large

green onions (sliced thin)

whites for the base of soup, greens for the topping.

2

bunches

baby bok-choy

one bunch roughly chopped and use whole leaves of the other bunch.

¼

tsp

both salt and pepper

½

teaspoon

brown sugar

1

pack

ramen noodles

like pictured above. Cooked according to directions, strain, and set aside.

choice of toppings like green onions, freshly chopped cilantro, fresh chilis or jalapeños

other suggestions in the post!
Instructions
Slice green onions thinly using the white ends for the base and saving greens for topping. Wash and chop one bunch of baby bok-choy and set aside. Chop mushrooms in slices.

In a large saucepan heat oil over medium heat and stir-fry the white part of the green onions, mushrooms, ginger, and garlic for 3-4 minutes being careful not to burn the garlic. Season with salt and pepper.

Add in broth and water and whisk in miso paste and brown sugar. Bring it to a simmer.

Cook ramen according to directions. Strain and set aside

Add in the chopped bok-choy and whole bok-choy leaves and simmer for 15-20 minutes.

Serve by spooning the desired amount of cooked noodles and broth into the bowl. Add desired toppings and serve!