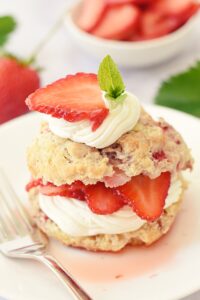 When I was a kid I always asked for homemade strawberry shortcake for my birthday. It's hard to beat the taste of sweet cake with fresh sweet and sour strawberries. I can't forget to mention the light and fluffy taste of whipped cream.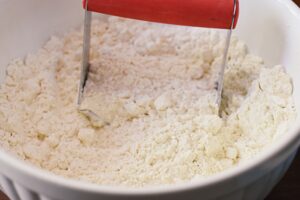 30 years ago I would help my grandma make this dessert in our kitchen with boxed vanilla cake mix and cool whip. Although this was good I changed it up a bit for the way I cook. Yes, boxed cake mixes are easy, but they are also filled with chemicals and artificial ingredients. In my opinion, processed food like this is part of the health crisis our country is seeing. If you're going to have a dessert, take a little extra time and make it. You will be able to tell the difference in the taste and you may not ever go back!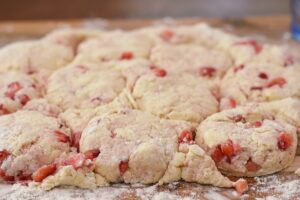 How to ensure the biscuits are flaky and light.
Yes, this is a glorified biscuit recipe or a scone. I grew up eating strawberry shortcake on "cake" but eating it on a sweet flaky strawberry biscuit is absolutely delicious!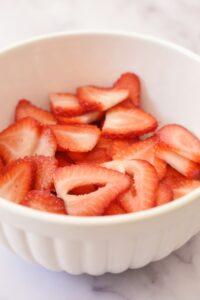 Biscuits are not hard to make. With just a few easy tips you can make a fluffy light biscuit too!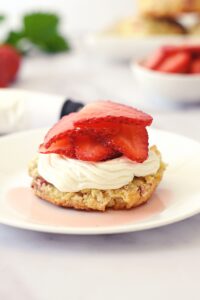 Make sure your butter is cold. I like to mix up all the dry ingredients then pull the butter out right before its time to cut it in with a pastry cutter. Cut the butter in as quickly as possible, and keep the size of the butter chunks "pea-size".  If you don't have a pastry cutter you can buy one here or you can improvise by using a fork or just your fingers. This is a little harder than a pastry cutter, however, it will work. If it's just to much pressure to work quickly to cut the butter in, you can always chill the bowl you are using for a few minutes in the freezer or fridge.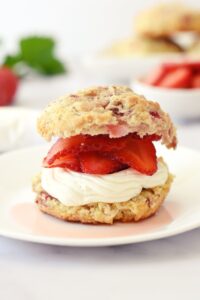 Do not knead this dough when you turn it out onto the working surface, but rather press it into a rectangle or square and fold the edges in toward the center. Don't repeat this more than a couple of times. remember, you don't want the dough to get warm. For more tips on making flaky biscuits, you can check out Tips for Making Flaky Biscuits at Home by Bonappetit!

Making homemade whipped cream is easy!
Yes, you can use Reddi Whip if you'd like, but unless you can find organic these pre-made whipped creams have extra unnecessary ingredients and do not taste as good! Homemade whipped cream is irresistible! Simple ingredients always taste better and homemade whipped cream is made with whipping cream, powdered sugar, and vanilla. It is simple and easy to make! Just grab your hand beaters, thrown in all the ingredients and whip until it's thick and creamy! It's as easy as that!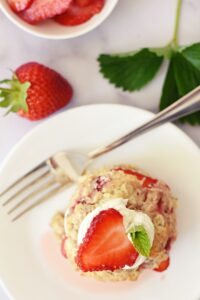 This dessert is perfect for entertaining because it turns out so beautiful!
I hope you try it! For other springtime, desserts check out this Lemon Poppyseed Quick Bread!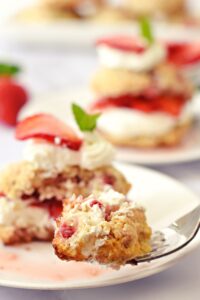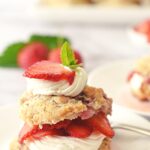 Print Recipe
Homemade Strawberry Shortcake
This Homemade Strawberry Shortcake is the delicious with layers of flaky strawberry biscuits with homemade whipped cream and sweet fresh strawberries!
Ingredients
Strawberry Biscuits
3

cups

unbleached flour

2

tablespoon

baking powder

½

teaspoon

baking soda

1

teaspoon

salt

¼

cup

sugar

plus about a tablespoon to sprinkle on the tops of the biscuits before baking.

1

stick

cold butter

1 ¼

cup

cold milk

1

teaspoon

vanilla extract

3

strawberries

diced in small chunks
Fresh Strawberries
1

container

fresh strawberries

sliced

2

tablespoon

sugar
Homemade Whipped Cream
1

pint

whipping cream

⅓

cup

powdered sugar

1

teaspoon

vanilla extract

pinch

salt
Instructions
Strawberry Biscuits
Chop 3 strawberries into little chunks and set aside.

In a medium mixing bowl mix together flour, baking powder, baking soda, salt, and sugar until its completely incorporated.

With a pastry cutter or fork cut in cold butter until the butter resembles peas in size. Don't take a long time to do this, you want the butter to stay cold.

With a wooden spoon mix in milk, and vanilla.

Fold in the chopped strawberries.

Turn the dough onto a floured surface and press the dough into a rectangle shape. Fold each side of the dough toward the middle then flip the dough and press out until its about an inch or inch and half thick.

With a round cookie cutter or glass (I used a glass about 2 ½ inches wide) cut out circles and place them on a cookie sheet. I made 12, but depending on the size you cut it could be different.

Using about a tablespoon of sugar sprinkle a little on top of each biscuit before baking.

Bake them at 400 for 15-17 minutes. or until lightly brown on the bottoms.
Strawberries
Cut the green ends off of the strawberries and slice strawberries into a medium bowl. I like to slice them from top to bottom, it just looks prettier. You can also slice them sideways.

Sprinkle the sliced strawberries with 2 tablespoons sugar. Set them aside.
Homemade Whipped Cream
Pour a pint of whipping cream into a medium-size bowl.

Add in the powdered sugar, vanilla, and a pinch of salt.

With a hand mixer, beat on high speed until the cream is thick and peaks form.
Assembling your Strawberry Shortcakes
Split the biscuit in two and put a layer of whipped cream, then a layer of sliced strawberries.

Put the top on and add more whipped cream and a slice or two of strawberries to finish. (like pictured above)

If you want you can take some strawberry juice or syrup from the bottom of the strawberries and drizzle it around the bottom of the biscuit.
Notes
For tips on making flaky biscuits, see the post.
You can store any unused whipped cream in a sealed container in the fridge for a day or two.
Leftover biscuits? These make a nice breakfast heated with some butter!