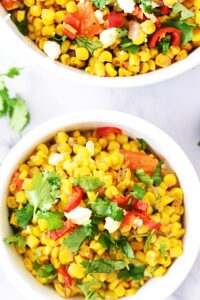 Mexican food is one of our family's favorite foods! Why do so many families all over America love it? It's packed full of flavor and quite easy to make. I don't know about you but I get stumped on fun, easy sides to serve with my Mexican dishes. This Mexican Corn has been a recent favorite. It's quick, delicious and full of bold flavors!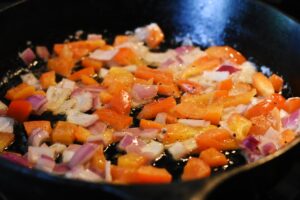 Bold Flavors in Mexican Corn
Some of the flavors I think about when I'm putting together Mexican dishes is inspired by the many delicious food trucks my family and I visit. I love how they add fresh cilantro and onion to dishes, good quality cheese, aromatic spices like cumin, coriander, paprika, and cayenne. I don't know about you but I love lots of flavors and bold flavors to be exact. The kids can't always handle the heat we can handle so there is always a side option for some heat in our house. But you can make this dish as mild or as spicy as you would like!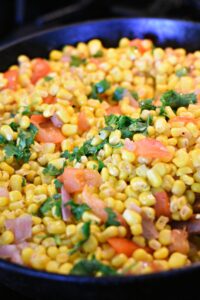 I made this dish with Mexican street corn in mind. Street corn is corn on the cob cover with mayo, cilantro, cotija or feta, and spices. This dish is lighter leaving out the mayo and just frying frozen corn off the cob with all the goodies!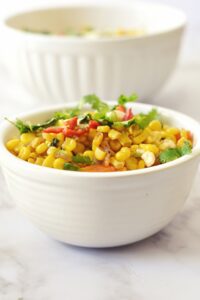 Is corn healthy?
A lot of times we are exposed to over-processed corn products which are unhealthy like tortilla chips, microwave popcorn, corn oil, and high fructose corn syrup. Choosing organic corn is important. Organic non-GMO corn can have health benefits! Here are a few of the benefits corn can have.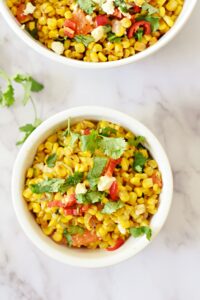 Good source of antioxidants.
Corn is high in fiber making it useful to the digestive system.
It provides steady energy.
Corn is a pre-biotic.
It contains magnesium, phosphorous, potassium, and manganese.
It also contains the vitamins thiamin, vitamin C, folate, and niacin.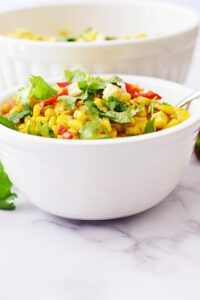 As we see organic, Non-GMO corn can be pretty healthy food! This dish adds most of its benefits with the other super healthy ingredients in the dish like fresh cilantro, jalapenos, red onion, and spices! I also add cotija or feta to this Mexican corn dish, but you can leave out the cheese to make the dish vegan!
For other delicious Mexican food dishes try one of my husband's favorite dishes Slow Cooked Beef Tinga!
For a vegan/vegetarian Mexican food dish check out one of my favorite dinners Spicy chickpea tacos with cilantro lime crema!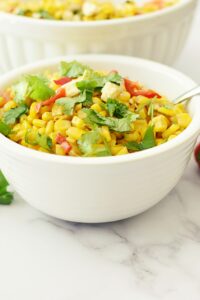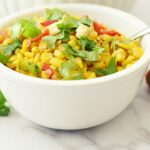 Print Recipe
Mexican Corn
This Mexican Corn dish is made quick and easy and is full of bold flavors!
Ingredients
2

lb

bag of sweet corn

frozen

3

tablespoon

olive oil or butter

½

red bell pepper

diced

½

medium-size red onion

diced

½

teaspoon

each cumin, coriander, paprika

½

teaspoon

both salt & pepper

¼

cup

fresh cilantro-chopped

plus 2 tablespoons extra for garnish

½

cup

feta or cotija

2

tablespoon

fresh jalapeno peppers- chopped

optional

lime wedges to garnish

optional

a few pinches of cayenne pepper for heat

optional
Instructions
Heat oil in a large skillet over medium heat.

Chop red bell pepper and onion, season with a little salt and pepper and saute until they are soft.

Add corn and stir well. Cover for a few minutes if needed stirring often.

Season with cumin, coriander, paprika, salt, and pepper. (if you are adding cayenne you can add that too)

When corn is done stir in ¼ cup fresh cilantro and cheese.

Transfer from skillet to a serving dish and add 2 tablespoons fresh chopped cilantro, and chopped jalapenos to the top of the dish.