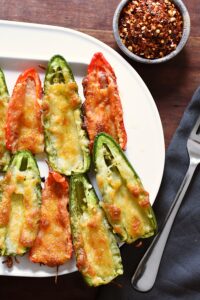 My longtime love for spicy food has led me to make these easy stuffed jalapenos over the years. If you are the type of person who loves a little bit of spice, who asks for that side of tabasco at a restaurant, then these are for you! These stuffed jalapenos are perfectly roasted and stuffed with fresh garlic and cheese. You just can't beat these for an amazing side dish!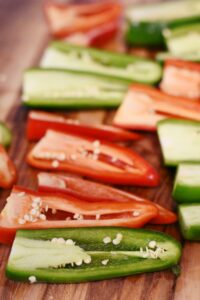 Picking the right pepper
There are lots of peppers out there and you certainly don't have to limit yourself just to jalapenos. If jalapenos are a little too hot here are some other pepper choices that would go great with this recipe!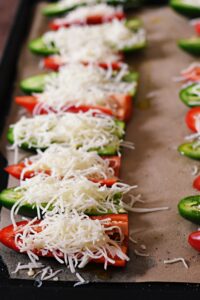 Anaheim- You may see these in a bag in your local grocery store. They are more of a mild pepper. They have a bit of a tougher skin which you could peel off after cooking.
Banana– I like to grab these at the grocery store just as much as the jalapenos. They are known to be a little milder, but I've run into a couple of really hot ones every now and then.
Poblano– These are typically used for Chile Rellenos. They can be moderately hot.
Shishito– These peppers are usually mild. If you don't like your peppers hot they would be great for this dish.
Sweet Mini– These are the colorful peppers you see in a bag at the grocery store. They are sweet and remind me more of bell pepper. I have used them with this recipe. If you want absolutely no heat these are your pepper.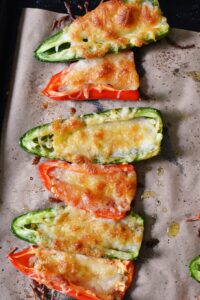 If you like the flavor of a certain pepper, but don't like the heat. Remove all the seeds. That will remove a lot of the heat.
What variations can I make?
I have made these a lot of different ways over the years. This simple recipe is one of my favorite ways because it's easy and delicious. Here are some other ways I have stuffed them.
Before topping with cheese I have added fresh or dried basil. Fresh here is the way to go if you want to add basil. If I have fresh basil on hand I chop it up and add it under the cheese before baking. Yummy!
I've also added tiny chopped tomato. Again, just chop it up small and put the tomato under or on top of the cheese.
I used Italian style mozzarella cheese for these, but shredded Mexican style, pepper jack, or cheddar cheese all work great!
Meat lover? You can fry up some crispy bacon and add that before baking. You may also choose to stuff them with sausage and cream cheese like this recipe from I am homesteader.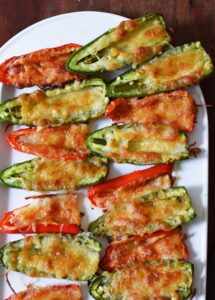 This recipe makes a fun side for any meal!
For other recipes like this check out these Stuffed Zucchini Boats!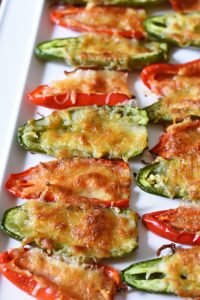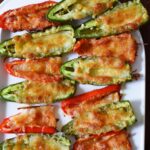 Print Recipe
Easy Stuffed Jalapeños
These stuffed jalapenos make a great side dish. These peppers are stuffed with fresh garlic, and cheese and baked to perfection.
Ingredients
10

jalapenos

red or green

4

tablespoon

olive oil

¼

tsp of both

pink salt or sea salt and pepper

or more to taste

¼

teaspoon

garlic powder

4

large

cloves of garlic

grated

1 ½

cups

Shredded Mozzarella or Italian style Cheese
Instructions
Line a large cookie sheet with parchment paper.

Wash, half, and de-seed jalapenos. I like to leave a few seeds for some heat. If you don't like a lot of heat you can remove all seeds.

Place cut and de-seeded peppers to the prepared cookie sheet and drizzle with olive oil. You just want a drizzle for each pepper. It may be more or less than my measurements according to the size of your peppers.

Measure out the salt into your hand and sprinkle each pepper with salt. Do the same with the pepper and garlic powder.

Grate garlic into a pile on a cutting board and distribute evenly onto each pepper.

Fill each pepper with cheese. You may need more or less depending on the size of the peppers.

Bake in the preheated oven for about 20 minutes or until peppers are done and cheese is slightly brown.
Notes
Check out post above for variations of this recipe!