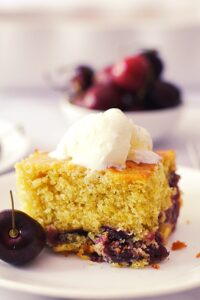 Cherries are in season and I don't know about you but if I'm not eating them right off the stem and spitting out the seed I'm making a delicious dessert. Today I give you a cake healthy enough to eat for breakfast (or at least we did), and easy enough to mix up in one bowl. This one-bowl cherry cake is the perfect way to use up that bag of dark sweet cherries!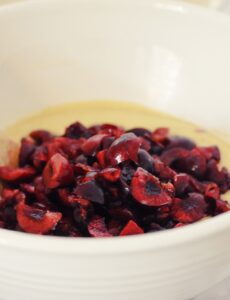 Making a one-bowl cherry cake
Now, I know most of us grew up mixing together the wet ingredients in one bowl and the dry in another only to carefully combine the two and make the perfect dessert. While I do think this is necessary for some recipes, I've been playing around with the idea of just using a bowl and wooden spoon. The least amount of supplies I have to get out to make a dish the better.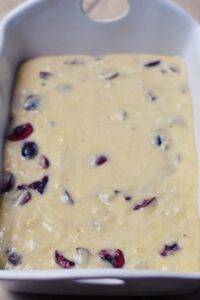 This technique works perfectly for this delicious cherry cake! The best way to successfully make this cake is to mix up all the dry ingredients first. This ensures that the raising agents and salt are combined well with the flour. Once the dry ingredients are combined (yes, including the sugar) then I crack the eggs in. Wait, don't mix yet! Go ahead and pour in the melted coconut oil, milk and extracts then mix it up all at once! It will be a bit of a thick batter and that's ok! That's exactly what you want!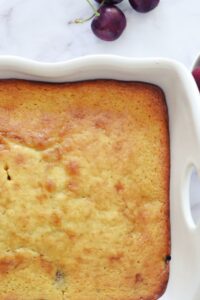 What's the easiest way to pit the cherries?
Ok, pitting cherries isn't what I want to do with my time either, but here are a few ways to make it easier.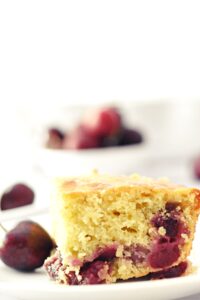 Giving them a whack with a knife. Yes, you heard me right. Just like we do to a garlic clove to get the skin off. Just place a wide knife over the cherry and give it a whack. This makes it easy to pull that seed right out. Warning, I use this method and it can be pretty messy so use an apron!
Not into messy? No problem! Use that same knife to make a slit down the middle about halfway around. Pull it apart and pull the seed out. Simple and less messy!
Buy a cherry pitter. A cherry pitter can be an easy way to pop those seeds right out! If you need one here's a link where you can pick one up on Amazon! Buy a cherry pitter here!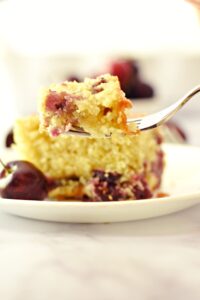 Health benefits of cherries
They promote weight loss.
High source of antioxidants.
Cherries have melatonin which can help you to sleep.
They help reduce inflammation.
Cherries can help with muscle pain.
They are great for the skin!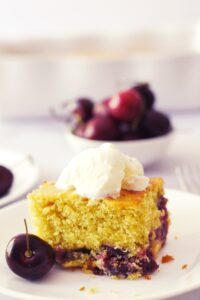 For other cherry recipes check out this dairy-free no-churn cherry chocolate ice cream!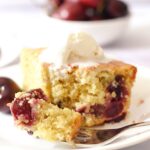 Print Recipe
One-Bowl Cherry Cake
This one-bowl cherry cake is easy to make and perfectly moist with hints of almond and vanilla.
Ingredients
2

cups

dark sweet cherries

deseeded and roughly chopped

2

cups

unbleached flour

2

teaspoon

baking powder

¼

teaspoon

baking soda

¾

cup

sugar + 1 tbsp

divided

3

dashes

nutmeg

2

eggs or egg substitute of choice

1

cup

milk

I use unsweetened coconut

⅓

cup

melted refined coconut oil

½

teaspoon

pink salt or sea salt

1

teaspoon

of both almond extract and vanilla extract
Instructions
Pre-heat oven to 350 and oil a baking dish. I used a 9x6 white baking dish.

Using a knife and cutting board pit 2 cups of cherries using one of the methods above in the post. Once they are pitted roughly chop them and place them into a bowl and sprinkle 1 tablespoon of sugar on them. Set aside

In a medium mixing bowl measure in flour, sugar, baking powder, baking soda, salt, and nutmeg and mix well.

Next, put in eggs, milk, melted coconut oil, and extracts. Once all these ingredients are in the bowl mix together well with a wooden spoon. Do not over mix, just well enough until everything is mixed well.

Gently fold in the chopped cherries then pour into the prepared baking dish.

Bake at 350 for about 50 minutes or until cake is lightly brown on top and knife inserted comes out clean.