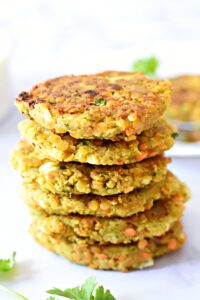 Have you ever bought healthy food and felt like you didn't know what to do with it? I have done this so many times. I have such good intentions, but it sets….and sets….and sets…..until I have to say "Lord forgive me" and toss it in the trash. I hate it when I do that!!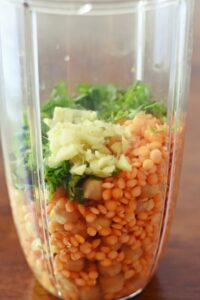 It's not so bad if its some sort of bagged grain in the cupboard. You know how it somehow gets pushed to the back and forgotten about….then the shelves get a little bare, and there it is, reminding you you've done nothing with it.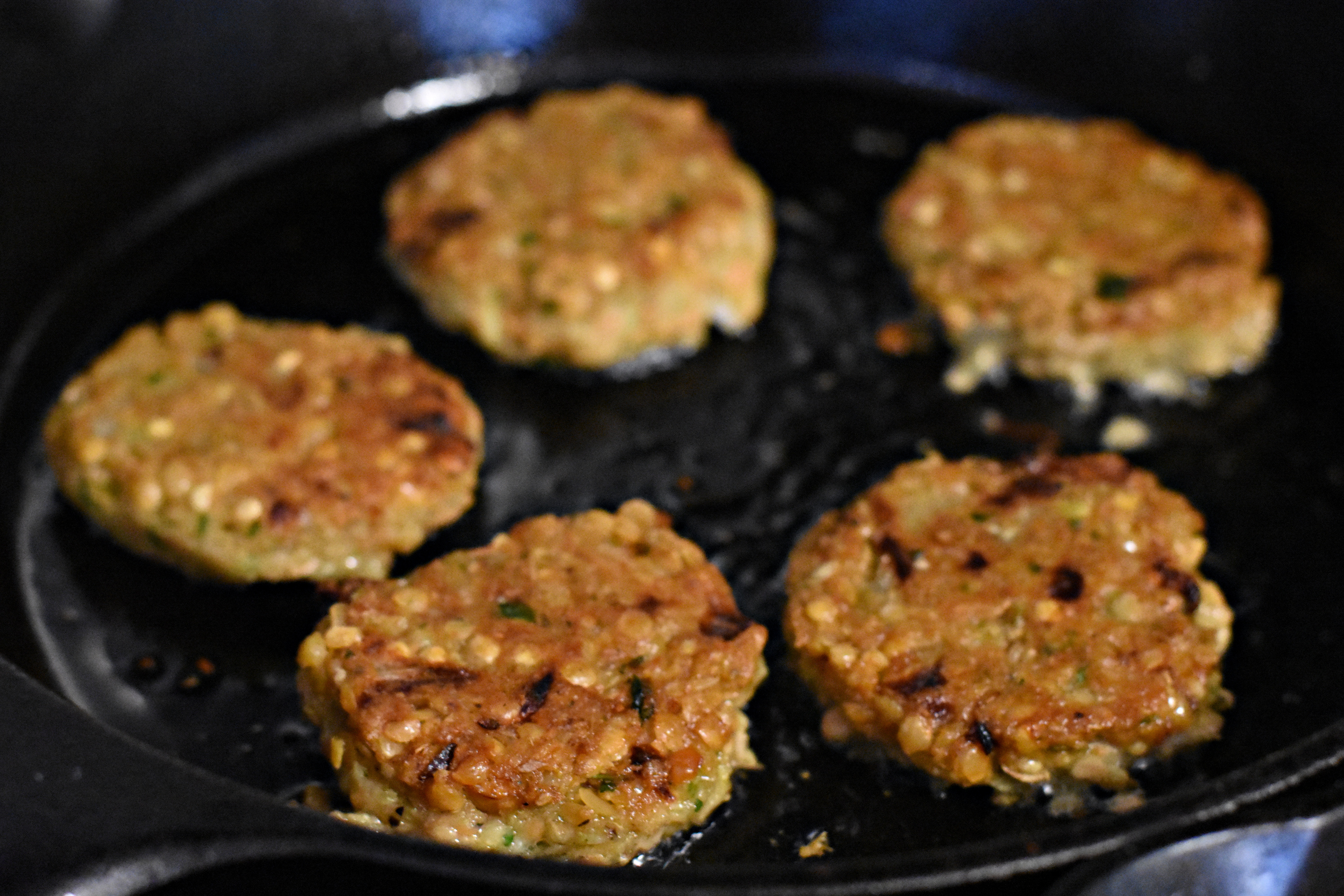 I had a similar experience with lentils. I made a successful dish or two with them, probably over a year's time. Then one day I decided to make a fritter. The spices and flavors meshed so perfectly together. Tim wouldn't stop talking about the combination, and how they reminded him of the food he has eaten when he traveled overseas. We ignored the fact that they didn't stay together too well, and crumbled a bit.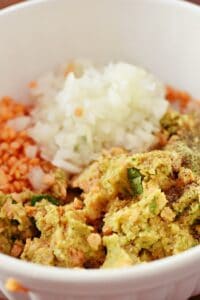 I bought another bag, and a few months later, I gave them another try. I added some chickpeas thinking it would help hold them together, and they worked! They were just right!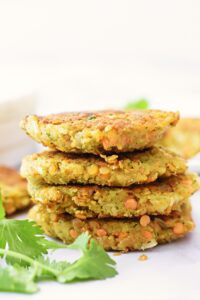 Not only do they taste amazing, but lentils are super healthy! Check this out!
Health Benefits of Lentils
Improves digestion.
Reduce the risk of Heart disease.
Prevent constipation.
Aid in weight loss.
Lentils are rich in protein.
They are rich in Iron.
They can help control diabetes.
Lentils help prevent Cancer.
They are low in fat.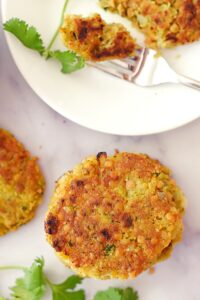 Not a cilantro fan?
I know some people really hate cilantro. If you want to make these delicious red lentil fritters but don't like cilantro here are some options.
Add fresh basil and garlic in place of cilantro and ginger.
Replace the cilantro with fresh parsley.
Add chopped spinach in place of the fresh herb.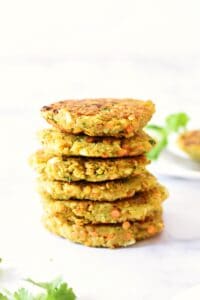 For other vegan side dishes check out this healthy nourishing coleslaw!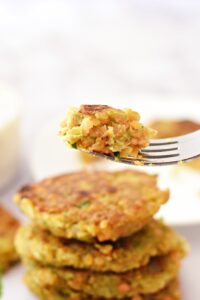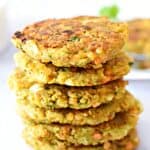 Print Recipe
Red Lentil Fritters
These fritters taste amazing and give your meals a great vegetarian protein boost. The flavors are exceptional and the secret to the texture is the added chickpeas.
Ingredients
1 ½

cup

soaked lentils (soak ¾ cup red lentil to get about 1 ½ cups. They will expand)

Get red lentils here Separated

1

cup

chickpeas drained

½

cup

sweet onion diced small

2

tablespoon

chopped fresh cilantro

½

tablespoon

chopped fresh ginger

½

teaspoon

pink salt or sea salt

Get pink salt here Or more to taste

½

teaspoon

black pepper

Dash or two of cumin
Instructions
Soak ¾ cup lentils in filtered water with a couple of pinches of salt (just covering them with the water) for a couple of hours or overnight.

When lentils are finished soaking and have absorbed most of the water, drain, and measure 1 cup of the lentils into a Nutri- Bullet or food processor. Measure the ½ cup into the mixing bowl to keep whole.

Into your Nutri-Bullet also add 1 cup chickpeas, cilantro, and ginger.

Blend until smooth, and scoop out into a bowl along with the whole red lentils.

Add onion, and spices and mix well with a spoon. Taste the mix to make sure it is seasoned enough for your taste and add salt and pepper if needed.

With your hands, patty out your fritters. I got 8. You could get less or more depending on how big you make them.

Heat about 3 tablespoon oil over medium-high heat in a frying pan (I use refined coconut oil).

When the oil is hot, place a few of your patties into the skillet.

Fry about 5 minutes on each side or until they are golden brown. Fry the same amount of time on the other side.

When they are finished, place on a plate lined with a paper towel.
Elke is a participant in the Amazon Services LLC Associates Program, an affiliate advertising program designed to provide a means for sites to earn advertising fees by advertising and linking to Amazon.com.
Clicking on an Amazon link from Elke does not increase the cost of any item you purchase.
We will only ever link to Amazon products that we think our visitors may be interested in and appreciate learning more about.