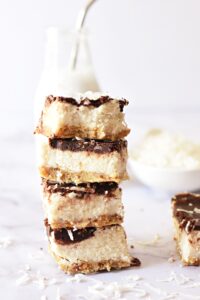 Ok, Ive been making raw desserts for years, but it seems like every time I make a new one I'm amazed that something without sugar can be soooo good! The same was true when I bit into these No-Bake Creamy Coconut Bars!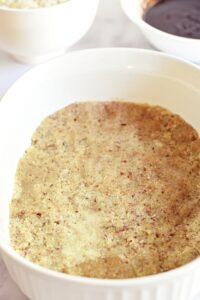 Back in the day, dessert was dessert. In my house, we ate lots of homemade cookies, cakes, and puddings, and we even had the occasional hardtack candy with lots of powdered sugar on top. Then processed foods became big, and it didn't seem like the average person thought they were bad. We would always have Little Debbie swiss cake rolls and oatmeal pies on hand. Our cabinets were lined with cereals and pop tarts.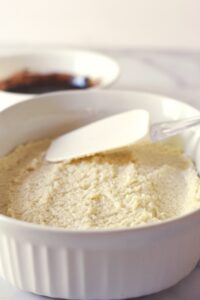 Raw desserts filled our refrigerator…..no, not really, because who heard of raw desserts 25 years ago?? I didn't! Once you try them, you're going to wish you would have heard of them sooner!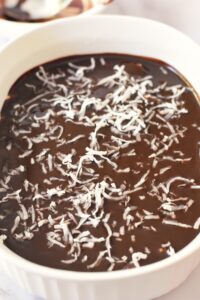 If you are someone who craves sugar and has a sweet tooth, raw desserts is a great healthy alternative to boxed and processed desserts. Even if you are someone who makes homemade desserts, a lot of times they are overloaded with processed oils like vegetable oil and sugar. This is a dessert that can fulfill those sweet cravings with no refined sugar, dairy, or gluten.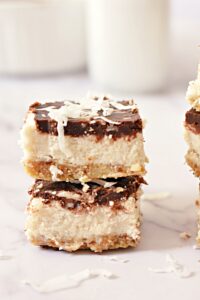 Here are some of the benefits to this raw dessert.
Well, they are raw, and when you're using good quality ingredients, you're not destroying any of the benefits!
Coconut- Improves brain function, digestion, and immunity. Aids in weight loss, and reduces the risk of diabetes.
Maple syrup- High in minerals, vitamins, antioxidants.
Almond flour- Boosts heart health, helps manage blood sugar for diabetes, improves energy.
Dates- healthy bowel movements, energy, vitamins, and minerals.
Cacao powder- Helps weight loss, anti-depressant, detoxes the liver, anti-aging.
Pink salt- contains 84 trace minerals your body needs, decreases inflammation, improves sleep.
Medjool dates- strengthen the bones, promotes healthy bowel movements, and provides energy for anemic patients.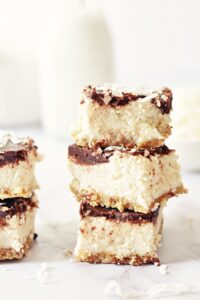 All these benefits in a dessert! I love that it can taste so delicious, and it has so many benefits! If you're enjoying the benefits of raw desserts, check out my No-Bake Raw Coconut Macaroons!
Check out the recipe!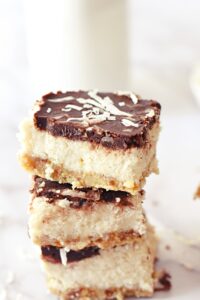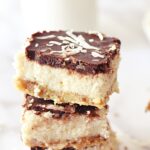 Print Recipe
No-Bake Creamy Coconut Bars
This raw dessert uses dates as the sweetener, and you won't believe how tasty and healthy it is!
Ingredients
Bottom Layer
1

cup

almond flour

Buy almond flour here

1

cup

nuts like almonds

walnuts, or pecans

2

tablespoon

refined coconut oil

soft

2-3

Medjool dates

pits removed (Large)

⅛

teaspoon

pink salt

Buy pink salt here
Middle layer
1

cup

coconut milk with cream from the can (not light)

Buy coconut milk here

2

tablespoon

coconut oil, softened

refined or unrefined

1- ½

teaspoon

vanilla extract

2-½

cups

unsweetened shredded coconut.

3-½

tablespoon

maple syrup

¼

teaspoon

pink salt
Top chocolate layer
3

tablespoon

melted refined coconut oil

3

tablespoon

cacao powder

Buy organic cacao powder here

2-3

tablespoon

maple syrup

A couple of pinches of pink salt
Instructions
To make the base, place all ingredients in a Nutri-Bullet or food processor. Blend until completely combined and it's sticking together. (In a Nutri- Bullet it works best to put in dry ingredients first.) If not sticky enough make sure to add the 3rd date.

Dump into a small pan (I used a 9x7). Press into bottom of the pan with your fingers or the bottom of a measuring cup.

To make the middle layer, In a clean Nutri-Bullet or processor spoon a cup of coconut milk from a can. (Make sure to use equal amounts of coconut cream and coconut milk mixed with the rest of the ingredients, and blend until all ingredients are incorporated.) Spread this mixture evenly on top of the bottom layer.

To make the topping, melt the coconut oil and place in a small bowl. Whisk in cacao powder, maple syrup, and salt. Pour the chocolate evenly over the top.

Refrigerate an hour or two before serving to allow all the layers to harden.

Before serving let it sit at room temperature for 5-10 minutes to make it easier to cut.
Optional:
You can top with shredded coconut or chopped nuts before chilling.
Notes
*You can use unrefined or refined coconut oil for this dessert. Refined doesn't taste like coconut and unrefined does.
Elke is a participant in the Amazon Services LLC Associates Program, an affiliate advertising program designed to provide a means for sites to earn advertising fees by advertising and linking to Amazon.com.
Clicking on an Amazon link from Elke does not increase the cost of any item you purchase.
We will only ever link to Amazon products that we think our visitors may be interested in and appreciate learning more about.