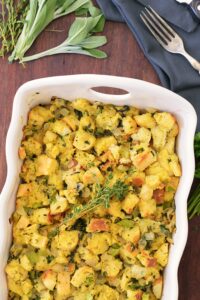 I've always been a huge fan of stuffing….and when I say stuffing I don't mean just any stuffing, I'm talking about Stove Top! Stove Top moves out of the way, there's a new stuffing in town, it's Traditional Homemade Stuffing, and it is amazing!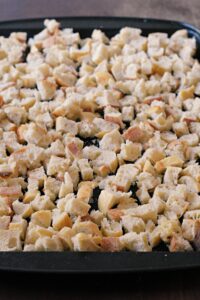 When I was pregnant with my first, I would always be sure to have a box or two of Stove Top in my cabinet. If I got a hankering for it, I would pop it into the microwave and eat it for lunch. It was delicious, you know, in the Raman Noodle sort of way….salty and flavored with all the right chemicals.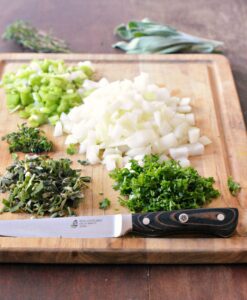 Anyway, while I wouldn't have thought to flip the box over to see what was in it, these days I check EVERYTHING!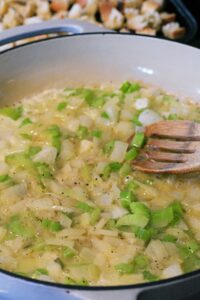 Well, I checked out the Turkey stuffing, given Thanksgiving is right around the corner. The front of the box assured me that it was made with REAL turkey broth, oh good, I was relieved….then I flipped the box over and wow, the twenty-some ingredients on the back was enough to make everyone feel horrible for the Holiday. Some of the highlights of this ingredient list were: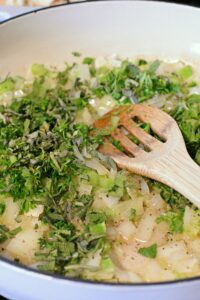 What's in a lot of store-bought stuffing?
High Fructose Corn syrup- linked to diabetes, obesity, tooth decay, and poor immunity
Hydrolyzed soy protein-Hidden form of MSG
Partially Hydrogenated soybean or cottonseed oil-bad for heart health, inflammation, GMO
BHA & BHT-Increases hyperactivity in children, may contribute to cancer or tumors, affect the neurological systems of the brain. (beware this is also in a lot of cereals)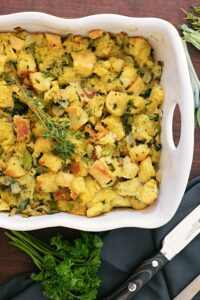 I couldn't feed this to my family, I wouldn't feed this to my cat. (which I have some things against…. so that's saying something)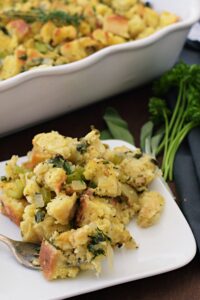 It's insane what they put in our food! I realize it takes a little more effort to make it, but it's worth eliminating all the junk!
Ways to make your Holiday Cooking easier!
Cook things ahead of time. Some things can be cooked ahead of time and some can't. This stuffing can be made ahead of time, covered and baked the next day. Other things that can be made the day before are desserts, cranberry sauce, and homemade rolls or bread!
Have good knives. I've had good knives and horrible knives. Everything is slowed down when you are using cheap dull knives to chop your veggies! This knife company sells great, good quality knives that will make your Holiday cooking go a lot easier. Check them out here!
Make a menu and stick with your plan!
For other Thanksgiving, recipes check out
Brussels Sprouts with Brown Butter!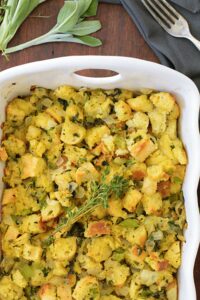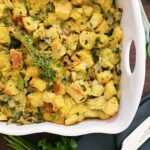 Print Recipe
Traditional Homemade Stuffing
Nothing beats stuffing for my favorite Thanksgiving side dish. It's so easy to make from scratch that you won't miss the box mix at all.
Ingredients
8-10

cups

of bread crumbs or 1 loaf bread like a baguette, Artisan bread, or French bread.

cut into small cubes

6

tablespoon

butter

1

medium yellow onion

chopped

2

large celery stalks

chopped

¼

cup

sage leaves

chopped

¼

cup

fresh parsley

chopped

1

tablespoon

fresh thyme

chopped

1

teaspoon

sea salt or pink salt

½

teaspoon

black pepper

2-2-½

cups

vegetable or chicken broth

1

egg

beaten
Instructions
If using fresh bread cut bread up into small cubes and let dry overnight or place on a cookie sheet in oven on lowest setting until completely dried out and hard. (I recommend doing this to eliminate the extra ingredients in store-bought)

Preheat oven to 375

In a large skillet over medium heat melt the butter.

Add the chopped onion and celery, and season it with salt and pepper.

Cook until onion and celery are translucent.

Turn the heat off and stir in fresh herbs and bread crumbs.

Add stock starting with a cup and adding a half cup more at a time until you get the wetness you want (some people like a more dry stuffing while others wetter).

Taste and add more salt and pepper if needed.

Pour in the well-beaten egg eveny over stuffing and mix in.

Pour stuffing into a casserole dish and bake for about a half hour or until golden brown on top.
Notes
Check out the post for tips on making your holiday cooking a little easier.