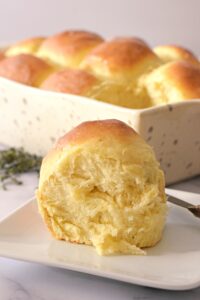 In the past if I wanted a dinner roll, I would have gone to the grocery store and bought the can that pops open. It was fun to pop those cans open.  It was so convenient, and a little scary! Convenience always seems to come with a price when it comes to food….that price isn't on the price tag, but a price we pay in our bodies. It always pays to make things from scratch. For that reason, I'm going to drop the best traditional dinner rolls recipe ever!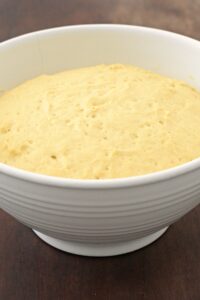 What's in your rolls?
Just the ingredient TBHQ is a reason not to consume these easy pop-out rolls. The FDA allows small amounts of this preservative in foods, but considering it may be in many of your pre-packaged goodies it can add up in our bodies.  From McDonald's chicken nuggets, crackers, and cereals, and many processed foods, you may be getting too much of this harmful preservative. Larger amounts of this ingredient can cause nausea, ringing of the ears, vomiting, and even collapse. It is also thought to possibly cause ADHD, restlessness, dermatitis, and hyperactivity in children. I don't know about you but this sounds like an ingredient I would rather avoid!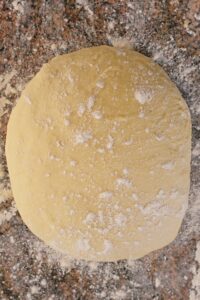 Aside from TBHQ, there are GMO's and other harmful ingredients in those fun wrapped rolls.  Maybe you think the dinner rolls in the freezer section are better, well, you'll be skipping the TBHQ, but not the GMO's. These GMO crops are heavily sprayed with pesticides that can cause horrible diseases like cancer.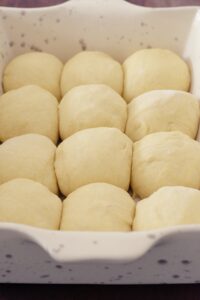 All that aside once you make your own, you won't want to do it any other way!
Rolls are easy to make!
Let me just assure you that you can do it, and it's not hard. When I timed myself mixing these up, and it took me less than 10 minutes, (8 to be exact), then you have another 5 minutes shaping the dough into balls.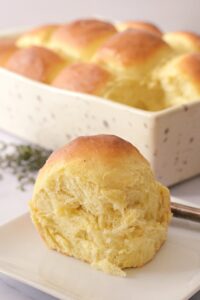 This recipe is made in one bowl, with no mixer, and little kneading! It's super easy, and they turn out perfect! Totally worth the outcome to try these Best Traditional Dinner Rolls!
For other simple bread recipes made without a mixer check out Crusty Artisan Bread!

Tips for the perfect dinner rolls
It's best to always use all-purpose flour. I use unbleached organic all-purpose flour.
I use dry active yeast. The quick rise would also work, but the dough may not be as fluff.
Make sure the water, milk, and butter are very warm to the touch, but not hot. If your butter and milk mixture gets too hot on the stove let it cool for a couple of minutes before adding it in.
I know most people take several minutes to knead the dough, but I just knead the dough for about 2-3 minutes or until I get a smooth non-sticky dough. My rolls always turn out tender and fluffy with just a little kneading.
If you would like a shiny top on your rolls you can brush them with an egg wash. I just bake them, then brush them with melted butter after. They always turn out golden-brown and beautiful!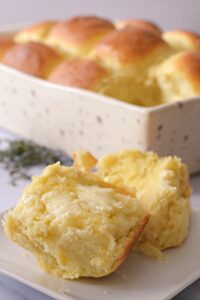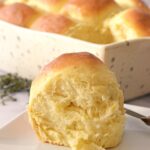 Print Recipe
Best Traditional Dinner Rolls
These buttery, fluffy best traditional dinner rolls make the perfect light sweet dinner roll for any occasion!
Ingredients
¼

cup

warm water

1

pack

active dry yeast

¼

cup

sugar

1 ¼

teaspoon

sea salt or pink salt

1

cup

milk

5

tablespoon

real butter

2

eggs

4-½

cups

unbleached flour

About a tablespoon melted butter to brush on rolls after baking
Instructions
In a large mixing bowl add a ¼ cup warm water and yeast. Let the yeast set a couple minutes to activate.

Whisk in sugar and salt.

In a saucepan on low heat- heat milk and butter. (Don't overheat this you just want the butter melted and warm to the touch.) whisk this into the yeast mixture.

Whisk in the 2 eggs.

With a wooden spoon, Mix in flour one cup at a time, and mix well until you get a nice smooth dough.

Cover and set in a warm part of your kitchen until the dough doubles in size- about 30 minutes to an hour. (This time varies depending on the temperature of your kitchen.)

Dump your dough out on a floured surface. Divide dough into 12 equal pieces.

Brush a 9x13 pan with butter or coconut oil.

Take each piece of dough and make into a smooth ball by stretching the dough down around to the bottom until you have a ball.

Place each one in the baking dish until you fill the dish.

Cover and let them rise about 20 minutes, or until doubled in size. Cover the rolls with a dish towel or plastic wrap if necessary.

Bake for about 25-30 minutes or until golden brown.

Remove and brush with melted butter.
Notes
See post for tips on making the perfect rolls!