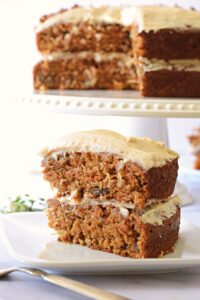 Carrot cake is one of my favorite cakes. I have to admit over the years I haven't gotten any awards for master cake baker, but for some reason, I can make a killer carrot cake. Maybe its because there's a vegetable involved. That's why I think this is the best carrot cake!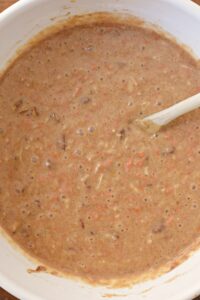 I scrolled through some carrot cake recipes, and they made me have some "wow" eyes. You know….. what in the world are people putting in their cakes eyes. I didn't see one recipe that didn't have a cup or MORE of vegetable oil, and no, a cup of vegetable oil will not give you a serving of vegetables for the day, but it could give you inflammation, arthritis, heart disease, and even cancer!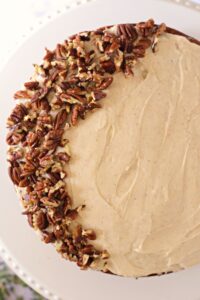 I kept scrolling. Most recipes had a least 2 cups of sugar in the cake! One recipe had 8 cups of powdered sugar in the icing! What!?! I'm going to give them the benefit of the doubt and say that must have been a typo…..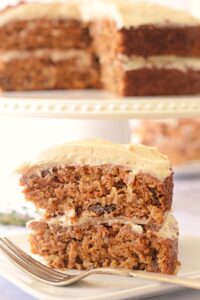 Now, this best carrot cake isn't sugar-free or healthy food, but this recipe has NO oil and only a little over a cup of sugar in the cake! It also has 2 cups of carrots in this carrot cake! Carrots are super healthy!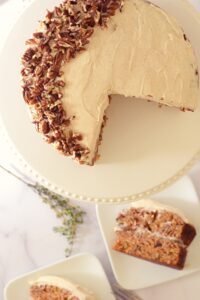 Some benefits of carrots:
Carrots give your immune system a boost with all that vitamin C.
Carrots have vitamin A which can help prevent wrinkles and make your eyes strong, yay!
Carrots have anti-cancer properties because of the beta-carotene.
Carrots have dietary fiber which can help aid in digestion!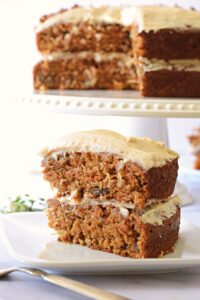 Tips on perfecting carrot cake
I like to leave the mixer in the cabinet for this carrot cake. I whisk all the wet ingredients together including the coconut, carrots, and nuts. After that I whisk together the dry ingredients to make sure all the rising agents and spices get incorporated in. Then, just mix the dry into the wet with a wooden spoon and divide evenly into the oiled cake pans.
Make sure the cakes are completely cool before you attempt to take them out of the pans. I like to use a rubber spatula and run it along the edges of the cake to allow the carrot cake to come out more easily.
Before you ice the cakes be sure that the cakes have no warmth left and are completely cool. If you would like to ice the sides of the cake along with the top and between, you should double the icing recipe.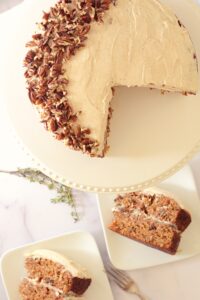 We all deserve a delicious treat, but when we do, let's make them quality, and use the best ingredients available to us! We are worth it!
For other yummy treats try my Apple Cinnamon Rolls!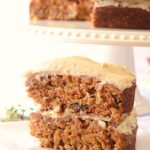 Print Recipe
Best Carrot Cake
I love the classic combo of carrot cake and cream cheese frosting. I made sure to keep the flavors we all love but reduce the sugar and use real food ingredients to keep it a healthier treat.
Ingredients
2

cups

shredded carrots

⅔

cup

sugar

¾

cup

brown sugar

packed

1

cup

unsweetened applesauce

3

eggs

1

large

Zest and juice of one orange

½

cup

unsweetened coconut

1

cup

pecans or walnut pieces

2

cups

unbleached flour

1

teaspoon

baking soda

2

teaspoon

baking powder

aluminum-free

1

teaspoon

pink salt or sea salt

3

teaspoon

cinnamon

¼

teaspoon

of both ground ginger and nutmeg

½

teaspoon

cardamom
Cream Cheese and Cinnamon Icing (double this recipe to ice whole cake including sides)
1

block

cream cheese

1

stick

butter

1 ½

cups

powdered sugar

½

teaspoon

cinnamon

1

teaspoon

vanilla
Instructions
Oil 2 round cake pans (I use refined coconut oil) and set aside.

Preheat oven to 350

Grate carrots

In a medium bowl mix together with a whisk, carrots, applesauce, eggs, sugar, orange zest and juice, coconut, and walnut pieces. Set aside.

In a separate bowl whisk together flour, baking powder, baking soda, spices, and salt.

With a wooden spoon, mix dry ingredients into wet. Mix really well making sure everything is incorporated.

Pour into cake pans, dividing evenly into each pan.

Bake at 350 for 25-30 minutes or until a toothpick inserted comes out clean.

While cakes are cooling make the icing.
Icing
Let cream cheese and butter soften at room temp.

In a medium bowl with a mixer, mix all icing ingredients until whipped and smooth.

Wait until cakes cool completely, then ice cakes as pictured.

Top with crushed nuts and fresh thyme if desired.

See notes for decorating.
Notes
Buy a grater here
Get a wooden cake stand here
If you would like to ice the sides of the cake too, you can double the recipe for the icing.
Decorating the cake
If you would like to top this with pecans like I did. I used a cup of pecans that I toasted for a few minutes on 350 with a drizzle of maple syrup and a couple of pinches of salt. You could also top with fresh thyme or extra cinnamon.
Elke is a participant in the Amazon Services LLC Associates Program, an affiliate advertising program designed to provide a means for sites to earn advertising fees by advertising and linking to Amazon.com.
Clicking on an Amazon link from Elke does not increase the cost of any item you purchase.
We will only ever link to Amazon products that we think our visitors may be interested in and appreciate learning more about.