Have you considered making your own face products? Even more, have you considered making your own homemade anti-aging face serum? Why do this? I believe that using all-natural ingredients from the earth without all the added chemicals, fragrances, and anything else made in a lab would be much better. I recently came across an ingredient that is the inspiration for this anti-aging face serum. It's called DMSO. Let's take a look at how amazing it is and I'll show you why I think this will prove to be a great product for my face!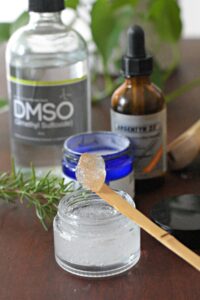 What is DMSO?
DMSO also known as dimethyl sulfide is an industrial Sullivant and organic sulfur compound. Sulfur is in every human, plant, and animal. It's very gentle and they even use it to store things like stem cells, organs for transplant, and human embryos. DMSO contains a bioavailable, high-concentration, organic sulfur that your body can easily use. DMSO can easily penetrate the blood-brain barrier and the skin really easily.
It is an extraordinary product with loads of benefits.
Amazing and potent pain reliever.
Strong anti-inflammatory and antiviral.
Very strong free radical scavenger
Stimulates the immune system
Heavy metal detox. The sulfur compound binds to the heavy metals and you will eliminate them.
Improves eyesight
Anti-swelling
Improves blood supply
It's systemic and affects your entire body no matter where you use it.
protects against nuclear radiation by repairing DNA
Protects against injury due to freezing.
Great for learning, and relaxation.
DMSO is great to help treat these things:
Burns
Acne
Arthritis
Closed brain injury
Toothache
Hemorrhoids
Muscle sprains and strains
Spinal injury
Softens scar tissue
Fibromyalgia
Cancer
Cold sores
Can improve eyesight
Blocked sinus
Varicose veins
Also, look into the treatment of pets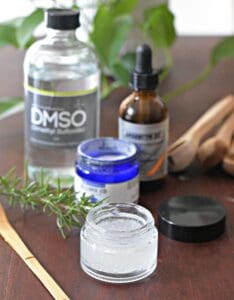 How to properly use DMSO
Always make sure your skin is very clean with no chemicals. DMSO will carry whatever is on your skin to your bloodstream so you want to make sure its good.
If you order your DMSO and it is solid, no worries just set the bottle in a bowl with some warm water and it will turn back to liquid.
indefinite shelf life
If you would like to use DMSO for things like arthritis and joint pain you can mix 50/50 DMSO and distilled water.
Must store in glass. It will create a little heat when you mix it or apply it to your skin and that is normal.
The best time to apply is after your shower to ensure there is no residue of any chemicals on your body.
You can apply to temples, the bottom of the feet, or sore joint areas.
It can cause skin irritation and itchy skin, but it will pass.
It can increase the effects of things like blood thinners, heart medications, and more so do your own research and talk to your doctor.
There are some other great ingredients in this anti-aging serum. Let's take a look at them.
Here's the one I have

Colloidal Silver
Colloidal silver is a solution containing tiny particles of silver and water. It has been used for thousands of years to prevent infections. Colloidal silver has amazing benefits for the skin. Here are some things it can do for your skin.
It can stimulate healing for the skin tissue.
Anti-bacterial, anti-fungal, anti-viral, anti-microbial
Anti-inflammatory
Used for wounds, or burns.
Can be used for psoriasis and eczema.
Make sure when you are buying colloidal silver you don't buy Ionic silver or silver proteins.
Here is the one I have

Hyaluronic Acid
You may have seen hyaluronic acid in skin products. Hyaluronic acid is present in almost all of the body's tissue. Its purpose is to hydrate the skin. Here is why I wanted to add it to this homemade anti-aging face serum.
It can plump the appearance of the skin
Strengthens the skin's moisture barrier helping to keep the skin hydrated.
It has the potential to reduce fine lines.
It can speed up wound healing.
It can smooth the texture of the skin.
Anti-aging. It can help to decrease the depth of wrinkles and enhance firmness.
Here is the one I have

Castor oil
Castor oil is also great for the skin! Here are a few things it's great for!
Contains antioxidants that fight free radicals. This helps it to fight wrinkles.
The antibacterial quality of castor oil helps it to fight acne.
Its anti-inflammatory properties help to fight puffiness.
Very moisturizing.
Promotes overall healthy skin.
Make sure when adding this in you get pure, unrefined castor oil.
Here is the one I have.

Frankincense
Frankincense is great for healing the skin and body. Here are some benefits for the skin.
Reduces wrinkles and combats signs of aging.
Strengthens skin and improves tone and elasticity.
Tones and lifts skin.
Great for stretch marks and scars.
When to use this anti-aging face serum.
Use this face serum right before bed. That way you can clean and rinse your face well then add a small amount over your face. Again, it is important to use this face serum with clean hands and a clean face because of the DMSO. Make sure to read the section above about DMSO and all of it's benefits!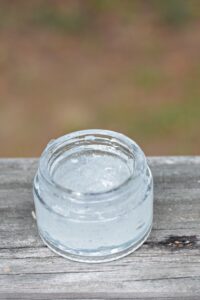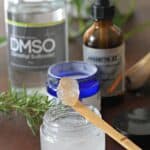 Print Recipe
Anti-aging Face Serum
This simple recipe is great for aging skin with DMSO, colloidal silver, and hyaluronic acid!
Ingredients
1 ½

tablespoon

colloidal silver

I will link the one I have in recipe notes

2

teaspoon

distilled water

1

teaspoon

DMSO

I will link the one I have in recipe notes

1

teaspoon

hyaluronic acid powder

I will link the one I have in recipe notes

1

teaspoon

unrefined castor oil

I will link the one I have in recipe notes

5

drops

drop frankincense essential oil

optional
Instructions
In a small glass dish mix together Colloidal silver, DMSO, distilled water, and castor oil. (If your DMSO is solid check out recipe notes on what to do)

Mix in the hyaluronic acid powder. I like to mix with a wooden spoon to avoid any reactions with metal.

Mix in the frankincense oil if you are adding it.

The mixture will be clumpy and clear.

Set it in the fridge and let it set for a few minutes.

Remove. Store in the bathroom in a cool dark place.

Apply a small pea size or a little larger amount to your (very clean) face and neck. Remember to never put on a face that has any other product on it.

If you experience any flaking you can add a little castor oil or shea butter on top.
Notes
*If your DMSO is solid, just put the bottle in a bowl of warm water and it will turn back to liquid. 
You can buy the DMSO I have here

You can buy the Colloidal silver I have here

Here is the hyaluronic acid I have

Disclaimer
This is a personal blog. Any views or opinions represented in this blog are personal and belong solely to the blog owner and do not represent those of people, institutions or organizations that the owner may or may not be associated with in professional or personal capacity unless explicitly stated.
Any views or opinions are not intended to malign any religion, ethnic group, club, organization, company, or individual.
All content provided on this blog is for informational purposes only. The owner of this blog makes no representations as to the accuracy or completeness of any information on this site or found by following any link on this site.
be liable for any errors or omissions in this information nor for the availability of this information. The owner will not be liable for any losses, injuries, or damages from the display or use of this information.
Elke is a participant in the Amazon Services LLC Associates Program, an affiliate advertising program designed to provide a means for sites to earn advertising fees by advertising and linking to Amazon.com.
Clicking on an Amazon link from Elke does not increase the cost of any item you purchase.
We will only ever link to Amazon products that we think our visitors may be interested in and appreciate learning more about.