You may wonder why you would make homemade ghee. Well, it will only take 20 minutes of your day, it's super healthy, has a high smoke point for cooking, and will cost you way less! So, if you have thought about making ghee and haven't gotten around to it, you have come to the right place. Read on for some information on ghee and how to make homemade ghee also known as liquid gold!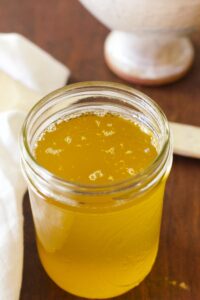 What is ghee?
Ghee is where you simply cook the butter to remove the milk solids and water from the butter. For thousands of years, ghee has been used in Ayurvedic practices in Indian cuisine as a healing food, and was also used topically! While you cook the ghee down the milk solids will be removed from the butter allowing it not to have to be refrigerated. This was how they would preserve the butter in warmer weather. The ghee will go from a golden yellow color to a solid yellow. It will remain pretty soft as coconut oil does.
Ghee also has a high smoke point. What is a smoke point? Smoke point is the temperature that oil begins to smoke or start to burn while cooking. Cooking with oils that don't have a high smoke point can be dangerous to our bodies. If an oil doesn't have a high smoke point it causes the fat to oxidize and release free radicals. Vegetable oils have a high smoke point but are horrible for your health and should never be used. These oils are canola, soy, corn, and peanut oil. Even olive oil while it has some great benefits raw doesn't have a high smoke point.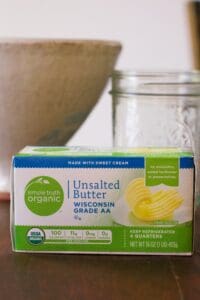 The smoke point of ghee is 485 degrees. Other oils that can be cooked with are coconut oil refined or unrefined and avocado oil.
It's also good to point out that by removing the milk solids from the butter the ghee becomes lactose-free. Because it is cooked down longer than clarified butter it gets a rich, deep, nutty flavor that's delicious!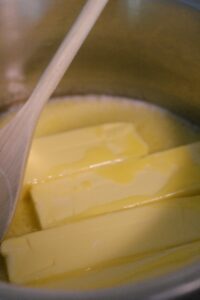 Health benefits of ghee
Aside from the great taste of ghee it has lots of health benefits! Although fat was once looked down on for a healthy diet. Research has shown the importance of including good healthy fat into your diet.
Here are a few benefits of homemade ghee.
Lactose and Casein free which is a plus for people who have milk allergies.
It has the healthy fatty acid linoleic acid which is helpful for cancer prevention, lowering inflammation, and reducing body fat.
High in vitamin K used to maintain calcium in your bones.
Can help with weight loss because of the medium-chain fatty acids.
Great source of butyrate which can help to improve digestion. Butyrate can also help to relieve constipation, support healthy insulin levels, and help provide relief from stomach issues.
Helps to reduce inflammation in the body.
Great source of vitamin A
Provides fat-soluble vitamin E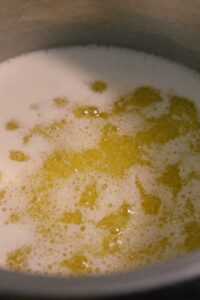 How to store ghee
You can store the ghee on your counter by your store for 4-5 months and in the fridge for up to a year or more. Make sure to always use a clean spoon each time you use it and never use a spoon that has water on it. Remember, you took time to get all the water out so you don't want water getting in your ghee.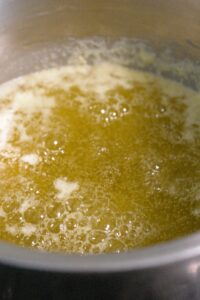 Why should I make my own ghee?
If you purchase ghee from the grocery store you will spend 14-18 dollars per small jar of ghee! Making homemade ghee is going to give you a lot more for a fraction of the price. I paid $6 for the organic butter and made 2 cups!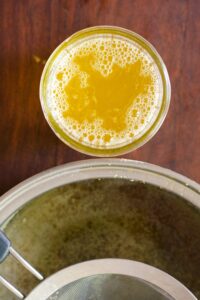 The ghee is going to taste way better homemade! Even if you buy the most expensive ghee you can find it will taste better when you make it on your own!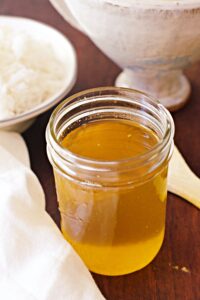 Print Recipe
Homemade Ghee
Homemade ghee is a great way to add health benefits to cooking and it adds a nutty, rich, deep flavor that surpasses other cooking oils!
Ingredients
4

pack

organic unsalted butter

grass-fed if you can
Instructions
In a medium saucepan over medium-low heat, heat the 4 sticks of butter until they melt down and start to simmer. You will hear the butter popping that is normal.

Continue to simmer the butter for 20 minutes. Only stir occasionally during this time. Don't let your spoon touch the bottom of the pan when you stir. You want the milk solids that fall to stay on the bottom.

After just a few minutes you will notice white forming on the top (that is the milk solids) Continue to simmer until white milk solids start to fall to the bottom and the milk solids on the bottom gently start to brown.

At this point, your simmer should be clear (yellow) with no white or very little white. Make sure to not burn the milk solids on the bottom. Turn the heat off and strain the ghee into a heat-proof mason jar with a mesh strainer.

Store on the counter for 4-5 months or in your fridge for up to a year.