If you are ready to get fit and you are looking for a high protein easy breakfast this is for you! This recipe is full of protein yet tastes just like chocolate chip cookie dough. It's gluten-free and could be dairy-free depending on which type of protein powder you use. Read on to check out this breakfast that's super filling, great for meal prep, and will give you energy! Check out breakfast protein bowls made with chickpeas. Yes, chickpeas!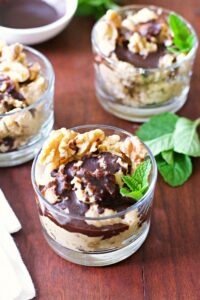 How to make breakfast protein bowls
These little cups of goodness are an amazing way to start your day and they are easy to make! All you need is a food processor or blender to whip them up and a few ingredients. Here is a list of what I use.
A can of chickpeas. Make sure to get just plain organic. They don't need to be salted or anything. You will drain them. You can save in use the liquid in recipes like these vegan donuts!
Maple syrup to sweeten. You could also use date syrup or honey.
I also added Medjool dates for extra fiber, but I have also made this without them and it still turns out great.
A little salt because everything sweet needs a bit of salt.
2 scoops of PLAIN protein powder. For this recipe, I used my husband's protein powder which is unflavored, unsweetened grass-fed whey. For plant-based recipes, you could choose your favorite plant-based powder. I have not tried this recipe with flavored or sweetened powders. I will link the one we have in my recipe notes.
A touch of vanilla.
Almond flour
Chopped chocolate chips. If you want this recipe refined sugar-free you can skip these or use cacao nibs!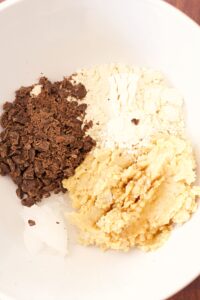 Are chickpeas a good choice?
Chickpeas are a great way to add protein, fiber, and nutrients to your diet? Chickpeas are also a good source of:
Iron
Calcium for strong bones.
Zinc
Folate
High in protein
Magnesium
They are also good for:
Bone health
They help to balance unhealthy cholesterol levels and improve heart health.
Because they have a high volume of nutrient density, yet are low in calories, they can help with weight loss.
Lowers inflammation and improves immune function by balancing the pH levels of the body.
Gluten-free which is good for the gut.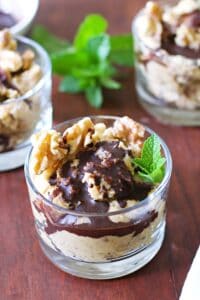 Do chickpeas taste good in a dessert?
Chickpeas don't have much flavor and so they make a great addition to a sweet dish like this. When chickpeas are blended up they have the consistency of cookie dough! So, if you are looking for a healthy snack or breakfast for yourself or your kids this is a great option! My kids all loved these breakfast protein bowls. The kids feel like they are getting something they shouldn't have for breakfast because they taste like cookie dough. What they don't know is it's packed full of protein, fiber, good fat, and all kinds of vitamins and minerals. And honestly, they don't need to know this has an entire can of chickpeas!
Can I make this dairy-free?
Yes! For this recipe, I used my husband's grass-fed whey protein, but you could use any unflavored, unsweetened protein powder. I have only made this recipe with plain grass-fed whey, but plant-based will work fine. If you have flavored or sweetened protein powders you will need to play around with the recipe to get the right sweetness and flavor.
If you want to make this recipe refined sugar-free just replace the chocolate chips with cacao nibs or you can eliminate them altogether. You can add toppings like homemade refined sugar-free chocolate, nuts, unsweetened coconut, or even nut butters for extra protein. This recipe made three 5 oz jars but it was a huge serving. You could divide this recipe up into smaller cups or jars for a five-day workweek.
Ideas for high protein meals
Chocolate protein balls are a great grab-and-go snack that only takes a couple of minutes to throw together.
Chickpea quinoa salad is one of my favorite make-ahead salads. It's full of protein, fiber, and good fat which is a great combo for weight loss!
Easy raw protein bars are a delicious and healthy meal prep snack.
Jalapeno pickled eggs are a fun and quick snack to have around!
This Chickpea salad sandwich is vegan and full of protein, good fat, and fiber!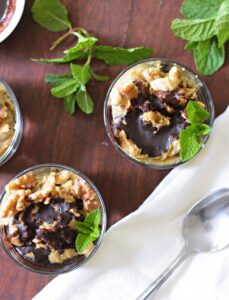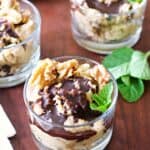 Print Recipe
Breakfast Protein Bowls
These high-protein breakfast bowls will give you long-lasting energy with grass-fed whey and chickpeas made into a healthy cookie dough breakfast!
Ingredients
1

15 oz can

chickpeas

drained

3

tablespoon

coconut oil. Very soft or melted

refined or unrefined

2

scoops

of unflavored unsweetened grass-fed whey protein

this is two ⅓ cups. I will link the protein powder below.

3

tablespoon

maple syrup

¼

tsp

salt

⅓

cup

almond flour

⅓

cup

chocolate chips

chopped fine

1

teaspoon

vanilla

3

Medjool dates

optional, but will add extra sweetness and fiber

toppings can include nuts, homemade chocolate (i will link the recipe below in recipe notes), unsweetened coconut, or nut butter.
Instructions
In a blender add drained chickpeas, soft or melted coconut oil, maple syrup, salt, dates, and vanilla.

Blend this up until smooth then transfer it into a bowl.

Measure and stir in the protein powder, almond flour, and chopped chocolate chips.

Fill up small three-5 oz containers evenly. Top with your favorite toppings. Cover and store in the fridge for up to a week. This is very filling so you could also fill up to five smaller containers.
Notes
For the refined sugar-free chocolate sauce on the top check out the recipe here!
For the whey protein, my husband uses you  find it here-
Elke is a participant in the Amazon Services LLC Associates Program, an affiliate advertising program designed to provide a means for sites to earn advertising fees by advertising and linking to Amazon.com.
Clicking on an Amazon link from Elke does not increase the cost of any item you purchase.
We will only ever link to Amazon products that we think our visitors may be interested in and appreciate learning more about.