The first thing that comes out of my husband's mouth when I say I'm making soup is, "biscuits too?" "yes, of course, I am" I reply….but he never fails to ask. He's right, soup can feel boring without fluffy homemade Buttermilk biscuits on the side!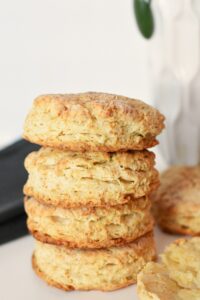 The biscuit problem can be very real! Some are made with Crisco, some with sour cream, milk, buttermilk. Some sweet, and some not.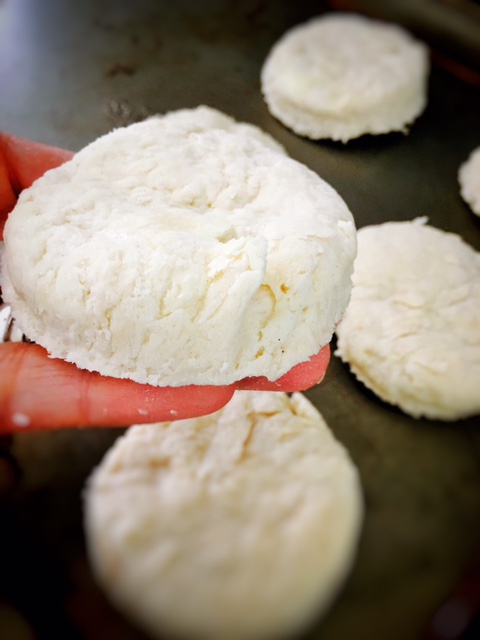 The ultimate problem for me is a sticky dough, oh, I just can't stand it! Some recipes I would end up with more dough on my hands than on the cookie sheet! So I worked with different recipes to create this one, and the family loves it! See how clean my hands are? That's a success!
This recipe is quick, easy, and can be mixed up in just a few minutes, with dough free hands….. just how I like it.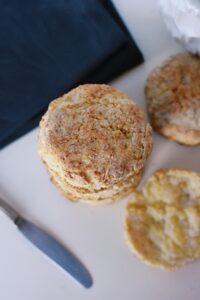 For other homemade loaves of bread check out my Classic Sandwich Bread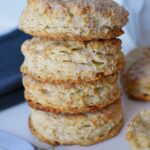 Print Recipe
Buttermilk Biscuits
Soup sometimes needs a little something alongside. That's why I love to mix up these simple buttermilk biscuits each time I serve soup. My family won't let me forget to do it!
Ingredients
3

cups

unbleached flour

1

tablespoon

baking powder

¼

teaspoon

baking soda

1

teaspoon

salt

1

tablespoon

sugar

1

stick cold butter

1-¼

cup

buttermilk, milk, or sour milk

To make sour milk add 2 teaspoons of white vinegar to cup of milk and let set 1-2 minutes.
Instructions
Preheat oven to 400

In a medium mixing bowl, mix flour, salt, sugar, baking powder, and baking soda with a wooden spoon.

Cut in 1 stick very cold butter with a pastry cutter until butter is pea-size. (you could also use a fork)

Add buttermilk and stir in with a wooden spoon until combined.

Place dough on a lightly floured surface and pat out. Fold the dough in half several times to create layers. Press out until it's about an inch and a half high.

Using a circular biscuit cutter or juice glass cut out 12-15 biscuits.

Place on an un-greased cookie sheet.

Bake 15-17 minutes or until lightly brown.
Elke is a participant in the Amazon Services LLC Associates Program, an affiliate advertising program designed to provide a means for sites to earn advertising fees by advertising and linking to Amazon.com.
Clicking on an Amazon link from Elke does not increase the cost of any item you purchase.
We will only ever link to Amazon products that we think our visitors may be interested in and appreciate learning more about.