By now you may have heard of probiotics. I think most of us think of yogurt when we hear the word probiotics.  Although yogurt does contain probiotics, we need to be careful because it is most often full of sugar,  natural flavors, and sometimes even has artificial sweeteners and colors! To eliminate these problems the best thing to do is make them ourselves! This probiotic ginger soda is fun and easy to make!

Are probiotics important?
Did you know that your gut is known as your second brain?  Research has shown the health of your gut has the ability to impact your mood, and behavior. Having particular probiotics in your gut could reduce the feeling of anxiety or depression. A good way to do this is to reduce the number of processed foods (like packaged cakes, cookies,  sugary cereals,  chips,  processed meats etc…. ) and reduce the amount of sugar you are consuming (which allow harmful bacteria to thrive), and start incorporating fermented foods into your diet.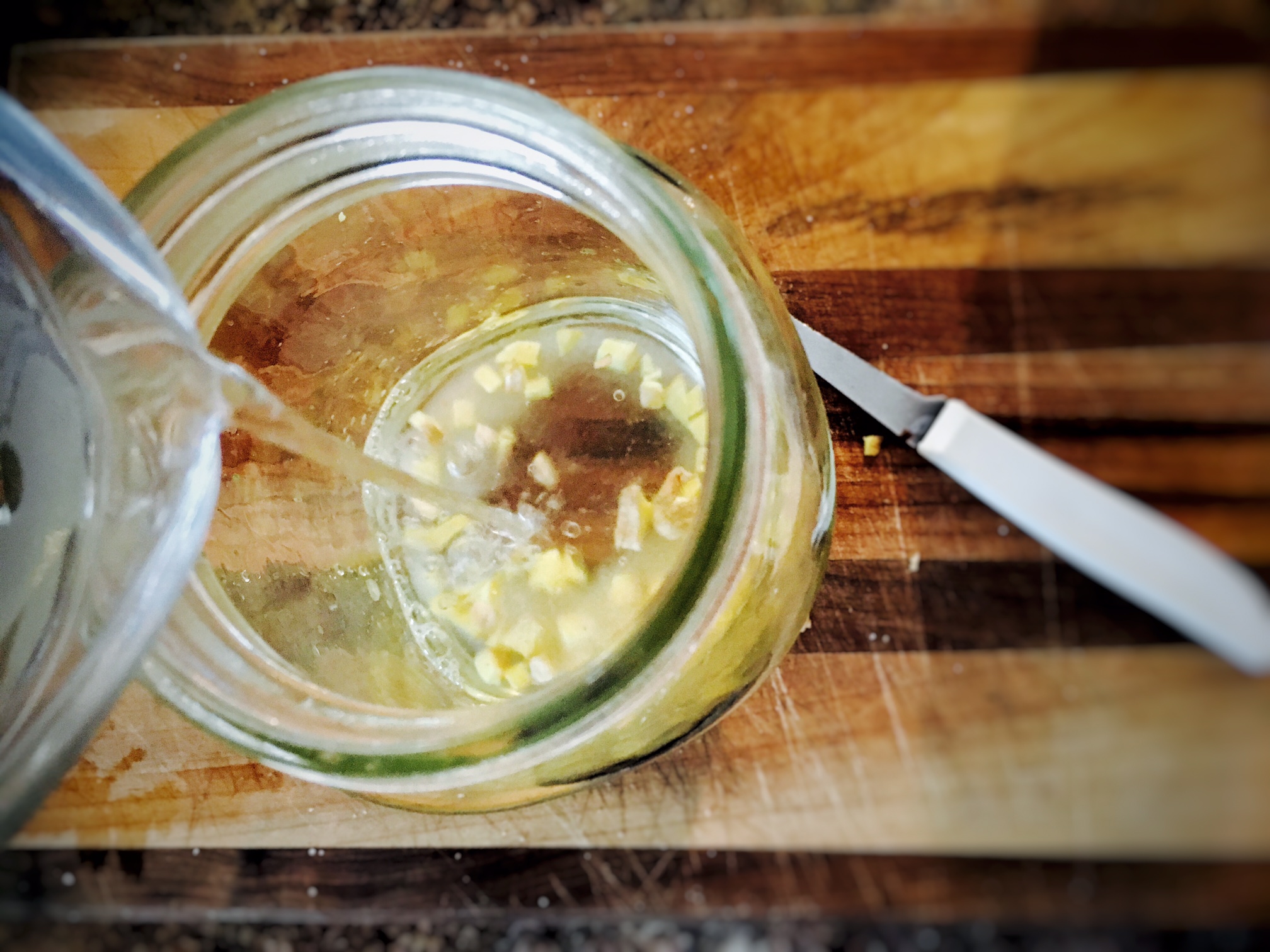 Are you one of the many Americans who have stomach issues like bloating, constipation, and gas? Having the right amount of good bacteria in your gut can help eliminate these issues. We need our digestive tracts to work correctly. Not only will our digestive systems improve when we have the right balance of good and bad bacteria, but our bodies will also absorb the good food and supplements we take more easily.
Probiotics help the immune system!
All of us want a strong immune system, but did you know that 80% of our immune system is located in our gut? When we don't have the right amount of good bacteria it affects our health. Symptoms related to IBS,  Crohn's, lactose sensitivities,  leaky gut, acne,  PMS, tooth decay, and much more are related to a lack of good bacteria in the gut!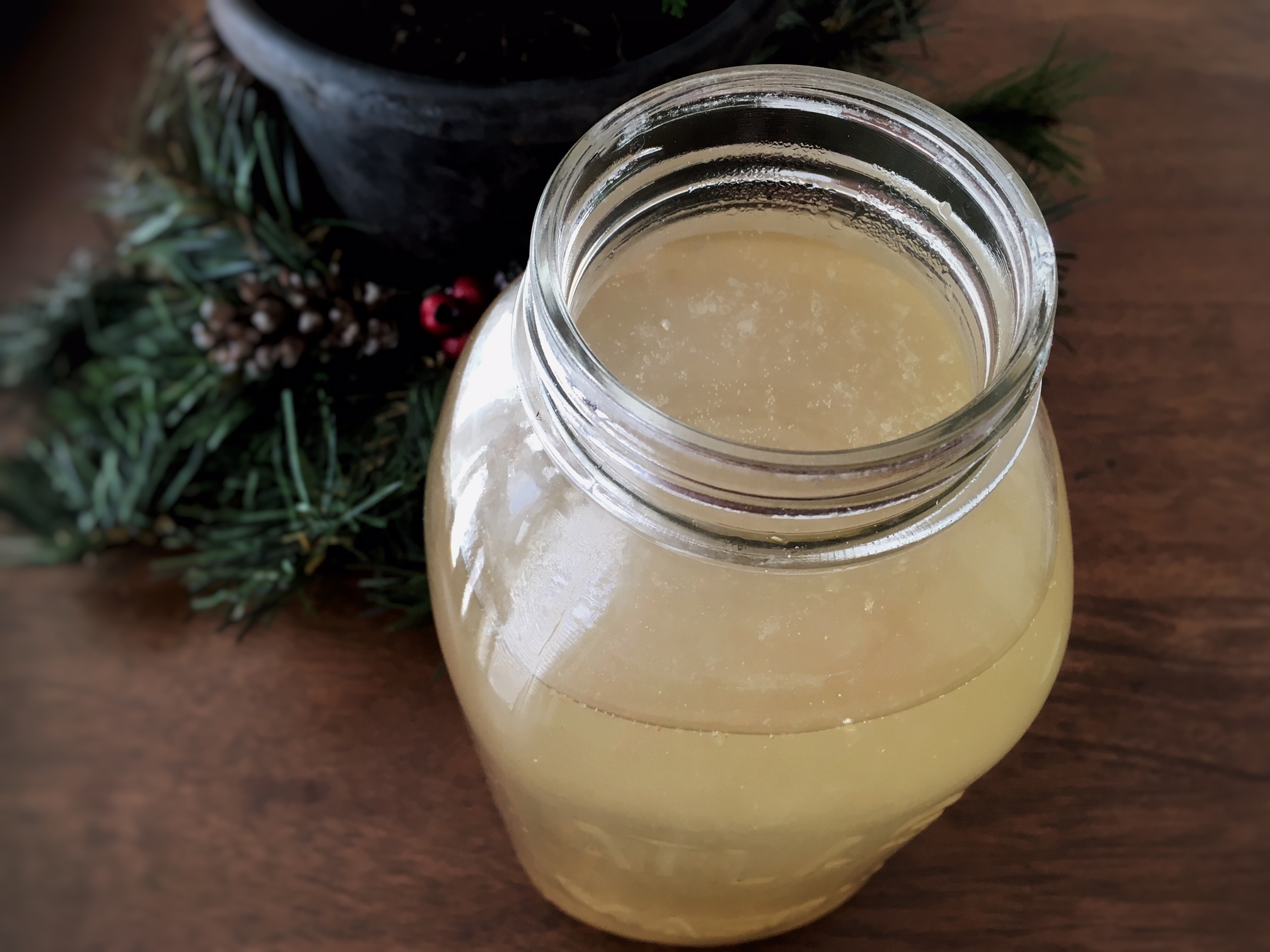 I started making my first ferments in 2013 and have continued to do so for the last several years. My hope is to bring awareness about the benefits of probiotics and show how simple and fun they are to make! One of our favorites is this fermented Ginger soda! It takes very little hands-on time to make this. It is refreshing, fizzy, full of probiotics, and has anti-inflammatory benefits! I hope that you will give this a try, and improve the health of your family!
Tips
* if this is your first time-consuming probiotics take it slow this has a lot of good bacteria start by drinking small amounts then increasing.
* this ferment can get very fizzy and build a lot of pressure make sure to burp once a day, we let a batch set to long without burping and had to open them outside and the ginger ale shot out of the bottles!!
* if you are a soda drinker this would be a great way to eliminate soda that's full of high fructose corn syrup, caramel color,  artificial flavors and dyes from your diet!!
For more fermented soda recipes check out Butterfly Pea Soda!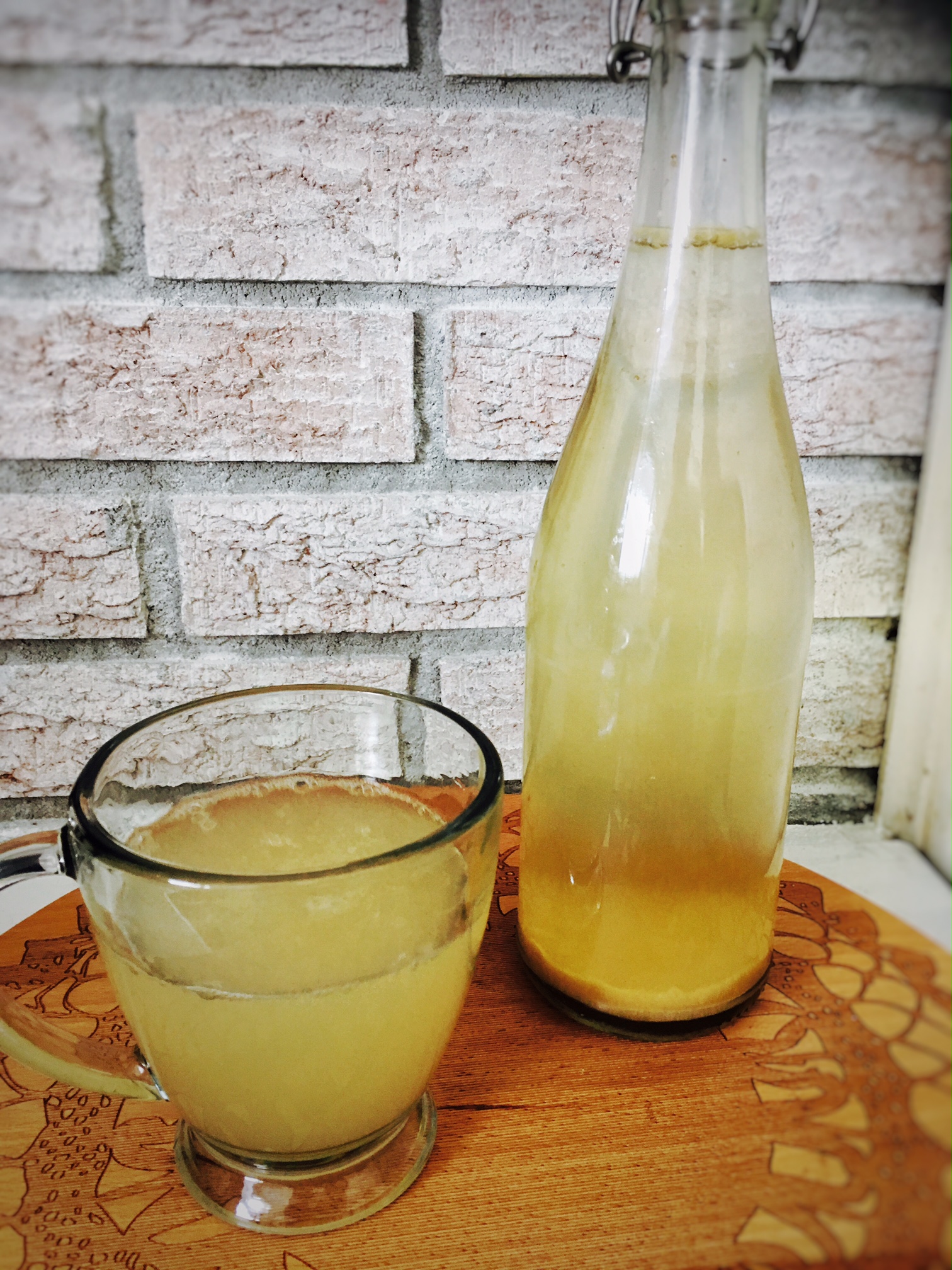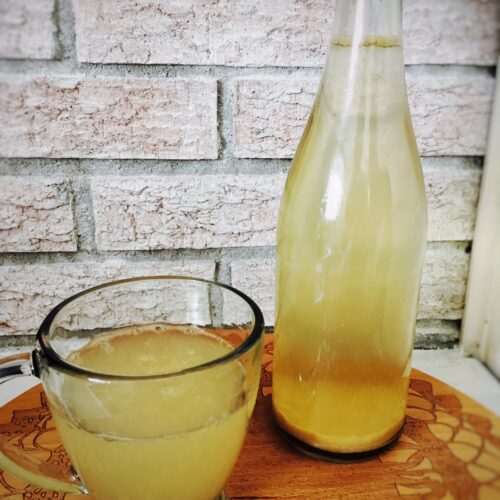 Print Recipe
Probiotic Ginger Soda
Ginger soda is a great probiotic drink you can make right in your own kitchen. This way you can customize the sugar and flavor to your liking.
Ingredients
Ginger Bug
2

cups

filtered water

1

tablespoon

chopped ginger root

1

tablespoon

sugar
Syrup
5

cups

filtered water

+4 cups filtered water

1 ¼

cup

sugar

4-6

inches

ginger root

2

tablespoon

fresh or bottled lemon juice

½-1

cup

dry hibiscus flower

for ginger hibiscus soda
Instructions
Ginger Bug
In a glass jar that has a lid, put water, chopped ginger, and sugar.

Stir.

Put the cap on and set in a warm place on your counter (out of direct sun)!

One time a day add: 1 tablespoon chopped ginger 1 tablespoon sugar then stir and recap.

Do this until you see tiny bubbles gathering on top. (My last batch took 3 days.)

The time this takes could vary depending on the temperature of your kitchen.
Syrup
When your ginger bug is ready and bubbly, you are ready to make the syrup.

In a medium saucepan add 5 cups water, sugar, and chopped or grated ginger root.

Bring to a boil.

Boil for 15 minutes.

Let cool completely.

Add lemon juice.

Strain your syrup to get out ginger pieces (I like to strain into a large pitcher or measuring cup). (*make sure syrup is cooled all the way or it will kill the ginger bug starter!)

Strain 1 cup of your ginger bug into pitcher or measuring cup.

Pour strained syrup and ginger bug into a large glass jar along with  4 cups filtered water (or two jars if you need to, depending on the size jar you have.) cap jar.

Set out of the direct sun on counter.

Stir one time a day.

When you start to see bubbles and hear it fizz when you stir, its ready to bottle!
Bottling
You may find that its easier to pour mix in a pitcher or measuring cup for easier pouring.

Pour your mix into glass bottles. (I have used flip top bottles, clean glass bottles from drinks we have bought, and even small mason jars.)

Make sure you leave about 1 inch headspace.

Seal the bottle tightly.

Burp bottle one time a day to release pressure.

Let it set on your counter about two more days (depending on the temperature of your kitchen). When you're burping and hear a pop or see that it's fizzy, you know its ready. Remember keep out of direct sunlight!

Transfer to the fridge.

This seems to last a while in the fridge. In my experience, it slowly continues to ferment and gets less sweet the longer it sets.
Notes
NOTICE this does contain small amounts of alcohol. From my research, it is a very small amount. My kids do drink this in small amounts.
*The syrup can be made just ginger, or add Hibiscus for ginger hibiscus soda!
Disclaimer
This is a personal blog. Any views or opinions represented in this blog are personal and belong solely to the blog owner and do not represent those of people, institutions or organizations that the owner may or may not be associated with in professional or personal capacity unless explicitly stated.
Any views or opinions are not intended to malign any religion, ethnic group, club, organization, company, or individual.
All content provided on this blog is for informational purposes only. The owner of this blog makes no representations as to the accuracy or completeness of any information on this site or found by following any link on this site.
The owner will not be liable for any errors or omissions in this information nor for the availability of this information. The owner will not be liable for any losses, injuries, or damages from the display or use of this information.