Fermented foods have been used for centuries for their health benefits. They were talked about in ancient Roman manuscripts as being one of the finest vegetables for human health. In the last few years, we have seen them increase in popularity, and this is a huge step in moving toward optimal health. Probiotic fermented sauerkraut is one of the healthiest foods you can eat!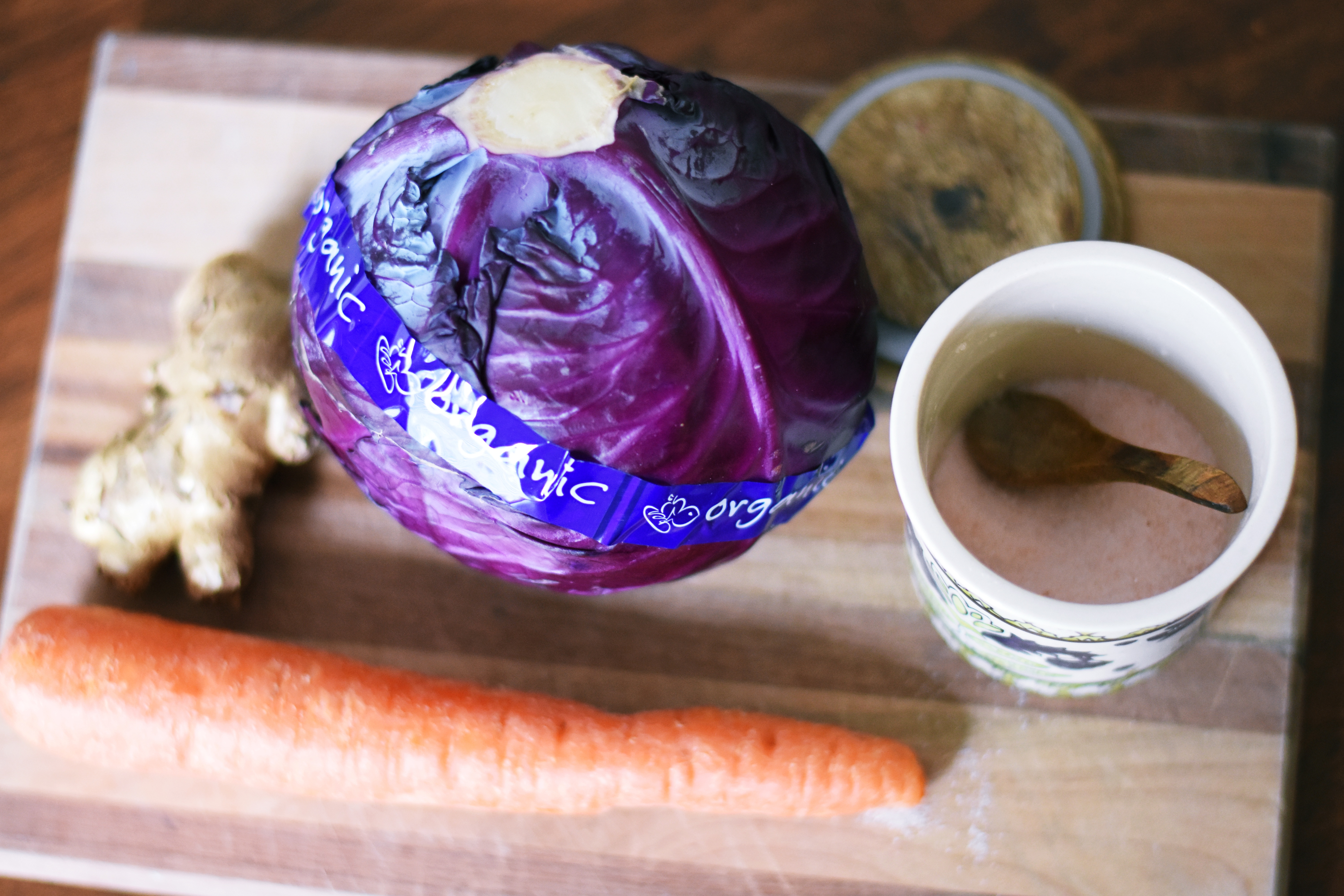 In the past, the lack of fermented foods being consumed in the U.S. has led to compromised health and made our bodies more vulnerable to sickness. For our bodies to be able to fully recover from a sickness or disease, we need to have a healthy gut!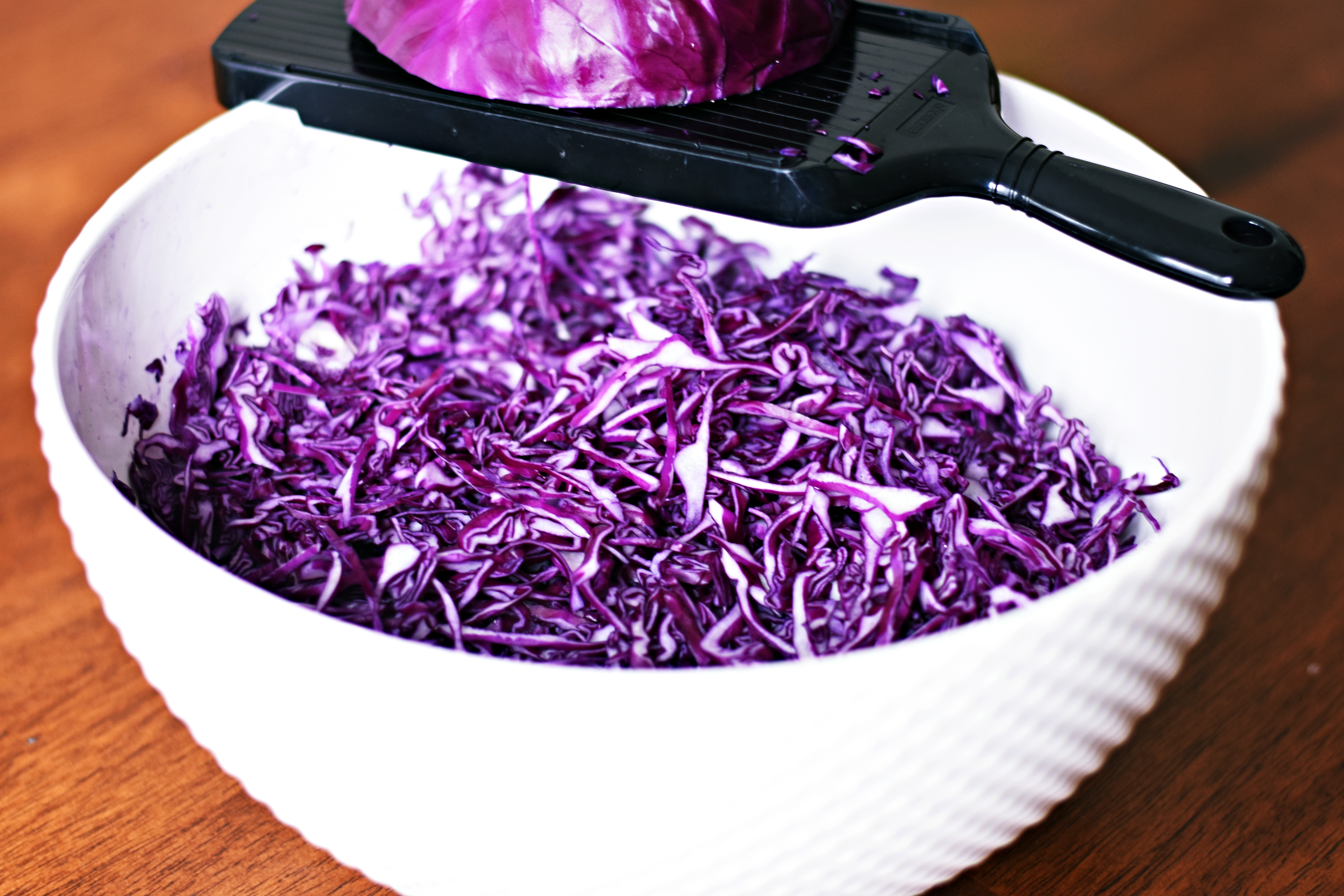 Probiotic Fermented sauerkraut has been tested and found to have billions to trillions of good bacteria, and vitamin C is 20 times higher than in eating raw cabbage.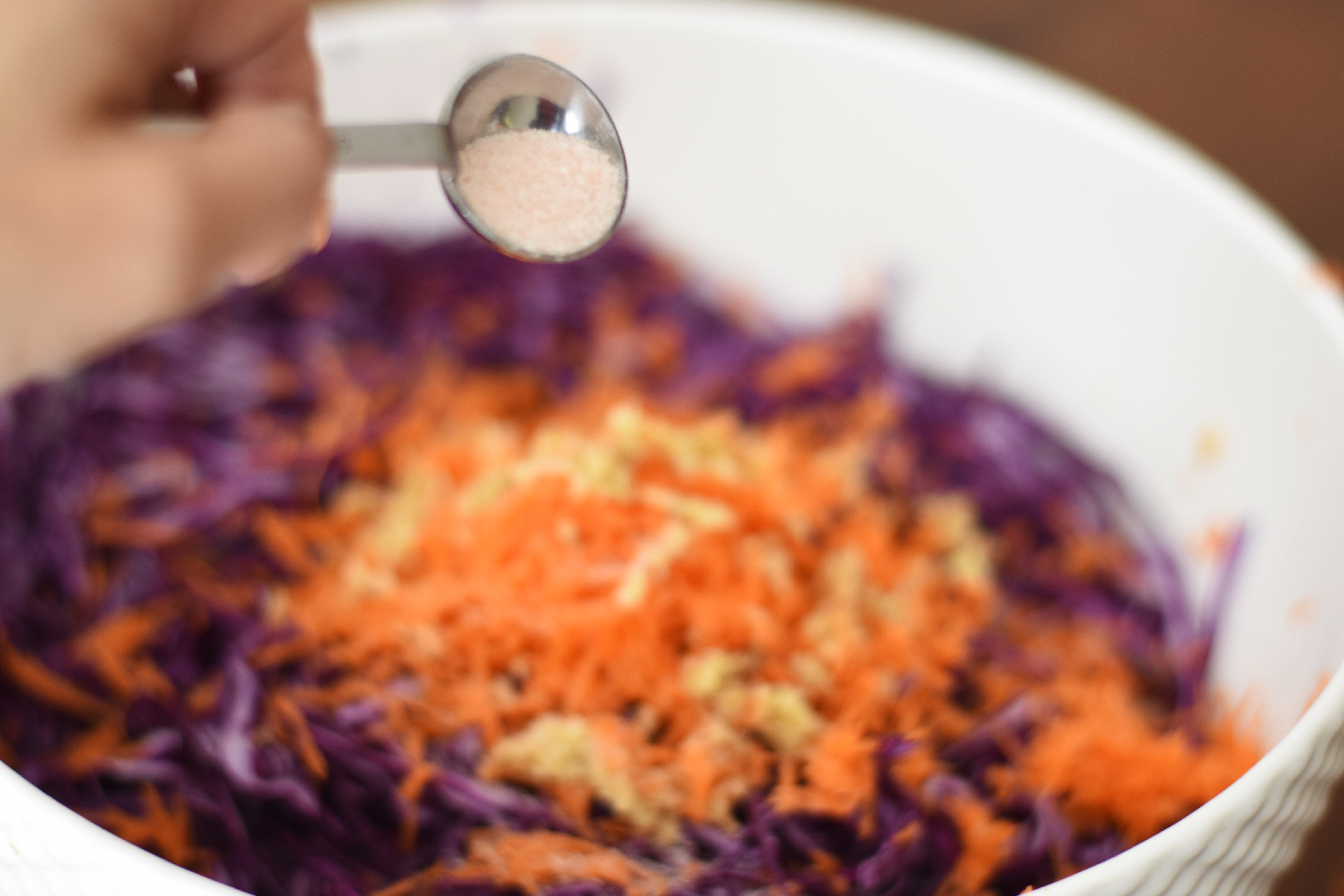 In the fermentation process, vitamins, enzymes, antioxidants, and photo-nutrients are formed.  Isn't that amazing? What's more amazing is the many health benefits from including this superfood into your diet.
Let's look at a few of the benefits of Probiotic Fermented Sauerkraut:
Lowers the risk of cancer
Helps with acne and other skin problems
Helps improve mood
Lowers chances of respiratory illnesses
Potent detoxifier
Helps break down heavy metals and toxins
Helps normalize acidity in the stomach (which can be lost with age)
Helps aid in digestion
Helps protect against food allergies
Helps protect against autoimmune disease
Helps our bodies to be able to absorb nutrients
Helps increase natural killer cells
Helps improve immune function
Helps control inflammation
If you have not incorporated fermented foods into your diet, you are missing out on these amazing benefits!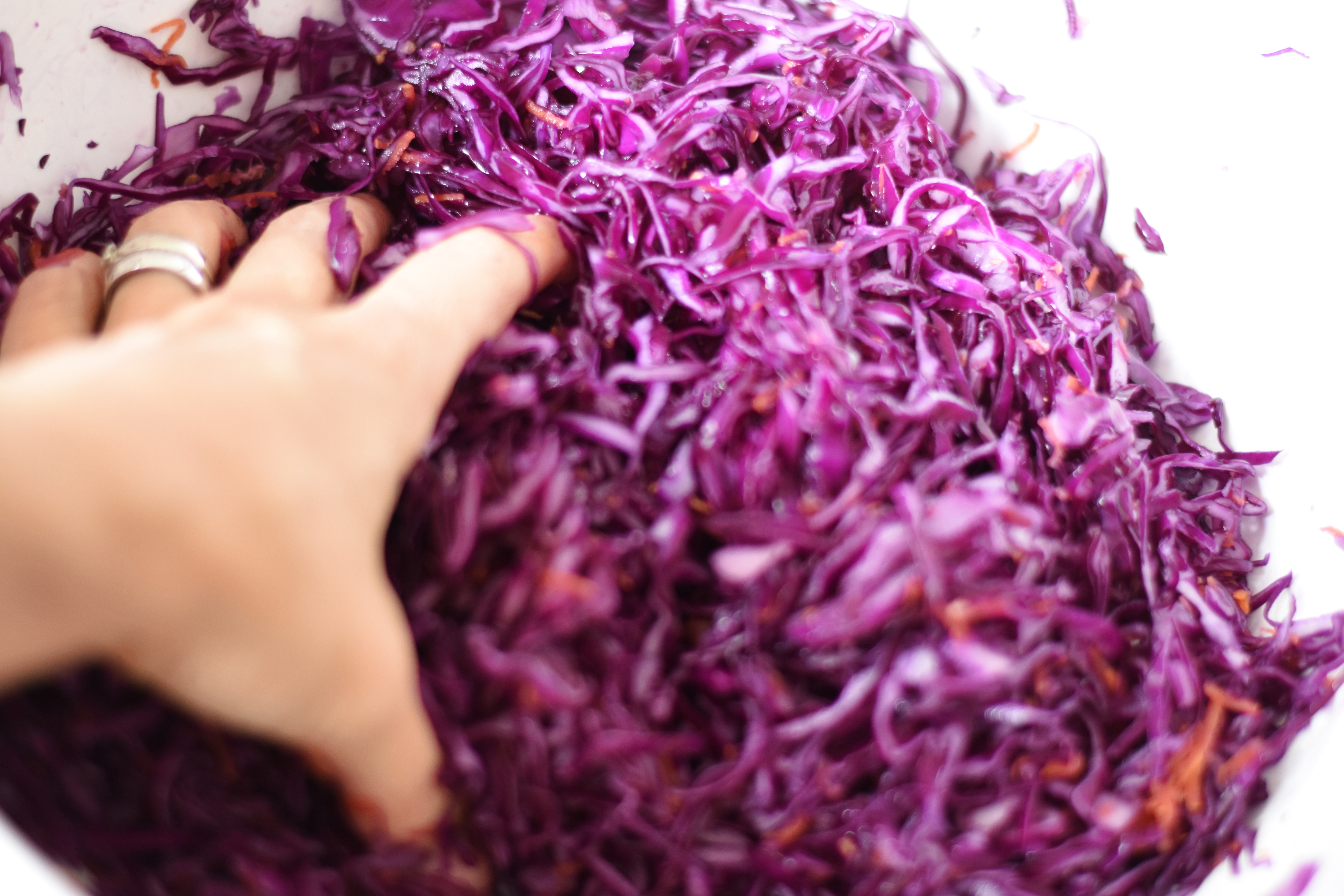 With sauerkraut being so cheap and easy to make, it is well worth the little effort it takes. It can save you hundreds of dollars per year to make this at home instead of buying high-quality probiotics.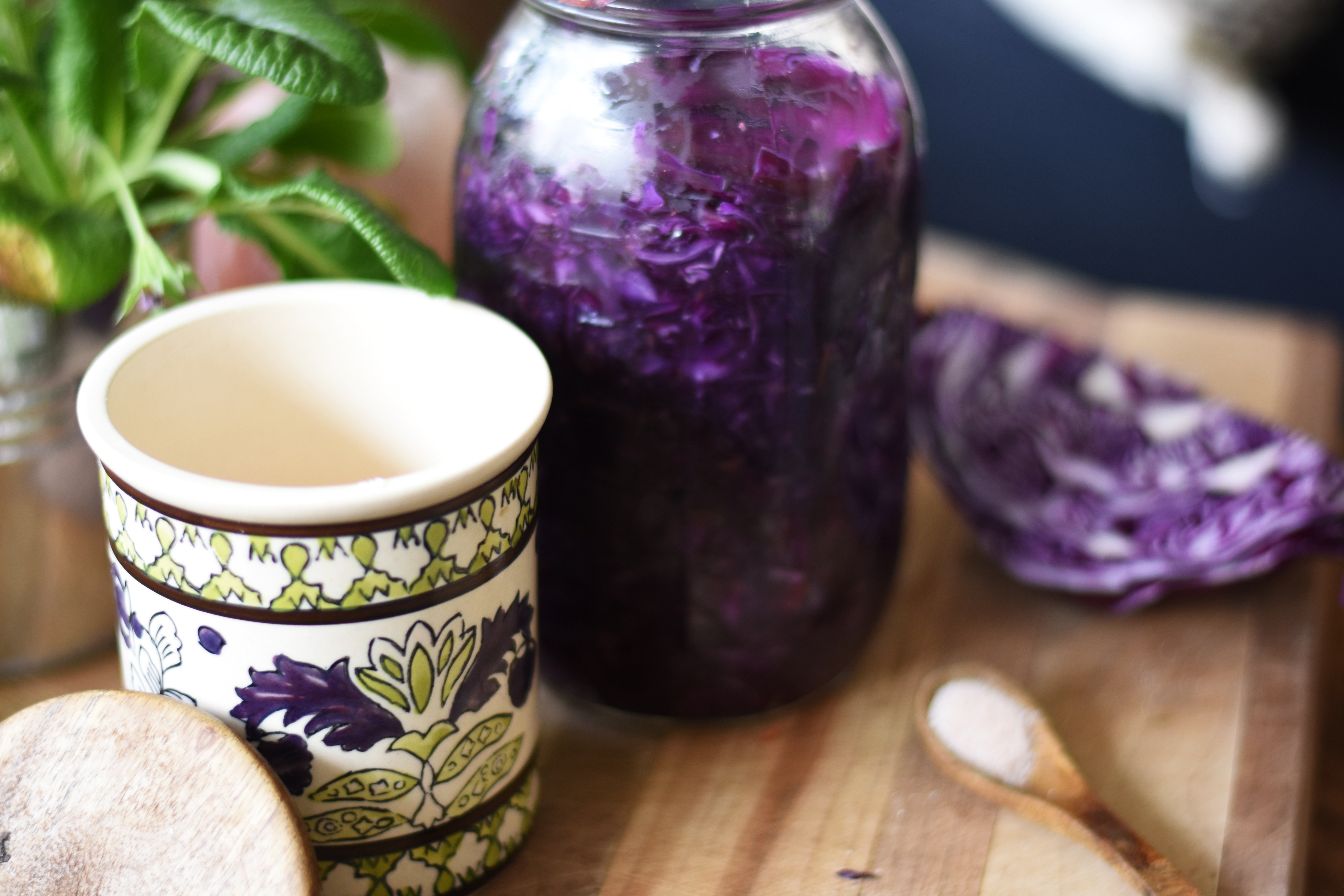 I hope you give this a try and bring many health benefits to you and your family!
For other fermented foods check out Anti-inflammatory Turmeric Sauerkraut!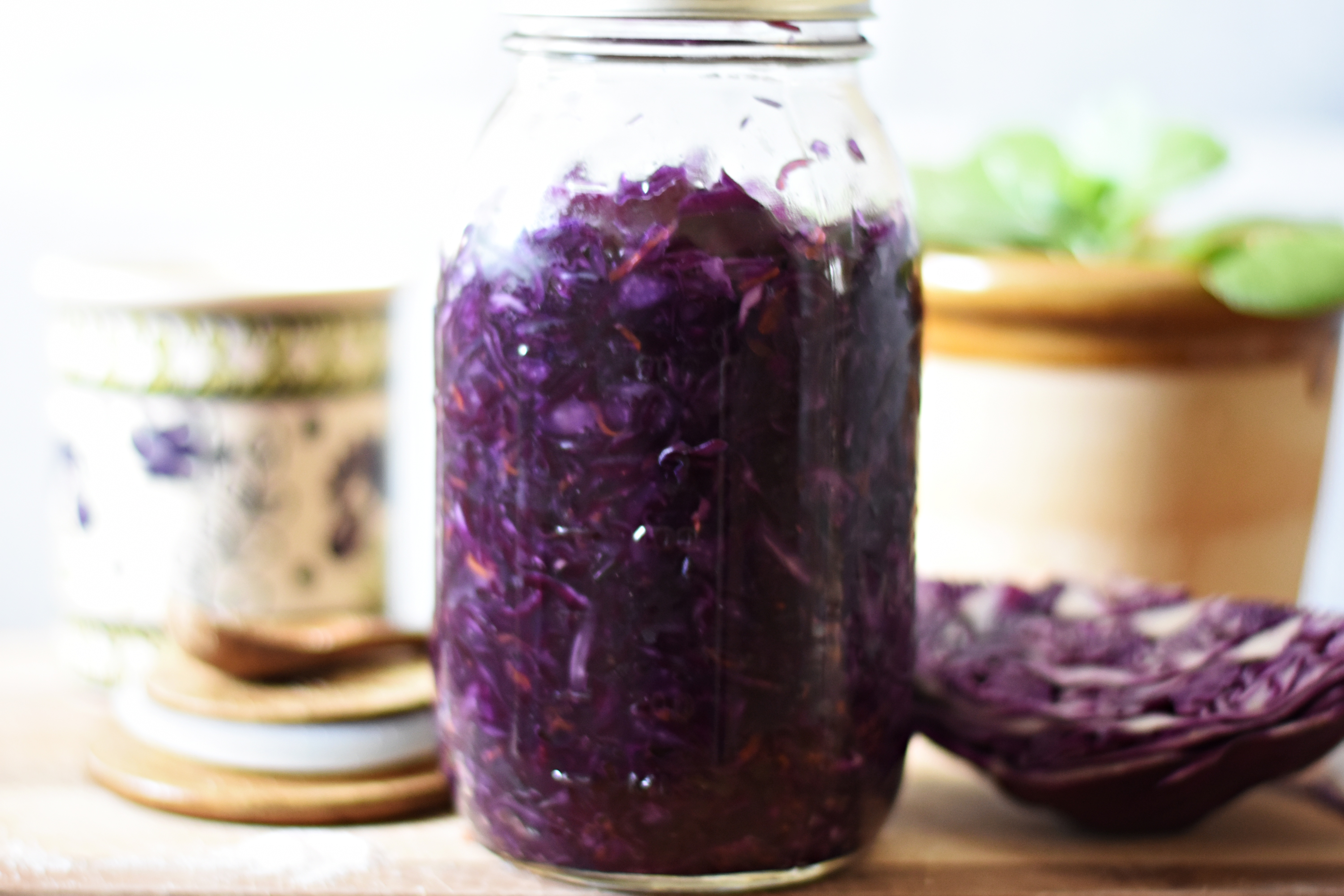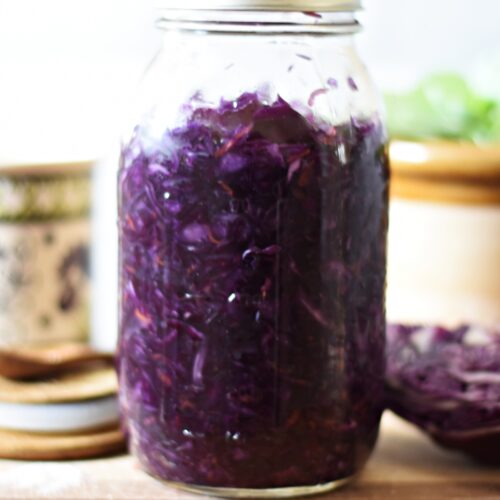 Print Recipe
Probiotic Fermented Sauerkraut 
Fermented cabbage has been tested and found to have billions to trillions of good bacteria, and vitamin C is 20 times higher than in eating raw cabbage. It's really easy to make your own sauerkraut.
Ingredients
1

medium head green or purple cabbage

1 ½

teaspoon

pink salt or sea salt

½

carrot

optional

1-2

inches

ginger root

optional

Glass Mason Jars
Instructions
Wash cabbage and peel the first layer of soft leaves off and set to the side.

In a large mixing bowl grate 1 head cabbage (I use a mandoline).

Sprinkle salt evenly over the cabbage.

Grate in carrot and ginger.

With your hands, massage and squeeze the cabbage until it becomes limp and juices start to come out. You will see liquid start to collect in the bottom of the bowl. This will take 5-10 min. If you don't want to use your hands for this you can buy a kraut pounder

Once the cabbage is limp and you see liquid, you can fill jars.

Fill the mason jar or jars (depending on the size you use by getting handfuls of the cabbage and pressing it into the jar.

Pour over any liquid left in bowl.

Fill jar by pressing cabbage down with fingers or spoon until it is below the liquid, and all cabbage is submerged.

Place the large cabbage leaf (that you set aside on top of the cabbage to help hold cabbage below the liquid.)

Set out of the sunlight in your kitchen (64-70 degrees is best). In summer a dark cabinet may be best. In the winter a warmer place, like on top of the refrigerator.

Depending on the temperature of your kitchen and taste preference let set for at least 3 days or up to a couple weeks.

Release pressure each day by just twisting the lid then re-sealing

When you get the taste you like, transfer to the refrigerator. This will greatly slow the fermentation process. It can stay good for several months.
Notes
*You can taste as you go along and refrigerate when you get the taste you want.
*Check daily to make sure cabbage is below the brine. If you need more liquid mix 1 cup filtered water and 1 teaspoon salt. Pour over cabbage just until it's submerged in the liquid.
* If you see mold, slim, or it has an off smell, throw away and restart.
*There are more things you can add in like grated jalapeño, apple, beet, and different spices and herbs.
*If you're new to fermented foods start slow, around a teaspoon a day and you can slowly add more into your diet as your body adjusts.
Buy mason jars here
Buy a kraut pounder here