My grandparents were "home-cooked meals kind of people", but they also took part in enjoying all the easy prepackaged foods. We always had boxes of Little Debbie Snack cakes, Toaster Strudels, Pop-Tarts, and whatever else was popular at the time.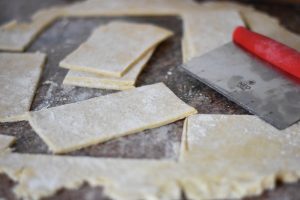 Although these things were fun to eat, does anyone else remember the gross aftertaste and burning sensation they gave in the back of your throat haha? Growing up Pop-Tarts were a good quick breakfast….well, not good, but quick.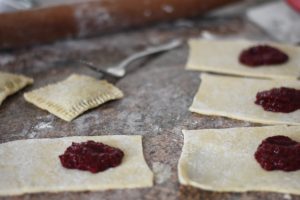 The edges usually got torn off and tossed, and the center devoured. I mean, what kid isn't going to like dessert to start their day….that's just fun, but fun for this processed food comes with a price.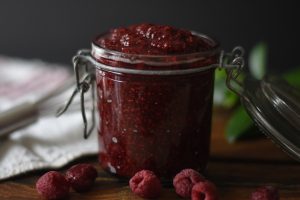 Are Pop-Tarts healthy?
Have you ever read the list of ingredients of the beloved Pop-Tart? I think sometimes we forget to, or maybe don't care enough to. You may have even had the thought that if they allow that stuff in there it must be ok. Well, with the 30 ingredients I read, there were only about 5 that were decent. The rest were things that could cause side effects like tantrums, ADHD, asthma, dermatitis, nausea, headaches, IBS, tumors, cancer, and more. There were so many possible GMO ingredients, and a lot of the artificial dyes and preservatives are banned in other countries!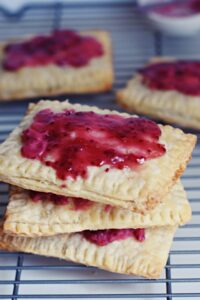 These homemade pop-tarts are made will real ingredients!
These Pop-Tarts are so delicious and they are made with real raspberries that can protect against:
cancer
infections
 helps reduce wrinkles
strengthens the immune system.
Chia seeds provide energy, weight loss, normalize blood sugar levels and promote good digestion.
And a simple crust with just 4 ingredients!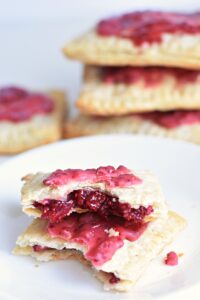 *If you would like to make these even quicker, you can find a good quality pie dough. You need to be careful, brands like Pillsbury have ingredients like BHA and BHT.
Need other breakfast ideas? Check out my Easy Spiced Coconut Granola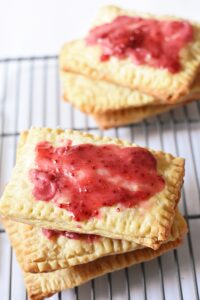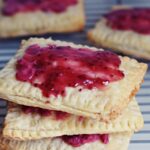 Print Recipe
Homemade Pop-Tarts with Chia Jam
Ditch the box and make your own breakfast treats. There won't be any mom guilt when you serve these!
Ingredients
Pastry
2 ½

cup

Unbleached all-purpose flour

2

tablespoon

sugar

1

teaspoon

pink salt Buy pink salt here or sea salt

1 ½

stick very cold butter

or ¾ cup very cold refined coconut oil for vegan option

9-11

tablespoon

very cold water
Raspberry Chia Jam
3

cups

raspberries (I use frozen organic)

*you can use any fruit you would like. Even apple cinnamon is delicious!

4

tablespoon

maple syrup

3

tablespoon

Chia seeds Buy chia seeds here
Raspberry Glaze (optional)
½

cup

organic sugar

4

tablespoon

water

about 8 raspberries

I use frozen

Pinch

of pink salt or sea salt
Instructions
Pastry
In a medium size bowl whisk together flour, sugar, and salt.

With a dough cutter, cut in very cold butter (or cold coconut oil) until it resembles small peas.

Add water one tablespoon at a time, stirring after every couple added with a wooden spoon.

You want the mixture to start to come together but seem dry.

Take your hand and work the mixture together to form a ball of dough after about the 8th tablespoon of water.

Add a Tablespoon of water as needed for it to come together. Do this rather quickly, you don't want it to get warm while you're working with it.

After it's mixed up place it in the refrigerator to keep cool while making the filling.
Jam
Add raspberries and maple syrup to a small saucepan or skillet.

Cook on medium-low heat until they start to simmer.

Simmer for about 5 minutes smashing the raspberries up with a whisk or fork.

Reduce heat to low and stir in chia seeds.

Turn off heat and let cool.
Glaze
In a small skillet or saucepan over medium heat add sugar and water heat and stir until dissolved.

Add raspberries and smash them up completely in sauce.

Bring to a boil for 3-4 minutes stirring occasionally.

Remove from heat and drizzle on top of each pastry.
How to assemble
Roll dough out with a rolling pin until very thin (about ⅛ inch thick)

With a pastry cutter Buy a pastry cutter/scraper here or knife cut rectangles about 5 inches long and 3 inches wide.

After you cut the first one use it as a template (like pictured above, to cut the rest. )Re-roll out scrap dough to use up all your dough.

Put about a tablespoon of chia jam on each cutout piece. *Don't overfill or the filling will run out.

Fold the pastry in half over the jam then take a fork (wet fork with water to help seal if needed and seal all the way around with a fork.

Poke a few holes with the fork on the top, and place on a cookie sheet.

Bake in a pre-heated oven for about 20-25 minutes or until they start turning light brown.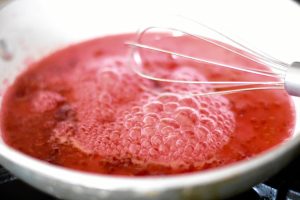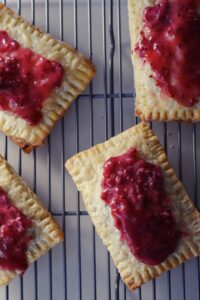 Elke is a participant in the Amazon Services LLC Associates Program, an affiliate advertising program designed to provide a means for sites to earn advertising fees by advertising and linking to Amazon.com.
Clicking on an Amazon link from Elke does not increase the cost of any item you purchase.
We will only ever link to Amazon products that we think our visitors may be interested in and appreciate learning more about.