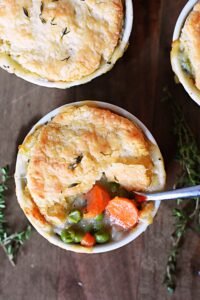 All this cold weather makes me want comfort food, and Chicken Pot Pie is the ultimate comfort food!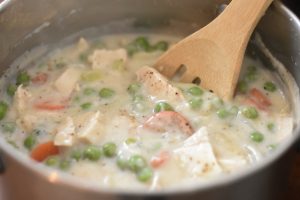 My husband needs some man food especially with me and my vegetable loving ways. I would totally eat a chicken pot pie minus the chicken haha. In my family, I try to cycle through everyone's favorites. Tim just needs meat and potato dinners, and he does love a salad on the side. Roman turned out just like his dad… fried chicken, usually with a side of kale and balsamic, and salad, he literally loves a salad and will drink the dressing out of the bottom of the bowl.  Aubrey loves Chili and anything Mexican. She will say, "I just crave those Mexican spices."  Avah loves any meal that involves meat-free pasta, and really, just a meat-free, bean-free meal will make her light up at dinner time.  Anthony loves a hamburger and salad, he's not a big potato fan.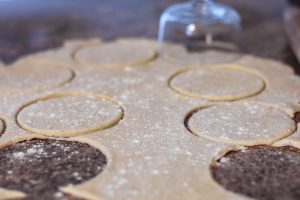 Oh yeah, and they all love artichoke, and actually, their love for them compares to a child's love for chocolate cake….yeah, its a little weird, but weird in a good way.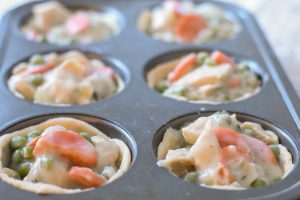 I'm grateful that I don't have any super picky eaters. I don't mind if they have a couple of things they just don't like,( I definitely do) but when that list starts getting too big, well, that's just irritating. I want the time I spend making dinners to feel worth it when we set down to eat. I don't want it to be a battleground, but most of us have been there especially through the toddler years.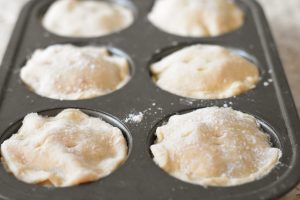 Why Mini Pot Pies?
I noticed with my kids when I make foods mini, they eat them better. I used to make the one in the pie plate, but these are just more fun, and great for entertaining!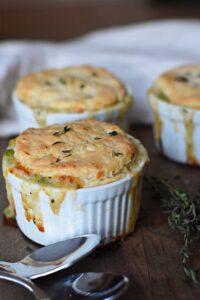 Well, if your craving some comfort food, you must try these creamy filled miniature chicken pot pies wrapped in a flaky, buttery crust.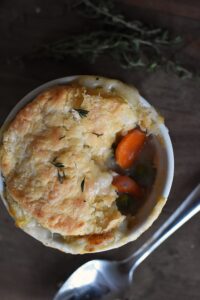 Making Chicken Pot Pies Vegetarian
These chicken pot pies would be just as tasty made vegetarian! Just leave out the chicken and replace the chicken broth with some good quality vegetable broth! You could also add mushrooms, corn, broccoli, cauliflower, or even chunks of brussels sprouts!
For other delicious dinners, you can also check out Slow Cooked Beef Tinga!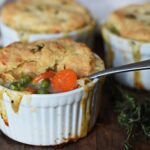 Print Recipe
Homemade Mini Chicken Pot Pies
A muffin tin or ramakins makes it easy to create individual chicken pot pies. The perfect comfort food in the perfect size!
Ingredients
1

small

onion diced

½

cup

diced celery

4

tablespoon

butter

⅓

cup

unbleached flour

2

cups

chicken broth

½

cup

milk

1 ½

cup

peas

I use frozen, organic

1

cup

sliced carrots

About a pound of chicken

chicken breast or tenders

3-4

sprigs of fresh thyme or 1 teaspoon dried

1

teaspoon

salt + more if needed for taste

½

teaspoon

black pepper

2

pie crust

I make homemade or you can buy if you can find good quality
Instructions
Make 2 pie crusts and refrigerate. Get my pie crust recipe below.

Fill a stockpot up halfway with water and put in chicken, peas, and sliced carrots. Bring to a boil and boil about 15 minutes or until chicken is done and carrots are tender. Drain and set aside.

In a medium saucepan add butter, onions, and celery (season with salt and pepper and cook on medium-low for just a few minutes until veggies start to appear translucent.

Whisk in flour, milk, and broth.

Stir in salt, pepper, and thyme.

Bring to a simmer and cook about 10-15 minutes or until it's thick and bubbly.

Cut chicken in chunks, and add chicken, peas, and carrots to the creamy mixture.

Taste and season and take off the heat and set aside.
How to Assemble
Preheat over to 400

Remove the pie crust from the fridge. Flour your working surface and roll dough out with a rolling pin to about a ¼ inch thick.

Using a large rim glass or large circular dough cutter, cut out circles just a bit larger than your muffin pan circles.

Place a cut out dough circle in the bottom of the muffin pan, press if needed to cover up the sides.

Fill generously with pot pie filling

Place another circle on top and tuck in edges.

Continue to do this until you use all the dough and filling ( this made 9 for me)

With a fork or knife poke some holes in the top.

Bake about 25-30 minutes or until golden brown. (if using pre-made crusts they may brown quicker)

Let cool slightly and serve.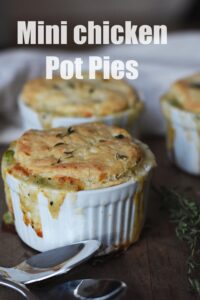 Elke is a participant in the Amazon Services LLC Associates Program, an affiliate advertising program designed to provide a means for sites to earn advertising fees by advertising and linking to Amazon.com.
Clicking on an Amazon link from Elke does not increase the cost of any item you purchase.
We will only ever link to Amazon products that we think our visitors may be interested in and appreciate learning more about.