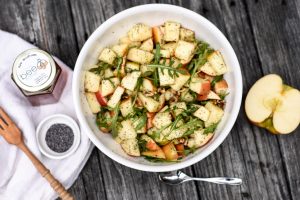 Some are music snobs, some coffee snobs, or even wine snobs, me, I'm an apple snob and a honey snob.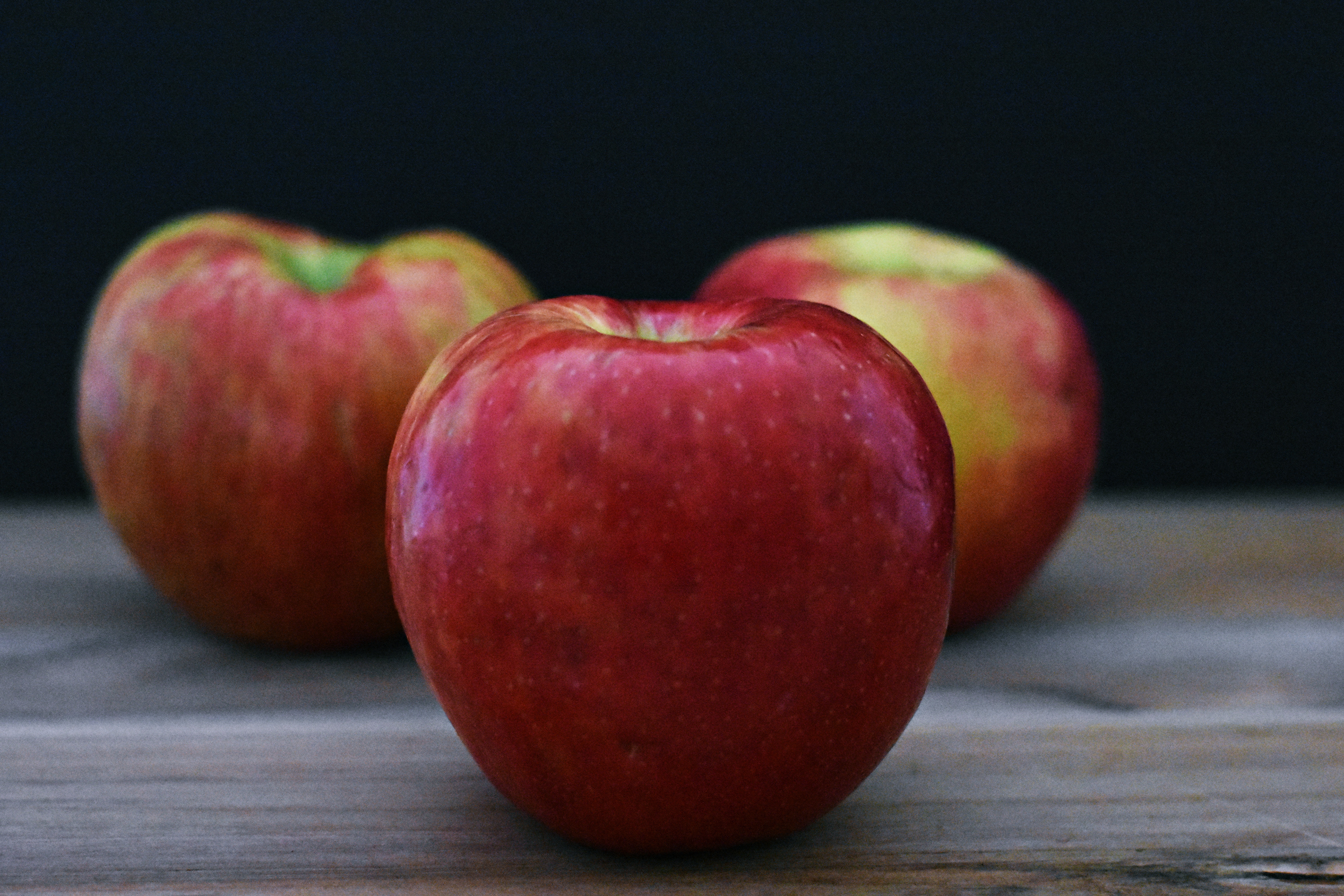 Why I love this Apple & Walnut Salad with Honey Poppyseed Vinaigrette so Much!
I grew up surrounded by apple trees, and I ate so many of them most summer days I would end up with a stomach ache. I couldn't help myself! It makes my mouth water just thinking about it. The perfect apple wouldn't be about the color, but crunchy, juicy, a burst of sour, and a touch of sweetness. Ahhhhh so good!
Sadly, sometimes I would climb up in an apple tree, pick it, take a bite, and it would be sweet and mushy….ewwwww……Those apples didn't get eaten. I would rather eat a crab apple than a mushy apple. Those I would toss on the ground for the deer.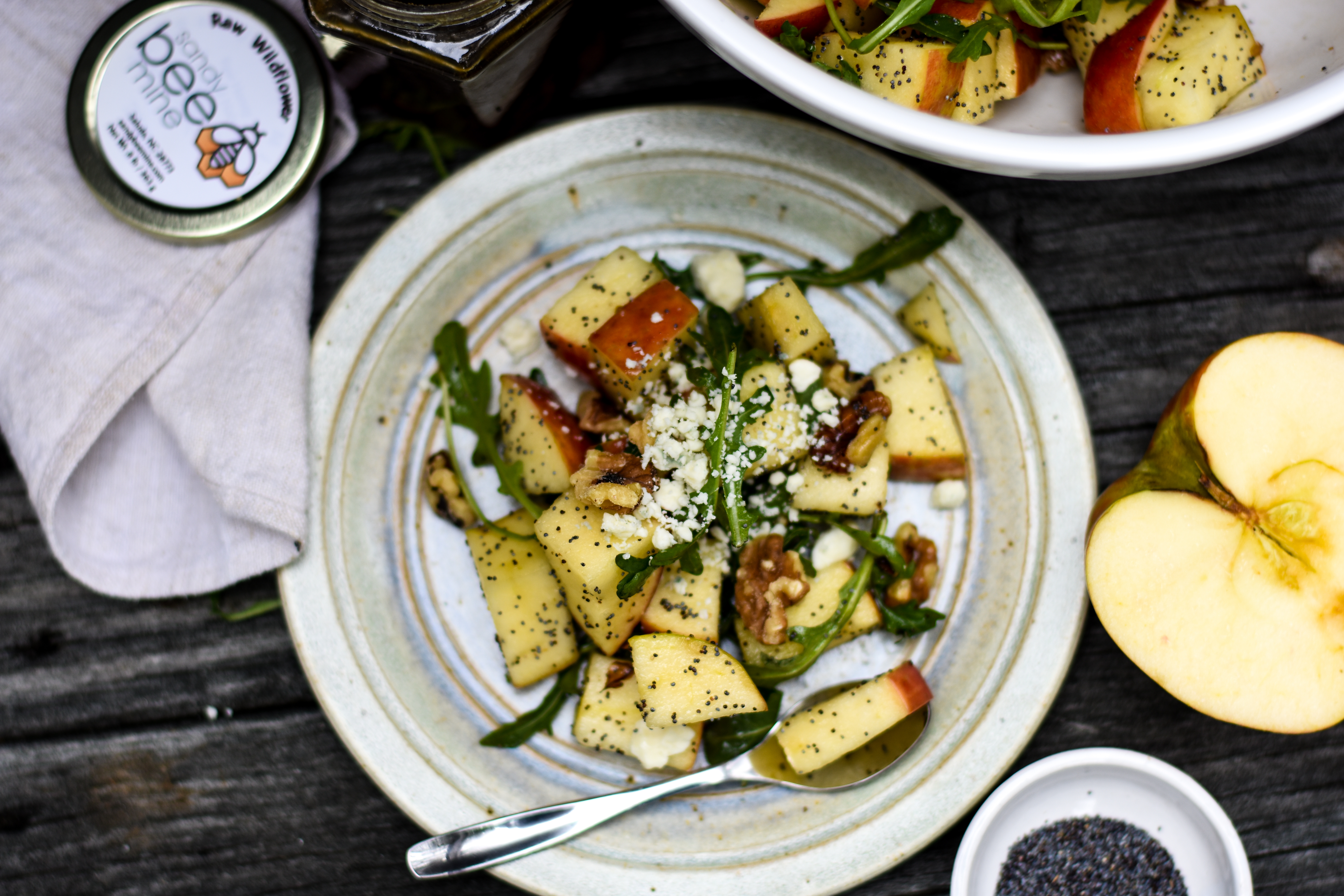 Fast forward to buying apples from the store. To sum it up, they just aren't the same. Many times I take a bite from a not-so-perfect apple….. then offer the "yummy" apple to one of my kids to finish. But there is one apple from the store that shines above the rest……. the Honeycrisp apple. Crunchy, sour, sweet, and a bit more expensive, but well worth it!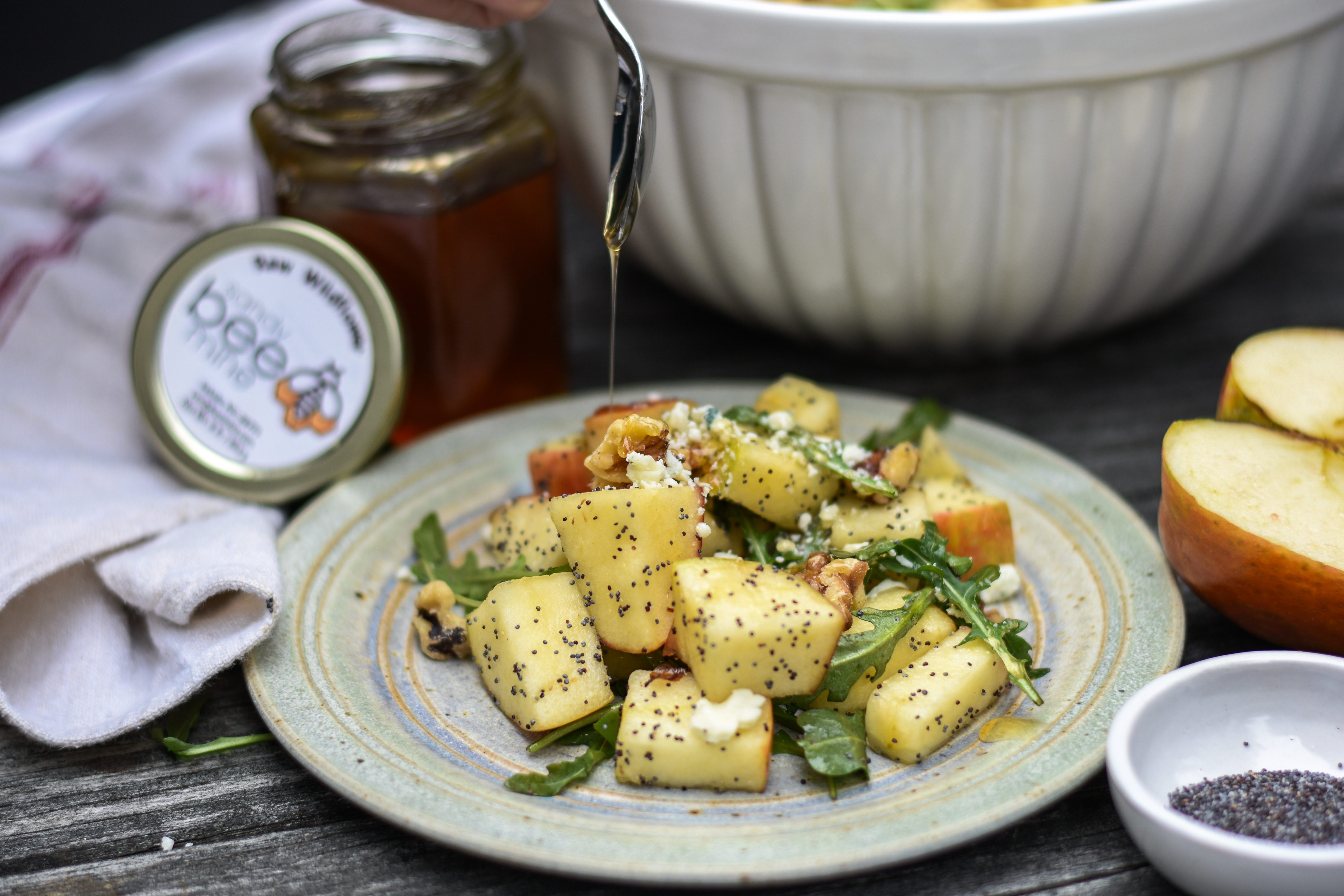 So why am I a honey snob? First I want to say honey has AMAZING health benefits! Part of the reason my kids have never had an antibiotic is because of the honey elixir that I make for them. The healing qualities of this liquid gold are awesome! Not only is it a cough suppressant, immune booster, and anti-inflammatory, but it is also antifungal, antibacterial, antiviral, and anti-cancer activity!
Now here's why I'm a honey snob and why you should be too…..
Honey IS NOT all created equal. You know the honey you pick up in your favorite supermarket? It may not be what you think. A huge percentage of the honey you pick up at the store is often altered with horrible ingredients like high fructose corn syrup and other sweeteners like cane sugar, rice syrup, or beet sugar! Does that seem far-fetched considering what you see on the labels says 100% honey? Well, sadly, labeling laws have loopholes and aren't giving us the protection we need to get a product on the shelf that lives up to what we think it is. In a Cooking Light article, they stated that in 2013 one of the largest honey packers out of Michigan confessed to purchasing millions of dollars in laundered honey. The article also states that imported honey may contain chemicals banned in the U.S.! Sadly, this honey will not contain the health benefits of real honey! I don't know about you, but I definitely don't want to be giving high fructose corn syrup to my kids for a cough.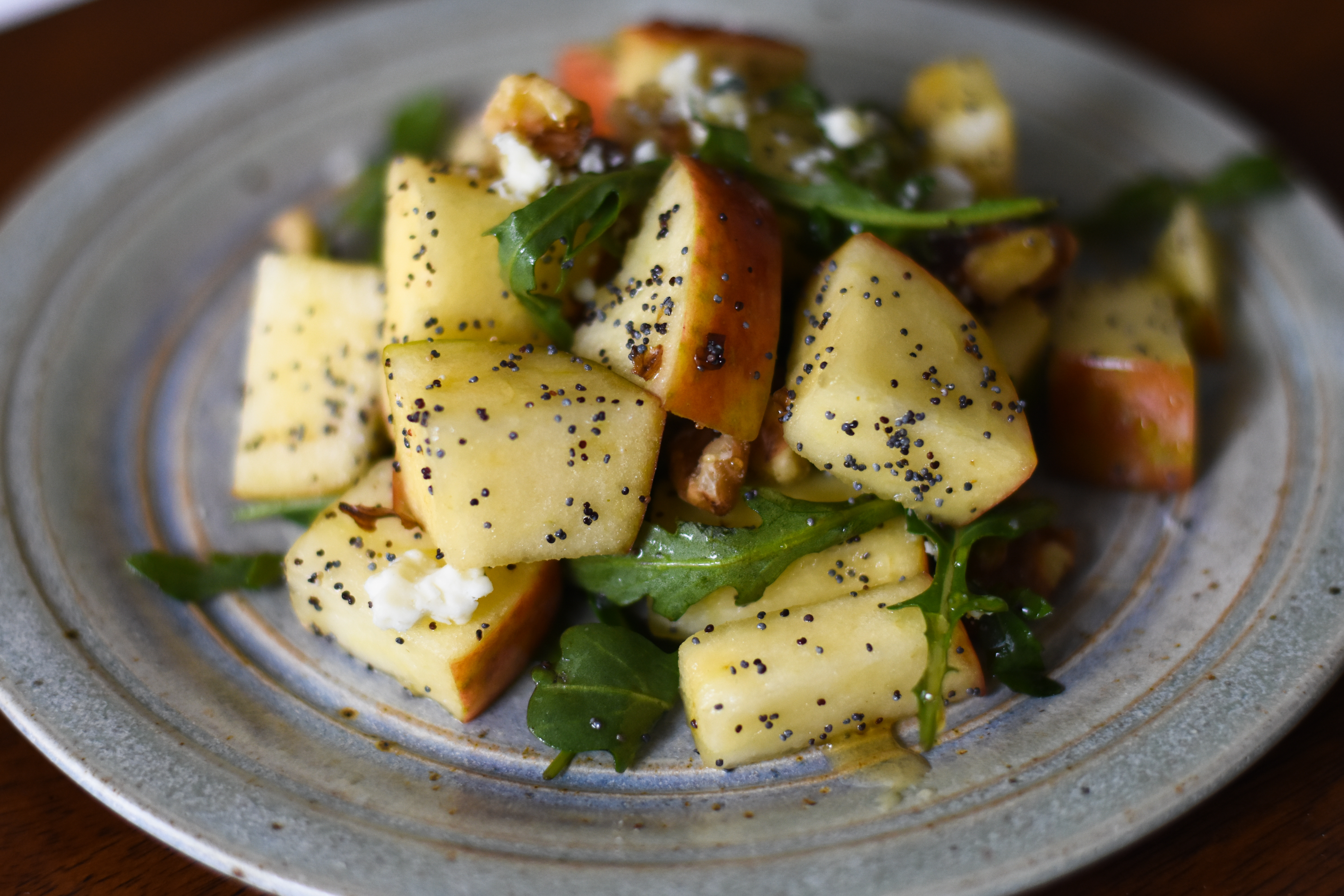 How do you get around this? Buy honey from a trusted source. Buying honey from a local beekeeper ensures that you are getting the good quality honey that you are paying for! I always buy locally! Honey from Sandy bee mine is some of the best honey I have had!
If you need a source for good local honey checks out their website here!
I hope you will make this Apple & Walnut Salad with Honey Poppyseed Vinaigrette!
Remember….
Let food be thy medicine and medicine be thy food ~Hippocrates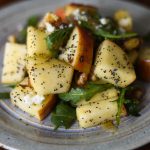 Print Recipe
Apple & Walnut Salad with Honey Poppyseed Vinaigrette
Real honey has amazing health benefits! That's why I make sure and choose the very best I can find for this amazing apple and walnut salad.
Ingredients
3

large honey crisp apples

1

cup

raw walnuts

1

cup

arugula

¼

cup

blue cheese

optional
Honey Poppyseed Vinaigrette
2

tablespoon

olive oil

3

tablespoon

good quality honey

I use this

1

tablespoon

ACV

⅛

teaspoon

pink salt

buy pink salt here

1 ½

teaspoon

poppyseeds

A pinch of yellow curry powder

optional, but gives a hint of greatness
Instructions
Chop 3 large honey Crisp apples and add into a medium-size mixing bowl

Mix in walnuts and arugula.

Make dressing by whisking together honey, olive oil, and apple Cider Vinegar.

Whisk in salt, poppyseeds and curry powder.

Pour vinaigrette over salad and mix well.

Sprinkle blue cheese on top and enjoy.
http://www.quadcoptercloud.com/ is a participant in the Amazon Services LLC Associates Program, an affiliate advertising program designed to provide a means for sites to earn advertising fees by advertising and linking to Amazon.com.
Clicking on an Amazon link from http://www.quadcoptercloud.com/ does not increase the cost of any item you purchase.
We will only ever link to Amazon products that we think our visitors may be interested in and appreciate learning more about.
Sent from my iPhone