Summer is coming to an end.  Although its 85 degrees and the skies have not a cloud in them, as the wind lightly blows, my back porch is getting covered with leaves one by one. When I ask most people what their favorite time of year is they say fall. I totally get it! I live in the mountains where there are breathtaking views of mountain tops covered with the autumn colors of browns, reds, and oranges, but can't I just hang onto summer a little longer?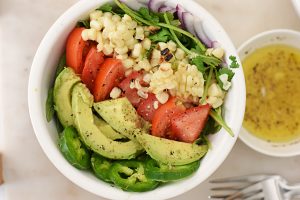 We eat a lot of salads. We like salads in the summer, salads in the fall, and salads in the wintertime! What better food? In my opinion, you can add just about any vegetable into a salad and it will taste good. Drizzle it with a good healthy dressing like my Remedy Salad dressing and its a win!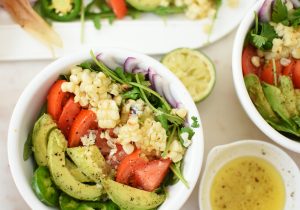 The end of summer screams corn and tomatoes! This Summer Corn Salad is loaded with sweet corn, garden fresh tomatoes, heart-healthy avocado, red onions, and fresh jalapenos!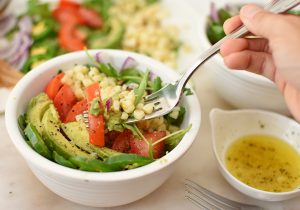 Making Summer Corn Salad your way
You can make this salad your own!
You can use yellow or white corn.
If you don't like spice you can skip out on the jalapenos and add red bell pepper in its place.
I LOVE cilantro! Does it taste like soap to you? You could replace it with fresh basil.
Not in the mood for grilling? No problem, cook the corn for a few minutes in an iron skillet turning every couple of minutes!
I hope you'll add more salads to your diet. I believe all my kids love salad because I serve them with our dinners several times a week!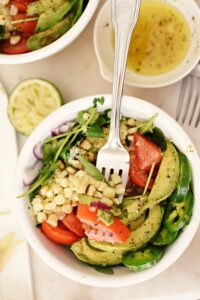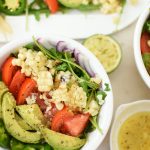 Print Recipe
Summer Corn Salad
A refreshing summer grilled corn salad with avocado, garden fresh tomatoes, and cilantro.
Ingredients
3

ears

Corn on the cob

brushed with butter or olive oil and lightly seasoned with salt and pepper

2

cups

Arugula

1

whole

Sliced avocado

lightly seasoned with salt and pepper

2

Tomatoes

sliced and lightly seasoned with salt and pepper

¼

cup

thinly sliced red onion

½

Jalapeno

deseeded for less heat if needed

⅓

cup

fresh cilantro- chopped
Lime Garlic Dressing
1

whole

Juice of 1 large lime

2

whole

garlic cloves- grated

2

tablespoon

olive oil

¼

teaspoon

pink salt or sea salt

¼

tsp

black pepper
Instructions
Heat grill. Prepare and clean corn and brush with butter or olive oil and lightly season with salt and pepper.

Grill corn until it has nice grill marks. Remove from grill, let cool and cut corn off the cob. Set aside.

In a medium salad bowl place arugula, then top with corn, avocado, tomato, red onion, jalapeno, and cilantro.
Lime Garlic Dressing
In a small bowl press or squeeze the juice of one large lime.

Whisk in grated garlic, olive oil, salt and pepper.

Drizzle Lime Garlic Dressing over salad
Notes
If you need a citrus press,I use this Citrus Press
Elke is a participant in the Amazon Services LLC Associates Program, an affiliate advertising program designed to provide a means for sites to earn advertising fees by advertising and linking to Amazon.com.
Clicking on an Amazon link from Elke does not increase the cost of any item you purchase.
We will only ever link to Amazon products that we think our visitors may be interested in and appreciate learning more about.